« http://haiku.hu, a Terebess Online https://terebess.hu különlapja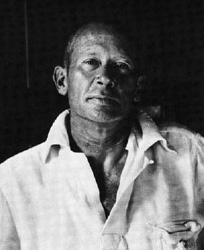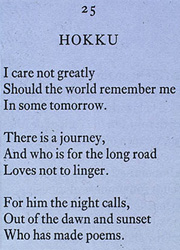 E. E. Cummings (1894-1962)
USA
haikui

HOKKU
Hokku. Harvard Monthly. Cambridge, April 1916
I care not greatly
Should the world remember me
In some tomorrow.
There is a journey,
And who is for the long road
Loves not to linger.
For him the night calls,
Out of the dawn and sunset
Who has made poems.

HOKKUK
Terebess Gábor fordításai
Modern nyugati haiku, Orpheusz Kiadó, Budapest, 2005, 128. oldal
Alig érdekel
Emlékeznek-e rám
Bármikor holnap.
Indulni el kell
És ki hosszú útra megy
Nem szívesen őgyeleg.
Érte az éj jön,
Túl a nap keltén és nyugtán
Ő gyártott verset.