« http://haiku.hu, a Terebess Online https://terebess.hu különlapja
Leonard Cohen (1934-2016)
Kanada
haikui

Terebess Gábor fordításai
Modern nyugati haiku, Orpheusz Kiadó, Budapest, 2005, 78-81. oldal

SUMMER-HAIKU
For Frank and Marian Scott
Silence
and a deeper silence
when the crickets
hesitate

Nyári haiku
Frank és Marian Scott-nak
Csönd

és még csöndesebb

míg a tücskök

tétováznak
*
POEM 111 ("Each man ...")
from "The Energy of Slaves"
Each man
has a way to betray
the revolution
This is mine

("Minden ember...")
Minden ember
tudja, hogy' árulja el
a forradalmat
én így
*
DEAR HEATHER
Dear Heather
Please walk by me again
With a drink in your hand
And your legs all white
From the winter

Drága Heather
Drága Heather!
Jöjj vissza hozzám
kezedben pohárral
és hófehér lábbal
a télből
*
A PROMISE
I will never
return
the Holy Grail
to its
"rightful owners."
"Perhaps this can serve as my New Year's Resolution"
- Leonard Cohen, Los Angeles, December 28, 1999
Ígéret
Sose adom
vissza
a Szent Grált
"jogos tulajdonosának"
[a Grál az a kehely, amely a keresztre feszített Krisztus vérét fogta fel.
Ugyanezt az edényt használták tanítványai az utolsó vacsorán,
s ennek keresésére indultak a kerekasztal lovagjai.]
THE SWEETEST LITTLE SONG
You go your way
I'll go your way too

A legaranyosabb dalocska
Járod az utad
Járom az utad én is
*
MOROCCO
I brought a man his dinner
He did not wish to look into my eyes
He ate in peace

Marokkó
Odavittem a vacsoráját
nem kívánt a szemembe nézni
békésen eszegetett
*
MY ROOM
Come down to my room
I was thinking about you
and I made a pass at myself

Szobám
Gyere le a szobámba
rád gondoltam
s megsimogattam magam
*
MT. BALDY MONKS
After listening to Mozart
we go around
with pianos
strapped to our backs

Baldy-hegyi szerzetesek
Mozartot hallgatunk
utána hátunkra kötött
zongorával
mászkálunk
*
ROSHI
I never really understood
what he said
but every now and then
I find myself
barking with the dog
or bending with the irises
or helping out
in other little ways
At the time of writing Jikan
Leonard Cohen was a monk practicing
at Mt. Baldy Zen Center.
Cohen left the Center in Spring 1999.
A rósi
Sose értettem igazán

mit mond

de hébe-hóba

azon kapom magam

hogy ugatok a kutyával

vagy hajlongok az íriszekkel

vagy besegítek

valami egyéb aprósággal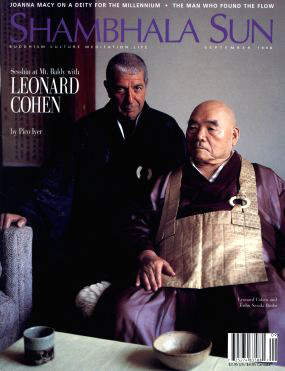 [rósi = zen mester; ez esetben: Joshu Sasaki Roshi, Mt. Baldy Zen Center]