« https://haiku.hu, a Terebess Online https://terebess.hu különlapja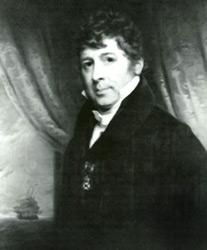 Hendrik Doeff (1777-1835)
Hollandia
mindkét haikuja
Terebess Gábor fordításai

春風やアマコマ走る帆かけ船
harukaze ya / amakoma hashiru / hokakebune
tavaszi szellő -
sietnek ide s tova
vitorláshajók

稲妻のその手借りたし草枕
inazuma no / kaina wo karan / kusamakura
villámgyors
karod add kölcsön
útipárnának

A holland Hendrik Doeff volt az első nyugati, aki haikut írt: Japánban japánul adott ki két haikut a 18-19. század fordulóján.
"Haiku in Japan developed into a real folk art, practised by poets in all strata of the society. Also various schools of haiku came into being, each with its own poetical principles. It therefore is certainly not right to think of an unequivocal notion of what haiku was or should be. And that variety of opinions still exists and evolves today.
Though haiku had become an essential part of the Japanese cultural climate, this compact form of poetry remained virtually unknown outside of the country's boundaries. This is not strange at all, for the Japanese society under the powers that reigned was an absolutely closed world into which nobody from the world outside had access. With one small exception.
That exception was the Dutch trading settlement on the small artificial island of Deshima in the harbour of Nagasaki. Apart from the fact that the chief of that colony regularly visited the shogun in the capital city of Edo, the Dutch hardly were allowed to set foot on Japanese soil. But that did not prevent contacts between the Dutch and the Japanese. In these contacts cultural exchange had its place, and haiku was part of that. For as it happens the first Westerner known to have written haiku was Hendrik Doeff (1777-1835), one of these Dutchmen. He was on Deshima from 1798 till 1817 and became chief of the settlement. He was interested in the language, for he compiled a Dutch-Japanese dictionary. Moreover, two of his haiku have been found in Japanese publications from the period of Doeff's stay in Japan. He probably wrote them in Japanese. Here's one:
lend me your arms,
fast as thunderbolts,
for a pillow on my journey
This haiku supposedly refers to a young lady he saw slicing tofu very fast, while he was in an inn during a journey to visit the shogun. But there is no proof at all that Doeff still was interested in haiku after his return to the Netherlands. And certainly he played no role in spreading haiku outside of its country of origin. For that only took place in the 20th century."
Max Verhart
"Hendrik Doeff between 1798 and 1817 worked at the trading post for the Dutch East India Company on Deshima (an artificial island in the harbor of Nagasaki). Doeff had taught himself Japanese (Trafford, 2006; Verhart, 2005) and, according to Max Verhart (April 1, 2006), published two haiku (in Latin letters) in Japanese publications. The first appeared in Misago-zushi, an 1818 anthology compiled by Oya Takuzo (1788-1850), who as a poet, went by the name of Shiyu (Verhart, April 1, 2006; and in a 2001 article by Henri Kerlen (cited by Verhart, April 2, 2006). The two haiku which follow were translated into Dutch by Frits Vos and then by Verhart into English (as cited by Verhart, April 1, 2006):
harukaze ya
amakoma hashiru
hokakebune

Een lentebriesje-
her en der reppen ze zich:
de zeilscheepjes.

a spring breeze
hither and tither they hurry
the sailing dinghies
Information on where the second poem was published in Japan was not available, but it did appear in a 1963 book by Teramoto Kaiyu and also in the article by Kerlen (both cited by Verhart, April 2, 2006):
inazuma no
kaina wo karan
kusamakura

Laat mij je armen
snel als bliksemschicten, lenen
als hoofdkussen op mijn reis.

lend me your arms
fast as thunderbolts,
for a pillow on my journey
Verhart suggests that this haiku probably refers to "a young lady he [Doeff] saw slicing tofu very fast (p.1)." Why has Doeff's place in Western haiku history been largely ignored? According to Verhart (2005), "he played no role in spreading haiku outside of its country of origin (p. 1)." Also in Doeff's autobiography, he makes no mention of having written any haiku (Verhart, April 2, 2006)."
George Swede
Selon une communication du professeur Frits Vos (Pays-Bas), le premier hokku composé
par un Occidental serait dû à Hendrik Doeff (1777-1835) nommé gouverneur de Deshima en 1805, cinq années après son arrivée au Japon. Les hollandais, on le sait, étaient alors les seuls étrangers autorisés à commercer avec les insulaires qui leur avaient octroyé un comptoir.
Rédigé en caractères latins, le poème de Doeff fait office d'épilogue à un ouvrage de Oya
Takuzo (1788-1850) : « Misago-zushi ».

Brise de printemps
Çà et là ils se dépêchent
les petits voiliers

Tourné vers le bleu du large, l'auteur songeait-il avec nostalgie à son lointain pays natal
lorsqu'il écrivait ces vers ?
Toujours selon M. Vos, le haïku « magistral » de Doeff – qui semble n'en avoir publié que
deux – aurait été écrit lors d'un séjour à la cour impériale où son attention fut soudain attirée par une charmante servante en train de découper, à une vitesses remarquable, un gâteau aux fèves de soja.

Prête-moi tes bras
rapides comme l'éclair
en guise d'oreiller

On sait qu'Hendrik Doeff fut un savant distingué, un brillant lettré qui établit un dictionnaire nippo-néerlandais, on sait aussi qu'il avait une solide réputation de coureur de jupon, d'amant infatigable. Ses concubines se succédèrent, il eut même un fils et une fille avec deux d'entre elles. Mais l'histoire ne nous dit pas si la belle japonaise partageant le gâteau, partagea également sa nuit avec le gouverneur !

Patrick Blanche