Terebess Gábor Dharma-származásrendje
Gabor Terebess's Zen Lineage Chart
PDF: Lineage Chart of the Zen Ancestors in China
The Two Main Lineages of Modern Sōtō
The Bloodline of the Buddha's and Ancestors' Transmission
of the Great Bodhisattva Precepts
Terebess Gábor Dharma-származásrendje
Gabor Terebess's Zen Lineage Chart
It is worth mentioning that the line gets splitted apart
at Dajian Huineng and join back up at Eihei Dōgen
as the left-hand side is the Rinzai (Linji) line*,
and the right-hand side is the Sōtō (Caodong) line**,
reflecting Dōgen's early teacher Myōzen, as well as Rujing.
* 【黄檗・臨済系 法系】
南嶽懐譲和尚様から
佛樹明全和尚様
** 【曹洞系 法系】
青原行思和尚様から
天童如浄和尚様
Shakamunibutsu (Shākyamuni Buddha, Shijiamouni Fo 釋迦牟尼佛)


The Indian Patriarchs:
1. Makakashō (Mahākāshyapa 摩訶迦葉)
2. Ananda (Ānanda 阿難陀)
3. Shōnawashu (Shanakavāsa/Shānavāsin 商那和修)
4. Ubakikuta (Upagupta 優婆掬多)
5. Daitaka (Dhrtaka/Dhītika 提多迦)
6. Mishaka (Micchaka/Mishaka 彌遮迦)
7. Bashumitsu (Vasumitra 婆須密)
8. Butsudanandai (Buddhanandi 浮陀難提, 佛陀難提)
9. Fudamitta (Buddhamitra 浮陀密多, 佛陀密多)
10. Barishiba (Pārshva 婆栗濕婆, 脅尊者)
11. Funayasha (Puṇyayashas 富那夜奢)
12. Anabotei (Ānabodhi/Ashvaghoṣa 阿那菩提, 馬鳴)
13. Kabimora (Kapimala 迦毘摩羅)
14. Nagyaharajuna (Nāgārjuna 龍樹, 那伽閼樹那)
15. Kanadaiba (Kāṇadeva 迦那提婆 (提婆), 聖天)
16. Ragorata (Rāhulata/Rāhulabhadra 羅睺羅多)
17. Sōgyanandai (Saṃghanandi 僧伽難提)
18. Kayashata (Gayashāta 僧伽舍多)
19. Kumorata (Kumārata/Kumāralāta 鳩摩羅多)
20. Shayata (Jayata/Shayata 闍夜多)
21. Bashubanzu (Vasubandhu 世親, 天親, 婆修盤頭)
22. Manura (Manorata/Manorhita/Manothata 摩拏羅)
23. Kakurokuna (Haklenayashas 鶴勒那)
24. Shishibodai (Aryasimha/Simha Bhikshu/Siṃhabodhi 師子菩提)
25. Bashashita (Basiasita/Vasi Astia 婆舍斯多)
26. Funyomitta (Puṇyamitra 不如密多)
27. Hanyattara (Prajñādhāra/Prajñātāra 般若多羅)
The Chinese Patriarchs:
28/1. Bodaidaruma
(Bodhidharma, Putidamo 菩提 達磨 ?-532/5)
29/2. Taiso Eka
(Dazu Huike 大祖慧可 487-593)
30/3. Kanchi Sōsan
(Jianzhi Sengcan 鑑智僧璨 ?-606)
31/4. Daii Dōshin
(Dayi Daoxin 大毉 道信 580-651)

32/5. Daiman Kōnin
(Daman Hongren 大滿 弘忍 601-674)
33/6. Daikan Enō
(Dajian Huineng 大鑑 慧能 638-713)
The Japanese Sōtō Patriarchs:
51/24/1. [Eihei] Dōgen Kigen
([永平] 希玄 道元 1200-1253)
52/25/2. Koun Ejō
(孤雲 懐奘 1198-1280)
53/26/3. Tettsū Gikai
(徹通 義介 1219-1309)
54/27/4. Keizan Jōkin
(螢山  紹瑾 1268-1325)
55/28/5. Gasan Jōseki
(峨山 韶碩 1275-1366)
56/29/6. Taigen Sōshin
(太源 宗真 ?-1371)
57/30/7. Baizan Mompon
(梅山 聞本 ?-1417)

58/31/8. Jochū Tengin
(如仲 [恕仲] 天誾 1363-1437)
59/32/9. Kisan Shōsan
(喜山 性讃 1377-1442)
60/33/10. Morin Shihan
(茂林 芝繁 1393-1487)
61/34/11. Sūshi Shōtai
(崇芝 性岱 1414-1496)
62/35/12. Kenchū Hantetsu
(賢仲 繁喆 [繁哲] 1438-1512)
63/36/13. Zaiten Soryū
(~~ 祖龍)
64/37/14. Rikusan Sogei
(~~ 祖芸)
65/38/15. Gyokuso Sozui
(~~ 祖瑞)
66/39/16. Ten'yu Sosei
(~~ 祖青)
67/40/17. Chō'oku Jukei
(~~ 壽慶)
68/41/18. Hōkoku Jukin
(~~ 壽欣)
69/42/19. Nenshu Donju
(~~ 呑壽)
70/43/20. Iikoku Eiteki
(~~ 永的)
71/44/21. Gikoku Senshuku
(~~ 泉祝)
72/45/22. Ranryu Joshū
(~~ 絮秀)
73/46/23. Kashu Shōkei
(~~ 祥慶)
74/47/24. Shinryō Kyūtetsu
(~~ 久鐡
)
75/48/25. Kakuhō Shūen
(~~ 宗閻)
76/49/26. Kakuin Eryō
(~~ 慧了)
77/50/27. Kakutan Inshū
(~~ 胤宗)
78/51/28. Hōzan Shūkyō
(~~ 宗鏡)
79/52/29. Reizan Ryōchin
(~~ 良珍)
80/53/30. Shūzan Taion
(~~ 太音)
81/54/31. Shōun Taizui
8~~ 太瑞)
82/55/32. Kanzan Taiō
(~~ 太應)
83/56/33. Nyosan Mokuzen
(~~ 全黙)
84/57/34. Chūzan Ninkō
(~~ 忍興)
85/58/35. Hakusan Kōjun
(白山 孝純 1914-2007)
> [Noiri rōshi 野圦 老師]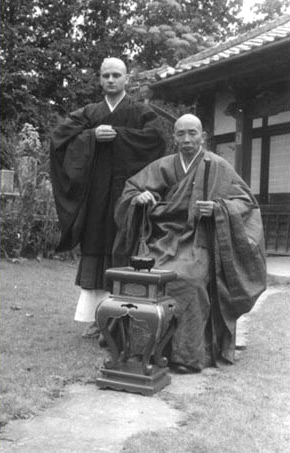 Hakusan Kôjun Noiri rôshi and Genshô (Gabor Terebess), 1967
血脈 Kechimyaku (Ketchimyaku): a genealogy of Zen succession.
Terebess Gábor zen buddhista szerzetessé avatásának selyemre írt dokumentuma mestertől-mesterig ágazó "családfával", töretlen "szellemi vérvonallal".
Certificate of Zen Buddhist Ordination of G. Terebess (元祥 Genshô), handwritten kanji by Hakusan Kōjun [白山 孝純 1914-2007, aka Noiri rōshi 野圦 老師] on silk.
The line that connects the teacher and disciple returning to an empty circle above Shakyamuni.
FOLDING THE ANCESTRAL LINEAGE
1. Start with folding the left edge 1/3 of the total sheet width toward the opposite edge.
2. Fold the right edge over the left.
3. Fold the top edge of the folded lineage to the bottom edge.
4. Fold the new top edge 1/3 of the way toward the bottom
5. Fold the bottom 1/3 of the sheet back under the remainder
https://www.youtube.com/watch?v=dwj6SBXxmes
Gabor Terebess's Dharma name (Terebess Gábor dharma-neve): 元祥 = "Eredendő Jószerencse", "Eleve Áldott"
(釈 Shaku = Shakukamuni, Shākyamuni)
Terebess Gábor zen szerzetessé avatásának fotó-dokumentumai
Zen Buddhist ordination of G. Terebess
"In the Kechimyaku we write the names of the Ancestors in Buddhism to whom the Precepts were Transmitted. We call it the Kechimyaku or Kaimyaku. The real existence is beyond delusion and the transcendental Precepts. We should know and understand this same Budhahood, and its whole representation, on the silk of the Kechimyaku. The reason is as follows.
First of all, there is a circle at the top. We then write Shakyamuni Buddha, Makakashyo, Ananda, the eighty and more ancestors, the present master and the new disciple. The red line comes from the circle at the top and penetrates the names of the above, returning back to the same circle above Shakyamuni Buddha. Therefore the new disciple who is converted is one with the immaculate circle above Shakayamuni Buddha which has no beginning and no end.
The so-called Mind of the Buddha and that of ourselves is the same and not different. We should realise the true meaning of the Kechimyaku."

(Suigan Yogo (1912-1996), fukukanin at Daihonzan Sōji-ji, 1967)

"What is it that gives a firm foundation to Buddhsim? To this we must answer that it is the uninterrupted direct succession from master to disciple (menju shihô). In this direct succession (menju) the personalities of master and disciple are fused into one, the spirit being handed on from one person to the next is without interruption. This Transmission is not based on historical studies, but stands firmly on deep faith."

(Chisan Kohô (1879-1967), Chief Abbot of Daihonzan Sōji-ji)

Dôgen's Shôbôgenzô
[57] MENJU
The Face-to-Face Transmission

Men means face, and ju means transmission. Menju means the transmission of the Dharma from a master to a disciple face to face. In Buddhism, what is transmitted from a master to a disciple is not only abstract theory, but also something real, including actual conduct, physical health, and intuitional wisdom. Therefore the transmission of this real something cannot be actualized solely through explanations with words, or simply by passing on some manuscript. For this reason, the Dharma that Gautama Buddha taught has been transmitted in person from master to disciple since the days of Gautama Buddha. Without this personal contact, the Buddhist Dharma cannot be transmitted. In this chapter, Master Dogen praises the transmission of the Buddhist Dharma and explains its importance.
釈元祥の血脈 Kechimyaku of Shaku Genshō
A Dharma átadásának leszármazási vonala Terebess Gáborig
Gabor Terebess's Zen Lineage Chart
<![if !supportLineBreakNewLine]>
1. Shakamunibutsu Daioshō
2. Makakashō Daioshō
3. Ananda Daioshō
4. Shōnawashu Daioshō
5. Ubakikuta Daioshō
6. Daitaka Daioshō
7. Mishaka Daioshō
8. Bashumitsu Daioshō
9. Butsudanandai Daioshō
10. Fudamitta Daioshō
11. Barishiba Daioshō
12. Funayasha Daioshō
13. Anabotei Daioshō
14. Kabimora Daioshō
15. Nagyaharajuna Daioshō
16. Kanadaiba Daioshō
17. Ragorata Daioshō
18. Sōgyanandai Daioshō
19. Kayashata Daioshō
20. Kumorata Daioshō
21. Shayata Daioshō
22. Bashubanzu Daioshō
23. Manura Daioshō
24. Kakurokuna Daioshō
25. Shishibodai Daioshō
26. Bashashita Daioshō
27. Funyomitta Daioshō
28. Hanyattara Daioshō
29. Bodaidaruma Daioshō
30. Taiso Eka Daioshō
31. Kanchi Sōsan Daioshō
32. Daii Dōshin Daioshō
33. Daiman Kōnin Daioshō
34. Daikan Enō Daioshō
35. Seigen Gyōshi Daioshō
36. Sekitō Kisen Daioshō
37. Yakusan Igen Daioshō
38. Ungan Donjō Daioshō
39. Tōzan Ryōkai Daioshō
40. Ungo Dōyō Daioshō
41. Dōan Dōhi Daioshō
42. Dōan Kanshi Daioshō
43. Ryōzan Enkan Daioshō
44. Taiyō Kyōgen Daioshō
45. Tōshi Gisei Daioshō
46. Fuyō Dōkai Daioshō
47. Tanka Shijun Daioshō
48. Chōro Seiryō Daioshō
49. Tendō Shōkaku Daioshō
50. Setchō Chikan Daioshō
51. Tendō Nyojō Daioshō
52. Eihei Dōgen Daioshō
53. Koun Ejō Daioshō
54. Tettsū Gikai Daioshō
55. Keizan Jōkin Daioshō
56. Gasan Jōseki Daioshō
57. Taigen Sōshin Daioshō
58. Baizan Mompon Daioshō
59. Jochū Tengin Daioshō
60. Kisan Shōsan Daioshō
61. Morin Shihan Daioshō
62. Sūshi Shōtai Daioshō
63. Kenchū Hantetsu Daioshō
64. Zaiten Soryū Daioshō
65. Rikusan Sogei Daioshō
66. Gyokuso Sozui Daioshō
67. Ten-Yu Sosei Daioshō
68. Chō-oku Jukei Daioshō
69. Hōkoku Jukin Daioshō
70. Nenshu Donju Daioshō
71. Iikoku Eiteki Daioshō
72. Gikoku Senshuku Daioshō
73. Ranryu Joshū Daioshō
74. Kashu Shōkei Daioshō
75. Shinryō Kyūtetsu Daioshō
76. Kakuhō Shūen Daioshō
77. Kakuin Eryō Daioshō
78. Kakutan Inshū Daioshō
79. Hōzan Shūkyō Daioshō
80. Reizan Ryōchin Daioshō
81. Shūzan Taion Daioshō
82. Shōun Taizui Daioshō
83. Kanzan Taiō Daioshō
84. Nyosan Mokuzen Daioshō
85. Chūzan Ninkō Daioshō
86. Hakusan Kōjun Daioshō
87. Shaku Genshō
*Daioshō (title of ancestors) / Great Upādhyāya (Preceptor) 大和尚 (Ch. da heshang)
On the eighteenth day of the ninth month of the first year of the Pao-ching Era of the Sung Dynasty (1225), the late abbot of the Tien-tung instructed me, Eihei Dogen Osho, saying: "The Buddha Sila are the single most important matter of our school. In the past, the masters of Mount Grdhakuta, Shao-len, Tsao-chi, and Mount Tung transmitted these Dharma Sila of the Tathagata to their successors generation after generation until they came to me." Now I transmit them to you. You should receive them in deep faith and not permit them to be discontinued. For this I earnestly pray.
(Note: These are names of the traditional Zen lineage of Dharma Transmission Ancestors from Shakyamuni Buddha from India through Bodhidharma into China, to Dōgen in Japan, and up to Noiri Rōshi; given with the traditionally chanted Sino-Japanese pronunciations.)