ZEN MESTEREK ZEN MASTERS
« Zen főoldal
« vissza a Terebess Online nyitólapjára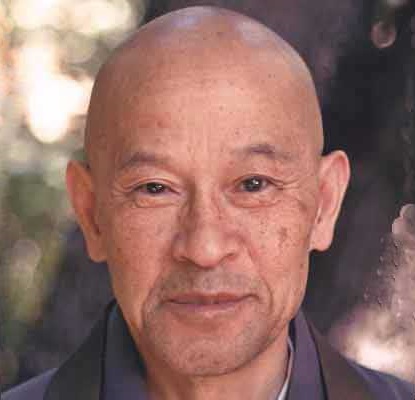 鈴木 (祥岳) 俊隆
Suzuki (Shōgaku) Shunryū (1904-1971)
Shunryu Suzuki-roshi, a Japanese Zen priest belonging to the Soto lineage, came to San Francisco in 1959 at the age of fifty-four. Already a respected Zen master in Japan, he was impressed by the seriousness and quality of "beginner's mind" among Americans he met who were interested in Zen and decided to settle here. As more and more people of non-Japanese background joined him in meditation, the San Francisco Zen Center came into being and he was its first abbot. Under his tutelage, Zen Center grew into City Center, Green Gulch Farm, and Tassajara Zen Mountain Center. He was undoubtedly one of the most influential Zen teachers of his time.

Shunryû Suzuki rôshi and his relationship with
Kôjun Noiri (1914-2007) rôshi
[Sojun Mel Weitsman inteviewed]
MW: '71. Suzuki-roshi had asked Dick to see if he could invite Noiri-roshi to come to America to help us with authentic procedures for dharma transmission.

DC: He mentioned that to Ananda. Are you sure he mentioned it to Dick?
MW: It was common knowledge. Everybody knew it. I can't remember how it exactly came about. Suzuki-roshi wanted Noiri to teach us about dharma transmission because he didn't want us to do dharma transmission like they do it in Japan. He wanted us to have a meaningful dharma transmission, original dharma transmission which was more selective and not just handing out certificates. He didn't want it superficially or perfunctorily done.

DC: Suzuki-roshi had asked Noiri-roshi to come to a Tassajara Practice Period when he was well and he hadn't.

MW: Here was the thing that I heard. Both Niwa and Noiri had the same teacher, Kishizawa, and they were both going to be very prominent. So he asked one to be the recluse scholar and asked the other one to face the public. So Noiri-roshi was asked to be the scholar, the recluse, and the monk; and Niwa-roshi was asked to be the public face. That's the way they developed. They were dharma brothers.
Text in full: www.cuke.com/interviews/mel.html


Tuesday April 13, 1994--Rinso-in, Yaizu, Japan
[Hoitsu Suzuki Interviewed in Japanese by David Chadwick, translated by Kyoko Furuhashi and Shizuko Takatsuka.]
"In Showa 22 there was a jukai e (lay ordination ceremony) for lots of people, 400 or so, at Rinsoin and it was officiated by Kishizawa Roshi. My father thought people's minds were in a bad state because of the war so he decided to give the jukai e. [In this way, by strengthening Buddhism and helping to spread the teaching of Kishizawa Roshi, he felt he could help to strengthen the country. Kishizawa Roshi was a nationally prominent teacher and my father respected him greatly??] He didn't go as far as zuishin (follow mind) with Kishizawa. He was monkasei of Kishizawa but not deshi or zuishin.
"Kishizawa's temple is only 4 kilometers from Rinsoin. He was a well known great scholar of Shobogenzo and Goi. Noiri was a zuishin of Kishizawa and although he wasn't Kishizawa's disciple he studied hardest. Many studied with Kishizawa."
D: "When did Shunryu start studying with Kishizawa?"
"I don't know. (looks for a book) Taisho 12 - Gyokuden-in kaisan (founding) - Kishizawa became the jushoku of that temple then."
Text in full: www.cuke.com/interviews/hoitsu-2.html
[Tomoe Katagiri, widow of Dainin Katagiri-roshi interviewed by David Chadwick]
David Chadwick: Why did Katagiri Roshi send you to Noiri Roshi's sesshin? Did he have a connection to Noiri?
Tomoe-san: Yes. You remember Yokoi Roshi? Yokoi Roshi [横井覚道 Yokoi Kakudō] is Hojo-san's very closest friend. And he respected Yokoi Roshi very much. Close friend. Same branch temple. And Noiri Roshi's temple was the branch temple of Rinsoin. The temple has a relation. Yokoi Roshi and Noiri Roshi have the same master -- Ian Kishizawa. Noiri Roshi is his disciple. And Yokoi Roshi was Ian Kishizawa's grand disciple. His master was Ian Kishizawa roshi's disciple. Chito Kishizawa. He was Kishizawa Roshi's direct disciple. He was not his son. . . . Kishizawa's school. Kishizawa's school never married. Nobody married. But Kishizawa Roshi adopted the child. Chito Kishizawa is not the blood child, but was adopted. So has the same last name. Has a dharma relation, but no blood relation. So Yokoi Roshi was Ian Kishizawa's grand disciple. And Noiri Roshi is Ian Kishizawa Roshi's disciple. So they practiced together. And Hojo-san also respected Kishizawa and Noiri Roshi. And he knows the way of Kishizawa and Noiri Roshi's practice. So when Kishizawa and Noiri Roshi had one-week sesshin he was invited as a teacher. Hojo-san and Yokoi Roshi suggested I go to one-week sesshin.
Text in full: http://www.cuke.com/Cucumber%20Project/interviews/tomoe.html
Funeral ceremony conducted by Niwa-rōshi, Katagiri-rōshi, and Moriyama-sensei [the young disciple of Noiri-rōshi] for Shunryū Suzuki rōshi on December 12, 1971.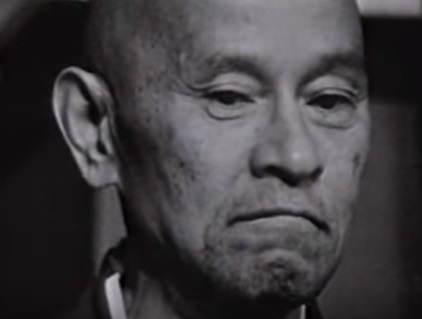 For Shunryu Suzuki 's edited words see:
Szudzuki Sunrjú zen mester magyarul nyomtatásban és online:

Tartalom


Contents

A zen szellem mindig kezdő
[címford. Terebess Gábor]

A zen szellem, az örök kezdők szelleme
[ford. Halasi Sándor]
Buddhista Misszió, Budapest, 1987.
[Kalózkiadás: Farkas Lőrinc Imre Könyvkiadó,
Kerepes, 2002]
Online html > pdf

Zen szellem, a kezdő szellem
[ford. Boros Dókó László]
Budapest : Filosz, 2002, 189 oldal
Online pdf

Nincs mindig úgy -
A zen igaz szellemének gyakorlása
[ford. Boros Dókó László]
Budapest : Filosz, 2006, 207 oldal
Tartalomjegyzék - Részletek

Tisztán ragyogó forrás -
Zen tanítások a Szandókairól
[ford. Fábián Gábor]
Budapest : Filosz, 2010, 208 oldal
Részletek

Suzuki Shunryu: Te görbe uborka!
[ford. Halasi Sándor]

Zen Mind, Beginner's Mind:
Informal Talks on Zen Meditation and Practice
Edited by Trudy Dixon*
Weatherhill, 1970, 144 p.
PDF: Zen Mind, Beginner's Mind

HTML: Shunryu Suzuki original lectures
that led to "Zen Mind, Beginner's Mind"

Branching Streams Flow in the Darkness:
Zen Talks on the Sandokai
Eds. Mel Weitsman and Michael Wenger, University of California Press, 1999, 197 p.
PDF: Branching Streams Flow in the Darkness

HTML: Shunryu Suzuki original lectures
that led to "Branching Streams Flow in the Darkness"

Not Always So:
Practicing the True Spirit of Zen
Edited by Edward Espe Brown
Harper Collins, 2002, 176 p.
PDF: Not Always So

HTML: Shunryu Suzuki original lectures
that led to "Not Always So"

Crooked Cucumber:
the Life and Zen Teaching of Shunryu Suzuki
by David Chadwick
Broadway Books, 1999, 432 p.

Zen Is Right Here:
Teaching Stories and Anecdotes of Shunryu Suzuki
Edited by David Chadwick
Shambhala Publications, 2007, 160 p.
was originally published as
To Shine One Corner of the World: Moments with Shunryu Suzuki.
Anecdote Index

Shunryu Suzuki Lectures
http://www.shunryusuzuki.com/suzuki/sf.htm

Chronology of Shunryu Suzuki's Life

http://www.cuke.com/
http://www.shunryusuzuki.com/
http://www.zmbm.net/

PDF: Teaching Zen to Americans by Kim Boykin (2010)
Philip Kapleau's The Three Pillars of Zen, Shunryu Suzuki's Zen Mind, Beginner's Mind, Charlotte Joko Beck's Everyday Zen

PDF: Suzuki Roshi Transcripts (1962-1971)

PDF: Wind Bell, Vol. XI. 1972
*Baiho Sesshin Trudy Dixon (ca. 1939-1969). She was an early student of Shunryu Suzuki Roshi who transcribed and edited his classic book of talks, Zen Mind, Beginner's Mind. Suzuki Roshi described her as a "real Zen master."
Suzuki-roshi's two calligraphies (如来 nyorai and 初心 shoshin) from the book Zen Mind, Beginner's Mind: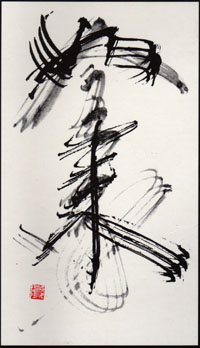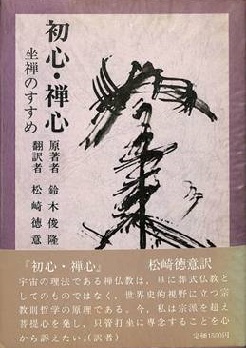 『初心 ・ 禅心』 (Japanese edition with Suzuki-roshi's calligraphy)
如来 Nyorai
The calligraphy on the front of the binding reads 如来 nyorai in Japanese or tathagata in Sanskrit. This is a name for Buddha which means "he who has followed the path, who has returned from suchness, or is suchness, thusness, isness, emptiness, the fully completed one." It is the ground principle which makes the appearance of a Buddha possible. It is Zen mind. At the time Suzuki-roshi wrote this calligraphy— using for a brush the frayed end of one of the large swordlike leaves of the yucca plants that grow in the mountains around Zen Mountain Center—he said: "This means that Tathagata is the body of the whole earth."
(Introduction to the 1970 edition of Zen Mind, Beginner's Mind, by Richard Baker). More yucca leaf calligraphy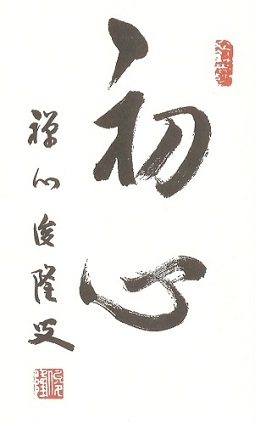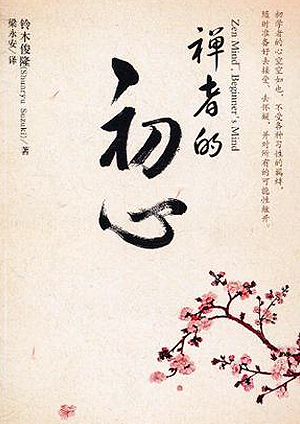 《禅者的初心》 (Chinese edition with Suzuki-roshi's calligraphy)
初心 Shoshin
Beginner's mind was a favorite expression of Dogen-zenji's. The calligraphy of the frontispiece, also by Suzuki-roshi, reads 初心 shoshin, or beginner's mind. The Zen way of calligraphy is to write in the most straightforward, simple way as if you were a beginner, not trying to make something skillful or beautiful, but simply writing with full attention as if you were discovering what you were writing for the first time; then your full nature will be in your writing. This is the way of practice moment after moment.
(Introduction to the 1970 edition of Zen Mind, Beginner's Mind, by Richard Baker)
Photos of Shunryu Suzuki-roshi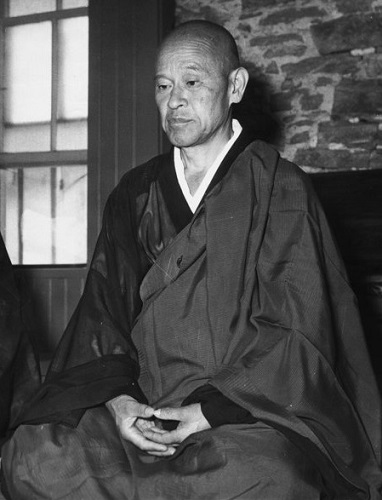 Suzuki-roshi sitting zazen, photograph by Tim Buckley 1967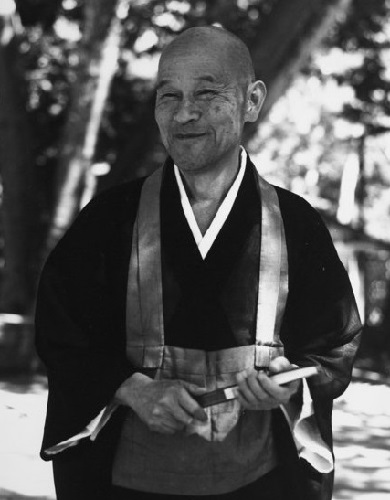 Suzuki-roshi at Tassajara, c1969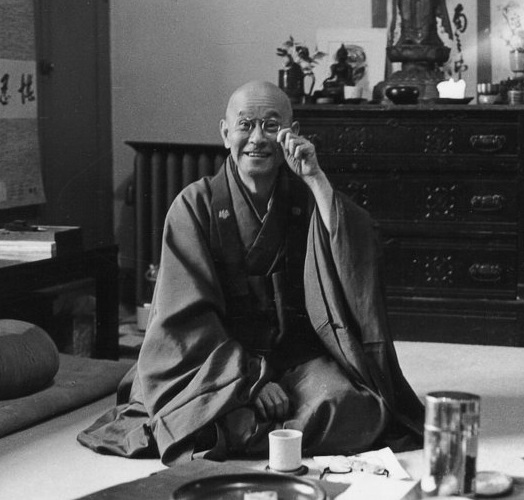 Suzuki-roshi at the City Center, San Francisco, c1970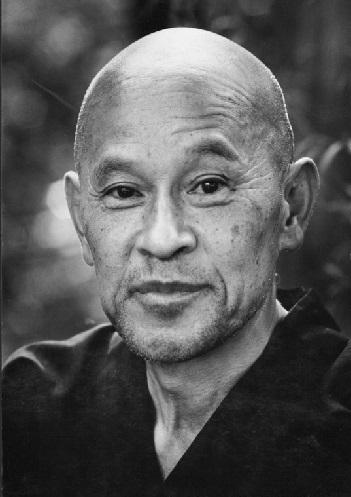 Suzuki-roshi c1970, portrait by Robert Boni
Two yucca leaf calligraphy sumie given by Shunryu Suzuki to Bob Watkins (1933 -2016):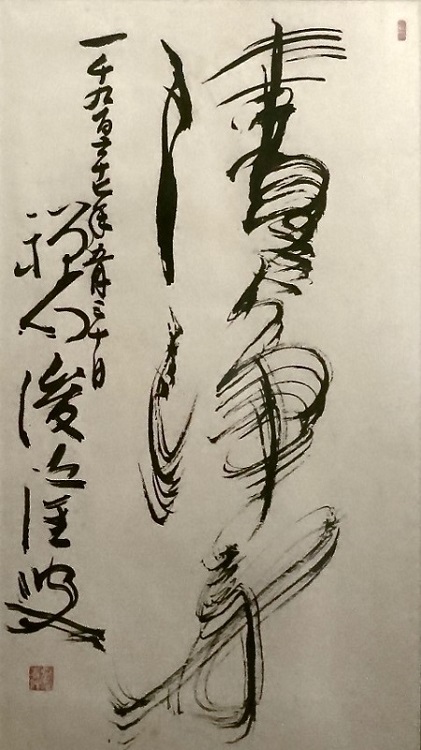 Suzuki said this one means Everything is Perfect.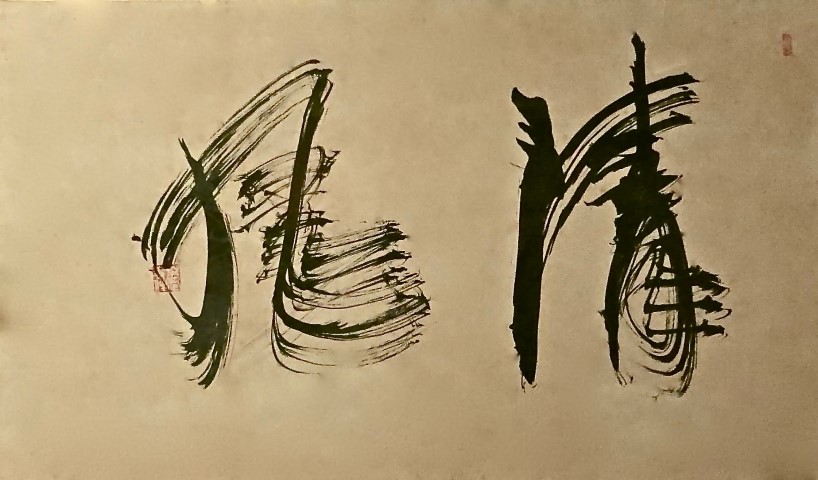 清風 Pure Wind (Reading R to L)


Zen lineage chart of Shunryu Suzuki roshi
…41. Seigen Gyoshi (Qingyuan Xingsi / Ch'ing-yuan Hsing-ssu, 660-740)
42. Sekito Kisen (Shitou Xiquian / Shih-t'ou Hsi-ch'ien, 700-90)
43. Yakusan Igen (Yaoshan Weiyan / Yao-shan Wei-yen, 751-834)
44. Ungan Donjo (Yunyan Tansheng / Yun-yen T'an-sheng, 780-841)
45. Tozan Ryokai (Dongshan Liangjie / Tung-shan Liang-chieh, 807-69)
46. Ungo Doyo (Yunju Daoying / Yun-chu Tao-ying, d. 902)
47. Doan Dohi (Tongan Daopi / T'ung-an Tao-p'i, ???)
48. Doan Kanshi (Tongan Guanzhi / T'ung-an Kuan-chih, ???)
49. Ryozan Enkan (Liangshan Yuanguan / Liang-shan Yuan-kuan, ???)
50. Taiyo Kyogen (Dayang Qingxuan / Ta-yang Ching-hsuan, d. 1027)
51. Toshi Gisei (Touzi Yiqing / T'ou-tzu I'ch'ing, 1032-83)
52. Fuyo Dokai (Furong Daokai / Fu-jung Tao-k'ai, 1043-1118)
53. Tanka Shijun (Danxia Zichun / Tan-hsia Tzu-ch'un, d. 1119)
54. Choro Seiryo (Zhenxie Qingliao / Chen-hsieh Ch'ing-liao, 1089-1151)
55. Tendo Sokaku (Tiantong Zongjue / T'ien-t'ung Tsung-chueh, ???)
56. Setcho Chikan (Xuedou Zhijian / Hsueh-tou Chih-chien, 1105-92)
57. Tendo Nyojo (Tiantong Rujing / T'ien-t'ung Ju-ching, 1163-1228)
58. Eihei Dogen (1200-1253)
59. Koun Ejo (1198-1280)
60. Tettsu Gikai (1219-1309)
61. Keizan Jokin (1264-1325)
62 . Gasan Joseki (1276-1366)
63. Taigen Soshin (d. 1371)
64. Baizan Monpon (d. 1417)
65. Shingan Doku
66. Senso Esai (d. 1475)
67. Iyoku Choyu
68. Mugai Keigon
69. Nenshitsu Yokaku
70. Sesso Hoseki
71. Taiei Zesho
72. Nampo Gentaku
73. Zoden Yoko
74. Ten'yu Soen
75. Ken'an Junsa
76. Chokoku Koen
77. Senshu Donko
78. Fuden Gentotsu
79. Daishun Kan'yu
80. Tenrin Kanshu
81. Sessan Tetsuzen
82. Fuzan Shunki
83. Jissan Mokuin
84. Sengan Bonryo
85. Daiki Kyokan
86. Eno Gikan
87. Shoun Hozui
88. Shizan Tokuchu
89. Nanso Shinshu
90. Kankai Tokuan
91. Kosen Baido
92. Gyakushitsu Sojun (187?– 1891)
93. 仏門祖岳 Butsumon Sogaku (鈴木 Suzuki, 1858-1933), Shunryu's father, Gyokujun So-on's master
94. 玉润祖温 Gyokujun So-on (1877-1934)
95. 祥岳俊隆 Shogaku Shunryu (鈴木 Suzuki, 1904-1971)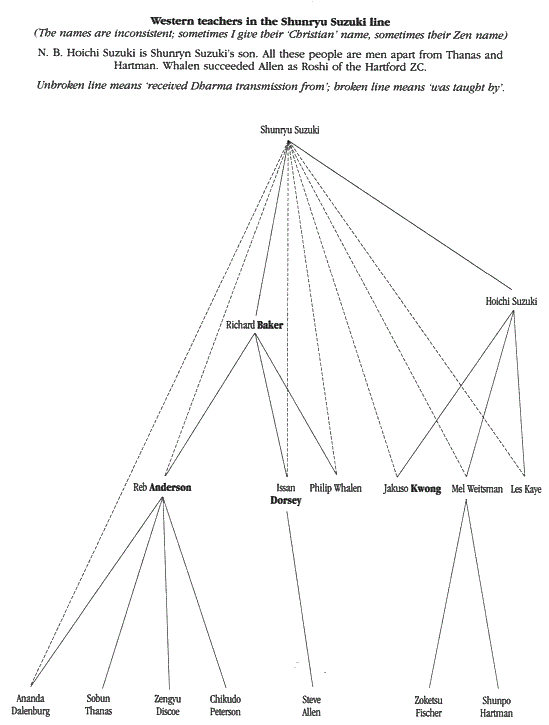 A "másik" Suzuki: Suzuki Daisetz Teitaro (1870-1966)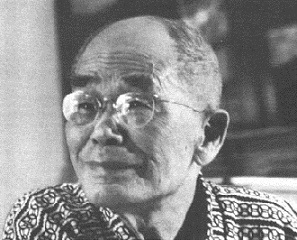 鈴木 大拙 貞太郎 Suzuki Daisetsu Teitarō, scholar and lay student of Shaku Sōen, Rinzai school; 釈 宗演 Shaku Sōen (1860-1919), heir of 今北 洪川 Imakita Kōsen (1816-1892), Rinzai school.
Shunryu Suzuki mestert ha Amerikában néhanap összetévesztették D. T. Suzukival, tréfásan válaszolt: "No, he's the big Suzuki, I'm the little Suzuki."
(- Nem, én csak a kis Suzuki vagyok, ő a nagy Suzuki.)