ZEN FESTMÉNYEK ZEN PAINTING
« Zen illusztrációk
« Zen főoldal
« vissza a Terebess Online nyitólapjára

白隠慧鶴 Hakuin Ekaku
(1686-1769)
Hakuin Ekaku (1686年 1月19日 - 1769年 1月18日) possessed an unusual ability to convey the meaning of Zen to large numbers of people from all classes and religions. Though he chose to work at a small temple in the countryside, he was frequently invited to lecture, and his writings were published, eventually bringing him fame. His writings could be rough, humorous, or sometimes even shocking, intended to rouse his followers from their complacency into a deeper contemplation of religion and spiritual life. His copious writings continue to maintain pivotal importance within the Rinzai Zen sect. His work, both as spiritual leader and as painter, had a profound effect on all subsequent Zen study and Zen painting.
Selected Writings I.
Selected Writings II.
Zazen Wasan

The Ryu'un-ji Collection Zen Paintings and Calligraphy by Zen Master Hakuin
Hanazono Collection
Paintings of Zen Master Hakuin (The Huffinton Post)
The Interest in Hakuin's Art by Yoshizawa Katsuhiro
Hakuin in Japanese: HAKUIN ZENJI HOGO ZENSHU, 14 vols. Edited and annotated by YOSHIZAWA Katsuhiro. Kyoto: Zenbunka Kenkyusho (The Institute for Zen Studies), 1999-2003.
Hakuin practiced painting late in life, beginning in his sixties and continuing until his death at eighty-four. As he grew older, he increasingly relied on it as a means of communicating Zen ideals. By the end of his life, he had produced well over one thousand paintings and calligraphies in a remarkable range of styles and subjects, often suffused with humor. Though he painted a variety of subjects, the one that he returned to the most was Daruma. Daruma is typically shown with attributes thought to be South Asian—a heavy beard, large, bulging eyes (reflecting a legend that he pulled off his eyelids after becoming sleepy during meditation), and the elongated ears of an Indian noble, stretched by heavy earrings. However, the hooked nose, high cheekbones, and oval visage are seen again and again in Hakuin's paintings of various subjects and may, in fact, reflect the physiognomy of the artist himself.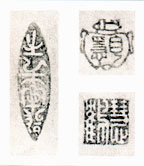 Three seals of Hakuin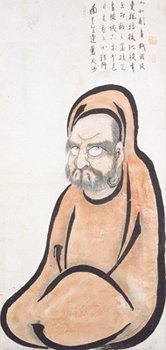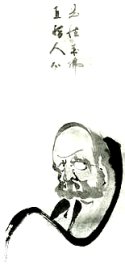 Sekiri Daruma 隻履達磨 >Daruma 122.0 cm x 58.2 >64.5 cm x 27.6 cm
One Shoe Daruma
By Hakuin Ekaku
Ink on Paper
H 126.4 cm, W 56 cm
Eisei Bunko Foundation
Portraits of Zen Masters by Hakuin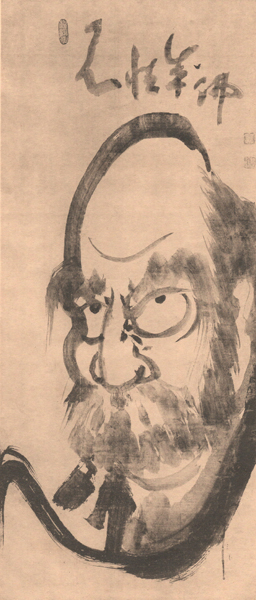 Bodhidharma (?-532)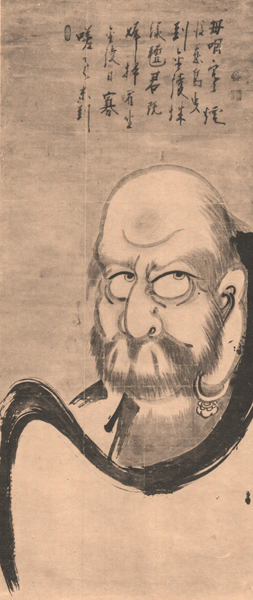 Bodhidharma (?-532)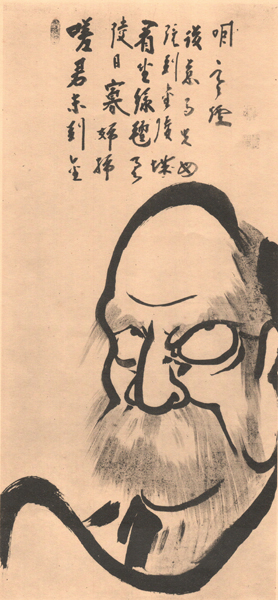 Bodhidharma (?-532)

豐干 Fenggan (Bukan, literally "Big Stick", fl. 9th century)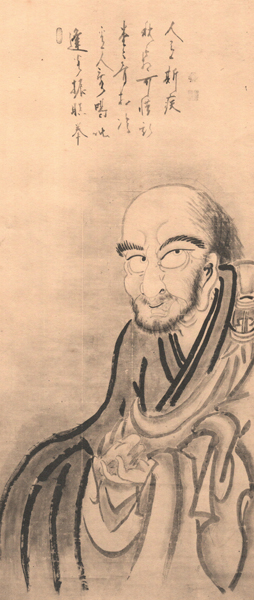 臨濟義玄 Linji Yixuan (Rinzai Gigen, ?–866)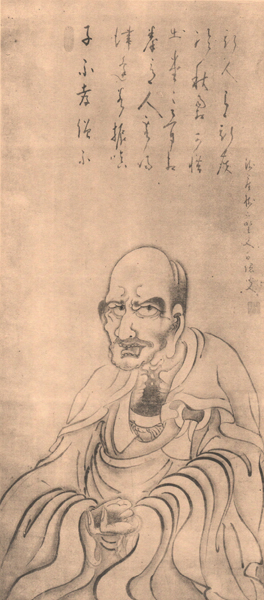 臨濟義玄 Linji Yixuan (Rinzai Gigen, ?–866)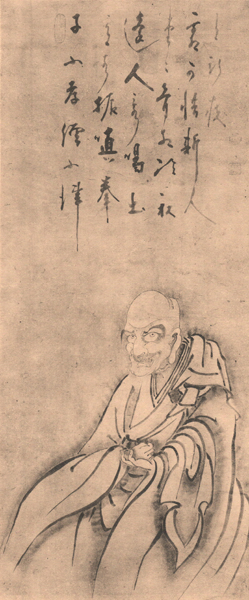 臨濟義玄 Linji Yixuan (Rinzai Gigen, ?–866)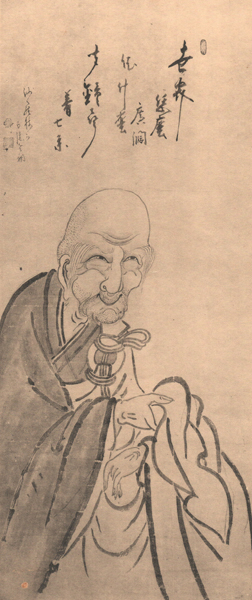 雲門文偃 Yunmen Wenyan (Ummon Bun'en, 864–949)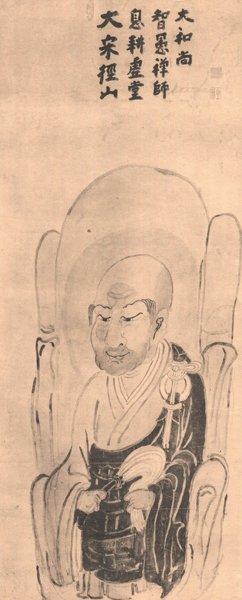 虚堂智愚 Xutang Zhiyu (Kidō Chigu, 1185-1269)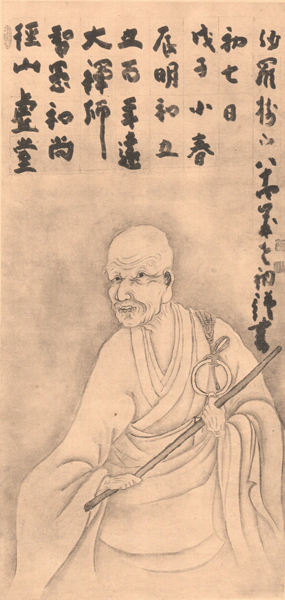 虚堂智愚 Xutang Zhiyu (Kidō Chigu, 1185-1269)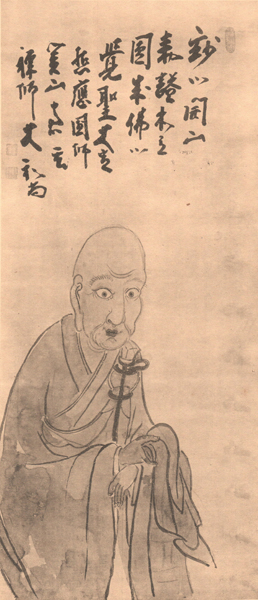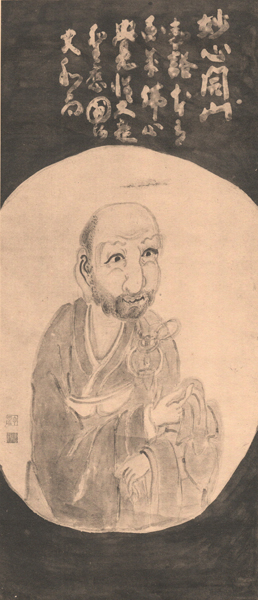 南浦紹明 Nanpo Jōmyō (大應國師 Daiō Kokushi, 1235–1308)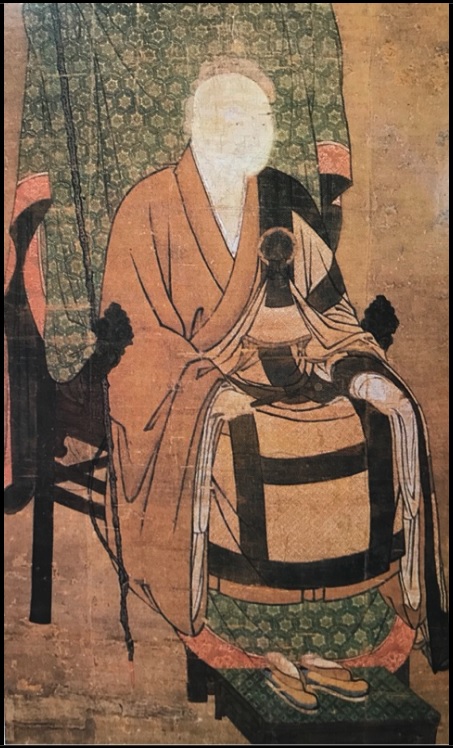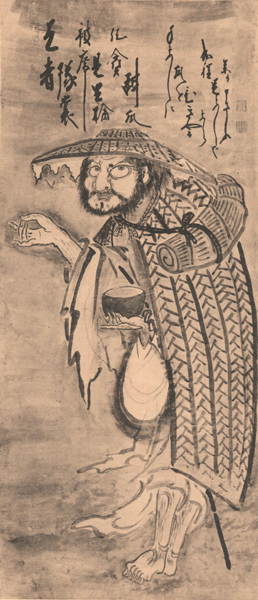 宗峰妙超 Shūhō Myōchō (大燈国師 Daitō Kokushi, 1282–1337), and as a Beggar
関山慧玄 / 關山慧玄 Kanzan Egen (1277–1360), Japanese Rinzai Zen Buddhist monk, founder of Myōshin-ji Temple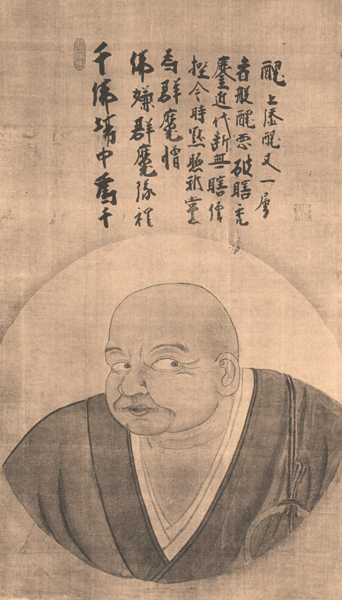 Self-portrait

Self-portrait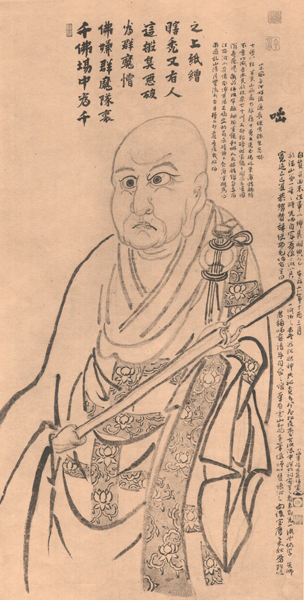 Self-portrait

Self-portrait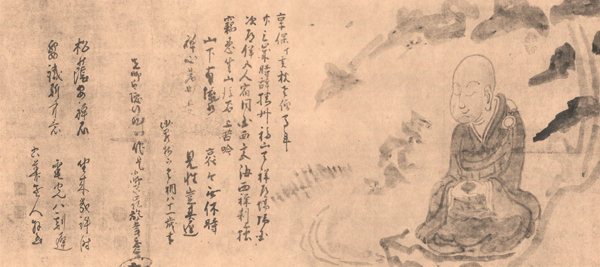 Self-portrait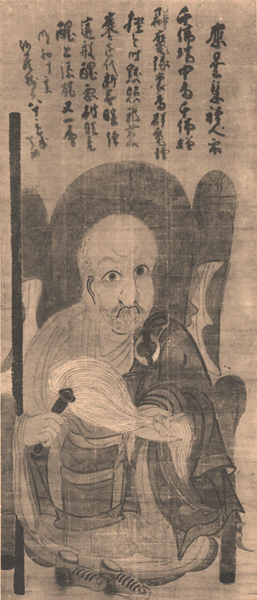 Self-portrait (1768)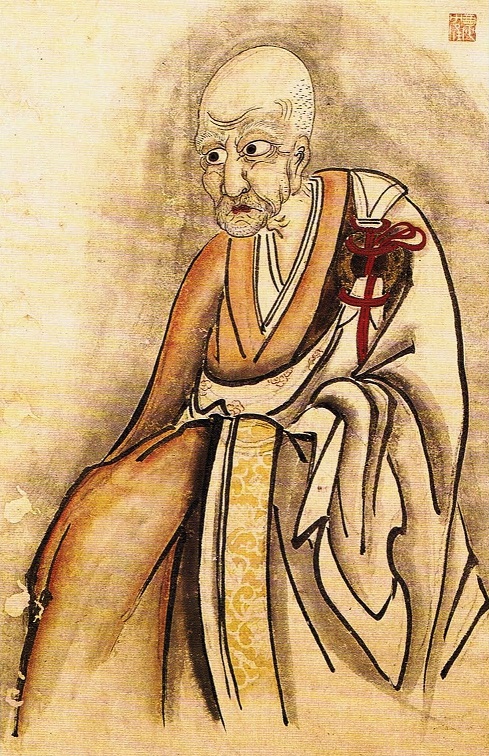 愚堂東寔 Gudō Toshoku (1577–1661) was a Japanese Rinzai school zen monk from the early Tokugawa period. He was a leading figure in the Ōtōkan lineage of the Myōshin-ji, where he led a reform movement to revitalize the practice of Rinzai. He served three times as abbot of Myōshin-ji. Among his leading disciples was Shidō Bunan (1603–1676), from whose line came the great reformer Hakuin Ekaku (1685–1768). The illustrious Zen preacher Bankei Yōtaku earlier in life wanted to meet Gudō and receive confirmation of enlightenment, but narrowly missed seeing him at his Daisen-ji temple in Mino province (today's Gifu prefecture) because the master was visiting up in Edo (Tokyo). Gudō received the posthumous title Daien Hôkan Kokushi. He left no written words.