Szungszan Hengvon koreai zen mester és kalligráfiája 1977-ből
Seung Sahn master and his brush writing made on October 5th, 1977 to Gabor Terebess
"A Buddha már csak ilyen."
Terebess Gábornak összetett kézzel, 1977. október 5.

_/\_

The inscription reads:
"Buddha is just like this."
Seung Sahn Hapchang (palm to palm)

_/\_
Véletlen? Éppen szerzetessé avatásom 10. évfordulóján! (Terebess Gábor)
What coincidence! That day was the 10th anniversary of my zen ordination (and Bodhidharma's death anniversary / memorial day).
Szungszan: A lehamuzott Buddha
(Dropping Ashes on the Buddha, 1976)
Két szemelvény Terebess Gábor 1977-ben készült fordításából:
Bevezetés

Egy ember égő cigarettával megy be a Zen Centerbe, odasétál Buddha szobrához, arcába fújja a füstöt, és belehamuz az ölébe. Ott állsz mellette. Mit kéne csinálnod?

Ez az ember megértette, hogy semmi sem szent, sem nem-szent. A világegyetemben minden egy és ez az egy ő maga. Ezért mindent szabad. A hamu Buddha, a Buddha hamu. Megpöccinti a cigarettáját, és lehamuzza a Buddhát.

Ám a megértésnek ez csupán a töredéke. Azt még nem fogta fel, hogy minden olyan, amilyen. A szent az szent. A Buddha az Buddha. Túlságosan is ragaszkodik az ürességhez és saját felfogásához. Azt hiszi, minden szó fölösleges. Bármit mondasz is neki, bárhogy is tanítod, nekedront, és megver. Ha megpróbálsz visszaütni – hogy megleckéztesd –, még jobban megver.

Hogyan lehet kigyógyítani ábrándjaiból?

Miután zen tanítvány vagy, zen tanító is vagy. A bódhiszattva útját járod, aki megfogadta, hogy megvált minden lényt a szenvedéstől. Ez az ember szenved téves nézeteitől. Segítened kell neki, hogy megértse az igazságot: a világegyetemben minden olyan, amilyen.

Hogyan segítesz neki?

Ha megtalálod a választ erre a kérdésre, az igaz utat is megtalálod.

Terebess Gábor kommentárja:
"Ha hoztál, vigyed, ha nem, add ide!"

55. Művirág, mű-szellem

Vasárnap Szung Szán mester ünnepélyes szertartáson vett részt a New-York-i International Zen Centerben. Ennivalóval és ajándékokkkal teli szatyrokkal tolongtak ott a koreai asszonyok. Egyikük nagy csokor műanyag virágot hozott, és mosolyogva nyújtotta át a mester egyik amerikai tanítványának. Az, amilyen gyorsan csak tudta, eldugta egy halom levetett kabát alá. De hamarosan ráakadt egy másik asszony, és boldogságtól sugárzó arccal az oltárhoz vitte, hogy betegye egy vázába. A tanítvány elkeseredetten ment oda a mesterhez:

– Szönyűek ezek a művirágok! El kellene tüntetni őket az oltárról, és kidobni valamerre.

– Ne törődj azzal, hogy a virágok művirágok-e vagy valódiak, hogy az oltáron vannak-e vagy a szemétkosárban. Ezek az asszonyok tiszta szívvel ajánlották fel a műanyag virágokat, cselekedetük bódhiszattvához méltó. Te elveted a műanyagot, kettéválasztod a világot jóvá és rosszá, széppé és csúffá. A te cselekedeted nem bódhiszattvához méltó.

– De mi itt azon igyekszünk, hogy mindenki számára széppé tegyük a Zen Centert. Hogyhogy ne törődjek vele? Azok a virágok elcsúfítják az egész szobát.

– Ha valaki élő virágot ad a Buddhának, a Buddha örül neki. Ha valaki műanyag virágot ad a Buddhának, a Buddha örül neki. A Buddha nem kötődik az élő virághoz és nem kötődik a műanyag virághoz. Az óceán nem mondja a folyónak: "Piszkos a vized, ne folyj belém!" Minden vizet elfogad. Ha megőrzöd Buddha szellemét, a te szellemed is olyan lesz, mint a megvilágosulás nagy óceánja.

A tanítvány mélyen meghajolt.

Terebess Gábor kommentárja:
"– Bolond vagy? Miért öntözöd a virágokat, ha nincs víz a kannádban?
– Te vagy bolond! Nem látod, hogy azok művirágok?"
* * *
Két szúmó-birkózó
(Versfordítások Seung Sahn: Bone of Space című kötetéből;
Four Seasons, San Francisco, 1982.)
Farkas Pál fordítása

1.

Aki érti: a forma üresség, az üresség forma,
felületesen már érti, mi a Tér Csontja.

Közönségesen annyit jelent: Kacu!
Vajon ez a tér vagy a csontja?

Mélységes jelentése: a Tér Csontját elérve
minden eredendően teljes.

Fűzfa zöldell, piroslik a virág.

2.

Jó és rossz - nagyszerű tanító.
Jó és rossz - nagyerejű démon.

Sem érzés, sem észlelés,
sem szándék, sem tudatosság.

Megtartod? El nem éred!
Elhagyod? El nem éred!
Akarattal akarod elérni?

A Tér Csontján vágtass a gyémánt szemekbe!
De jól vigyázz! Az ajtó előtt
kölyökkutya nyüszít. Jósággal meg ne öld!

3.

Hóember-Bódhidharma izzad és fogy egyre.
Mennyet és poklot szétzúz szívének dobbanása.
Lehullik szemöldöke, két szeme, répa-orra.
Kisgyerek kiáltja: Jaj, meghal Bódhidharma!

4.

Tízezer hal húz csíkot odalenn.
Egy hullámból lesz tízezer hullám.
Vaksötét, jeges víz, a halak ma nem harapnak.
Holdfénnyel megrakodva tér meg az üres bárka.

5.

Két szúmó-birkózó sár-bika
a tengerbe vonszolta egymást.
Ki nyert? Ki vesztett?
Nincs hír felőle.
Sirályok csapnak az égre.
Kék a tenger.

6.

Összecsapom a kezem, amikor
a déli hegyek csúcsa fölött megpillantom
a kutyává, tigrissé, emberré, Buddhává
változó, majd szertefoszló felhő-tornyokat,
melyek aztán, bánatomra, eltűnnek
a hegyek karéja fölött száguldó szélben,
kéken hagyva az eget, zölden a fákat.

7.

Gazda és vendége egymásnak meséli éjszakai álmát.
Ki mondja meg nekik, hogy most is álmodnak éppen?

Alapjában véve nincs más, csak mély nyugalom.
Miért fújja le mégis a szél a virágszirmokat?

A kutya csont után hajkurászik.
Az ijedt kacsa rémülten gágogva menekül.

8.

Meztelen ember fut végig az utcán.
Egy száj szól: Bolond!
A másik: Bolond!
Te vagy a bolond, nem én!

A fa átfúrja a Napot.
A kőgyerek zabálja a Holdat.
Ki gyógyítja meg a Napot, a Holdat?
Madárfiókák csipognak anyjuk csőrét kutatva.

9.

Az egyik kard életet ad.
A másik életet vesz el.

Mikor lecsap a villám, itt-ott földereng.
A kutya elszalad a csonttal
Az oroszlán ugrik s odacsap.

10.

A macska csak az egérlyukat lesi.
A síró gyerek csak az anyját hívja.

Eredendően semmi sincs.
Akkor miért rázza a szél a fákat?
A nap lenyugszik a nyugati hegy mögött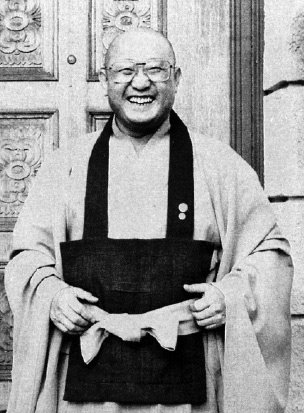 Seung Sahn's Biography

Sungsan Haengwŏn Taesŏnsa / Seung Sahn Haeng Won Dae Soen-sa (Korean: 숭산행원대선사, Hanja: 崇山行願大禪師) (c. 1927—November 30, 2004), born Dok-In Lee, was a Korean Jogye Seon master and founder of the international Kwan Um School of Zen—the largest school of Zen present in the
Western world. He was the seventy-eighth teacher in his lineage. As one of the first Korean Zen masters to settle in the United States, he opened many temples and practice groups across the globe. He was known for his charismatic style and direct presentation of Zen, which was well tailored for the Western audience. Known by students for his many correspondences with them through letters, his utilization of Dharma combat, and expressions such as "only don't know" or "only go straight" in teachings, he was conferred the honorific title of Dae Soen Sa Nim in June 2004 by the Jogye order for a lifetime of achievements. Considered the highest honor to have bestowed upon one in the order, the title translates to mean Great honored Zen master. He died in November that year at Hwa Gae Sah in Seoul, South Korea, at age 77.
Seung Sahn Soen Sa Nim's lineage chart
Cf. http://en.wikipedia.org/wiki/Seung_Sahn_Soen_Sa_Nim%27s_lineage_chart
http://sweepingzen.com/category/biographies/korean-zen-teachers/seung-sahn-lineage/
中國祖師 Chinese Patriarchs

28/1. Bodhidharma; 菩提達磨 Puti Damo (?-532)
보제달마 Boje Dalma
29/2. 大祖慧可 Dazu Huike (487-592)
대조혜가 Daejo Hyega
30/3. 江西僧璨 Jiangxi Sengcan (?-606)
강서승찬 Gangseo Seungchan
31/4. 大義道信 Dayi Daoxin (580-651)
대의도신 Daeui Dosin
32/5. 道門弘忍 Daomen Hongren (602-675)
도문홍인 Domun Hongin
33/6. 大江慧能 Dajiang Huineng (683-713)
대강혜능 Daegang Hyeneung
34/7. 南 跃懷讓 Nanyue Huairang (677-744)
남악회양 Namak Hoeyang
35/8. 馬祖道一 Mazu Daoyi (709-788)
마조도일 Majo Doil
36/9. 百丈懷海 Baichang Huaihai (720-814)
백장회해 Baekjang Hoehae
37/10. 黄蘗希運 Huangbo Xiyun (720-850)
황벽희운 Hwangbyeok Huiun
38/11. 臨濟義玄 Linji Yixuan (?-867)
임제의현 Imje Uihyeon
39/12. 興化存奬 Xinghua Cunjiang (830-888)
흥화존장 Heunghwa Jonjang
40/13. 南院慧顒 Nanyuan Huiyong (860-930)
남원도옹 Namwon Doong
41/14. 風穴延沼 Fengxue Yanzhao (896-973)
풍혈연소 Punghyeol Yeonso
42/15. 首山省念 Shoushan Shengnian (926-993)
수산성념 Susan Seongnyeom
43/16. 汾陽善昭 Fenyang Shanzhao (947-1024)
분양선소 Bunyang Seonso
44/17. 石霜楚圓 Shishuang Chuyuan (987-1040)
자명초원 Jamyeong Chowon
45/18. 楊岐方會 Yangqi Fanghui (993-1046)
양기방회 Yanggi Banghoe
46/19. 白雲守端 Baiyun Shouduan (1025–1072)
백운수단 Baegun Sudan
47/20. 五祖法演 Wuzu Fayan (?-1104)
오조법연 Ojo Beobyeon
48/21. 圓悟克勤 Yuanwu Keqin (1063-1135)
원오극근 Wono Geukgeun
49/22. 虎丘紹隆 Huqiu Shaolong (1077-1136)
호구소융 Hogu Soyung
50/23. 應庵曇華 Yingan Tanhua (1103-1163)
응암담화 Eungam Damhwa
51/24. 密庵咸傑 Mian Xianjie (1118-1186)
밀암함걸 Miram Hamgeol
52/25. 破庵祖先 Poan Zuxian ( 1136-1211)
파암조선 Paam Joseon
53/26. 無準師範 Wuzhun Shifan (1177-1249)
무준원조 Mujun Wonjo
54/27. 雪巖惠朗 Xueyan Huilang (n.d.)
설암혜랑 Seoram Hyerang
55/28. 及庵宗信 Jian Zongxin (n.d.)
급암종신 Geubam Jongsin
56/29. 石屋淸珙 Shiwu Qinggong (1270-1352)
석옥청공 Seogok Cheonggong
韓國祖師 Korean Patriarchs

57/30/1. 태고보우 / 太古普愚 Taego Bou (1301-1382)
58/31/2. 환암혼수 / 幻庵混修 Hwanam Honsu (1320-1392)
59/32/3. 구곡각운 / 龜谷覺雲 Gugok Gakun (n.d.)
60/33/4. 벽계정심 / 碧溪淨心 Byeokgye Jeongsim (?-1492)
61/34/5. 벽송지엄 / 碧松智嚴 Byeoksong Jieom (1464-1534)
62/35/6. 부용영관 / 芙蓉靈觀 Buyong Yeonggwan (1485-1567/71)
63/36/7. 청허휴정 / 淸虛休靜 Cheongheo Hyujeong (1520-1604)
64/37/8. 편양언기 / 鞭羊彦機 Pyeonyang Eon-gi (1581-1644)
65/38/9. 풍담의심 / 楓潭義諶 Pungdam Euisim (1592-1665)
66/39/10. 월담설제 / 月潭雪霽 Woldam Seolje (1632-1704)
67/40/11. 환성지안 / 喚惺志安 Hwanseong Jian (1664-1729)
68/41/12. 호암체정 / 虎巖體淨 Hoam Chejeong (n.d.)
69/42/13. 청봉거안 / 靑峰巨岸 Cheongbong Geoan (1710-1793)
70/43/14. 율봉청고 / 栗峰靑古 Yulbong Cheonggo (n.d.)
71/44/15. 금허 법첨 / 錦虛法沾 Geumheo Beopcheom (n.d.)
72/45/16. 용암혜언 / 龍岩慧彦 Yongam Hyeeon (n.d.)
73/46/17. 영월봉율 / 永月奉律 Yeongwol Bongyul (1738-1823)
74/47/18. 만화보선 / 萬化普善 Manhwa Boseon (n.d.)
75/48/19. 경허성우 / 鏡虛惺牛 Gyeongheo Seongu (1849-1912)
76/49/20. 만공월면 / 滿空月面 Mangong Wolmyeon (1871-1946)
77/50/21. 고봉경욱 / 高峯 [古峯, 古峰] 景昱 Gobong Gyeonguk (1890-1962)
78/51/22. 숭산행원 / 崇山行願 Sungsan Haengwon (1927-2004), aka Seung Sahn