ZEN MESTEREK ZEN MASTERS
« Zen főoldal
« vissza a Terebess Online nyitólapjára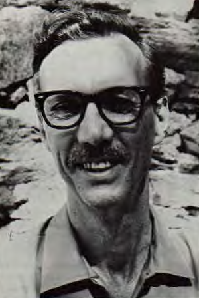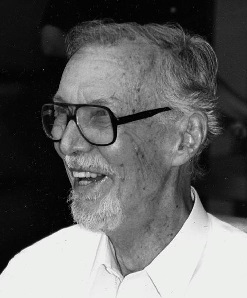 Robert Baker Aitken (1917-2010)
Dairyū Chōtan Gyōun
大龍 Dairyū = Great Dragon
貯潭 Chōtan = Deep Pool
暁雲 Gyōun = Dawn Cloud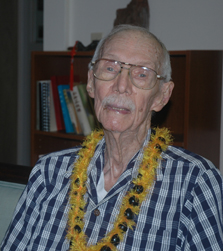 Robert Baker Dairyū Chōtan Gyōun Aitken Rōshi (June 19, 1917 – August 5, 2010) was the master of the Diamond Sangha, a Zen Buddhist society he founded in Honolulu in 1959 with his late wife Anne Hopkins Aitken.
A lifetime resident of Hawai`i, Aitken Rōshi was a graduate of the University of Hawai`i with a BA degree in English literature and an MA degree in Japanese studies. In 1941, he was captured on Guam by invading Japanese forces, and interned in Japan for the duration of World War II. In the camp, he met the British scholar R. H. Blyth, who introduced him to Zen Buddhism. After the war, he practiced Zen with Senzaki Nyogen Sensei in Los Angeles, and traveled frequently to Japan to practice in monasteries and lay centers with Nakagawa Sōen Rōshi, Yasutani Haku'un Rōshi, and Yamada Kōun Rōshi. In 1974, he was given approval to teach by the Yamada Rōshi, Abbot of the Sanbo Kyodan in Kamakura, Japan, who gave him transmission as an independent master in 1985.
Aitken Rōshi gave full transmission as independent masters to Nelson Foster, Ring of Bone Zendo in Nevada City, California; John Tarrant , Pacific Zen Institute in Santa Rosa, California; Patrick Hawk, Zen Desert Sangha in Tucson, Arizona, and Mountain Cloud Zen Center in Santa Fe, New Mexico; Joseph Bobrow, Deep Streams Zen Institute in San Francisco, California; Jack Duffy, Three Treasures Sangha in Seattle, Washington; Augusto Alcalde, Autumn Bridge Dojo, Argentina and Rolf Drosten, Wolken-und-Mond-Sangha (Clouds and Moon Sangha), in Leverkusen, Germany. He authorized Pia Gyger, One Ground Zendo in Luzern, Switzerland, as an affiliate teacher of the Diamond Sangha. He joined with John Tarrant in giving transmission as independent masters to Subhana Barzaghi in Sydney, New South Wales, Australia; and to Ross Bolleter in Perth, Western Australia.
Aitken Rōshi authored of more than ten books on Zen Buddhism, and co-authored a book-length Buddhist-Christian dialogue. In Hawai`i he was instrumental in founding the Koko An Zendo, the Pālolo Zen Center, the Maui Zendo, and the Garden Island Sangha. A number of other centers in Europe, North and South America, and Australasia are part of the Diamond Sangha network.
As a part his commitment to making Zen Buddhism accessible to all, he paid particular attention to making a place for women, people of color, and the lgbt community. Those seeking an introduction to Zen may wish to start with Taking the Path of Zen, and those pursuing further study may benefit from his list of recommended reading.
Aitken Rōshi was co-founder of the Buddhist Peace Fellowship (now with a local East Hawai`i Chapter) and served on its international board of advisors. He was active in a number of peace, social justice, and ecological movements, and his writing reflects his concern that Buddhists be engaged in social applications of their experience.
As a retired master, Aitken Rōshi worked with a few long-time students, and continued to study and write until two days before his death. His work, Zen Master Raven: Sayings and Doings of a Wise Bird, was published by Tuttle in 2002. His more recent publications, The Morning Star: New and Selected Zen Writings, and a new edition of A Zen Wave: Basho's Haiku and Zen, were released in October, 2003, by Shoemaker and Hoard. In 2006, He collaborated with Daniel W.Y. Kwok and published Vegetable Roots Discourse: Wisdom from Ming China on Life and Living.
Robert Aitken died August 5th, 2010, in Honolulu, Hawaii. His final book, The River of Heaven: The Haiku of Basho, Buson, Issa, and Shiki was published in 2011.
Teisho
40 Years of the Diamond Sangha
Blue Cliff Record Case 1
The Country Zendo of the Sydney Zen Centre: Dedication and Teisho
Dana: The Way to Begin
The Dance of Affinity
"Do You Remember?" A Buddhist Reflection
The Intrareligious Dialogue: Ruminations of an American Zen Buddhist
Is That So!
Seeing into True Nature
Shoyoroku: Case 69
Addresses
The 9/11 Tragedy
The Long View
Martin Luther King: Message for Our Time More
The Second Paramita (Buddhist Precepts)
Envisioning the Future
Teisho: Some word's about sesshin for newcomers to Zen
Credo
Legacies Poets Against the War
Lin-chi For Our Time
Nonviolence in Hawaii's Spiritual Traditions, Chapter 5 - Buddhist [.pdf]
Same-Gender Marriage Testimony (1995) Articles about Roshi
Aitken, at 88, still enjoys work
Spiritual Wisdom
Shaka Buddha (pg. 5)
Buddhist Practice and the Attorney (2007)

Reviews
New Wine in Old Bottles
The Dance of Affinity
Taking the Path
A Zen Wave
Zen Master Raven
From Sacred Texts
Envisioning The Future
Some words about Sesshin for newcomers to Zen practice
On Zen Teaching
The Future of Zen Buddhism in the West
The Second Paramita
A Draft Bibliography Of Zen Writings of Robert Aitken
Diamond Sangha Sutras
Diamond Sangha Sutras
Cheng-Tao-Ko
Shodoka
The Three Pure Precepts
Daily Zen Buddhist Sutras
Zen Buddhist Meal Sutras

Holló zenmester:
egy bölcs madár mondásai és cselekedetei
összeáll. és jegyzetekkel ell. Robert Aitken
[ford. és szerk. Edelényi Gyula]
Lunarimpex, Fót, 2010, 207 oldal

Hogyan olvassuk a Hollót?
Nelson Foster előszava
Egyszer, miután Robert Aitken – más néven Aitken rōshi, ahogyan szerető tanítványai között ismert – befejezte a felolvasást a szövegből, amit a Kedves Olvasó a kezében tart, megkérdeztem ott, a hallgatóság előtt, honnan jönnek ezek a történetek. "Egy mélységes álomból" – felelte. Ez akkor egy álmoskönyv, és amikor olvassuk, mi is belépünk ebbe az álomvilágba, ami az idők kezdete előttre nyúlik vissza, amikor az állatok beszéltek, kutatták és magyarázták a legmélyebb igazságot.
Ennek a világnak a központi alakja Holló zenmester, aki maga is tárgyalja ezt az álmos kérdést, és az álom szerzőjének valaki mást nevez meg: "Mi mind Sákjamuni Buddha álmának gyermekei vagyunk…" – tanítja. "Az alapkő, ami felsóhajt a gyep alatt ott a körünk távoli szegélyén, az ő jelenlétét tükrözi. A korszakok során köréje gyűlt számtalan követőjének társaságában borulunk le előtte, és kántáljuk a szútrákat. Füstölőjétől illatozik a levegő. Tanítása megállásra késztet minket. Időzzünk most itt vele."
Ez a meghívás egy másik álmot juttat eszembe, amit közel 2500 éve jegyeztek fel, nem sokkal a Buddha ideje után.
"Egyszer régen én, Csuang Csou azt álmodtam, hogy pillangó vagyok, csapongó pillangó, amely szabadnak és boldognak érzi magát, s mit sem tud Csouról. Hirtelen azonban felébredtem, és íme, én voltam az, a valóságos Csou. Most aztán nem tudom, vajon Csou álmodta-e, hogy pillangó, vagy talán a pillangó álmodja éppen, hogy ő Csou?"[1]
Kinek az álma ez most itt valójában? Aitken rōshi álma Hollóról? Holló álma Sákjamuniról? Sákjamuni álma rólunk, Kedves Olvasó? Vagy mi vagyunk eltéveszthetetlenül valóságosak, s mi álmodjuk az összes többit?
Ebben a tükörlabirintusban minden nagyon ismerősnek érződik az olvasó számára, valószínűleg azért, mert ugyanebben a labirintusban ébred minden reggel, ebben dolgozik, itt találkozik a családjával és a barátaival. Mi, kétlábú lények évezredek óta kutatjuk a dimenzióit, és újra meg újra, amikor a dolgok elcsendesednek, a legbelső szobában találjuk magunkat. Ott azután szembesülünk ennek a könyvnek vagy ennek az álomnak – bárki álmodja is – a velejéből előtörő megfejthetetlen kérdésekkel: "Ki vagyok én? Ki vagy te? Miért vagyunk itt? Hová megyünk? Mit kell tennünk?"
Azt javaslom, itt álljunk meg, és bízzuk magunkat Holló rōshi útmutatásaira...
Nelson Foster zent tanít a Gyémánt Közösségben, Kaliforniában és a Hawaii-szigeteken. The Roaring Stream: A New Zen Reader című könyv társszerkesztője.
[1] Tőkei Ferenc fordítása
Igaz tanítás
Egyik este Bagoly azt kérdezte: - Hogyan tudod eldönteni egy tanításról, igaz-e vagy hamis?
- A moha kiszárad a kövön, ha a patak vize apad – mondta Holló.
- Tehát a helyes tanítás mindig nedves? – vonta le a következtetést Bagoly.
- Tocsog – mondta Holló.
Helyes Gondolkodás
Később, ugyanazon a találkozón, Bagoly feltett egy másik kérdést: - A helyes gondolkodás közvetlenül a helyes nézőpont után következik. Nekem gondjaim vannak a gondolkodással. Mi a helyes gondolkodás?
- A lényeg – mondta Barnamedve.
- De a gondolataim csak pörögnek és pörögnek – panaszkodott Bagoly.
- Erre összpontosítasz? – kérdezte Medve.
Bagoly pislogott, és nem szólt semmit.
Az igazmondásról
Vakond megköszörülte a torkát, és megkérdezte: - Mindig igazat kell mondanom? Néha többet árt, mint használ.
Holló azt mondta: - Akkor az nem az igazság.
Vakond sóhajtott, de csendben maradt.
Bagoly állt fel, és szólalt meg: - Akkor hazudjak ilyen helyzetekben?
- Mondd az igazat – válaszolta Holló.
Holló roshi
Egy reggel Süni jött el személyes beszélgetésre Hollóhoz, és azt kérdezte: - Micsoda Holló roshi?
Holló azt mondta: - Van ez a késztetésem, hogy újszülött bárányokat zsákmányoljak.
- És hogyan kezeled? – kérdezte Süni.
- Enélkül megzavarodnék – mondta Holló.
A gyakorlás szelleme
Bagoly, miközben lazított a többiekkel zazen után, egyik este megkérdezte:
- Mi a gyakorlás szelleme?
Holló azt felelte: - Érdeklődés.
Bagoly biccentett: - És mi iránt érdeklődjek?
Mire Holló: - Kezdetnek jó.