ZEN MESTEREK ZEN MASTERS
« Zen főoldal
« vissza a Terebess Online nyitólapjára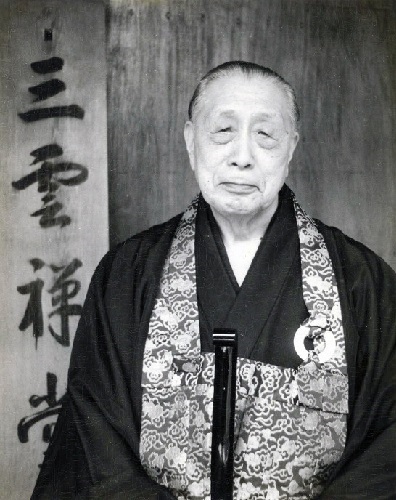 山田耕雲 Yamada Kōun (1907-1989)
The Sanbô Kyôdan is a Zen-Buddhist Religious Foundation (shûkyô-hôjin) started by YASUTANI Haku'un Roshi on 8 January 1954.
The second abbot of the Sanbô Kyôdan, YAMADA Kôun Roshi, was born in Nihonmatsu City, Fukushima Prefecture, Japan, on 18 March 1907. He started Zazen in Manchuria in 1943 under the guidance of KÔNO Sôkan Roshi. Upon returning to Honshu, Japan, in 1945 he devoted himself to zazen practice under ASAHINA Sôgen Roshi of the Engakuji in Kamakura as well as under HANAMOTO Kanzui Roshi of the Mokusenji in Ôfuna. However, he never became a monk and continued to work in the business world; his major position was president of the Tokyo Kembikyôin Medical Center.

YAMADA Roshi received the Buddhist precept from HARADA Sogaku Roshi in 1950; through this connection he came into contact with YASUTANI Roshi, HARADA Roshi's disciple, whom YAMADA Roshi invited in 1953 to launch the Zen group called "Kamakura Haku'un-kai" and to begin a monthly zazenkai in Kamakura. In the same year he experienced an unusually deep enlightenment, which led him to the Dharma succession in 1960. In 1967 he was appointed Zen Master (shôshike) of the Sanbô Kyôdan. Three years later he became the president of the Kyôdan.
PDF: In Memoriam: Yamada Kōun Rōshi (1907-1989) by Ruben L. F. Habito
Buddhist-Christian Studies, Vol. 10 (1990), pp. 231-237.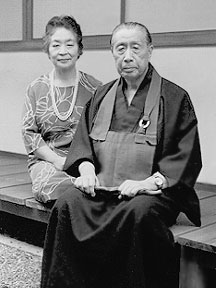 山田耕雲 Yamada Kōun Zenshin (1907-1989) or Koun Yamada
with his wife, Mrs. Kazue Yamada
The San'un Zendo as the Central Dôjô
In 1970, Kôun Roshi, together with his wife Dr. Kazue YAMADA, built the San'un Zendo in his family compound. ("San'un" means "three clouds," representing the three Zen masters in the same lineage: "HARADA Daiun [big cloud]," "YASUTANI Haku'un [white cloud]," and "YAMADA Kôun [plowing cloud]"). Subsequently the San'un Zendo became the central dôjô [place of practice] of the Sanbô Kyôdan. Here, YAMADA Kôun Roshi guided both Japanese and non-Japanese students in the zazenkai (zazen gathering at the weekend, held twice a month) as well as in the sesshin (zazen gathering for several days, held several times a year).

Especially after Father Hugo M. ENOMIYA-LASSALLE became an earnest student of YAMADA Roshi, many Christian priests, nuns and pastors started to seek the guidance of YAMADA Roshi.

By the time of his passing on 13 September 1989 as many as 24 Japanese and 21 non-Japanese disciples had finished the formal course of Zen training.

Books
Hekiganroku - Die Niederschrift vom blauen Fels - Die klassische Koansammlung mit neuen Teishos - 2 Bände
Yamada Kôun / Lengsfeld, Peter (Hg.)
Kösel-Verlag GmbH & Co., München, 2002
PDF: The Gateless Gate: The Classic Book of Zen Koans
Translated with commentary by Kōun Yamada
Wisdom Publications, Boston, 2004
Periodical
暁鐘 KYÔSHÔ [The Awakening Gong] Back numbers
Translation of Yamada Koun Roshi's Teisho
on the Hekiganroku (Blue Cliff Record)

Translation of Yamada Koun Roshi's Teisho
on the Shoyoroku (Book of Equanimity)