Tôshô-ji
4-5-18 Yutaka-machi, Shinagawa-ku, Tokyo, 142-0042 Japan
Tel.: 03-3781-4235
Fax: 03-3781-6168
Togoshi-kôen Station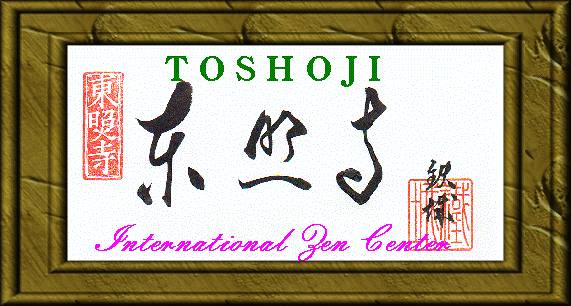 THE HISTORY OF TOSHOJI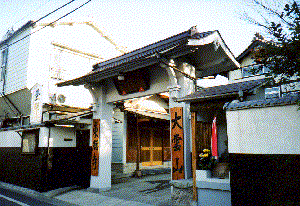 In 1941, Harada Daiun Sogaku Roshi established a branch of Hosshin-ji temple in Tokyo. At first it was named "Daiun kai Dojo", and in 1943 was registered as "Toshoji" temple.
Toshoji was burned completely during the Second World War. After the war, many followers helped to build a new Toshoji.
Second master Ban Tetsugyu Roshi and present master Deguchi Tetsujyo refurbished the building many times till now.
The gate of Toshoji

Gabor Terebess (釈 元祥 Shaku Genshō, 1944-)
stayed a few months in 1967 at Tōshō-ji
with Ban Tetsugyu rōshi
---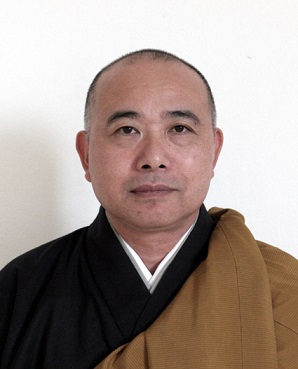 Deguchi Tetsujo, Abbot of Toshoji International Zen Center and a seminal influence on the growth of Zen Buddhism in Italy.
He was ordained as a Soto Zen Monk at the age of thirty, but started zazen at the age of sixteen.
He studied law in Chuo University while staying at Toshoji temple.
He received Dharma transmission and also Dharuma success (1983 Inka) of Harada Roshi Line from Tetsugyu Ban Roshi (1910-1996).
---
TOSHOJI - S C H E D U L E
GYOTEN-ZAZEN (free)
MORNING EXERCISE
AM 5:00 ZAZEN
5:40 SUTRA CHANTING
6:20 CLEANING till AM7:00
(Except Sundays and public holidays)

SATURDAYS-ZENKAI (free)
ZEN TRAINING MEETING
PM 6:00 ZAZEN
7:00 LECTURE
7:30 TEA till PM8:00

SESSHIN (3000yen a day)
5 DAYS FULL-TIME ZEN TRAINING
Early in April
Early in December
---
A GUIDE FOR STAYING AT THE TEMPLE
For those who want to practice ZEN for a longer period
(more than 6 months), a dormitory in the temple is available.
DORMITORIES
Dormitory for men 8 rooms
Dormitory for women 3 rooms

RULES
Residents are required to participate in the morning routine,
also ZENKAI and SESSHIN.
The temple gates close at 9 pm,and all residents must return
by that time.
Residents may not stay overnight outside the temple.
The daytime is free for residents to go to school,or work
outside the temple.

FEE
The fee per month is 30,000 yen (including breakfast)
Electricity and water charges are shared among residents.
---
---
OTHER ZEN LINKS
IL CERCHIO "Enso-ji"
A strong related temple with TOSHOJI
The World Wide SOTO ZEN
Official page of SOTO
The Electronic Bodhidharma
International Research Institute for Zen Buddhism at Hanazono university