ZEN FESTMÉNYEK ZEN PAINTING
« Zen illusztrációk
« Zen főoldal
« vissza a Terebess Online nyitólapjára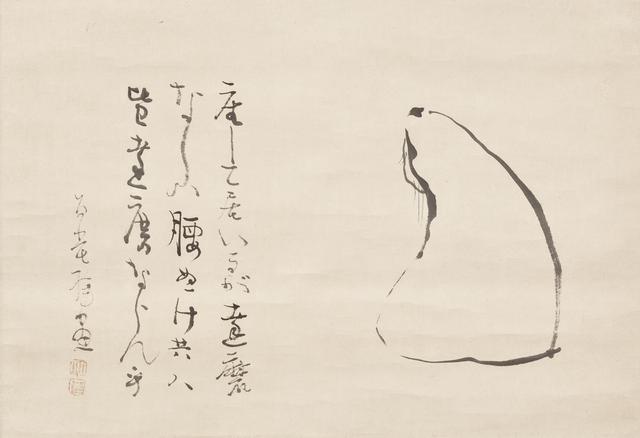 Self-portrait / Önábrázolás
仙厓義梵 Sengai Gibon (1750-1837)
zen tusfestményeiből

Ausstellung von Sengai in Europa, Kokusai Bunka Shinkokai
Kunsthaus Zürich, 12. Januar – 10. Februar 1963
Aus dem Originaltext von Dr. Daisetz T. Suzuki
übersetzt von Eva van Hoboken
Honorific name: Fumonentsu Zenji. Pen name: Hyakudo, Kyohaku, Tenmin, Muho-sai, Taiho, Ayo. Dharma transmission from Gessen Zen'ne. After spending time preaching around the countryside, he became the abbot of Shofuku-ji at the age of 39. His works conveyed Zen teachings with light-hearted wit and often self-mocking humor. They were easy to interpret and were widely accepted and loved by the people. He now has an international reputation.

További képek:
http://www.asiamodena.it/appuntiyoga/ay/008/ay8.2.html
http://record.museum.kyushu-u.ac.jp/sengai/
http://www.wikipaintings.org/en/sengai/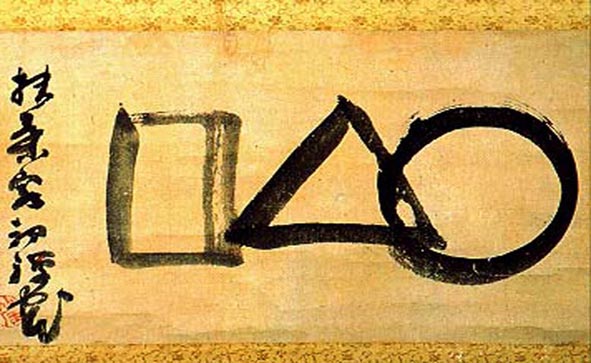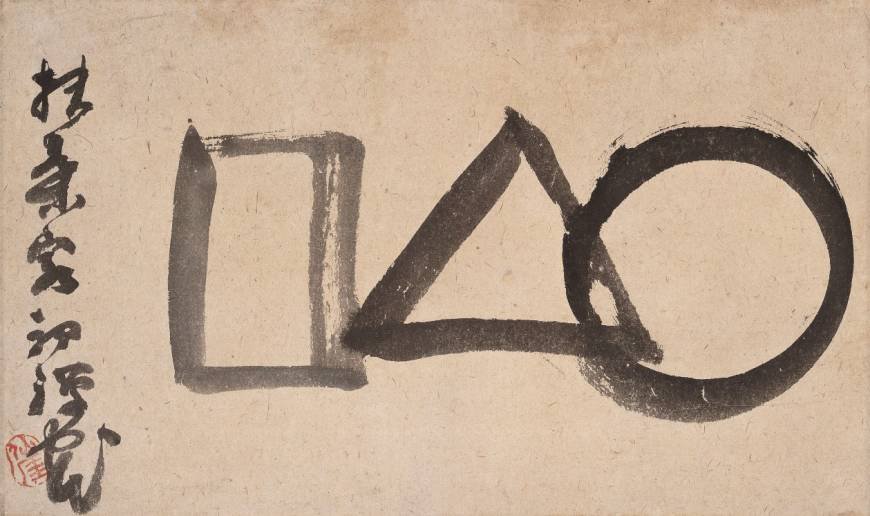 Das Universum
Das Kreis-Dreieck-Viereck ist Sengai's geistige Vorstellung des Uni. versums. Der Kreis stellt das Unendliche dar, und das Unendliche ist die Basis alles Seienden. Das Unendliche jedoch ist in sich selbst formlos. Wir Menschen, die mit den Sinnen und dem Intellekt ausgestattet sind, verlangen nach greifbaren Formen. Daher das Dreieck. Das Dreieck ist der Beginn aller Formen. Aus ihm kommt zuerst das Viereck. Ein Viereck ist ein verdoppeltes Dreieck. Dieser Verdopplungsprozess setzt sich unendlich fort, und so gelangen wir zur Vielheit der Dinge, welche die chinesischen Philosophen "die zehntausend Dinge"-das ist das Universum-nennen.
Die Schwierigkeit mit uns sprachlich eingestellten Lebewesen ist, dass wir die Sprache realistisch nehmen und vergessen, dass sie ohne Zeit von keinerlei Bedeutung ist. In Wirklichkeit ist Sprache Zeit, und Zeit ist Sprache. So kommen wir dazu zu dereken, dass am Anfang der Welt ein Etwas ist, das real und konkret ist-so etwas, wie ein Welt von Galaxien, wenn auch formlos und nebelhaft, jedoch wirklich und greifbar. Dies ist der Ursprung des Universums, von welchem schliesslich unendliche Arten von Dingen sich forrnen und variieren. Daher kommt, dass man beginnt, Zeit selbst als etwas Konkretes und Reales zu denken. Ein Kreis wird zum Dreieck, dann zum Viereck und schliesslich zu unendlich verschiedenartigen, wechselnden, variierenden Formen. Auf diese Weise hat sich die biblische Erzählung von der Schöpfung in der Vorstellung Vieler in historische Wahrheit verwandelt. Zen ist sehr gegen solche "Erdichtungen".

The Universe
"The circle-triangle-square is Sengai's picture of the universe. The circle represents the infinite, and the infinite is at the basis of all beings. But the infinite in itself is formless. We humans endowed with senses and intellect demand tangible forms. Hence a triangle. The triangle is the beginning of all forms. Out of it first comes the square. A square is the triangle doubled. This doubling process goes on infinitely and we have the multitudinosity of things, which the Chinese philosopher calls 'the ten thousand things', that is, the universe. The trouble with us linguistically-minded beings is that we take language realistically and forget that language is of no significance whatsoever without time. In truth, language is time and time is language. We thus come to think that there is in the beginning of the world a something which is real and concrete, such as a world of galaxies which though formless and nebulous is yet real and tangible. This is the foundation of the universe on which we now have all kinds of things, infinitely formed and varied. It is thus that time itself begins to be thought of as something concrete and real. A circle turns into a triangle, and then into a square, and finally into infinitely varied and varying figures. In the same way the Biblical account of creation has turned into historical truth in the minds of many. But Zen is very much against such fabrications. There is another and a more traditional interpretation that may be given to these three figures of forms. Sengai was familiar with Shingon, the mantra sect of Buddhism, as well as Zen. He liked Shingon because it taught the identity of the bodily existence (rupakaya) with ultimate reality (dharmakaya). The bodily existence is here represented by a triangle which symbolizes the human body in its triple aspect, physical, oral (or intellection), and mental (or spiritual). The quadrangle represents the objective world which is composed of the four great elements (mahabhuta), earth, water, fire and air. The Dharmakaya, the ultimate reality, is the circle here, that is, the formless form. We generally hold a dichotomous view of existence, form (rupakaya) and formless (arupa), object and subject, matter and spirit, and think they contradict each other and are mutually exclusive. Both Shingon and Zen, however, oppose this view and hold that what is form is formless or empty (sunya), that is, they are identical.
In his little treatise on this subject called Tengan Yaku (Medicine for the Eye), written in a dialogue form, Sengai estimates Zen as being higher than Shingon, and states that Zen is more direct and immediate and to the point without indulging in verbalism. Zen in this respect is the most effective medicinal drop for the eye that is still wandering on the level of intellection. It replaces this kind of eye with the one possessed by Mahasvara (Great Lord). It is the divine eye which looks directly into the secrets of the ultimate reality. The opening or awakening to this order is abrupt and beyond verbal demonstrations of any sort, which is characteristically lacking in Shingon."
~D.T.Suzuki
Néhány zen tusfestmény a katalógusból
Terebess Gábor kapcsolódó fordításaival:

One-shoe/Sekiri Daruma 隻履達磨
Bódhidharma a barlang falának fordulva ült és hallgatott. Kint Huj-ko a magas hóban térdelt hiába, végül levágta és felmutatta egyik karját, hogy szóra bírja mesterét:
– Tanítványod szelleme nem ismer nyugalmat – mondta kétségbeesetten. – Könyörgök, békítsd meg!
– Hozd ide azt a nyughatatlan szellemed – szólt a pátriárka. – Megbékítem.
– Mihelyt keresem, megtalálhatatlan.
– Akkor meg is békült.
Vu-ti császár kihallgatásra rendelte Bódhidharmát:
– Lám, építtettem számtalan templomot, másoltattam számtalan szútrát, gondoskodtam számtalan szerzetesről – hivalkodott a császár. – Milyen érdemeket szereztem?
– Semmilyet – mondta Bódhidharma.
– Mi szent hát?
– Minden üres, nem szent.
– Akkor ki áll itt előttem?
– Nem tudni.
"Külön hagyomány a tanon túl,
Nem alapul írott jegyen,
Menten az ember szívéhez szól,
Hogy feleszméljen, Buddha legyen."
(Bódhidharma)


– Miért jött ide nyugatról Bódhidharma? – kérdezte egy szerzetes.
– Ciprusfa az udvaron – felelte Csao-csou. – Miért jött ide nyugatról Bódhidharma? – kérdezte egy másik szerzetes.
Csao-csou mester leszállt a székéből és megállt mellette.
– Ezt feleled? – csodálkozott a szerzetes.
– Egy árva szót se szóltam – tiltakozott a mester.
Sengai Gibon
Dates: 1750-1837

Sect: Zen. Rinzai.

Text: Painting of the 6th patriarch E'no grinding with a mortar. Grinding, kneading, sifting or stamping. After he worked hard, he got full and went to sleep snoring loudly. Painted by Sengai, the first Zen temple in Japan, respectfully in the early spring in 1809.

Temple: The Myoshin-ji branch. The 123rd abbot of Shofuku-ji in Hakata.

Paper Dimension /cm: 124.5*41.6
Whole Dimension /cm: 202*47.8

Style: Vertical silk mounting. Normal style.

Box: Paulownia. Certified on the box by Dr. Awakawa Koichi himself.
Holdra mutató Pu-taj

– Nem a holdra mutató ujjról kérdezlek, hanem a holdról – mondta egy szerzetes.
– Mi az a holdra mutató ujj, amiről nem kérdezel? – kérdezett vissza Fa-jen.
– Nem a holdról kérdezlek, hanem a holdra mutató ujjról – mondta egy másik szerzetes.
– A hold! – felelte Fa-jen.
– Én az ujjról kérdeztelek, miért válaszoltál a holddal?
– Mert az ujjról kérdeztél.
Pu-taj egy szerzetes után eredt és a vállára tette a kezét. Mikor a szerzetes hátrafordult, a markát nyújtotta felé:
– Adj egy pénzt!
– Előbb hadd halljam az igazság szavát – mondta a szerzetes –, csak akkor adok.
A mester letette a batyuját és összekulcsolta a kezét.

– Mi a buddhizmus értelme? – kérdezte tőle egy Pao-fu nevű szerzetes.
Pu-taj letette a batyuját és összekulcsolta a kezét.
– Ez minden? – kérdezte tovább Pao-fu. – Nincs ennél fontosabb?
Pu-taj felvette a batyuját és otthagyta.
– Milyen eszmékre tanítod majd az embereket? – kérdezte Ma-cu Paj-csangtól.
Paj-csang szó nélkül feltartotta a légycsapóját.
– Ez minden?
Paj-csang földhöz vágta a légycsapót.
Ma-cu erre akkorát ordított, hogy Paj-csang három napra belesüketült.
Amikor Lin-csi újdonsült szerzetes volt Huang-po közösségében, egyszerű és közvetlen viselkedése feltűnt a szerzetesfelügyelőnek:
– Bár ifjonc még, más, mint a többi – tűnődött, aztán rászólt:
– Mióta is vagy itt?
– Három éve – felelt Lin-csi.
– Kértél már tanácsot?
– Nem tudom, mit kérdezzek.
– Miért nem kérdezed meg a tisztelendő apáttól, mi a buddhizmus értelme?
Lin-csi úgy is tett. Ám alig fejezte be mondókáját, Huang po megbotozta.
– No, milyen tanácsot kaptál? – kérdezte később a felügyelő.
– Még be se fejeztem a kérdést, a mester máris megbotozott – mondta Lin-csi. – Fogalmam sincs, miért.
– Menj csak, kérdezd meg még egyszer!
De másodszor, sőt harmadszor is botozás lett a kérdezősködés vége.
– Voltál olyan jó és elküldtél a mesterhez – mondta végül Lin-csi a szerzetesfelügyelőnek. – Háromszor kérdeztem meg a buddhizmus értelmét, és háromszor botozott meg érte. Bizonyára valami régi gátlás akadályoz benne, hogy megértsem mélyebb szándékait. Jobb lesz, ha elmegyek.
– Azért csak búcsúzz el a mestertől!
Lin-csi bólintott.
A szerzetesfelügyelő előresietett Huang-póhoz:
– Az a kérdezősködő fiatal szerzetes igencsak alkalmas lenne az Eszme befogadására. Ha búcsúzni jön, el kéne igazítani. A jövendőnek ültetünk, talán nagy fává terebélyesedik, és majdan nemzedékek hűsölhetnek árnyékában.
Lin-csi kisvártatva meg is jelent.
– Nem kell messzire menned – mondta Huang-po –, csak Ta-jühöz, a Kao-an járásba, megmagyaráz ő mindent.
Lin-csi el is ment hozzá.
– Honnan jöttél? – kérdezte Ta-jü.
– Huang-pótól.
– Mit mond Huang-po?
– Háromszor kérdeztem tőle, mi a buddhizmus értelme, és háromszor botozott meg érte. De fogalmam sincs, milyen hibát követtem el.
– Huang-po annyit vesződött veled, mint egy jó öreg nagymama, te mégis hozzám hurcolod a hibáidat!
Lin-csi egy csapásra megvilágosult:
– Végeredményben Huang-po buddhizmusa nem is nagy ügy! – jelentette ki.
– Te ágybahugyozó ördögfajzat! – ragadta meg Lin-csit Ta-jü. – Idejössz nekem, hogy még azt se tudod, milyen hibát követtél el, most meg egyszerre Huang-po buddhizmusa se nagy ügy! Mit forgatsz a fejedben, mondd!
Lin-csi válaszul háromszor oldalba vágta Ta-jüt.
– Huang-po a mestered – engedte el Lin-csit Ta-jü. – Semmi közöm hozzátok!
Lin-csi visszatért Huang-póhoz.
– Mikor lesz már vége ennek a jövés-menésnek? – kérdezte Huang-po.
– Az a nagymamai jó szíved tehet róla! – Lin-csi ezzel leborult, és Huang-po szolgálatára állt.
– Honnan jössz?
– A minap Ta-jühöz voltál szíves küldeni.
– No, és mit mondott Ta-jü?
Lin-csi elmesélte, mi történt.
– Kedvem lenne elkapni azt a szerzetet, és jól kiosztani!
– Mire vársz? Oszd ki azonnal! – és pofon vágta Huang-pót.
– Megőrültél? A tigris bajuszát ráncigálod?
Lin-csi elordította magát.
– Segéd! – szólt Huang-po. – Kísérd ezt az őrültet a szerzetesek csarnokába.
– Hol jártál? – kérdezte Paj-csang tanítványától.
– Gombát szedtem a Tahsziung-hegy lábánál – mondta Huang-po.
– Láttál tigrist?
Huang-po menten, mint egy tigris, bömbölni kezdett. Paj-csang felkapott egy szekercét és csapásra emelte, de Huang-po megelőzte őt egy jókora pofonnal.
Paj-csang jót kuncogott, és visszatért a templomba:
– A Tahsziung-hegy lábánál tigris settenkedik – szólt a gyülekezethez. – Őrizkedjetek tőle! Engem épp most mart meg.
Han-san és Si-tö

Nincsszövetje gúnyát öltök,
Teknőcprémes csizmát rántok,
Nyúlszarvíjat kapok elő,
Mert a nyilam nemtudást lő!
(Han-san)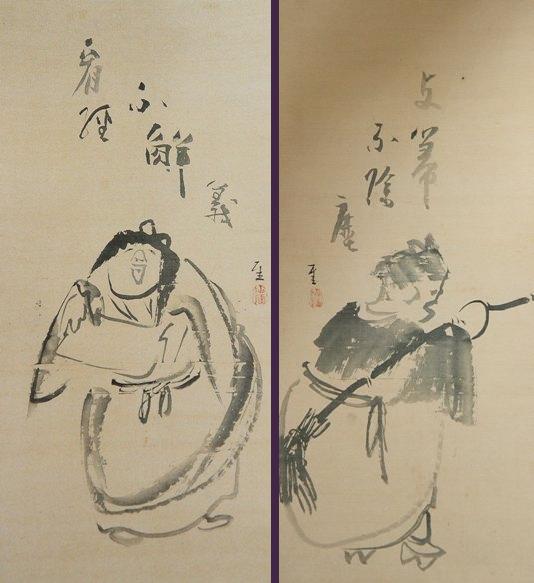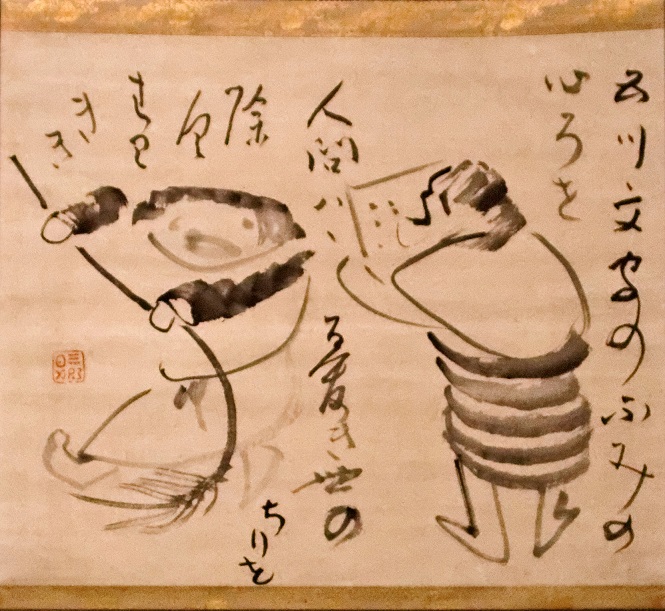 Han-san és Si-tö története

Lü-csiu Jin hivatalnokot fejfájás kínozta. Hiába hívatott orvost orvos után, nem tudták azt elmulasztani. Végül akadt egy Feng-kan nevű csan mester, aki hogy, hogy nem, de kikúrálta. Lü-csiu Jin megkérdezte tőle, hová valósi és vannak-e arrafelé érdemes tanítómesterek. Feng-kantól megtudta, hogy a Kuo-csing kolostorban, ahonnan jött, meg-megjelenik egy remete a Hideg-hegyről, együtt eszegeti az ételmaradékot egy szolgával, aki lelencgyerekként serdült fel a kolostor körül. Han-san és Si-tö, mert így hivják őket, valójában Mandzsusri és Szamanthabhadra megtestesülései.
Lü-csiu Jinben felébredt a kiváncsiság és később meglátogatta a Kuo-csing kolostort. Benézett a konyhába, ahol két kacarászó furcsa szerzet melegedett a kályhánál. A hivatalnok meghajolt, mire csúfondáros nevetésben törtek ki:
– Az a szószátyár Feng-kan! – fogództak össze és fel-felvisítottak a nagy hahotázásban. – Te még Amitábha Buddhát se ismernéd fel magadtól! Mire föl hajbókolsz?
Betódultak a szerzetesek, körbeállták a hivatalnokot és elcsodálkoztak rajta, hogy hajolhat meg két ilyen nyomorult előtt. Azok meg ketten kéz a kézben kirohantak a szabadba, s hiába szalajtott utánuk rögtön a hivatalnok, senki se tudta utolérni őket.
Lü-csiu Jin másnap hordatott egy rakomány ruhaneműt és gyógyszert a Hideg-hegyre, de mihelyt Han-san meglátta az ajándékvivőket, kiáltozni kezdett:
– Tolvajok! Tolvajok! – és eltűnt egy barlang mélyén.
A hivatalnok Han-sannak több mint háromszáz versét gyűjtette össze a környékbeli fákról, sziklákról, házak faláról.
Egyszer a Nyugati és a Keleti Csarnok szerzetesei összevesztek egy kismacskán. Nan-csüan mester felvette a macskát és elibük tartotta:
– Szóljatok érte egy szót, vagy megölöm!
A szerzetesek zavartan hallgattak, mire Nan-csüan kettévágta a macskát.
Estefelé megérkezett Csao-csou, és Nan-csüan elmesélte neki, mi történt. Csao-csou levette a szalmabocskorát, feltette a fejére és indult kifelé.
– Ha itt lettél volna – sóhajtott Nan-csüan –, megmented azt a macskát.
— Várj, amíg senki sem lesz körülöttünk, akkor megmondom — súgta Cuj-vej, amikor egy szerzetes a buddhizmus értelméről faggatta.
Valamivel később a szerzetes újra odament hozzá:
— Most nincs itt senki, válaszolj légy szíves!
Cuj-vej kivitte őt a kertbe egy bambuszligethez, de nem mondott semmit. A szerzetes most sem értette, végül Cuj-vej kibökte:
— Amott magas a nád, emitt alacsony.
The Fifth and the Sixth Patriarch of Zen
(Daman Hongren 大 滿 弘忍 601-674) and (Dajian Huineng 大鑑 慧能 638-713)

Az ötödik és a hatodik zen pátriárka
– Késő éjszaka van már – zárta le a vitát Lung-tan Tö-sannal. – Ideje, hogy visszavonulj a szállásodra.
Tö-san elbúcsúzott, félrehúzta az ajtófüggönyt, de a küszöbről visszafordult:
– Koromsötét van odakint! – mondta.
Lung-tan gyújtott neki egy gyertyát, de amikor Tö-san érte nyúlt, hirtelen elfújta a lángját.
Tö-san egyszerre megvilágosult.
Másnap kicipelte a csarnok elé terjedelmes kommentárjait a Mennykő-szútráról, fáklyát gyújtott, és így szólt:
– Olyanok kimerítő vitáink a homályos dolgokról, mintha a végtelen tág űrbe egy hajszálat vetnénk, és minden képességünk teljes kifejtése, mintha a feneketlen mély öbölbe egy vízcseppet hullatnánk – és Tö-san tűzbe borította a kommentárokat.
Hsziang-jen remetekunyhója előtt az ösvényt takarította. Félredobott egy követ, mely véletlenül száron vágott egy bambusznádat. Az éles csattanásra egyszeriben megvilágosult.

Kyogen Sweeping the Ground

One strike made him forget his learning.
What kind of sound was it?
A piece of brick immediately
Turned itself into gold.

Zen monk Kyogen (Hsiang-yen) of China was a disciple of Isan (Wei-shan, 771-853). He was fond of keeping notes of his masters, and thought a grcat deal of them. One day, he found out that all the notes and knowledge he had accumulated were after all of no use in really understanding Zen. He then burned them, and being so disappointed at his inability to gain satori, he decided not to go on with this pursuit. He retired to a country temple where he devoted himself to looking after an old master's graveyard. One day, while sweeping the ground, it happened that a piece of stone swept away by his broom struck a bamboo nearby. The sound thus produced awakened his mind to a state of enlightenment. He composed a poem in which this "one strike" is referred to. Sengai now asks: "What kind of sound was it that made Kyogen come to a realization?" He answers in the last two lines.
Tö-san kijelentette a szerzetesek csarnokában:
– Ha szólsz, leverek rajtad harminc botütést, ha nem szólsz, akkor is leverek rajtad harminc botütést.
A kolostor apraja-nagyja kapával a vállán bandukolt a veteményesbe; Lin-csi utolsó volt a sorban. Huang-po hátrapillantott, és látta, hogy üres a keze:
– Hol a kapád? – kérdezte.
– Elvitte valaki – mondta Lin-csi.
– Gyere csak ide, tisztázzuk a dolgot.
Mikor a mester közelebb ért, Huang-po feltartotta a kapáját, mint egy zászlót:
– Senki a világon el nem veszi tőlem!
Erre Lin-csi megkaparintotta, és maga tartotta fel:
– Akkor hogy került az én kezembe? – kérdezte.
– Ma valaki oroszlánrészt vállal a munkából – jegyezte meg Huang-po, és visszaindult a kolostorba.
Lin-csi a szerzetesekkel kapált a veteményesben. Huang-po is kijött körülnézni, mire Lin-csi abbahagyta a munkát, és a kapája nyelére támaszkodott.
– Elfáradtál? – kérdezte Huang-po.
– Még fel se emeltem a kapát – mondta Lin-csi –, mitől fáradtam volna el?
Huang-po rásózott egyet. Lin-csi megragadta az öreg botját, és a földre taszította vele.
Huang-po odahívta a felvigyázót, hogy segítse fel.
– Hogy tűrheted – háborgott a felvigyázó –, hogy ez a kötözni való bolond pimaszkodjon tisztelendőségeddel?
Huang-po alig állt lábra, most a felvigyázóra sózott rá egyet.
Lin-csi, aki közben nekiállt kapálni, megjegyezte:
– Másutt hamvasztják a holtakat, én itt egy csapással elevenen elhantollak benneteket.



Lin-csi mester móresre tanít

Rinzai at Work [mentoring his disciples]

"A true man of non-doing,
Surely in indignation!"

Sengai has substituted Zen
master Rinzai's favorite say-
ing "the true man of no-
title" by Lao-tzu's term
"non-doing" (wu-wei). As
"non-doing" is too often
mistaken for doing no
work, or indolence, or pas-
sivity, Sengai demonstrates
here how hard Zen masters
must work, even to the
point of indignation, to
help their fellow beings
open their eyes to the pres-
ence of "the true man of
no-title" in each.




– Messziről jöttem, hogy láthassalak – mondta egy szerzetes Tou-ce mesternek. – Kérlek, vesztegess rám egy szót!
– Megöregedtem – mondta Tou-ce –, ma is fáj a hátam.
Egyszer egy szerzetes megkérdezte Csao-csout:
– Van-e a kutyának buddha-természete?
– Nincs – felelte Csao-csou.
– Minden lénynek van buddha-természete, a buddháktól a hangyákig – folytatta a kérdező. – Miért épp a kutyának nincs?
– Mert válogatós.
Csao-csou vándorútra kelő tanítványát csak arra intette:
– Ahol van Buddha, ott ne időzz, ahol nincs Buddha, onnan tüstént eredj tovább.

野グソ(仙厓義梵 画)の拡大画像

Tan-hszia egy télen, amikor rendkívül hideg volt, a kolostor templomának fából készült Buddha-szobrát tűzre dobta, és ott melegedett. A templomszolga azt kérdezte:
- Hogyan merted Buddhámat elégetni?
Tan-hszia erre pálcájával a hamuban keresgélni kezdett.
- A halhatatlan részeket keresem itt az üszökben.
- Hogyan éghettek el a szobor halhatatlan részei?
- Ha nincsenek, akkor tűzre tehetem a többi fa Buddhát is?
Később egy barát a szobor elégetésének körülményei felől kérdezősködött. A Mester így szólt:
- Ha hideg van, a tűzhely köré ülünk és a fa lángol.
- Bűn volt vagy sem?
- Ha meleg van, a folyópartra megyünk a bambusznádasba.

Hamvas Béla fordítása
Ma-cu remetekunyhójában élt a Heng-hegyen, és éjt-nap belemerült az elmélkedésbe. Fel se nézett, amikor Huaj-zsang mester meglátogatta.
– Miért elmélkedsz? – kérdezte a mester.
– Hogy Buddha legyek – felelte Ma-cu.
Huaj-zsang felvett egy téglát, s az ajtó előtt csiszolni kezdte egy kövön.
– Mit csinálsz?
– Tükröt csiszolok.
– Hiába csiszolod, attól nem lesz tükör a tégla!
– Hiába elmélkedsz, attól nem leszel Buddha! – vágott vissza Huaj-zsang.
– Akkor mit tegyek?
– Ha nem indul el az ökrös szekér, az ökörre kell suhintani vagy a szekérre?
Alighogy sétára indultak, mester és tanítványa, vadludak szálltak el a fejük felett.
– Mik ezek? – kérdezte Ma-cu.
– Vadludak – nézett föl Paj-csang.
– Hová mennek?
– Már elrepültek.
Ma-cu megragadta és úgy megcsavarta Paj-csang orrát, hogy tanítványa felüvöltött kínjában.
– Azt mondtad, elrepültek? – harsogott Ma-cu.
Paj-csang feleszmélt.
老子 Laozi
Lao-ce bivalyháton
The First Patriach Senkō (Zen Master Yōsai)

The two titles granted
By the emperors of China and Japan:
"Thousand Rays of Light"
"Shining over the Leaves" put together,
We call our Founder Senkō Yōgō.
| | |
| --- | --- |
| | Bukan & Jittoku & Kanzan |
| | |
| --- | --- |
| | Xian-zi the Beggar |
| | |
| --- | --- |
| | 天満宮自画賛 「東風吹けは諸越まても匂ひけん 梅の主の袖の一枝」 |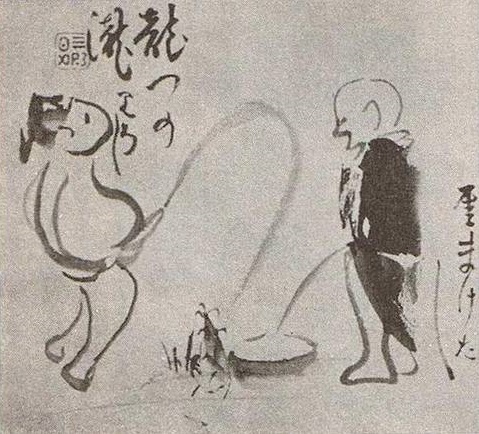 「きゃふんきゃふん」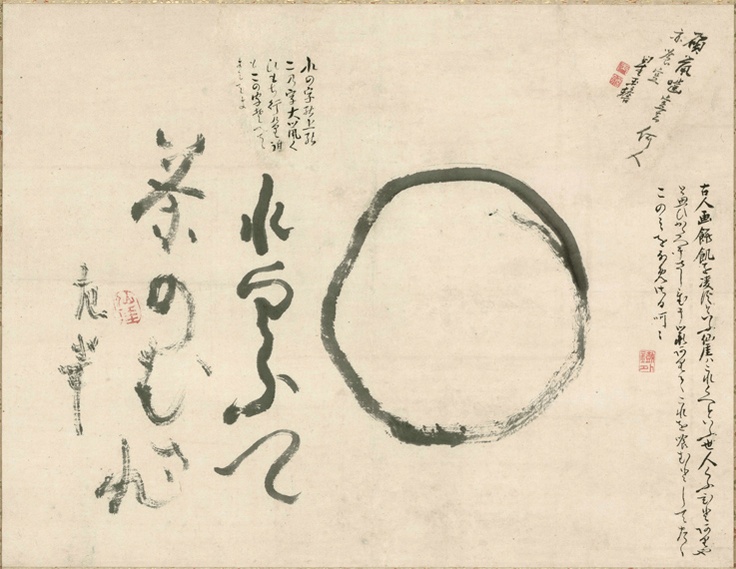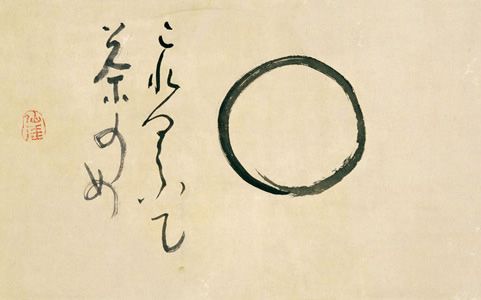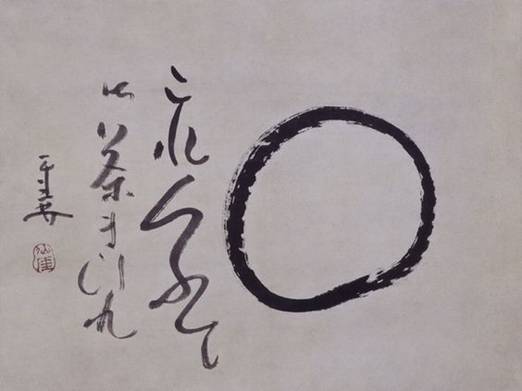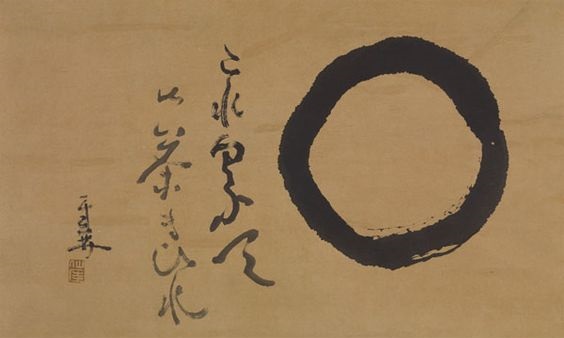 円相図 Ensō | The Circle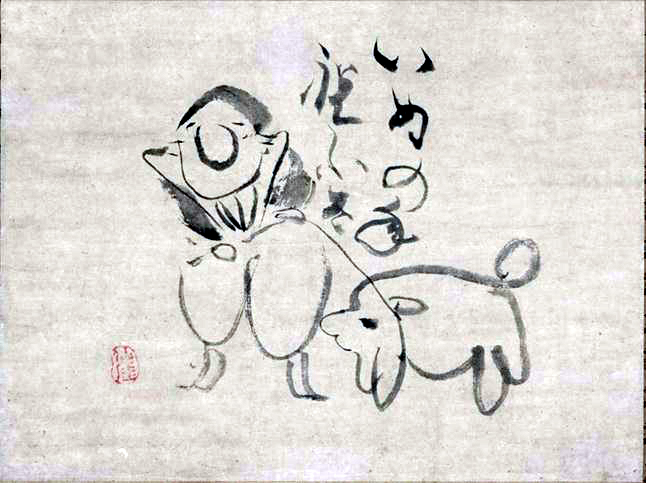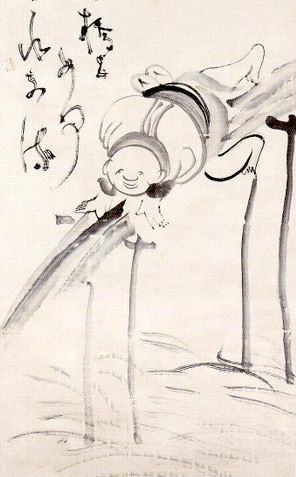 丸太の橋を渡るお坊さん(『橋上人物画賛』 仙厓義梵 画 )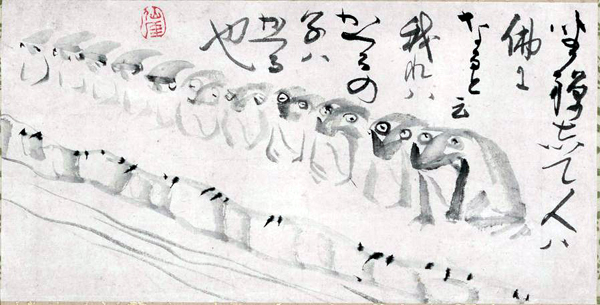 The Grand Sengai Exhibition — Spirit of Zen Assembled
Idemitsu Museum of Arts, Tokyo
October 1 - November 13, 2016
Edo period Zen priest Sengai (1750-1837) is known for disseminating the teachings of Zen through laughter and humor. The paintings and calligraphy of Sengai, besides the collection of Shōfuku-ji in Hakata of which he was the head priest and of Kyohaku-in where he spent his retired life, the Idemitsu collection assembled by Idemitsu Sazo the first director of the Museum, the Fukuoka Museum collection and the Kyushu University, School of Letters collection (Former Collection of Dr. Morihiko Nakayama) are considered to be outstanding both in quality and quantity. These extraordinary collections of the eastern and the western Japan will meet for the first time since the exhibition held in 1986 (Shōwa 61) to commemorate Sengai´s 150th year memorial. This exhibition will present a chance to explore the world of Zen painting and to feel the spirit of Zen preached by Priest Sengai.
SENGAI GIBON
Richard Bryan McDaniel: Zen Masters of Japan. The Second Step East. Rutland, Vermont: Tuttle Publishing, 2013.
Sengai Gibon's parents were farmers, and throughout his life he retained a deep respect for agricultural workers. "Farmers," he wrote, "are the foundation of civilization." He became a monk at age eleven, primarily in order to reduce the financial burden on his family. At the temple school he attended, he was introduced not only to Buddhist doctrine and practice, but also to calligraphy, brushwork, and poetic composition. Even as a youngster, Sengai demonstrated a talent for drawing.

At the age of nineteen, he decided to look for a teacher who could help him achieve awakening. He traveled about Japan, visiting temple after temple, seeking an appropriate master, finally settling upon Gessen Zenne, under whose direction Gasan Jito and Inzan Ien had come to their first kensho.

Gessen assigned Sengai the koan based on a problem Kyogen Chikan put to his disciples [Xiangyan Zhixian; cf. Zen Masters of China, Chapter 14]:

"Imagine that a man has climbed high into a tree then falls. Before he hits the ground, he is able to grab a branch between his teeth. There he hangs, his hands unable to grasp anything, his feet dangling. A sincere inquirer comes by and asks him, 'Why did the First Patriarch come east?' If he speaks, he'll fall and die. If he doesn't speak, he fails in compassion by not responding to the question. If you were in his circumstances, what would you do?"

When Sengai resolved the koan, he followed the traditional practice of expressing his understanding in verse:

Old Shakyamuni has been dead some 2000 years
Maitreya Buddha will not be born for eons to come
Sentient beings find this difficult to comprehend
But this is the way it is: the nostrils above the lips

Sengai remained with Gessen for another thirteen years, until the master's death in 1781, then he completed koan study with Gessen's successor, Seisetsu Shucho. After that, he undertook a second pilgrimage of Zen temples before eventually accepting the position of abbot at Shofukuji, the temple founded at Hakata by Myoan Eisai in 1195. There he acquired a reputation for his prowess as a spiritual director and for his personal modesty. He eschewed the formal trappings of office and limited his meals to what he acquired through the daily round of takuhatsu. He refused to accept Imperial Honors until it would have been impolitic to continue to do so. When he did finally agree to receive the purple robe, the sign of the highest rank a priest could achieve, he did not attend the investiture ceremony himself but sent a proxy. He used the funds intended for the celebration of his promotion on temple repairs

At the age of 61, he appointed his primary Dharma Heir, Tangen Toi, abbot in his stead and he retired to a small hermitage he called Kyohakuin—"The Empty White House."

Freed from the responsibilities of an abbot of a major Zen Temple, Sengai looked forward to a time of solitude and described his new life in a number of poems:

Buddha had 80,000 monks
Confucius 3000 disciples.
I sit alone on a vine-covered stone
Watching the occasional cloud go by.

This verse accompanies a drawing of Kyohakuin:

I came alone
I will die alone
In between
I remain alone night and day.

The I who came thus
The I who will pass away thus
Is the same I living
In this small hut all alone.

These poems, however, may have described more an idealistic than an actual state, because, as it turned out, in some ways Sengai's career began after his retirement.

Once he retired to Kyohakuin, he dedicated himself to art. While he had had no professional training other than that which all Rin zai students acquired, he had a prodigious talent, and his work quickly gained admirers. He made use of the same monochromatic sumi-e form that had been used by many Zen-influenced artists, including Hakuin. Sengai's works often consisted of only a few quick brush strokes, at times accompanying a poem or other work of calligraphy, but the almost nonchalant images he composed in this manner were full of vigor and humor. One of his most reproduced paintings consists only of a circle, a triangle, and a square—the three most basic geometrical forms. (See the illustration on page 60; Japanese script is read from right to left, so the image appears reversed to western viewers who see the square, rather than the circle, at the beginning of the sequence). Unlike Ikkyu, Sengai was scrupulous about keeping the precepts and generally led an exemplary life, but at times his humor was as racy as Ikkyu's—as in a painting of a priest's penis with the inscription, "An unused treasure."

Almost anything he saw inspired him. His subjects included landscapes, people engaged in the most mundane activities (such as measuring salt), household implements, animals, and sea life; he drew men working in the fields, their crops, and the tools they used; he made pictures of flowers, bamboo, and reeds. He also, of course, returned over and over to Buddhist themes, including several light-hearted portraits of Bodhidharma, one of which included the inscription: "Nine years seated before a wall—how boring!" He did a number of paintings based on Basho's koan about the old pond and the frog, including some parodies:


「古池や芭蕉飛こむ水の音」
「古池や 芭蕉飛び込む 水の音」

An old pond
Basho jumps in
Water sound!

What Sengai demonstrated in his art, what continues to make his pieces so attractive, is the natural playfulness that follows from the Zen experience of awakening. In spite of the rigorous training associated with the practice, it results in a joyous and irreverent sense of being at home in the world. Sengai caught that feeling nicely in his painting of Tanka Tennen [Tanxia Tianran, cf. Zen Masters of China, Chapter Six] warming his buttocks on the fire he had made by burning a wooden Buddha.

In spite of his longing for solitude, Sengai found himself besieged with visitors after his retirement. His personal friends included poets, tea-masters, artists, musicians, as well as local merchants, craftspeople, and medical practitioners. There was also a local drunk, Icimaru Iwane, whose caricature Sengai drew bringing him a pot of turnips, "to try to trick me into doing a drawing for him."

Some of his visitors came for spiritual guidance, but many, like Icimaru, came to ask for one of his calligraphies or a drawing. People brought bits of paper, hoping he would write a few words or make a quick sketch, prompting his remark that perhaps they mistook Kyohakuin for a privy. This stream of visitors could be exhausting, and on one occasion, Sengai stuck his head out his window and shouted, "The abbot is away today! Please come back another time!"

When Sengai was first appointed Abbot of Shofukuji, he discovered that some of the monks were in the habit of sneaking out of the monastery at night in order to spend time in bars and brothels. One monk in particular made regular forays in this manner.

Sengai found the small wooden platform the monk had been placed against the wall to assist him in leaving and returning to the temple grounds. One night, when he knew the monk was engaged on another of these excursions, Sengai removed the platform and waited by the wall. On his return home the monk mounted the wall and extended his foot towards the platform. He stepped instead into the cupped hands of the abbot. Sengai carefully helped him down, then, without a word of admonition, told the monk, "It's a very damp morning; please take care not to catch cold."

The platform was never replaced, and monks no longer snuck out of the monastery at night.

After achieving his initial kensho, Tangen Toi asked Sengai permission to undertake the traditional pilgrimage to other temples to deepen his understanding. But each time he put in his request, Sengai wordlessly gave him a rap on the head with his abbot's stick. After being refused in this way several times, Tangen approached the head monk and asked if he would intervene on his behalf. The head monk agreed to do so and spoke to Sengai who relented and agreed to allow Tangen to begin his journey. However, when Tangen presented himself to thank his teacher, once more Sengai struck him and said nothing.

Tangen sought out the head monk and complained, "I thought you'd said that the master had agreed to allow me to go on pilgrimage. And yet when I saw him just now, once again all he did was strike me. Has he changed his mind?"

The head monk went in to Sengai and asked about the matter.

"Of course Tangen is free to go," Sengai said. "But when he returns he'll be fully awakened, and I won't have any further reason to strike him. I just wanted to take advantage of this last opportunity."

During a New Year's celebration, a group of villagers came to Sengai and asked him to write something in calligraphy that they could hang in their local temple to promote prosperity throughout the coming year. Sengai wrote three lines:

Parents die
Children die
Grandchildren die

"But this is horrible!" the villagers complained.

"Not at all," Sengai told them. "What would be horrible were if things occurred in the other order—if children died before their parents. There's no greater example of good fortune than that things should proceed in their appointed order."

A certain daimyo was so proud of the chrysanthemums growing on his estate that members of his household came to feel he cared more for his flowers than he did for them. When one of his retainers inadvertently broke one of these flowers from its stalk, the daimyo flew into a rage and had the man put under restraint. The retainer, in turn, considered that he had no option but to commit seppuku.

One of the retainer's family members sought out Sengai and asked if there were any way he could intervene on behalf of the imprisoned man. Sengai agreed to see what he could do.

That evening the daimyo heard a commotion in the garden. Rushing out, he found the famous and respected Zen master cutting the blossoms off each of his chrysanthemum stalks. "What's the meaning of this?" the lord demanded.

"Even the most beautiful weeds become rank if they aren't properly pruned," Sengai told him.

The daimyo released his retainer and no longer gave his flowers more consideration than they were due.

Sengai was proud of Shokfukuji's status as a leading Zen temple in Japan, and felt that he left it in good hands when Tangen became abbot. He was happy that Tangen had the opportunity to oversee the temple's 600th Anniversary Celebrations. But, in 1836, Tangen fell afoul of the local authorities and was banished to Oshi ma Island, and, at age 86, Sengai had to come out of retirement and resume his duties at Shofukuji.

He lived for two more years, attaining the beiju—his 88th year, which is considered to be the age of congratulations. He might have lived longer had he not been burdened by the administrative duties of his office. As it was, he fell ill a few weeks after his birthday celebration.

When Sengai was on his deathbed, many of his disciples gathered about to spend his last moments with him. He looked around at them and said, "I don't want to die."

The students considered what he meant by these words, what final message their master intended them to understand. Sengai listened to the discussion for a few moments, then shouted: "No! Really! I don't want to die!"

His death poem was:

One who knows the where and when of coming
One who knows the where and when of departing
No longer clinging to the cliff
Clouds never know where the breeze will carry them
Sengai: Master Zen Painter
by 古田紹欽 Furuta Shōkin (1911-2001)
... we now turn to Sengai as a unique individual who had become awakened to primary enlightenment and who could represent that experience in visual form. Whether or not such an experience could be depicted might be argued, but this problem is not relevant to Sengai. His experience of enlightenment quite naturally took a visual form, expressing itself directly in his drawings and calligraphy. To put it in another way, there is no artificiality in his work; rather it is a direct expression of the experience of enlightenment itself.
Sengai's gift for drawing and calligraphy was superior to even that of professional painters and calligraphers. Such gifted people often end up defeated by their own talent--drowned in it, so to speak. There have been many who, though recognized as geniuses, never achieved success, due to misfortune brought on by their own talent. They would not have been brought to ruin if they had not been so gifted.
We know a number of Zen personalities who were gifted in either drawing or calligraphy, particularly those who had exceptional talent for drawing, but whose genius was often the cause of their undoing as Zen practitioners. It is only when it is unified with Zen in their art that their talent truly shines. Talent alone produces a mere painter whose work totally lacks what is unique to the art of Zen practitioners. Zen painters, by definition, must have Zen in their art. The same can be said of calligraphy. There have been several instances in which Zen practitioners failed to see this obvious point and allowed themselves to "drown" in their talent, eventually turning out to be nothing more than ordinary painters or calligraphers.
Sengai does not belong to this type: blessed with superior gifts, he depicts Zen in his drawings and calligraphy. Zen, of course, is formless, figureless, and bodiless, but nevertheless Sengai manages to reveal it. His pictures, unconventional and funny, might be classified as cartoons, and yet they possess a certain distinguishing severity. Zen is there, and so is enlightenment. Moreover, it all seems to be done so effortlessly. Enlightenment is there, but it is enlightenment without pretense. "A scholar smacking of a pedant might still be bearable," Sengai wrote, as mentioned earlier, over a drawing entitled "Great Master Bodhidharma," "while a buddha with a buddha air is not bearable." For Sengai, both sanctimonious Buddhism and self-congratulatory enlightenment were things to avoid.
ZEN ANECDOTES
Translated by Lucien Stryk (1924-2013) & Takashi Ikemoto [池本喬 1906-1980]
In: ZEN: Poems, Prayers, Sermons, Anecdotes, Interviews
Anchor Books, Doubleday & Co., Inc., Garden City, New York, 1963, pp. 108-109.
7
There was to be a big party at the house of the Chief Minister of the Kuroda Clan of Hakata, and both Kamei Shoyo, the famous Confucian scholar, and the master Sengai (1750-1837, Rinzai) were invited. The host informed Sengai that the great teacher would be present, implying that the master, who was indifferent to worldly matters, would have to come dressed for the occasion.
On the appointed day Sengai entered the mansion wearing a costume of white, violet, and gold. His rosary was of amethyst and he even carried a ceremony-fan. Followed by his disciples, he crossed the room in great dignity.
Of course, the sight of Sengafs getup was hateful to Shoyo, and he couldn't restrain himself from calling out, "Master, why did you come dressed as a fine lady?"
At this the other guests held their breath.
Sengai smiled and, moving straight up to Shoyo, whacked him on the head with his fan, and said, "Why, it was to give birth to this fine gentleman."

8
A wealthy man invited Sengai to a housewarming and, after serving him a fine meal, asked him to write a poem in honor of the occasion. Sengai quickly wrote down the first half of a waka, which made the host, who had been hovering over his shoulder, extremely angry. It read:
The house is surrounded
By the gods of poverty.
Ignoring the host and the guests, who on being informed of what he had written looked daggers at him, Sengai smoked his pipe in silence. Suddenly he grasped his brush and completed the poem with these lines:
How can the deities of good luck
Ever leave it?
When the host and the guests read these lines there was great rejoicing, and all praised Sengai warmly.

Sengai Gibon
Meghalt 1837-ben a tizedik hónap 7. napján. 88 évesen.
Vers a halál mesgyéjéről
Fordította: Somogyvári Zsolt
Jisei, Farkas Lőrinc Imre Kiadó, 1994, 26. oldal
A fordítás alapjául szolgáló mű:
Yoel Hoffmann: Japanese Death Poems: Written by Zen Monks and Haiku Poets on the Verge of Death. Tuttle Publishing. 1986.
Ő, aki jön, csak a kezdetét ismeri
Ő, aki megy, csak a végét.
Megmentve a szakadéktól
Miért e sziklába kapaszkodás?
A felhők alacsonyan szállnak
Sosem tudva, merre fújják őket a szelek.