ZEN MESTEREK ZEN MASTERS
« Zen főoldal
« vissza a Terebess Online nyitólapjára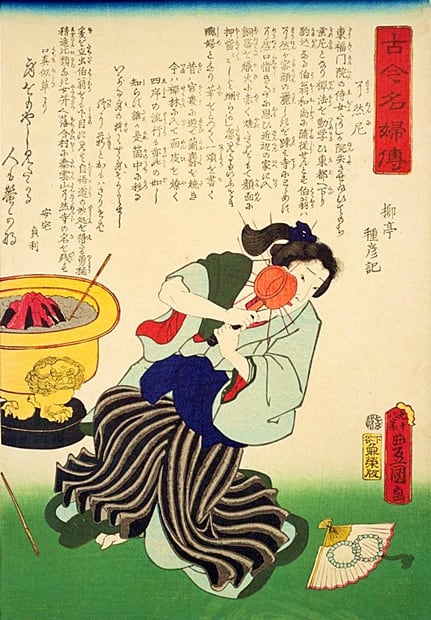 了然元総 Ryōnen Gensō (1646-1711)
了然尼 Ryōnen-ni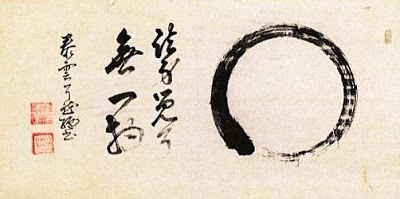 Ensō (円相) de Ryōnen Gensō (1646-1711)
"Lorsque votre compréhension est pleine
Aucune chose ne subsiste."

Ryōnen Gensō (1646-1711)
by Stephen Addiss
In: The art of Zen : paintings and calligraphy by Japanese monks, 1600-1925
New York : H.N. Abrams, 1989. pp. 94-99, notes: 209.
Although Zen nuns were not uncommon, Ryōnen Gensō was one of the few
to achieve renown, becoming celebrated both for her spiritual and artistic
achievements. She was born in a mansion just outside the gates of Sen'yū-ji, an
imperial temple in Kyoto, to a noble family that traced its ancestry back almost
a thousand years. [15] Her father, Katsurayama Tamehisa (1600-1673), a descendant
of the famous warrior Takeda Shingen (1521-1573), was a cultured
layman of the Rinzai Zen sect. He was known for his expertise in calligraphy
and the tea ceremony, as well as for his knowledge of old paintings. Ryōnen's
mother, who died in 1685, came from the courtly Konoe family and served the
imperial concubine Tōfukumon'in (1603-1674).
As a child, Ryōnen was considered intelligent as well as beautiful, and she
followed her mother's lead in serving at court. From ages seven to twelve she
was a companion of Tōfukumon'in's granddaughter and grandson. She also
learned various arts and accomplishments at this time, including calligraphy
and waka poetry. While Ryōnen was in service at the imperial court, both her
younger brothers became Zen monks. Umpō Genchū (1647-1712) entered an
Obaku-sect temple at the age of seven, while Daizui Genki (1652-1717)
entered the Rinzai temple of Nanzen-ji (where both his parents were to be
buried) and later received a certificate of enlightenment in 1690 from Obaku
Kōsen (1633-1695). [16] It is curious that Ryōnen and both her brothers died
upon reaching the (Japanese) age of sixty-six.
Returning home from court for her adolescent years, Ryōnen continued her
studies of poetry. At the age of sixteen or seventeen, as was customary at the
timc, shc entered into an arranged marriage; the go-between was Konoe
Motohiro, a grandson of Tōfukumon'in who had been her childhood com-
panion. Her new husband was the Confucian scholar and doctor Matsuda
Bansui (also known as Ju'an, 1630-1703). They had several children; accounts
differ, but the correct number is probably four, one of whom may have died
in infancy.
After ten years of marriage Ryōnen became a nun in 1072, perhaps by prior
agreement with her husband. She seems to have arranged for a concubine to
take care of her family and thereupon entered the imperial Rinzai temple
Hōkyō-ji in Kyoto, which was led by Emperor Gomizuno-o's daughter
Princess Zen'ni. After six years at this "women's temple," Ryōnen traveled to
Edo for further Zen study. She first visited Kōfuku-ji to have an audience with
Obaku Tetsugyū [鉄牛道機 Tetsugyū Dōki, 1628-1700], who told her she was too
beautiful to enter his temple because she would become a distraction to his followers.
Ryōnen then went to the Zen hermitage Daikyū-an. There she met Haku-ō Dōtai (d. 1682),
who had been a pupil of Obaku Mokuan's with Tetsugyū, receiving the certificate
of enlightenment in 1675. Haku-ō, however, also told her that he could not
admit her, whereupon Ryōnen resorted to the drastic action that made her
famous.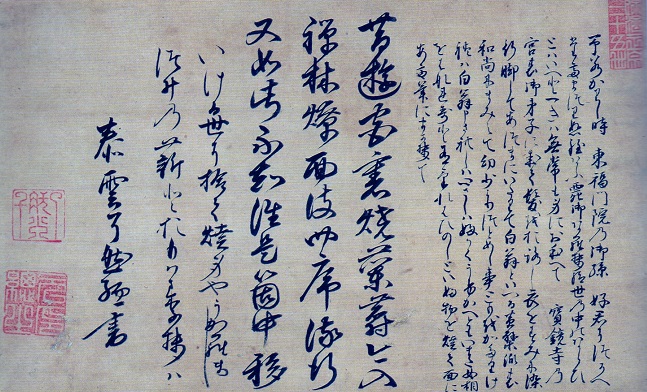 One of Ryōnen's calligraphic works tells her story in her ownwords, followed
by poems she composed at the time in both Chinese and Japanese styles:
When I was young I served Yoshino-kimi, the granddaughter of Tōfukumon'in, a
disciple of the imperial temple Hōkyō-ji. Recently she passed away, although I know that
this is the law of nature, the transience of the world struck me deeply, and I became a nun.
I cut my hair and dyed my robes black and went on pilgrimage to Edo. There I had an
audience with the monk Haku-ō of the Obaku Zen sect. I recounted to him, such things
as my deep devotion to Buddhism since childhood, but Haku-ō replied that althollgh he
could see my sincere intentions, I could not escape my womanly appearance. Therefore I
heated up an iron and held it against my face, and then wrote as my brush led me:

Formerly to amuse myself at court I would burn orchid incense;
Now to enter the Zen life I burn my own face.
The four seasons pass by naturally like this,
But I don't know who I am amidst the change.

In this living world
the body I give up and burn
would be wretched
if I thought of myself as
anything but firewood.
The calligraphy of this remarkable work shows Ryōnen's training at court
in the Shōkadō tradition and her practice of Chinese Tang dynasty
models, but it also displays the fluency derived from the style of the
Obaku monks. Ryōnen combined these different influences into a personal
method of brushwork, alternating darker and lighter, wetter and drier strokes
to impart an individual rhythm to the characters. A few diagonal lines join
characters together, and many words end with circular shapes. The overall
impression is of calm yet inexorable movement from one stroke to the next, as
though the extraordinary event she describes was as natural and inevitable as
the continuous flow of life. There is nothing obviously appealing in this scroll;
the work is small in size, but its rich meaning is expressed with an equal depth
of artistry.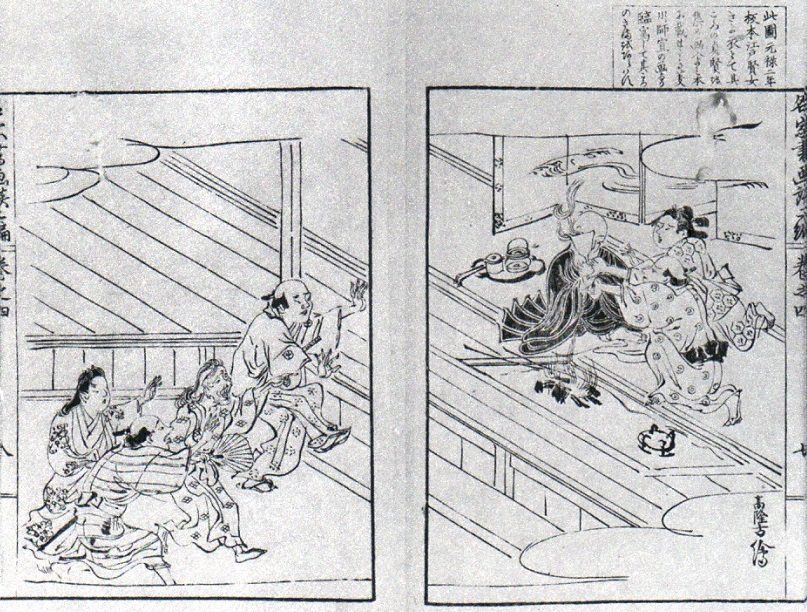 The story of Ryōnen burning her face with an iron became famous and was
depicted in the woodblock book Kinsei meika shogadan ("Famous Calligraphers
and Painters of Recent Ages"). In this nineteenth-century print [1844; after 菱川師宣
Hishikawa Moronobu, 1618-1694], onlookers rush forward in dismay as she calmly
disfigures herself. The drastic action of the nun was successful; Haku-ō was so
impressed with her dedication to Zen study that he allowed Ryōnen to enter the
Daikyū-an. She became his leading pupil, and he granted her a certificate of
enlightenment in 1682, the year he died.
Ryōnen wished to construct a temple in honor of Haku-ō, but this was
almost impossible since the shogunate at that time would not allow anything
more than the renovation of old temples; and even for that, permission was
difficult to obtain. It took some years before her requests were granted; in the
meantime Haku-ō had died, but this responsibility only became the more
important for Ryōnen. She was given land in Ochiai, just outside of Edo, in
1693, and she renovated a ruined temple named Renjō-in by overseeing the
construction of a new Kannon Hall. Haku-ō was posthumously named
founder of the new Renjō-in, and Ryōnen became second abbot. In 1701 the
Renjō-in was expanded and became a full monastery, the Taiun-ji. Ryōnen
had been planning this expansion for some years, having commissioned a
calligraphic plaque reading "Taiun-ji" from Obaku Mokuan, who died in
1684. [17]
As temple abbot, Ryōnen was known for her good deeds, which included
building a bridge over a nearby canal. She was also famous for her scholarship:
the Taiun-ji became known as a center for Obaku learning, and
children from nearby villages received their education at the temple. She was
most celebrated, however, for her cultural achievements, which included
poetry, calligraphy, and painting. The Kinsei meika shogadan reproduces one of
her Chinese-style poems in her own distinctive hand. The poem describes her
sadness in leaving a friend:
SEARCHING FOR THE BEAUTY OF THE SPRING MOON,
FOLLOWING THE STYLE OF AN AUTUMNAL POEM

As old age draws near, inclined towards melancholy as the seasons pass,
I patiently live on, watching the blossoms fall--
As we part, I know it will be difficult to meet again;
Instead I must comfort myself with travel as I face the end of springtime.
Talented in traditional Japanese poetry as well as in Chinese-style verse,
Ryōnen completed a waka collection entitled Wakamurasaki ("Light Purple") in
1691, but unfortunately it is no longer extant. Her diary also no longer exists; it
was lost in a great fire of 1811, when painted and sculptural portraits of
Ryōnen were also destroyed.
Ryōnen's skills included painting; among her works are portraits of the early
Obaku patriarchs in Japan, such as a triptych of Ingen [隠元 1592-1673],
Mokuan [木庵 1611-1684], and Sokuhi [即非 1616-1671] that is now in
the collection of the [法傳寺] Hōden-ji. [18] These portraits followed the
orthodox Obaku chinsō style and are doubtless direct copies of works Ryōnen
had seen, since she probably had not met the earlier Obaku masters in person.
Ryōnen was considered by some of her admirers to be the most talented
woman of the early Edo period. In replying to a letter she had sent him, her
younger brother Umpō wrote in part:
The mountain blossoms spread their brocade, the orioles tune their ch'in, and I sit myself
at the window with a view of pines. Suddenly I am brought your precious missive; I
jump up and respectfully read it out . . . Humbly I consider that the land of Japan for
nearly three hundred years has gone without a woman of wisdom. Now that you have
taken on this weighty position, it can be said to be like a lotus blossoming in the midst of
fire, or a unicorn or phoenix appearing in this world. [19]
Other contemporaries also wrote about Ryōnen. For example, in 1689 the
poet Bō-okushi (dates unknown) published a book entitled Sayogoromo
("Night Covering"), which included the following waka poem:
Mi o sutete
bodai no michi ni
iriai no
chishin ga an ni
hibiku kane no oto

Body discarded
for the road to Buddhahood--
the evening bell
sends its resounding peal to
the wise heart in the temple
The word chishin, meaning "wise heart," is also the pronunciation for one of
Ryōnen's names, adding an even more personal touch to the poem.
Ryōnen's own calligraphic works are rare, [...] her calligraphy
demonstrates a personal fusion of Japanese and Chinese artistic
values that she had developed from her court background and her Obaku
training. [...]
In 1703 Ryōnen's former husband died, and she erected a memorial stone at
Taiun-ji. Ryōnen also had a memorial stone inscribed in memory of
Haku-ō in 1711, showing her continuing devotion and respect for her
her teacher. [21] In the late fall of that year, sensing her own death approaching
Ryōnen composed a final poem:
In the autumn of my sixty-sixth year, I've already lived a long time--
The intense moonlight is bright upon my face.
There's no need to discuss the principles of kōan study;
Just listen carefully to the wind outside the pines and cedars.
Bibliography
了然尼ものがたり Ryōnen-ni monogatari (The Story of Ryōnen)
Ryonen Genso (1646-1711)
in: Japanese Women Artists 1600-1900
by Patricia Fister
Spencer Museum of Art, Harper & Row, 1988
Addiss, Stephen. "The Zen Nun Ryonen Gensho (1646-1711)." Spring Wind - Buddhist Cultural Forum, "Women in Buddhism" issue of Spring Wind, Vol. 6, Nos. 1-3, (1986): 180-187.
Visual and Material Culture at Hokyoji Imperial Convent: The Significance of "Women's Art" in Early Modern Japan
by Yamamoto, Sharon Mitsuko
2010
https://escholarship.org/uc/item/8fq6n1qb