Terebess Asia Online (TAO)
Index
Home
種田山頭火の俳句集
Taneda Santōka's Haiku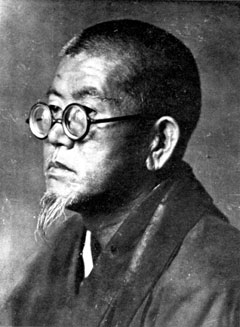 (種田 山頭火 Taneda Santōka, December 3, 1882 - October 11, 1940)
"Days I don't enjoy: any day I don't walk, drink sake, and compose haiku."
"Westerners try to conquer the mountains.
People of the East contemplate the mountains.
For us, mountains are not an object of scientific study but a work of art.
Patiently I taste the mountains."
September 20, 1930.
Taneda Santōka's Portraits > PDF > DOC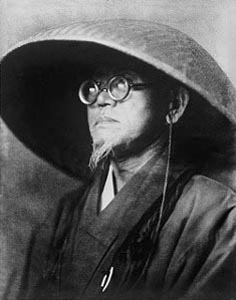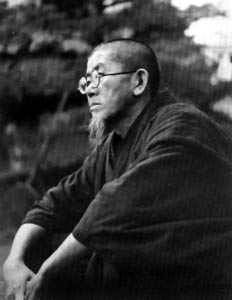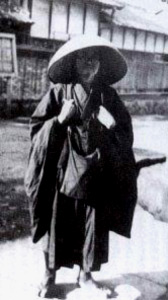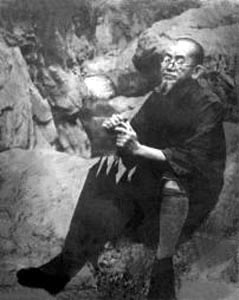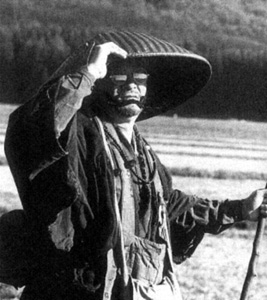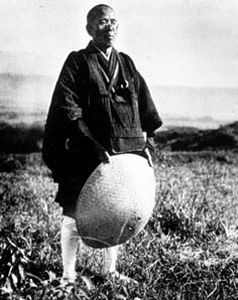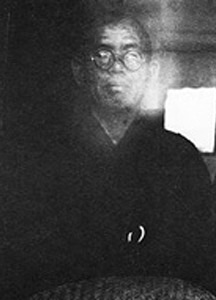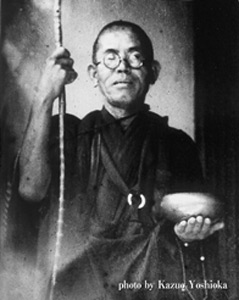 Kyushu in November 1929 >>> Photo by Kazuo Yoshioka, Shimonoseki, June 4, 1933 >>> Shimonoseki, June 5, 1933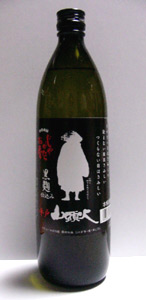 a sake named after Santōka
Santōka's back, a photo taken by 近木圭之介 Chikaki Keinosuke (俳号・黎々火 his haigō/haiku name: Reireika; 1912-2009) (Shimonoseki, 1933)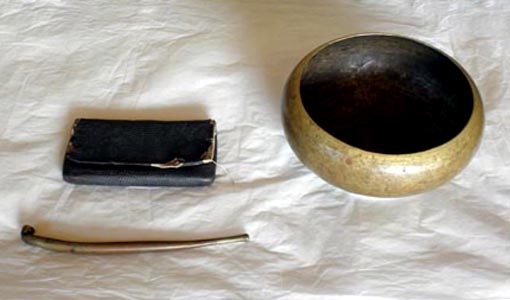 personal belongings left by Santōka
Collected Haiku of Taneda Santōka translated into English, French, German, Spanish
organized by Romaji, in alphabetical order
Haiga by Kuniharu Shimizu (1949-)
INTRODUCTION

Santoka is considered a unique proponent of "free-style" haiku poetry, a mode that abandoned much of the customary form and subject matter of traditional haiku in favor of a direct and unadorned depiction of human experience. A wandering poet and ascetic Zen priest for the last fifteen years of his life, Santoka emphasized many of the essential qualities of Zen Buddhism in his verse, including mujo (impermanence), the necessity of sabi (solitude), the importance of simplicity in life, and the pervasive sadness that accompanies all human affairs. Many of his poems point toward the Zen goal of overcoming this ubiquitous melancholy by achieving spiritual enlightenment and serenity. To this view Santoka added his concern with what James Abrams called "the vital necessity of movement and the partial release it brings to the anguish of the soul."

Biographical Information
Santoka was born Shoichi Taneda in 1882, the son of a wealthy landowner from Hofu in western Japan. He studied literature at Waseda University in Tokyo, and while there began writing poetry. He adopted a pen-name, as is the custom among haiku poets, choosing the name Santoka, which can be rendered in English as "burning mountain peak." Excessive drinking and a severe nervous breakdown forced him to drop out of school in 1904, however. In the ensuing years he attempted to assist his father in running a sake brewery, but this too failed in all respects and contributed to Santoka's growing alcoholism. His arranged marriage in 1909 proved yet another failure in Santoka's personal life. Still, he continued with his literary efforts, and by 1911 had produced translations of such writers as Ivan Turgenev and Guy de Maupassant. The forthcoming years witnessed the steady influence of the haiku poet Seisensui Ogiwara on Santoka. Leader of the so-called "new tendency" or "free-style" school of haiku poetry, Seisensui was also founder of the literary journal Soun, of which Santoka became poetry editor in 1916. Meanwhile, Santoka made half-hearted attempts to maintain employment and support his family when not succumbing to his addiction to sak?. In 1924 he attempted suicide by standing in front of an oncoming train. Before impact, however, the train's engineer saw him and was able to stop. After the incident Santoka was taken to a nearby Zen temple in order to recover. He stayed there for a year, studying Zen Buddhism, and in 1925 was ordained a priest and placed in charge of a small temple. But by the following year Santoka had forsaken his clerical duties and left the temple to wander as a mendicant priest. With the financial support of some friends he published his first collection of haiku poetry, Hachi no ko, in 1932. That year several of his friends also renovated an old hermitage for Santoka, which he named "Gochuan," or "Cottage in the Midst." He stayed at Gochuan only briefly, opting instead to spend the rest of his life as he had the prior six years: as an impoverished, itinerant poet-priest, begging for money and food. He made another failed attempt at suicide several years later-this time with sleeping pills-and went on to publish six more collections of haiku verse before his death in 1940.

Major Works
Santoka published seven small books of haiku poetry containing approximately 800 of the 8,400 poems he composed during his lifetime. Based on his experiences while wandering Japan as a mendicant, the haiku are written in an unadorned style and rarely contain more than ten words-although Santoka often labored meticulously over each poem. Simple in form, Santoka's poems dispense with the seasonal imagery and constraining five-seven-five syllable pattern of their traditional predecessors. In them Santoka confronts manifold subjects, making observations on the natural world, Zen philosophy, the loneliness and isolation of his wanderings, art, death, and the joys of drinking sake. The last of these forms a favorite topic for Santoka, both in his haiku and his life, the drink offers him a temporary release from his feelings of guilt, which inevitably would return, accompanied by a heightened sense of remorse over his dissipated life, with sobriety.

Critical Reception
Before his death Santoka was largely unknown outside of a small group of friends who read and circulated his poetry and at times supported him financially. By the 1970s, however, his verse had reached a point of remarkable popularity in Japan and elsewhere. The mass of his writings, including his published verse and unpublished journals and diaries, have since been collected in the seven-volume Teihon Taneda Santoka Zenshu (1972), and many of his haiku poems have now been translated into English and other languages. Scholars have since evaluated Santoka's place in the Japanese poetic tradition, seeing him as among the last in a lengthy line of wandering haiku poets. Others have begun to devote closer study to his break with tradition as a writer of "free-style" haiku and examine the intricacies of what J. Thomas Rimer has called his "laconic, deceptively simple" poetry.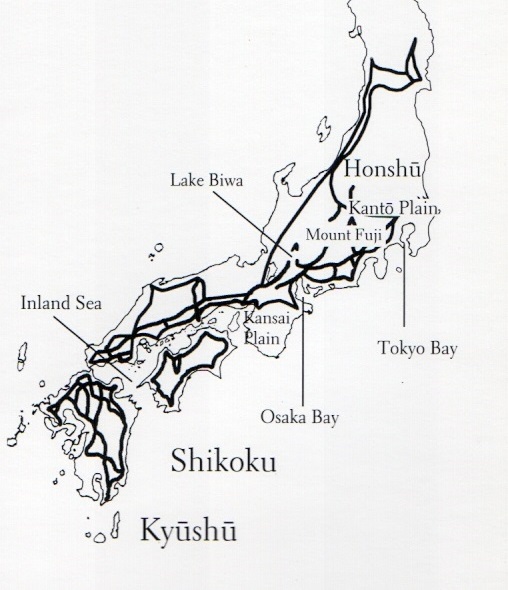 Santôka's Journeys

Teihon Santôka Zenshu, Tokyo, Shun'yudô, 1972-1973. [Complete works in seven volumes]

Ôyama, Sumita. Teihon Taneda Santôka Kushu. Tokyo: Yayoi Shobô, 1971.

Saiichi Maruya. Yokoshigure. Tokyo: Kodansha, 1975

E-texts of Santôka's works at Aozora bunko:
http://www.aozora.gr.jp/index_pages/person146.html
http://mirror.aozora.gr.jp/index_pages/person146.html

Sômokutô online [701 haiku]:
http://www.nextftp.com/y_misa/taneda/taneda.html
http://www.nextftp.com/y_misa/taneda/taneda_f.html
http://www.nextftp.com/y_misa/taneda/taneda_f2.html
http://homepage1.nifty.com/genbu/santouka_kusyuu/index.htm
http://www5c.biglobe.ne.jp/~n32e131/haiku/santouka.html
http://www.aozora.gr.jp/cards/000146/files/749_34457.html
http://mirror.aozora.gr.jp/cards/000146/files/749.html

A Chronology of his Life
http://www.santouka.com/p2_santouka/index.html
http://eiheizen.jimdo.com/%E7%A8%AE%E7%94%B0%E5%B1%B1%E9%A0%AD%E7%81%AB/



Excerpts from Santôka's Sômokutô (DOC), Japanese (+Romaji) - English bilingual version
Fire on the Mountain: the Selected Haiku of a Wandering Zen Monk Taneda Santôka. Japanese, and English translated by Hisashi Miura and James Green
[174 haiku = 150 poems from Somokuto and 24 written after Somokuto]
Text in full (DOC)
Santôka's Haiku translated into English by…

Abrams, James [163 haiku]
Addiss, Stephen (with Fumiko and Akira Yamamoto) [9 haiku] With a calligraphy in Santôka's own hand
Blyth, Reginald Horace [35 haiku]
Corman, Cid [140 haiku]
Fabre, Gilles [45 haiku]
Fyffe, Alex [28 haiku]
Gill, Robin D. [9 haiku]
Glass, Jesse [9 haiku]
Green, James (with Hisashi Miura) [175 haiku]
Higginson, William J. [4 haiku]
Kametaro [5 haiku]
Keene, Dennis [44 haiku]
Miura, Hisashi (with James Green) [175 haiku]
Hoffman, Michael [19 haiku]
Miyashita, Emiko (with Paul Watsky) [90 haiku]
Nonin, Takashi [102 haiku]
Okami [52 haiku]
Sato, Hiroaki [230 haiku]
Somers, Sean [6 haiku]
Stevens, John [372 haiku]
Watsky, Paul (with Emiko Miyashita) [90 haiku]
Watson, Burton [245 haiku]
Watson, Scott [104 haiku]
Wolfe, Stephen [100 haiku]

"Santoka" by R. H. Blyth, in A History of Haiku. Tokyo: The Hokuseido Press, 1964. Volume 2: From Issa to the Present. pp. 173-88.
Text in full

Ushiro-sugata no shigurete yuku ka
My back view as I go, / Wetted with the winter rain? (Tr. by R. H. Blyth)

Itsumademo tabi wo suru koto no tsume wo kiru
Up to the very end, it is journeying, / And cutting our (toe-) nails. (Tr. by R. H. Blyth)

Furusato wa tokushite ki no me
My native place / Far away: / The buds on the trees. (Tr. by R. H. Blyth)

Tetsubachi no naka e mo arare
Into the iron bowl also, / Hailstones. (Tr. by R. H. Blyth)

Kasa e pottori tsubaki datta
Plop on my kasa / The flower of the camellia! (Tr. by R. H. Blyth)

Itadaite tarife hitori no hashi wo oku
I have gratefully received it; / It was enough; / I lay down my chopsticks. (Tr. by R. H. Blyth)

Shizukana michi to nari dokudami no me
The road became quiet and solitary; / Dokudami is budding. (Tr. by R. H. Blyth)
*The dokudami, also called shibuki, is a small, ill-smelling weed with a four-petalled white flower that blooms in summer.

Karasu naite watashi mo hitori
A crow is cawing; / I also am by myself. (Tr. by R. H. Blyth)

Wake-itte mo wake-itte mo aoi yama
Going further into them, / And further into them, / Still more green mountains. (Tr. by R. H. Blyth)

Shitodo ni nurete kore wa michishirube no ishi
This is the stone, / Drenched with rain, / That marks the way. (Tr. by R. H. Blyth)

Hito no tame ni shigurete hotoke sama
Rained upon / For all our sakes, / Hotoke Sama. (Tr. by R. H. Blyth)

Ko-no-ha chiru aruki-tsumeru
Leaves of the trees fall; / Walking on and on. (Tr. by R. H. Blyth)

Sei-shi no naka no yuki furi-shikiru
The snow of life and death / Falls incessantly. (Tr. by R. H. Blyth)

Fumi-wakeru hagi yo susuki yo
Walking through / The bush clover, the pampas grass, / Walking on through them. (Tr. by R. H. Blyth)

Hyo-hyo to shite mizu wo ajiwau
Buoyantly we go / Like the wind, / Tasting water. (Tr. by R. H. Blyth)

Hitori de ka ni kuwarete iru
I am bitten by mosquitoes, / Quite alone. (Tr. by R. H. Blyth)

Kasa ni tombo wo tomarasete aruku
I walk along, / Letting the dragon-fly / Perch on my kasa. (Tr. by R. H. Blyth)

Shigururu ya shinanaide iru
Cold winter rain; / I am still alive. (Tr. by R. H. Blyth)

Do shiyo mo nai watashi ga aruite oru
I am walking; / It cannot be otherwise. (Tr. by R. H. Blyth)

Kare-kitta kawa wo wataru
Crossing over / A dried up river. (Tr. by R. H. Blyth)

Sukkari karete mame to natte iru
Quite withered up, / It is just beans. (Tr. by R. H. Blyth)

Sutekirenai nimotsu no omosa mae ushiro
I can't throw it away, / But how heavy my pack, / Before and behind! (Tr. by R. H. Blyth)

Ano kumo ga otoshita ame ni nurete iru
I am wet / By the rain / From that cloud. (Tr. by R. H. Blyth)

Aki to natta zasso ni suwaru
The grasses / That have become autumn,-- / Sitting down in them. (Tr. by R. H. Blyth)

Hoi konna ni yaburete kusa no mi
Seeds of grasses; / My monkish robe / Is so worn! (Tr. by R. H. Blyth)

Toshi toreba kokyo koishii tsukutsuku-boshi
As I grow old, / I yearn for my native place: / Tsukutsukuboshi! (Tr. by R. H. Blyth)

Mizuoto to issho ni sato e orite kita
Together with the sound of the water, / I came down to my native village. (Tr. by R. H. Blyth)

Shimi-jimi taberu meshi bakari no meshi de aru
Intently / I eat my meal / Of boiled rice only. (Tr. by R. H. Blyth)

Mattaku kumo ga nai kasa wo nugi
Not a single cloud in the sky; / I take off my kasa. (Tr. by R. H. Blyth)

Amadare no oto mo toshi-totta
The sound of the rain-drops also / Has grown older. (Tr. by R. H. Blyth)

Mono kou ie mo naku nari yama ni wa kumo
No house more to beg from; / Clouds over the mountains. (Tr. by R. H. Blyth)

Kasa mo moridashita ka
Has my kasa too / Begun to leak? (Tr. by R. H. Blyth)

Ate mo naku fumiaruku kusa mina karetari
The grasses I tread, / Uncertain and fickle, / Are all withered away. (Tr. by R. H. Blyth)

Yama-suso atataka na hi ni narabu haka sukoshi kana
In the warm sunlight / At the foot of the hill, standing side by side, / A few graves. (Tr. by R. H. Blyth)

Ichi-nichi mono iwazu umi ni mukaeba shio michite kinu
I was silent all day: / Facing the sea, / The tide came up. (Tr. by R. H. Blyth)

Abrams, James. Hail in the Begging Bowl: The Odyssey and Poetry of Santoka.
Monumenta Nipponica, Volume 32, No. 3. (Autumn, 1977), pp. 269-302.
Text in full (DOC)

Santoka (1882-1940), from Bofu, Yamaguchi-ken. A confirmed alcoholic, Taneda, is described by James Abrams as one of the last of the "raucous itinerant monk[s]" who produced as much haiku as he drank saké - which is to say, abundantly. His was a lifestyle that "despite their inevitable mental and physical hardship has an alluring sense of romanticism and nostalgia for the majority of people burdened with the responsibilities of family and job." Although he Taneda sometimes described his wanderings less optimistically, he has become a romantic figure of the happy wandering monk, unburdened by life or monetary cares.
One of his famous poems expresses "the pure delight of drinking." Horohoro is the mellowed happy-go-lucky drunken state, and describes the drifting fall of leaves in autumn.

Horohoro yoppaute
ki no ha chiru.

A soft whirling drunk
a scattering of leaves.

For All My Walking: Free-Verse Haiku of Taneda Santôka with Excerpts from His Diaries, translated by Burton Watson. New York, Columbia University Press, 2003, 118 pages, [245 haiku]
http://www.scribd.com/doc/49148265/For-All-My-Walking-Taneda-Santokapdf
http://search.japantimes.co.jp/print/features/books2004/fb20040125dr.htm
Text of all 245 haiku (With three calligraphies in Santôka's own hand)

Thistle brilliant morning : Shiki, Hekigodô, Santôka, Hôsai, [translations from the Japanese William J. Higginson]. Byways Press, England, 1973; From Here Press, Paterson, N.J. 1975. 20 p.
further in yet / further in yet / green hills (Tr. by W. J. Higginson)

taking a leisurely pee / in lush sprouting grass (Tr. by W. J. Higginson)

tree leaves fall / walking on and on (Tr. by W. J. Higginson)

on a rock the dragonfly / looks at midday dreams (Tr. by W. J. Higginson)

Mountain Tasting: Zen Haiku by Santoka Taneda, translated and introduced by John Stevens. New York & Tokyo, Weatherhill, 1980, 130 pages, [372 haiku], White Pine Press, 2009, 200 pages
Introduction + 372 haiku

Santoka's life may seem tragic. Son of a womanizing father who lost the family property through an unwise business venture; a mother who committed suicide by throwing herself into a well when he was eight; himself a university dropout; failed jobs; alcoholism; a failed marriage; a series of nervous breakdowns; a suicide attempt which failed when the train was just able to stop in time. How could such a man have become one of Japan's best-loved poets? And what, we wonder, could we ourselves possibly have to learn from him? The answer to this last, in a word, is everything.

Santoka was pulled from the tracks and taken to a nearby Zen temple. The head priest, Gian Mochizuki Osho, a shrewd and kindly man, simply took him in without any reprimands or questions, and offered to let him stay as long as he liked. Santoka had always been interested in Buddhism, and after one year of Zen meditation, chanting sutras, and working around the temple, at the age of forty-two he was ordained a Zen priest. The Zen he was ultimately to practice, however, though traditional, was unusual. It was the Zen of solitary walking. The open road was to become his home and his monastery.

John Stevens has provided a truly interesting and moving account of Santoka's life and work which will fill you in on the details. Suffice to say here that Santoka's first walking pilgrimage through Japan, begging as he went from village to village, began in April 1926 and was to last for four years. During this trip to Shikoku, he visited the 88 shrines and temples associated with the Buddhist saint Kukai (774-835) to pray for the troubled spirit of his departed mother.

There is a wonderful photograph of Santoka on page 30, which shows him setting out on a similar pilgrimage in 1933. With his straw sandals, white cotton pants, long robe, monk's staff, and large woven straw hat, he looks an odd, if not laughable, figure. Few would suspect they were looking at a person of incredible courage, someone who had undertaken the most fearsome and difficult task of all, the full acceptance and savoring of the moment, despite what it may bring.

All told, Santoka is said to have walked more than twenty-eight thousand miles, starting out each morning penniless and with no food, and not knowing where he would stay or even if he would find lodging for the night. These were very hard miles, miles which brought sun and rain, generosity and hostility, food and hunger, smiles and scowls, health and illness, thirst and pure water, loneliness and moments of companionship, grief and intense happiness, but moments always lived with the thought that everything should be welcomed, whether good or bad, just as he himself was not judged but welcomed and taken in by the kindly Gian.

The record of his various thoughts, feelings, perceptions, and of the myriad sights and sounds he encountered on his walks of self-discovery, will be found in his poems. The poems are characterized by an absolute simplicity, an absolute honesty, a total absence of artifice. In a world such as ours, brimming over as it is with lies, disinformation, propaganda, and the totally phony, Santoka's spontaneous utterances come to us like a pure, cool, and refreshing breath of air. He is even, as Stevens points out, honest about his failure to solve what for him was the ultimate Koan - sake.

After his very fine 29-page Introduction, Stevens has given us 372 of Santoka's free-style haiku in excellent translations. Since the poems are linguistically very simple, their literal meaning carries over easily into English. What is lost, however, as Stevens points out, is the beautiful rhythm, assonance, and onomatopoeia of many of the poems, and to offset this he has thoughtfully provided, at the bottom of each page, the romanized Japanese of the originals, a few of which are accompanied by his notes. He has also provided a useful Selected Bibliography of both Japanese and English sources at the end of the book.

Here, to give you a taste of Santoka, is Poem 18 as translated and annotated by Stevens. A halftone of Santoka's striking brush calligraphy of this poem has been used as frontispiece to the book:

Going deeper
And still deeper -
The green mountains.

Wake itte mo wake itte mo aoi yama [wa-ke it-te mo wa-ke it-te mo a-o-i ya-ma]. This was written in early summer in the mountains of Kumamoto Prefecture and is perhaps Santoka's best-known poem. Deeper and deeper into the human heart without being able to fathom its depth. . . ." (page 37).

The human heart, yes, but also self, nature, time, reality, the mystery of existence, and, ultimately, the world of Buddha, or, for others, God.

Santoka's great merit is that he returns us to a reality that is also ours, though most of the time we choose to overlook it. I can't even begin to do justice to him here - he's just too big. But what can be said is that there is a depth and resonance to his poems that will evoke a powerful response in all sensitive readers. His love of the simple things in life, of nature, and of all life-forms and living creatures, is infectious.

Santoka: Grass and Tree Cairn by Taneda Santôka. Translations by Hiroaki Sato; illustrations by Stephen Addiss, Winchester, Va.: Red Moon Press, 2002, xxii + 74 pages, [230 haiku]
http://www.modernhaiku.org/bookreviews/Santoka2002.html
http://thehaikufoundation.org/diglib/santoka_grasscairn.pdf
In pine winds at dawn and dusk striking the bell
Matsukaze ni akekure no kane tsuite

I go in I go in still the blue mountains
Wakeitte mo wakeitte mo aoi yama

In the midst of life and death the snow falls ceaselessly
Seishi no naka no yuki furishikiru

Burning heaven on my head I beg I walk
Enten o itadaite koi aruku

Alone being eaten up by mosquitoes
Hitori de ka ni kuwareteiru

Letting the dragonfly stay on my hat I walk on
Kasa ni tombo o tomarasete aruku

The road being straight lonesome
Massuguna michi de samishii

Wordlessly I put on today's straw sandals
Damatte kyo no zori haku

Fluttering drunk leaves scatter
Horohoro youte ki no ha chiru

Winter shower I'm still not dead
Shigururu ya shinanaideiru

The shadow in the water I am a traveler
Mizu ni kage aru tabibito de aru

The snow falls falls as I watch the snow
Yuki ga furu furu yuki miteoreba

I've received enough to eat the rain starts
Taberu dake wa itadaita ame to nari

It having survived I'm scratching my body
Ikinokotta karada o kaiteiru

The mountain I'll never see again grows distant
Mata miru koto mo nai yama ga touzakaru

A shrike calls there's no place to dump my body
Mozu naite mi no sute dokoro nashi

Hopeless I keep walking
Dou shiyou mo nai watashi ga aruiteiru

The Daikan Peak
I go in and the sound of water
Wakeireba mizu no oto

I slip and fall the mountain hushed
Subette koronde yama ga hissori

Maimai's Residence
Ceaselessly dropping these large leaves
Shikirini ochiru ookii ha kana

Completely withered they are now beans
Sukkari karete mame to natteiru

On my tired leg a dragonfly has lighted
Tsukareta ashi e tombo tomatta

A withered mountain with enough water to drink
Kareyama nomu hodo no mizu wa arite

My monk's robe so torn grass seeds
Houi konnani yaburete kusa no mi

That cloud dropped the rain I'm getting wet in
Ano kumo ga otoshita ame ni nureteiru

Autumn's come I sit in the weeds
Aki to natta zassou ni suwaru

Such delicious water overflowing
Konnani umai mizu ga afureteiru

With the sound of water I've come down to a village
Mizuoto to issho ni sato e oritekita

Absolutely no cloud I take off my hat
Mattaku kumo ga nai kasa o nugi

Up to the graves in rows the waves rolling in
Haka ga narande soko made nami ga oshiyosete

Drunk I'd been asleep with the crickets
Youte kourogi to neteita

The sound of the rain dripping has also grown old
Amadare no oto mo toshitotta

Holding out its branches a winter tree
Eda o sashinobeteiru fuyuki

No more houses to beg at above the mountain clouds
Mono kou ie mo nakunari yama ni wa kumo

Or I stop begging and am looking at the mountain6
Aruiwa kou koto o yamete yama o miteiru

Even my hat has started to leak I see
Kasa mo moridashita ka

This frosty night's bed must be somewhere
Shimoyo no nedoko ga dokoka ni aro

Your back in the winter shower you go away I see
Ushiro sugata no shigurete yukuka

Into my iron alms bowl too hail
Teppatsu no naka e mo arare

This the tooth that came out just like that
Horori to nuketa ha de wa aru

Cold clouds hurry
Samui kumo ga isogu

My hometown's distant tree buds
Furusato wa toukushite ki no me

Thump on my hat was a camellia
Kasa e pottori tsubaki datta

In autumn wind I pick up a stone
Akikaze no ishi o hirou

Along today's road dandelions have bloomed
Kyou no michi no tampopo saita

Rain falls in my hometown walk barefoot
Ame furu furusato wa hadashi de aruku

To the kitchen moonlight alone
Kuriya made tsukikage no hitori de

Morning glow rain falls I'll sow daikon
Asayake ame furu daikon makou

Dew in grass seeds, trying to calm down
Kusa no mi no tsuyu no, ochitsukou to suru

From the evening sky I accept one citron
Yuuzora kara yuzu no hitotsu o morau

The moon risen I'm waiting for nothing in particular
Tsuki ga nobotte nani o matsu de mo naku

With this and that to eat one windy day
Arekore taberu mono wa atte kaze no ichinichi

The sound of water truly I've calmed down
Mizuoto shinjitsu ochitsukimashita

The sense that someone's coming the sky cloudy loquat blossoms
Dare ka kisou na sora ga kumotteiru biwa no hana

In the snowy sky I pick the last one
Yukizora no saigo no hitotsu o mogu

Gochu snow falls as a solitary man I make a fire
Gochu yuki furu hitori to shite hi o taku

A warm day, still have things to eat
Nukui hi no, mada taberu mono wa aru

Through the moonlight's center I come back
Tsukikage no mannaka o modoru

I'm in the quietness of snow falling on snow
Yuki e yuki furu shizukesa ni oru

Snow falls one by one they go
Yuki furu hitori hitori yuku

Moonlit night, so your gift was rice
Tsukiyo, temiyage wa kome dattaka

Camellias open there's a grave
Tsubaki hiraite haka ga aru

The noise a bird that's come to eat nuts in the morning perhaps
Oto wa asa kara ki no mi o tabeni kita tori ka

I pull and pull yet I pull the grass's attachment
Nuite mo nuite mo kusa no shuuchaku o nuku

Today I pick bog rhubarb I eat bog rhubarb
Kyou wa fuki o tsumi fuki o tabe

Sparrows dance yeah dandelions scatter yeah
Suzume odoru ya tampopo chiru ya

A butterfly from back to front fluttering
Tefu tefu ura kara omote e hira hira

Today also all day no one came fireflies
Kyou mo ichinichi dare mo konakatta hotaru

Dragonfly trying to light on my stark naked body are you
Suppadaka e tombo tomarou to suruka

Rustling stirring a non-chirping insect has come
Kasari kosori oto sasete nakanu mushi ga kita

Pine winds cool a man eats a horse eats
Matsukaze suzushiku hito mo tabe uma mo tabe

Which is what everything's abloom
Nani ga nani yara minna saiteiru

I walk and buttercups I sit and buttercups
Arukeba kimpouge suwareba kimpouge

With the drips from the young leaves the drips from my hat
Wakaba no shizuku de kasa no shizuku de

The temple's bamboo shoots have become bamboo
O-tera no takenoko take ni natta

Alone I listen a woodpecker
Hitori kiiteiru kitsutsuki

I'm waiting the cherries are ripening
Matteiru sakurambo ureteiru

In the mountain's embrace I become naked
Yama futokoro no hadaka to nari

On the mountain all day ants too are walking
Yama no ichinichi ari mo aruiteiru

Clouds hurry and turn it into a good moon
Kumo ga isoide yoi tsuki ni suru

Always alone and red dragonflies
Itsumo hitori de akatombo

It moved was a bagworm
Ugoite minomushi datta yo

Grass grows thick that's a place for burning the dead
Kusa shigeru soko wa shinin o yaku tokoro

Morning dew sopping I go where I want
Asatsuyu shittori ikitai hou e iku

Burning heaven with no place to hide the water flows toward me
Enten kakusu tokoro naku mizu no nagarete kuru

The evening shower has washed the eggplants I pick 'em
Yuudachi ga aratte itta nasu o mogu

Crickets there's just enough rice for tomorrow
Kourogi yo asu no kome dake wa aru

I reach figs their ripeness
Te ga todoku ichijiku no urezama

Memories the tides rise at the hometown ferry
Omoide wa shio michitekuru furusato no watashiba

I see the sun off beyond the mountains and eat my meal
Yama no anata e o-hi-sama o miokuri gohan ni suru

Noon too quiet flies know the fly-swatter
Hiru mo shizukana hae ga haetataki o shitteiru

The misery of no longer being able to get drunk the crickets chirp
Yoenakunatta mijimesa wa korogi ga naku

Was so good the evening shower the sounds of water here and there
Honni yokatta yuudachi no mizuoto ga soko koko

Finally the mail came and now only ripe persimmons drop
Yatto yuubin ga kite sorekara jukushi no ochiru dake

Each time a fruit ripens and drops I pick it up
Urete wa ochiru mi o hirou

After seeing someone off I return alone through the quagmire
Hito o miokuri hitori de kaeru nukarumi

Moonlit night, I wash all the rice I have
Tsukiyo, aru dake no kome o togu

The sky's depth dead leaves sunk in the water
Sora no fukasa wa ochiba shizundeiru mizu

With the moonlight from behind me I cross the water
Ushiro kara tsuki no kage suru mizu o wataru

Broken with a snap bamboo among bamboo
Pokiri to orete take ga take no naka

The moon goes behind it and there's the thicket's shadow
Tsuki ga ura e mawareba yabukage

This year too this its last night sleet starts
Kotoshi mo kon'ya giri no mizore to natta

Here like this I place myself winter night
Koko ni koushite watashi oiteiru fuyuyo

I get sick and a blue heron comes near
Yameba aosagi ga sokora made

I'm eating sake the mountain's withered
Sake o tabeteiru yama wa kareteiru

The brightness of snow everywhere the quietness
Yuki no akarusa ga ie ippai no shizukesa

Camellias fall the water flows
Tsubaki no ochiru mizu no nagareru

I wake snow falls, not that I'm lonely
Nezame yuki furu, sabishigaru dewa nai ga

The owl in the owl's way I in my way can't sleep
Fukurou wa fukurou de watashi wa watashi de nemurenai

The moon goes behind it still the tree shadow
Tsuki ga ura e mawattemo kokage

The bagworm too dripping spring has come yes
Minomushi mo shizuku suru haru ga kita zo na

Grasses and trees alive I'm back they luxuriate
Kusa ya ki ya ikite modotte shigetteiru

Ill alone a morning turns into evening green leaves
Yamite hitori no asa ga yuube to nariyuku aoba

The persimmon's young leaves glitter in the sky I'm yet not dead
Kaki no wakaba no kagayaku sora o shinazuni iru

Bees butterflies grasses so many blooming
Hachi ga tefucho ga kusa ga nambo demo saite

Always chained the dog has no choice but to bark
Itsumo tsunagarete hoeru hoka nai inu desu

Sprouting growing blooming happiness
Haete nobite saiteiru koufuku

Their shadows distinct the young leaves
Kage mo hakkiri to wakaba

Suddenly out of a hole a lizard is it
Hyoito ana kara tokage ka yo

Peckers and pussies overflowing hot water
Chimpoko mo ososo mo waite afureru yu

Alone hushed a bamboo shoot grows to become bamboo
Hitori hissori takenoko take ni naru

A mountain peers from behind a mountain the rainy season's over
Yama kara yama ga nozoite tsuyubare

With something to eat something to drink in the weeds rain
Taberu mono wa atte you mono mo atte zassou no ame

Under burning heaven an endless line of ants
Enten no hate mo naku ari no gyouretsu

The spider spreads his net I affirm myself
Kumo wa ami haru watashi wa watashi o kouteisuru

Ready to die any moment grass blooms bears seeds
Itsu de mo shineru kusa ga saitari minottari

The sun at its most intense one leaf falls
Hizakari ochiru ha no ichimai

A cool wind passes so do bees so do dragonflies
Kaze ga suzushiku fukinukeru node hachi mo tombo mo

Drink hometown's water bathe in the water
Furusato no mizu o nomi mizu o abi

Make this the place to die grasses luxuriate luxuriate15
Koko o shini basho to shite kusa no shigeri ni shigeri

In an autumn wind, an angry praying mantis this
Akikaze no, haratateteiru kamakiri de

Burdened with a heavy load he's blind
Omoni o oute mekura de aru

The road where we parted straight
Wakaretekita michi ga massugu

Wake from a nap whichever way I look mountains
Hirune samete dochira o mite mo yama

A good inn mountains everywhere and a sake store in front
Yoi yado de dochira mo yama de mae wa sakaya de

I sit and there's a wind autumn weeds
Suwareba kaze ga aru aki no zassou

I decide to sleep here grass seeds spill
Koko de neru to suru kusa no mi no koboreru

Bush clover and pampas grass are today's road
Hagi ga susuki ga kyou no michi

Leaves fall fall into my alms bowl too
Ki no ha furu furu hachinoko e mo

I walk and grass seeds I sit and grass seeds
Arukeba kusa no mi suwareba kusa no mi

Now, which way shall I go the wind blows
Sate, dochira e iko kaze ga fuku

There's only this road spring snow falls
Kono michi shika nai haru no yuki furu

Because the mountain's quiet I take off my hat
Yama shizuka nareba kasa o nugu

The two or three left become ripe persimmons clouds come and go
Nokosareta futatsu mittsu ga jukushi to naru kumo no yukiki

No one comes cayenne peppers turn red
Dare mo konai tougarashi akou naru

I take ill and the pickled plums' red
Yameba umeboshi no akasa

No matter how I think it's all the same I step on dead leaves and walk on
Nambo kangaete mo onnaji koto no ochiba fumi aruku

I lie down I get up leaves fall
Netari okitari ochiba suru

Wide awake and feeling the moon right above
Hokkari samete maue no tsuki o kanjiteiru

Withering grass I sit on its beauty
Kareyuku kusa no utsukushisa ni suwaru

I live withdrawn and a wren
Hissori kuraseba misosazai

Dangling the snow falling on a bagworm
Burari to sagatte yuki furu minomushi

Just as they are weeds sprout
Aru ga mama zassou to shite me o fuku

From the mountain white flowers to my desk
Yama kara shiroi hana o tsukue ni

Into the sky young bamboo with no troubling thoughts
Sora e wakatake no nayami mo nashi

Around me all grasses every one blooming
Mi no mawari kusa darake minna saiteru

I roll on my back and there's the blue sky
Korori nekorobeba aozora

Seeking what I go through the wind
Nani o motomeru kaze no naka yuku

In the depths of the green leaves the path still then a grave
Aoba no oku e nao michi ga atte haka

The moon before you know it brightens and katydids
Tsuki ga itsushika akarukunareba kirigirisu

Butterflies entangling in the shadow in the sun
Tefutefu motsuretsutsu kagehinata

Once you die, weeds rain falls
Shindeshimaeba, zassou ame furu

Before death a cool breeze
Shi o mae ni suzushii kaze

Even while wind chimes tinkle death sneaks up
Fuurin no naru sae shi no shinobiyoru

Have no thoughts to leave the evening's sweet potato leaves aflutter
Omoi oku koto wa nai yuube no imo no ha hirahira

The wound healing turning autumnal the wind blows
Kizu ga ieyuku aki meita kaze to natte kaze fuku

I walk and cuckoos I hurry and cuckoos
Arukeba kakkou isogeba kakkuu

Heart empty the rough waves rolling in rolling out
Kokoro munashiku aranami no yosete wa kaeshi

Crouched on a dune today I still can't see Sado
Sakyuu ni uzukumari kyou mo Sado wa mienai

Legs stretched toward the rough sea before and after the journey
Araumi e ashi nagedashite tabi no atosaki

Having come this far I drink water and leave
Koko made o koshi mizu nonde saru

A butterfly aflutter has gone over the roof tiles
Tefutefu hirahira iraka o koeta

Sobering a wind sadly blows through me
Yoizame no kaze no kanashiku fukinukeru

My heart calms down and the sound of the water
Kokoro ochitsukeba mizu no oto

I follow the bright and dark sides of a wind
Kaze no meian o tadoru

From the moon flutters down a persimmon leaf
Tsuki kara hirari to kaki no ha

Waiting for what day by day dead leaves grow deep
Nani o matsu hi ni hi ni ochiba fukounaru

Drying up the water's clarity
Karetekuru mizu no sumi yo

Wash 'em and daikon grow even more white
Araeba daikon iyoiyo shiroshi

With a shadow too desultorily late night I'm eating
Kage mo bosoboso yofuke no watashi ga tabeteiru

I know the footfalls stepping on the fallen leaves coming closer
Ochiba fumikuru sono ashioto wa shitteiru

After all being alone's lonesome the withered grass19
Yappari hitori wa samishii karekusa

Leaves fallen all the more intimate my neighbor's light
Ochiba shite sarani shitashiku otonari no hi no

Out of the wind caw caw crows
Kaze no naka kara kaakaa karasu

The leaves fallen no more leaves to fall the sun
Ha no ochite ochiru ha wa nai taiyou

Snow falls I have things to eat snow falls
Yuki furu taberu mono wa atte yuki furu

Moon's brightness I wonder where they're bombing
Tsuki no akarusa wa doko o bakugeki shiteiru koto ka

Snow falling on snow battle is about to begin they say
Yuki e yuki furu tatakai wa kore kara da to iu

The town's festive you've returned as bones have you
Machi wa omatsuri o-hone to natte kaeraretaka

Horse too requisitioned grandpa grandma
Uma mo mesarete ojiisan obasan

Legs and arms left in China you are back to Japan
Ashi wa te wa Shina ni nokoshite futatabi Nihon ni

Wordlessly playing a single bird in the blossoms
Damatte asubu tori no ichiwa ga hana no naka

The spring wind's bagworm has taken a sudden peek
Harukaze no minomushi hyoito nozoita

Taking a sudden peek the bagworm doesn't cry
Hyoito nozoite minomushi wa nakanai

The green of the grass I return barefoot
Kusa no aosa yo hadashi de modoru

In rows bamboo shoots turning into bamboo
Narande takenoko take ni naritsutsu

In the wind I walk blaming myself
Kaze no naka onore o semetsutsu aruku

Winter shower all the rice I got cooked good
Shigururu ya aru dake no gohan yo taketa

Death held tight the cayenne pepper scarlet
Shi o hishi to tougarashi makka na

Death's stillness is the clear sky a leafless tree
Shi no shizukesa wa harete ha no nai ki

There in front of death I put the moon
Soko ni tsuki o shi no mae ni oku

I open the window the spring filling the window
Mado akete mado ippai no haru

Stillness, bamboo shoots have all turned into bamboo
Shizukesa, takenoko minna take ni natta

Living alone and green green is the grass
Hitori sumeba aoao to shite kusa

A hop a single red frog
Tonde ippiki akagaeru

Near my body water comes flowing
Mi no chikaku mizu no nagarete kuru

From somewhere clouds appear autumn clouds
Doko kara tomo naku kumo ga detekite aki no kumo

Autumn wind, whichever way I want to go as far as I can go
Akikaze, ikitai hou e ikeru tokoro made

Since I stopped coming across people the mountain butterflies
Hito ni awanakunarite yori yama no tefutefu

With this body that can die any place spring wind
Doko demo shineru karada de shumpuu

Balmy the butterfly is dead
Uraura chou wa shindeiru

Cherry blossoms at their peak a prison
Sakura mankai ni shite keimusho

Of the house where I was born no trace left fireflies
Umareta ie wa atokata mo nai hotaru

Water's delicious frog croak
Mizu no umasa o kawazu naku

Letting the moon as far as my bed I decide to sleep
Nedoko made tsuki o ire neru koto ni suru

The darkness of the rice trusty I wash it
Kome no kurosa mo tanomoshiku arau

My bellybutton a pool of sweat
Heso ga ase tameteiru

Walls crumbling from there vine grass
Kabe ga kuzurete soko kara tsurugusa

That's a pre-death butterfly dance
Sore wa shi no mae no tefutefu no mai

Autumn's end-turned-fly crawls about
Aki mo owari no hae to nari haiaruku

Moon invisible moonlit water brimming
Tsuki wa mienai tsukiakari no mizu manman

Cawing a crow, flapping a crow, with no place to settle down
Naite karasu no, tonde karasu no, ochitsuku tokoro ga nai

The sound of water today too alone I travel
Mizuoto kyou mo hitori tabi yuku

Mountain's quietness the white flower
Yama no shizukesa wa shiroi hana

Can't calm down the futon heavy I sleep
Ochitsukenai futon omotaku neru

Under burning heaven the railway track straight
Enten no reeru massugu

A crow flies away I'll cross the water
Karasu tondeyuku mizu o wataro

Walking Into the Wind: A Sweep of Poems by Santoka, versions of Cid Corman (1924-2004). San Francisco, Cadmus Editions, 1990, 160 pages, [140 haiku]
where the walls are
falling apart the
vines the grass

men women
and the shadows too
dancing

the waves sound sometimes
close and sometimes far away
how much more of life

GRASS TREE STUPA (SOMOKUTOH)
Selected and translated by Takashi Nonin, Matsuyama University, Matsuyama City, Ehime Prefecture, Japan
1.
Pine trees
With branches all drooping--
Namu-kanzeon sutra.

(Matsu wa mina/ eda tarete/ namu-kanzeon)


2.
Ringing the temple-bell
To the sound of pine trees;
Mornings and evenings.

(Matsukaze ni/ ake kure no/ kane tsuite)


3.
Sweeping the yard for a change,
Flowers in the hedge are in bloom.

(Hisashiburini haku/ kakine no hana ga saita)


4.
Getting further and further
Into the mountains,
But still deep blue mountains.

(Wakeittemo/ wakeittemo/ aoi yama)


5.
Soaked and Soggy to the core,
It's a milestone.

(Shitodo ni nurete/ korewa michishirube no ishi)


6.
Under the canopy of scorching heaven
I walk and beg.

(Enten wo itadaite/ koi aruku)


7.
Lone crow is cawing;
I'm alone too.

(Karasu naite/ watashi mo hitori)


8.
In the midst of life and death
Snow's falling thick and fast.

(Shoji no naka no/ yuki furishikiru)


9.
Leaves are falling;
I walk and walk.

(Konoha chiru/ aruki tsumeru)


10.
All alone,
Letting mosquitoes bite my flesh.

(Hitoride/ ka ni kuwareteiru)


11.
Stretching my legs
To the light of a westering sun.

(Nagedashite/ mada hi no aru ashi)


12.
Walking with a dragonfly
Resting on my sedge-hat.

(Kasa ni tombo wo/ tomarasete/ aruku)


13.
It's a straight road
That makes me feel lonely.

(It's a lonely road that has no turning.)

(Massuguna michi de/ samishii)


14.
In silence
I put on straw sandals for today.

(Damatte/ kyo no waraji haku)


15.
Late autumn rain's falling;
I have yet to die.

(Shigururu ya/ shinanai de iru)


16.
My shadow on the water,
Traveler I am.

(Mizu ni kage aru/ tabibito de aru)


17.
Late autumn rain's falling
Into the mountain,
Towards which I go on walking.

(Shigururu ya/ shigururu yama e/ ayumi iru)


18.
Buds of trees,
Buds of grasses,
I keep on walking.

(Kinome/ kusanome/ aruki tsuzukeru)


19.
I've survived--
Scratching my body.

(Iki nokotta karada/ kaite iru)


20.
Mountains I've left for good
Are going out of sight.

(Mata miru koto mo nai yama ga/ toozakaru)


21.
Crickets are chirping,
Chirping to me all the time.

(Koorogi ni/ nakarete bakari)


22.
Shrike is chirping;
No place to throw away myself.

(Mozu maite/ mi no sutedokoro nashi)


23.
Slipped, tumbled,
Mountain is quiet and alone.

(Subette koronde/ yama ga hissori)


24.
My tired legs--
Dragonfly landed on one.

(Tsukareta ashi e/ tombo tomatta)


25.
Monk-robe
Threadbare so--
Grass seeds.

(Houe/ konnani yaburete/ kusa no mi)


26.
Behind the rocks,
Sure enough, a fountain;
Eureka!

(Yuwa kage/ masashiku/ mizu ga waite iru)


27.
Those clouds threw a rain shower;
I'm wet through.

(Ano kumo ga/ otoshita ane ni/ nurete iru)


28.
Autumn is come;
Sitting on the weeds.

(Aki to natta/ zasso ni suwaru)


29.
Water so tasty,
Flowing all over.

(Konnani umai mizu ga/ afurete iru)


30.
Have come down to the village
With the sound of water.

(Mizuoto to isshoni/ sato e orite kita)


31.
No clouds whatsoe'er,
I took off my sedge-hat.

(Mattaku kumo ga nai/ kasa wo nugi)


32.
Drunk,
Found myself sleeping with crickets.

(Youte/ koorogi to/ nete itayo)


33.
Sound of raindrops,
You're getting old, too.

(Amadare no oto mo/ toshi totta)


34.
No more doors to beg,
Clouds o'er the mountains.

(Mono gou ie mo nakunari/ yama niwa kumo)


35.
--Reminiscence--

My sedge-hat
Getting leaky at last.

(Kasa mo/ moridashita ka)


36.
--Self-ridicule--

I'm leaving
With my backside wet
In late autumn rain.

Note: Another self of Santoka's is watching himself from behind with
self-scorn. He is dual-eyed, before and hind, like a frog
or a dragonfly.

(Ushiro sugata no/ shigurete yuku ka)


37.
Into begging bowl of iron
Down came the hailstones.

(Teppachu no naka e mo arare)


38.
My native town
Far, far away--
Burgeoning trees.

(Furusato wa/ tooku shite/ ki no me)


39.
Getting out of a nice bath
Into lovely moonlight.

(Yoi yu kara/ yoi tsuki e deta)


40.
Among budding trees
Birds are now singing.

(Haya mebuku ki de/ naite iru)


41.
Something fell on my sedge-hat--
Camellia.

(Kasa e pottori/ tsubaki datta)


42.
Eating fully enough with thanks,
I put down chopsticks;
All alone.

(Itadaite/ tarite hitori no/ hashi wo oku)


43.
In autumn wind
I pick up a pebble.

(Akikaze no/ ishi wo hirou)


44.
Alongside today's road
Dandelions in bloom.

(Kyo nomichi no/ tampopo saita)

45.
It's raining in my hometown;
I'm walking barefoot.

(Ame furu furusato wa/ hadashi de aruku)


46.
Having moved in and settled down,
I'm surrounded by flowers of the opposite shore/
flowers of the autumnal equinox.*

*opposite shore (Higan)--Buddhistic term.
autumnal equinox (Higan/Shuubun-no-hi)--day on the calendar.

(Utsuri kite/ o-higanbana no/ hana zakari)


47.
Glory of the morning sky
Heralds the coming of rain;
Must sow the seeds of radish.

(Asayake/ ame furu/ daikon makou)


48.
Out of the evening sky
I pick and pluck a yuzu-citrus.*

*Yuzu--yellow, sour and fragrant citrus resembling a lemon, not oval
but round and softer. It is symbolic of Japan's winter.
Yuzu-trees, together with persimmon-trees, are seen in the yards of
rural houses--typical scenery of Japan's countryside just as the
apple tree is to the West. On the day of winter solstice, it is the
custom with the Japanese to enjoy yuzu-bath (Yuzu-yu) either in the
household or in public bathhouses (Sentoh). Urban dwellers can get
yuzu at stores. Yuzu is also used as healthy natural vinegar. A
good subject (season-word) for Haiku. Lots of Haikuists like to
compose yuzu-ku around this season. (T. Nonin)

(Yuuzora kara/ yuzu no hitotsu wo morau)


49.
Tea-blossoms keep falling--
Let them fall as they do.

(Cha-no-hana no/ chiru bakari/ chirashite oku)


50.
Winter is come;
Sticks of wood,
Sticks of bamboo.

(Fuyu ga kiteiru/ kigire/ takegire)


51.
The moon has risen;
I'm awaiting nobody and nothing.

(Tsuki ga nobotte/ nani wo matsu deno naku)


52.
There's something to eat,
This and that--
Windy all day.

(Are kore/ taberumo wa atte/ kaze no ichinichi)


53.
Sound of water--
I'm truly settled down and relaxed.

(Mizuoto/ shinjitsu/ ochitsuki mashita)


54.
Falling leaves--
Far beyond,
I see Buddha.

(Ochiba furu oku fukaku/ mi-hotoke wo miru)


55.
Snow is falling
All around Gochu hermitage;
I build a fire as a lonely self.

(Gochu yuki furu/ hitori to shite/ hi wo taku)


56.
Warm day,
I have something more to eat.

(Nukui hi no/ mada taberumono wa aru)


57.
Snow's falling on snow,
I'm in quietude.

(Yuki e yuki furu/ shizukesa ni oru)


58.
Moonlit night,
He came with a handout gift;
I found 'twas rice.

(tsukiyo/ temiyage wa/ kome datta-ka)


59.
Camellias are in bloom;
There are tombstones.

(Tsubaki hiraite/ haka ga aru)


60.
A tiny vase,
A twig of camellia in it.

(Ichirin-zashi no/ tsubaki ichirin)


61.
What's that sound--
Must be a bird
Eating berries since morning.

(Oto wa/ asa kara kinomi wo tabe ni kita tori ka)


62.
Uprooted many a time,
Diehard is the weed;
I pull out its tenacity.

(Nuitemo/ nuitemo/ kusa no shuuchaku wo nuku)


63.
Today I picked butterburrs,
Ate butterburrs.

(Kyo wa/ fuki wo tsumi/ fuki wo tabe)


64.
Sparrows dance,
Dandelions fall.

(Suzume odoru ya/ tanpopo chiru ya)


65.
Morn is about to dawn,
Windows just opened--
Fresh young leaves.

(Mou ake souna/ mado akete/ aoba)


66.
Long hair...
Gray.

(Nagai ke ga/ shiraga)


67.
I'm true and obedient to my mind;
Rice has just been cooked well.

(kokoro sunaoni/ gohan ga fuita)


68.
It's good after all
To be all by myself--
Weeds.

(Yappari/ hitori ga yoroshii/ zasso)


69.
Whole day long
No one has come today--
Firelies.

(Kyo mo ichinichi/ dare mo konakatta/ houtaru)


70.
Stark naked I am,
Dragonfly trying to land on me.

(Suppadaka e/ tombo tomarou to suru ka)


71.
Making a rustling sound,
Mute insect has come.

(Kasari kosori/ oto sasete/ nakanu mushi ga kita)

72.
Wind through the pines;
Cool--
People eat, horses eat.

(matsukaze suzushiku/ hito mo tabe/ uma mo tabe)


73.
All day long, today
I have walked in the wind.

(Kyo mo ichinichi/ Kaze wo aruite kita)


74.
What's this? What's that?
Everything is blooming.

(Nani ga nani yara/ minna saite iru)


75.
When I walk, I see buttercups;
When I sit, I see buttercups.

(Arukeba kinpohge/ suwareba kinpohge)


76.
Thistles--
Bright in the morning
After the rain.

(Azami azayakana/ asa no ame agari)


77.
Hanging down my head,
I see nothing but pebbles.

(Utsumuite/ ishikoro bakari)


78.
Drippings from young leaves,
Drippings from my bamboo-hat.

(Wakaba no shizuku de/ kasa no shizuku de)


79.
Come on, fireflies, come on;
I've come to my native town.

(Houtaru koi koi/ furusato ni kita)


80.
Bamboo sprouts of the temple
Have grown into bamboos.

(Otera no takenoko/ take ni natta)


81.
Wind through the pines,
Shadows of the pines;
I'm lying down in the shade.

(Matsukaze matsukage/ nekoronde)


82.
Day is breaking;
I whet a sickle.

(Akete kuru/ kama wo togu)


83.
I'm listening alone--
Woodpecker.

(Hitori kiite ite/ kitsutsuki)


84.
(The spa--)

Gushing out and overflowing:
I immerse my body in it.

(Waite afureru nakani/ neteiru)


85.
I'm waiting;
Cherries are ripe.

(Matte iru/ sakuranbo urete iru)


86.
Nestling down in the mountain (spa),
I doff my clothes.

(Yama futokoro no/ hadaka to nari)


87.
A whole day in the mountains;
Ants are walking, too.

(Yama no ichinichi/ ari mo aruite iru)


88.
Clouds are sailing fast
To make the moon look better.

(Kumo ga isoide/ yoi tsuki ni suru)


89.
I'm always alone,
Red dragonfly.

(Itsumo hitori de/ akatombo)


90.
I'm on travel;
Until my monk's robe dries up,
Wind comes from the weeds.

(Tabi no houe ga/ kawaku made/ zasso no kaze)


91.
It wiggles;
A bagworm.

(Ugoite/ minomushi datta yo)


92.
Across the water
Lights of the brothels
Began to twinkle.

(Mizu wo hedatete/ onagoya no hi ga/matataki dashita)


93.
The mountains
Hazed and overlapped--
My home town.

(Kasunde Kasanatte/ yama ga furusato)


94.
In the spring breeze
One begging-bowl is there.

(Harukaze no/ hachinoko hitotsu)


95.
--Returning to my hermitage--

I'm home after a long absence;
Bamboo sprouts are shooting forth
Everywhere.

(Hisabisa modoreba/takenoko nyoki nyoki)


96.
Soaked with rain and sweat,
Plough-horse gets many a scolding.

(Bisshori nurete/ shiro kaku uma wa/ shikararete bakari)


97.
Rain and shine--
The fields have turned
Into green paddies.

(Haretari futtari/ aota ni natta)


98.
A thicket--
That's the place
Corpses are cremated.

(kusa shigeru/ soko wa shinin wo/ yaku tokoro)


99.
Wet with morning dew,
I take a wayward course.

(Asatsuyu shittori/ Ikitai hou e iku)


100.
Little cuckoos--
I will go beyond
That mountain morrow.

(Hototogisu/ asu wa ano yama/ koete ikou)


101.
Doffing my bamboo-hat,
I'm thoroughly wet.

(Kasa wo nugi/ shimizimi to nure)


102.
cockroach!
your whiskers are long
and so are mine

(Aburamushi/ omae no hige mo/ nobite iru)

Jesse Glass
My Santoka Translations
http://www.sendecki.com/ahadada/archives/2005/03/06/my_santoka_translations.php
These are a few of my translations of the experimental, free-form haiku of Santoka (1882–1940). Santoka practiced "Walking Zen" and traveled Kyushu, Honshu, and Shikoku on foot as an itinerant monk begging enough money for a cup of sake and a bowl of rice a day. Santoka's father was a womanizer and a spend-thrift and his mother killed herself on account of this. His memory of her body being pulled from the well in which she drowned herself haunted him all of his life.
*

This
journey

without
goal–

weeping
locust.

*

Between life
death/snow

still falling.

*

Road
no end
loneliness.

*

On my straw
hat

dragonfly clings–

keep walking.

*

In this
blizzard

try to
sleep,

not die.

*

Rain
falling on

home
country–

walk barefoot/here.

*

Push
apart

step
thru

push
apart

step
thru

blue-green
mountain.

*

These
my hands

these
my feet

warm inside–
sleep.

*

All night
long

dogs bark,
I walk.
The difficulty in finding an English equivalent to Santoka's highly compressed haiku is almost impossible. For instance, the famous "Push apart/step thru" haiku above has a sonic element that is apparent to any native speaker of Japanese. My students were kind enough to point it out to me one day during discussion. There is the feeling of a work song to the poem, which barely comes through in English.

WEEDS, FALLING RAIN: a selection of Zen Haikai by Santoka Taneda
new versions by Okami
http://www.beyond-the-pale.co.uk/santoka.htm
Unpleasant days:
days I don't walk, days without booze,
haikuless days.

Sake for flesh, haiku for soul:
sake is the haiku of the flesh
haiku is the sake of the soul.

Walking on and on -
my only course.

So this is what
he calls his "tea grove" -
one miserable bush!

No water but that
trickling from
the farmer in the dry ricefield.

The thistles -
fresh and sparkling
after morning rain.

At the mountain-foot
many graves resting
in the warm sunlight.

This road straight -
and empty of company.

Going deeper
and still deeper
into green mountains.

The sunshine freshly
reflecting from
my freshly-shaven head.

Begging: I accept
the burning sun.

One pot is enough;
I wash the rice.

Shining brightly in the sunshine:
my little bowl of rice.

Within life and death
snow ceaselessly falls.

I have no home;
autumn gets bleaker.

Worn and torn daily
and falling in shreds:
my cloak for travelling.

The giant camphor-tree:
the dog and I
completely soaked.

Nice road
leading to a nice building:
a crematorium.

Rain in my eyes:
I can't read the signpost.

The sky at sunset -
a little alcohol would taste so good.

The long night:
made even longer
by a barking dog.

The louse I've caught
is warmer than I am!

Nonchalantly pissing
off the road
soaking the young weeds.

Winter rain clouds -
soldiers off to China
to be blown to bits.

Marching together
on the ground their feet
will never pound again.

Leaving hands and feet
behind in China:
Japanese soldiers come home.

Will the municipality
stage a banner day
for those brought back as bones ?

Baggage I can't throw off
so heavy front and back.

In the calm stillness
after the rainstorm:
flies.

Slowly but surely
I adopt the vices
of my dead father.

Sweat:
collecting
in my navel.

Today's lunch:
just water.

Breaking the dead branches
thinking of nothing.

Today again
no letters.
Only butterflies.

At last!
The mail's arrived.
Soon ripe fruit will fall.

The leaves fall.
From now on
water will taste better and better.

A little woozy,
leaves fall one by one.

My begging-bowl
accepts the falling leaves.

Hailstones also
drop into my begging-bowl.

If I sell my rags
and buy some alcohol -
will there still be loneliness ?

Twilight - the sound
of a sad letter
dropping into a postbox.

Goallessly
I walk amongst tombstones.

Slowly, slowly
falling apart:
my final autumn.

I've become a real beggar now:
one towel.

The few flies that remain
find me familiar.

Pissing blood -
how long will I be able
to carry on ?

Coughing, coughing -
and nobody to slap my back.

No money, no possessions,
no teeth -
all alone.

My heart's exhausted -
the mountains, the sea
are too beautiful.

Mountains I'll never see again
fade in the distance.

When I die:
weeds,
falling rain.

Some life remains:
I scratch my belly...

Santôka by Kametaro
http://web.archive.org/web/20091027124627/http://www.geocities.com/meister_z/SANTOKA.htm
http://www.cc.matsuyama-u.ac.jp/~kametaro/santoka1.html
In all likelihood Santoka will be misunderstood by those who are repelled by his way of life. his life and his work were extreme, excessive. He was a confirmed drunkard but he was often cold sober. He was a vagabond, a bum who begged at every door, but he was rich in faith, thought, and sesitivity. His haiku are free in style, free in wording, free of everything traditional, just as his life was free of bondage to society and convention. He owed everyone he knew, but he could offer more than he he owed. He was haunted by misery, but he may have been the happiest man who ever breathed: joy abided in his innermost self-joy of life and joy of haiku.
He went his way, looking the world in his face, without concern for the future. One of his friends, Oyama Sumita, described his life this way: "Santoka did not think of yesterday or of tomorrow, but lived each today as it came on him. In Zen every single breath is appreciated to the full. Santoka gave full justice to each breath, each moment, each day, as if it was his last. Each step, each movement, each haiku formed a consummate whole in his life."

His legacy includes several collections of haiku and an idiosyncratic diary called Gochuan, all of literary merit. In that diary, on September 21, 1932, he wrote: "A tumble-down man enters a tumble-down hut. Morning and evening, tranquility, insects, the moon, persimmons, the flowers of the manjushage (an amaryllis)." In perfect solitude he cooks his supper.

Hitotsu areba
koto taru nabeno
kome o togu.

One washes rice
in a metal pot;
only one pot, that's enough
(for me).

or

I wash rice
in a metal pot;
one pot's enough.

or

Washing rice
in a metal pot;
one pot's enough.

Colloquialisms mark his haiku. He used easy, plain language at its best, never the literary, poetic diction of more ordinary writers.

Korogi yo,
asu no kome dake wa
aru.

Oh cricket!
there is enough rice, at least
for tomorrow.

The following haiku in not grammatically correct Japanese. Santoka often was careless about grammar. He seemed to want us to read between the lines, and more often than not his grammatical mistakes, a sign of his nonchalance, add charm to his work.

Anta to ko-shite kisha ga
itta ri kitari suru
kemuri.

In your company
going this way and that . . .
the smoke of train.

Santoka was the pseudonym of Taneda Shoichi. He was born December 3, 1882, in a village called Nishisaware in Yamaguchi Prefecture, westernmost Honshu. His family was old and affluent. They owned a large estate worked by many tenant farmers, and they lived in a huge sprawling house. The neighbors called them the "Great Taneda."
With his four brothers and sisters Shoichi lived a happy life until he was eleven. Then their mother, distraught by her husband's profiligacy, committed suicide by throwing herself in to a well. The shock scarred his life. Forty years later he wote in his diary: "Mother is not to blame. No one is to blame. If one has to blame anybody, one has to blame everybody. It is the human condition that must be blamed... Oh my mother! what a memory. If I write an autobiography I have to began this way: 'The misfortunes of my family commenced with the suicide of mother.""

Shoichi finished secondary school and in 1901 entered Waseda University, but he left without graduating. In 1916 the ruin of his family was completed when it went bankrupt. He had a job but no interest in it; he escaped into drink and literature. Off and on he went to Tokyo to study haiku under the master Ogihaara Seiwensui; that ended when he moved to Kumamoto, on Kyusyu.

In 1924 he came close to suicide himself. Drunk, he stood in front of a speeding streetcar and by only a hairbreadh escaped death. A priest who was witness took him to a temple where he plunged into Zen. After some years he left the temple, still forlorn, and took to wandering aimlessly, making haiku and begging alms, always haunted by longing for the carefree days of his boyhood.

Ame furu
furu-sato wa
hadashi de aruku.

The old home
in the rain . . .
I walk barefooted.

At last he came to Matsuyama, where haiku devotees built for him at the foot of a mountain a small cottage named Isso-an, "The Hermitage of the Lonely Blade of Grass." Here he lived until his death in 1940.

He kept his diary until almost the end. "My life has been a continual waste," he wrote. "I pour sake. Out of it are born my haiku."

This haiku may be his masterpiece:

Teppatsu no
naka e mo
arare.

Roughly;

Into my begging bowl,
i too,
hailstones.

A single glance shows that it is defective in form, lacking five syllables. But it is so full of implication that it makes up for this formal defect. Its significance is strengthened by its brevity. Chills run up my spine when I read it in Japanese original. The haiku is alive, every word asserts its maximum. It explains nothing, it is actual experience in the actual present. It express eternity in a moment, the univerce in a particle; sound and sight strangely mingle in its impact. This is the essence of haiku.

A few years ago I made a tentative translation of this haiku in collaboration with the late Halord G. Henderson, Professor Emieritus of Columbia University, a distinguished Japanologist and epert on haiku. I remember clearly the lengthly correspondence between New York and Matsuyama as we tried to clarify our ideas about this haiku and archive a translation that would make it understandable to American readers. It was painstaking work, even though we had before us the passage in Santoka's diary in which he tells how the haiku came to be written and what it means, or what he meant it to mean.

As background, we must know that in Japan and other Buddhist contries, begging for alms in front of homes and businesses is among the religeous duties imposed on priests and faithful believers. During the coldest days of winter, mendicants go out on kengyo, "cold weather austerities."

Teppatsu means literally "iron bowl," though usually it is made of brass; it is the kind of begging bowl used exclusively by priests and monks, who hold it in the palms, close to the body, extending it only when alms are offered.

Arare is here the season-words for winter; it refers to the small hailstones of winter, as distinguished from the bigger ones that usually fall in summer.

The monk is Santoka himself. With a linen bag to hold alms hanging from his neck, his robes tattered, his body partly bared, nearly barefoot, he chants a mantra as he strides along with mind composed, shivering but resolute. Suddenly he and his begging bowl are struck by hail.

In his diary he wrote: " The hailstones as they hit, and the coviction that the hail dashing upon me was a divine whip. These points should have been expressed. This haiku should have contained words to express 'hitting' or whipping."'

Perhaps we need not to take Santoka's self-criticism too seriously, since he never altered his haiku. But it does suggest that it might be easier for the English-speaking reader to appreciate this haiku if, as Professor Henderson suggested, it is translated something like this;

Striking
my begging bowl too,
hailstones ...

(July 1980)

The Santoka versions by Scott Watson
Published in Japan by Bookgirl Press / 3-13-16 Tsurugaya-higashi Miyagino-ku, Sendai / 983-0826. Manufactured in Sendai, Japan by Sasaki Printing & Publishing Co., Ltd. / 8-45 Nishimachi Rokuchonome / Wakabayashi-ku, Sendai / 984-0011. ISBN: 4-915948-41-2 C0098. Cover and other illustrations by Ed Baker, Cover design by P.B RAPHICS. 2005, 42 pages, [104 haiku]
Reviewed by an'ya
http://www.geocities.com/ana_vazic/reviews14.htm
These translations were firstly published in The Tohoku Gakuin Review under the titles Weeds We'd Wed and A Life to Live: Santoka (in 2000 and 2004.) Because Santoka happens to be one of my personal favorites,) therefore having read translations of his work by other people, I can say that I find Scott Watson's approach altogether genuine genius. Albeit, his translations are so "real/blunt"—just like Santoka's haiku; nothing seems forced nor able to be put into a boring bottle here, starting right off with Ed Baker's distinctive artwork gracing the front cover (and throughout this publication) entitled The Santoka versions by Scott Watson.

Scott seems to me, to be a translator with great resolution insofar as it's obviously a result of his being a poet himself, plus his indepth and profound study of Santoka's subjects, the combination of which was bound to end in great insight; his slow but sure ascent toward translations assume a more definite shape the nearer we approach them. But let us examine more than just the translator himself, let us look at what his translations present to readers that perhaps others do not—for instance, the way that Santoka's unshakable willpower often times seeps through:

forsaken
still something
in these legs

it's
come
to these
tired legs
to stop this dragonsly

slipping and falling
mountain silence

getting just enough
to eat: rain

(*by begging that is)

Only a few select people are born with a silver spoon in their mouth so-to-speak, but anyone can strive to overcome trials by perseverance and consistent actions. Fending off every ill-fated moment life throws at them, guarding against all obstacles, Santoka, through his closeness with nature and via Watson's translating, makes this look easily doable:

no matter news is
good or bad—spring snow

taking it easy,
taking a piss-weeds
bud all over

no sake.
drink in the moon

certain days
stop begging to take in
the mountains

Moreover, as Scott himself says of an old Frank Zappa lyric "you gotta get into it before you get out of it; you gotta get out of it before you get into it." I can tell you, not only does he apply this to his translations, but Scott commands readers to thoroughly get in and out of Santoka's haiku—his English versions rendered as if they themselves, were . . . Japanese.

rock
shadow
water
gushing
sure
as
I live

Milky Way middle night drunkard dancing

this
robe
this
worn
this
weedy
fruition

(*the robe meaning a monk's garment)

autumn-sitting in weeds

It's truly unbelieveable to what degree men who are gifted with a sense of humor, are living proof against the trapfalls of unfortunate destiny; translations that capture laughter as an undeniable argument against the ominous, and delightfully present things that may be off-color to some—well, let me just say that not many can resist this underlying influence, especially when presented within excellent translation:

peckers
and
pussies
a hot
bath
over-flowing

still alive a body for a body to scratch

naked
conversation
abounds

jazz noise won't
get you there
a sutra will

In closing, I would say that it's but by the potence of personal struggle and tenacity that the most witty and lasting popular repute is thereby formed. Experience and famous poets tell us, in order to be artistic (whether it be in the translations of someone's work or in the work itself,) that we must embrace a touch of madness in all that we do. If we don't possess such qualities, it would befit us to cultivate them like Scott/Santako, thinking incessantly of them and by studying the concepts which represent them. For that road on which one wanders may not always lead you where you wanted to go, but it's likely to take you to an even higher plateau. And per your walks, you will become an accomplished traveller, (like Santoka) which shall be due to the second-sight required to be able to attain life's most simple goals. The Santoka! (imho) a must-own, must-read.

straight ahead
out-reaching loneliness
road.

if we walk: the cuckoo.
if we hurry: the cuckoo.

walking:
buttercups
sitting:
buttercups

traveling
endlessly
clipping my nails

grilling a fish
even singeing a hand --
single life

a weed. a-
lone.
all right.


Bookreview by Jane Reichhold
LYNX, A Journal for Linking Poets, XXI:1 February, 2006
In 2000 and 2004, Scott Watson had two articles on his translations of Santoka published in the Tohoku Gakuin Review under the titles "Weeds We'd Wed" and "A Life to Live." What the readers will find in this book, are these two journal pieces, without revision or changes, along with the introductions. The cover of the book has an ink wash calligraphy and illustration by Ed Baker.
The first article "Weeds We'd Wed," begins with the story of how Scott Watson discovered the work of Taneda Santoka, both in English and then through Japanese friends in a poetry seminar. The translation by Cid Corman which as Watson notes, "is more Corman than Santoka" left him searching for versions that better compared to his own. Those of John Stevens's work came under his scrutiny, as well as the work published online by several sites and translators (not named, but should have mentioned Hiroaki Sato). Watson's own versions of the translations then appeared in the now discontinued US haiku magazine Persimmons.
The article continues with a brief biography of Santoka's life taken from the Kodansha Encyclopedia of Japan. What the encyclopedia avoids saying is that Santoka was an alcoholic who then drifted from job down to lower job, was divorced, and ended up traveling around as a mendicant Zen priest, begging from friends and writing travel diaries.
Watson then uses a page to describe and analyze Santoka's poetry and ends with his relationship to Zen poetry. Watson uses a Zen approach to translating the poems into a non form - giving them the number of words or lines as the spirit moves him. Thus, he ends up with such haiku:

wind blows its way to
sea. deep in night.
alone

or

jazz noise won't
get you where
a sutra will

Some of the poems have copious explanations of Japanese culture or terminology in rambling streams of consciousness that may be helpful to some readers.
The second article begins with Watson's views on translating, expressing his disregard for academic translators (though he earns his living teaching and does translations). He makes the valid case for poets doing translation so that the versions in the target language come out as poetry (a concept with which I can agree), but then slides off into worthless ruminations about whether Santoka "actually wanted to be read in English." Due to an evident Santoka boom in Japan, Watson chimes in on his psychological assessment of the poet which results in Watson blaming Santoka's mother for his genes (when Santoka's father was the drunkard who sold off the family inheritance to support his addiction). None of this dims Watson's admiration for the work of Santoka, who he places "as one of the best haiku poets in twentieth century Japan, or anywhere else in any other time frame." It seemed to me that Watson identifies with Santoka which may or may not make his translations relevant. There are 54 + 50 poems in this book.

Walking By My Self Again by Taneda Santoka, Versions by Scott Watson, Sendai, Japan: Bookgirl Press, 2011, 68 pages
No one alive now has any idea how Santoka sounded in his physical voice. No recordings exist.
But, because Santoka's poems share with us a heightened sense of life, we sense his words are
coming from his own depths to do so. This is his heartvoice we sense, this is the voice that
activates a physical voice. It is his spirit voice, a voice of life, and a voice of death. It is the voice
of voice.

over morning noises a long bridge spans (Tr. by Scott Watson)

all day today too no one came fireflies (Tr. by Scott Watson)

until my clothes dry / this grassy breeze (Tr. by Scott Watson)

spider spins its web I affirm my self (Tr. by Scott Watson)

drizzling. / undying. (Tr. by Scott Watson)

no matter news is / good or bad / spring snow (Tr. by Scott Watson)

with the crowd around / a dead body / a sky without clouds (Tr. by Scott Watson)

air raid sirens / one after another / persimmons are red (Tr. by Scott Watson)

falling leaves / deep deep seeing / Buddha (Tr. by Scott Watson)

as if someone is coming loquat leaf falling (Tr. by Scott Watson)

wanting something to do grass blades stirring (Tr. by Scott Watson)

in a cool / pine wind / people / eating / horses / eating (Tr. by Scott Watson)

intimate / mountain / meadow / bush warbler / cries (Tr. by Scott Watson)

tip tap omes a bug with no buzz (Tr. by Scott Watson)

long away / come back: bamboo / shoots shooting (Tr. by Scott Watson)

waiting / cherries / ripening (Tr. by Scott Watson)

whatever it all is it all is blossoming (Tr. by Scott Watson)

walking: grasses in seed. / sitting: grasses in seed. (Tr. by Scott Watson)

there is only thisroad spring snow falling (Tr. by Scott Watson)

after a rain a thistle clear morning (Tr. by Scott Watson)

spring has come water sounds go where they do (Tr. by Scott Watson)

neither waiting / nor not waiting / moonlight weeds (Tr. by Scott Watson)

settled / down / persimmons / ripen / already (Tr. by Scott Watson)

looking down all the small stones (Tr. by Scott Watson)

spider makes its web I affirm my self (Tr. by Scott Watson)

this day this far sandals come off (Tr. by Scott Watson)

well now. / which way to go. / wind blowing. (Tr. by Scott Watson)

nothing to wait on: / the risen moon (Tr. by Scott Watson)

air raid sirens / one after another / persimmons are red (Tr. by Scott Watson)

Santôka: A Translation with Photographic Images. Photographs by Hakudô Inoue; book and cover design by Kazuya Takaoka; English text by Emiko Miyashita and Paul Watsky. (PIE Books, Tokyo, 2006). 400 pages, [90 haiku]
"Santoka (born Taneda Shoichi) lived from 1882 until 1940. When he was eleven his childhood was devastated by the suicide of his mother, who drowned herself in the family well. His father, a dissipated landowner, eventually went bankrupt. Probably already alcoholic during his two college years, Santoka withdrew from Waseda University, where he had studied literature, and went to work in his father's ill-fated sake brewery. Subsequently he and his wife owned a bookstore, but, a lifelong depressive, he was unable to concentrate on the business, and it, too, failed. At the age of forty-two he made a suicidal gesture by standing in front of an oncoming streetcar. Taken to a zen monastery instead of a hospital or police station, he became a priest, but, too restless for cloistered life, set off on a series of walking trips during which he covered hundreds of miles, begging for food and money, which he used principally for cheap lodging and to buy sake. He had began publishing haiku at thirty-one, and wrote actively during his remaining years, often composing while he walked. His work is considered 'modern,' in that his poems vary in length rather than following the classical format of a seventeen syllable (onji) line divided into three segments, ?ve-seven-?ve. He is also a modern poet in his naturalism and his burden, despite his Buddhist faith, of existential alienation and guilt. The book for which I served as co-translator was conceived by its photographer, Mr. Hakudo Inoue, who greatly admired Santoka's work. He spent years matching scenes the poet might have encountered in his wanderings with his haiku. The publisher hired Ms. Emiko Miyashita, a high-ranking member of the Ten'i haiku group in Tokyo, to do the translation, and she in turn asked me to take part. We worked by email, over a ?ve month period, sending several reams of revisions back and forth. She would give me the Japanese characters rendered into English letters (romaji), as well as a literal translation into English, followed by her ?rst pass at translation. I would then do a version, and we would discuss problems and alternatives until we were satis?ed. In all we worked on slightly more than a hundred haiku, of which about eighty were used."
Paul Watsky
"Among the Japanese haiku poets most translated into English, Santôka Taneda (1882-1940) is in third place, right after Bashô and Issa. He seems an unlikely candidate for such high placement, for he is on the fringes of early twentieth century Japanese haiku; he was among the first to abandon syllable count and strict adherence to seasonality. More to the point, he was a chronic drunk never far from a state of depression, a shiftless wanderer, and apparently a bit of a con man to boot. For these reasons Santôka has been an embarrassment to the Japanese haiku establishment, a sort of funny uncle who is best spoken of only softly. That makes the publication of this volume in Japan something of a watershed. Of the 90 haiku offered up several have not previously been published in English."
Book review by Charles Trumbull, Modern Haiku, Summer 2007 http://www.modernhaiku.org/bookreviews/Santoka2007.html

araeba daikon iyoiyo shiroshi
washed / the daikon absolutely white (Tr. by Emiko Miyashita and Paul Watsky)

sakura sakura saku sakura chiru sakura
cherry tree / cherry blossoms / cherry blossoms scatter / cherry tree (Tr. by Emiko Miyashita and Paul Watsky)

kokoro ochitsukeba mizu no oto
as my mind calms down / the sound of water (Tr. by Emiko Miyashita and Paul Watsky)

fukurô wa fukurô de watashi wa watashi denemurenai
the owl is the owl / whereas I am I and can't sleep (Tr. by Emiko Miyashita and Paul Watsky)

wakeittemo wakeittemo aoi yama
passing through passing through yet still green mountains (Tr. by Emiko Miyashita and Paul Watsky)

teppatsu no naka e mo arare
into the begging bowl, too / a hailstone (Tr. by Emiko Miyashita and Paul Watsky)

yoizame no hoshi ga matataite iru
my hangover clears / the blinking stars (Tr. by Emiko Miyashita and Paul Watsky)

yoi yu kara yoi tsuki e deta
I emerge from a good hot spring / to the good moon (Tr. by Emiko Miyashita and Paul Watsky)

shi no shizukesa wa harete ha no nai ki
death's hush is the serene leafless tree (Tr. by Emiko Miyashita and Paul Watsky)

nani ga nani yara minna saite iru
which is which / everything's blooming (Tr. by Emiko Miyashita and Paul Watsky)

nagori dariya karentoshite utsukushii
the last dahlia / about to wither / and beautiful as it is (Tr. by Emiko Miyashita and Paul Watsky)

kyô mo ichinichi dare mo konakatta hôtaru
today again all day long nobody has come / fireflies (Tr. by Emiko Miyashita and Paul Watsky)

kusa no aosa yo hadashi de modoru
the grass so green / I return barefoot (Tr. by Emiko Miyashita and Paul Watsky)

kono michi shika nai haru no yuki furu
this is the only path / spring snow falling (Tr. by Emiko Miyashita and Paul Watsky)

karasu naite watashi mo hitori
a crow caws / I also am alone (Tr. by Emiko Miyashita and Paul Watsky)

dô shiyô mo nai watashi ga aruite iru
unworthy I am walking (Tr. by Emiko Miyashita and Paul Watsky)

massugu na michi de samishii
The road's so straight it's lonely (Tr. by Emiko Miyashita and Paul Watsky)

hirahira chô wa utaenai
fluttery but a butterfly can't sing (Tr. by Emiko Miyashita and Paul Watsky)

ochitsuite kaki mo urete kuru
I'm composed / the persimmons are mellowing, too (Tr. by Emiko Miyashita and Paul Watsky)

anata o matte iru hi no yô moeru
awaiting you / the fire burns well (Tr. by Emiko Miyashita and Paul Watsky)

konnanimo yowatte shimatta ochiba fumu sae
so badly weakened / even when I step on fallen leaves (Tr. by Emiko Miyashita and Paul Watsky)

kasari kosori otosasete nakanu mushi ga kita
rustling rustling / a mute cricket has come (Tr. by Emiko Miyashita and Paul Watsky)

yoi yado de dochira mo yama de mae wa sakaya de
a good inn / mountains on both sides / and facing a sake shop (Tr. by Emiko Miyashita and Paul Watsky)

itsumo hitori de akatonbo
I'm used to being alone / the red dragonflies (Tr. by Emiko Miyashita and Paul Watsky)

Santôka's haiku translated by Gilles Fabre > http://haikuspirit.org/santokaEN.html
The path
straight ahead
solitude (Tr. by Gilles Fabre)

Silently
I put on today's
straw sandals (Tr. by Gilles Fabre)

Today again
soaken wet
walking on a strange path (Tr. by Gilles Fabre)

Today
I pick buttercups
I eat buttercups (Tr. by Gilles Fabre)

No inn for the night
the moon
shows the way (Tr. by Gilles Fabre)

Spring
I walk holding my begging bowl
up to where? (Tr. by Gilles Fabre)

Light-hearted
I taste
water (Tr. by Gilles Fabre)

My meal
today
water (Tr. by Gilles Fabre)

In the water
my reflection
as a pilgrim (Tr. by Gilles Fabre)

In my begging bowl
the glaring whiteness
of rice (Tr. by Gilles Fabre)

On my own
attacked
by mosquitos (Tr. by Gilles Fabre)

I slap flies
I slap mosquitos
I slap myself (Tr. by Gilles Fabre)

With a dragonfly
on my bamboo hat
walking (Tr. by Gilles Fabre)

On my tired feet
a dragonfly
has settled (Tr. by Gilles Fabre)

From now on
I won't wear any watch
evening rain (Tr. by Gilles Fabre)

Autumn rain
mountains more mountains
mountains I don't know (Tr. by Gilles Fabre)

Just like this it rains
I am soaken wet
I walk (Tr. by Gilles Fabre)

Soaken wet
the milestone
showing the way (Tr. by Gilles Fabre)

I've just been given
something to eat
falling rain (Tr. by Gilles Fabre)

This body
that has survived
I am scratching it (Tr. by Gilles Fabre)

Far faraway
birds fly over
snowy mountains (Tr. by Gilles Fabre)

My skull freshly shaved
really reflects
the sunlight (Tr. by Gilles Fabre)

Now that I don't meet
anyone
mountain butterflies (Tr. by Gilles Fabre)

In the mountain all day long
these ants too
walk (Tr. by Gilles Fabre)

Some days sometimes
I don't beg
and gaze at the mountains (Tr. by Gilles Fabre)

Getting further
from these mountains
I'll never see again (Tr. by Gilles Fabre)

Not one cloud
I take off
my bamboo hat (Tr. by Gilles Fabre)

This cloud there
let the rain down
that soaked me (Tr. by Gilles Fabre)

Far
from my home village
budding trees (Tr. by Gilles Fabre)

Someone speaks with a voice
like my father's
sad while travelling (Tr. by Gilles Fabre)

At last some mail
from now on
ripe persimmons will fall (Tr. by Gilles Fabre)

Postman
He brings me my mail
eats a persimmon
and then leaves (Tr. by Gilles Fabre)

Everything may be happy
or sad
grass grows (Tr. by Gilles Fabre)

Falling leaves
they also fall
in my begging bowl (Tr. by Gilles Fabre)

Under the quilt
I sleep
dreaming of my home village (Tr. by Gilles Fabre)

Now that no one comes anymore
chillis
have gone red (Tr. by Gilles Fabre)

Picking up a flower
I don't know
I offer it to Buddha (Tr. by Gilles Fabre)

Up to
the rows of graves
the waves break (Tr. by Gilles Fabre)

Today
I am still alive
I stretch my legs (Tr. by Gilles Fabre)

In public baths
Naked
the discussion gets
heated (Tr. by Gilles Fabre)

Something's missing
a tooth fell out
I hurl it into the night (Tr. by Gilles Fabre)

At the foot of the mountain
in the sun's heat
in line five or six graves (Tr. by Gilles Fabre)

Heavy rain
the postman
comes from so far (Tr. by Gilles Fabre)

This
my face
in the cold mirror? (Tr. by Gilles Fabre)

Making fun of me
my figure seen from behind
going away
in the autumn rain? (Tr. by Gilles Fabre)

Taneda Santôka: A Selection of His Haiku, with Commentary by Sean Somers, Simply Haiku: A Quarterly Journal of Japanese Short Form Poetry, Summer 2007, vol 5 no 2
http://simplyhaiku.com/SHv5n2/features/Santoka.html
sukkari hagete hotei wa waraitsuzuketeiru
the Hotei statue: / rubbed rather bald, but laughing still. (Tr. by Sean Somers)

yoi o-minori no sayasaya o-tsuki-sama
A great harvest, / sighs, the moon content. (Tr. by Sean Somers)

nonbiri shito suru kusa no me darake
Roadside, taking a piss, / soaking the scrub-grass. (Tr. by Sean Somers)

fuyu ame no ishidan o noboru santa maria
Winter's rain, I scale the / slick stone steps . . . / Santa Maria. (Tr. by Sean Somers)

tsuki no akarusa wa doko o bakugeki shite iru koto ka
The moon so luminous -- / and showing where / the bombs will fall? (Tr. by Sean Somers)

ushiro-sugata no shigurete yuku ka
From behind, going: shape soaked in winter-rain. (Tr. by Sean Somers)

Stanford M. Forrester
A bowl of rice: An Introduction to the Haiku of Taneda Santoka
Simply Haiku: Autumn 2005, vol 3 no 3
http://www.simplyhaiku.com/SHv3n3/features/stanford_forrester-santoka.html

Stephen Wolfe. A Wreath of Weeds--A Collection of 100 Poems by Santoka, Doshisha Studies in English, (15), pp. 199-227, 1976
http://jairo.nii.ac.jp/db/detail-en?sid=0027/00021283
http://doors.doshisha.ac.jp/webopac/bdyview.do?bodyid=BD00001538&elmid=Body&lfname=e01510.pdf

Windows : A selection of the free-form haiku Ozaki Hosai. Translated with an introduction by Stephen Wolfe, Doshisha Studies in English, (16), pp. 119-146, 1977
http://doors.doshisha.ac.jp/webopac/bdyview.do?bodyid=BD00001544&elmid=Body&lfname=e01606.pdf

Rain in the Wind: Four Stories. By Saiichi Maruya. Translated by Dennis Keene. Tokyo; New York: Kodansha International, 1990, pp. 109-234. (Japan's modern writers)
The 3rd story (Rain in the Wind) is about Taneda Santoka, with his 44 haiku translated.
In the novella that gives the book its title, a college professor finds in a volume of haiku clues to his deceased father's possible encounter with an alcoholic itinerant poet [= Santoka] in pre-war Japan.

shigururu ya / shinanaide iru
Rain in late autumn / managing not yet / to die (Tr. by Dennis Keene)

shigururu ya shigururu yama e ayumi iru
Rain in late autumn / walking in the hills / with the autumn rain (Tr. by Dennis Keene)

ushiro sugata no shigurete yuku ka
Whose back going / into the autumn rain / fading (Tr. by Dennis Keene)

shigururu ya aru dake no gohan yô yaketa
Rain in late autumn / all the rice I have / nicely cooked (Tr. by Dennis Keene)

asayu konkon afururu mannaka no watakushi
Dôgo Spa
The morning bath / water swiftly overflows / me in it (Tr. by Dennis Keene)

massugu na michi de samishii
On the dead / straight road / alone (Tr. by Dennis Keene)

ame furu furusato wa hadashi de aruku
Going barefoot / about my home village / as the rain falls (Tr. by Dennis Keene)

oto wa shigure ka
The sound of autumn rain? (Tr. by Dennis Keene)

asa kara shigurete kaki no ha no utsukushisa wa
Light rain since morning / the beauty of / the persimmon leaves (Tr. by Dennis Keene)

shigurete nurete matsu hito ga kita
Wet in the rain / and the awaited / person comes (Tr. by Dennis Keene)

watashi hitori no kyô no owari no shigurete kita
Today spent alone / and at its close / the rain comes on (Tr. by Dennis Keene)

tomete kurenai mura no shigure o aruku
Walking through the rain of / the village where I have / no place to stay (Tr. by Dennis Keene)

shigururu ya michi wa hitosuji
The rain comes down / the road / makes one straight line (Tr. by Dennis Keene)

ukon no tachibana no mi no shigururu ya
Before the shrine the / mandarin tree its fruit / wet in the autumn rain (Tr. by Dennis Keene)

ôkusu mo watashi mo inu mo shiguretsutsu
The great camphor tree / and me and the dog / soaked in the rain (Tr. by Dennis Keene)

matsu no otera shigure to natte tomarimasu
Temple among pines as / rain comes on here I shall / spend the night (Tr. by Dennis Keene)

hyôhyô to shite mizu o ajiwau
Floating drifting / the wandering water / I taste (Tr. by Dennis Keene)

mizu oto to issho ni sato e kudarite kita
With the sound of falling / water to the / village I came down (Tr. by Dennis Keene)

ano kumo ga otoshita ame ni nurete iru
Soaked in the / rain that cloud there / has let fall (Tr. by Dennis Keene)

mizu wo hedatete / onagoya no hi ga / matataki dashita
Across the water the / lights in the house of women / lit once more (Tr. by Dennis Keene)

chimpoko mo ososo mo waite afureru yu
The Public Bath
Cocks cunts all / boiling and the bath / water flows over (Tr. by Dennis Keene)

koko made o kishi mizu nonde saru
Having got this far / I drink some water / then leave (Tr. by Dennis Keene)

karasu tonde yuku mizu o watarô
I shall cross this / water the crow / flies over (Tr. by Dennis Keene)

asa hayaku shigururu hi o taite iru
In the early morning / a cold rain falls / I light the fire (Tr. by Dennis Keene)

shigururu ya Y?binya-san tôku kite kureta
Rain falling and / the postman has / travelled far for me (Tr. by Dennis Keene)

tsukiyo shigurete haru chikaku naru oto
A moonlit night / falling rain the sound / of spring approaching (Tr. by Dennis Keene)

shigure kasa de otonari e mizu o morai ni
Rain falling on my bamboo / hat I go next door / to get some water (Tr. by Dennis Keene)

shigurete kaki no ha no iyo-iyo utsukushiku
Rain falling on the / persimmon its autumn leaves / finally beautiful (Tr. by Dennis Keene)

otata shigurete suta suta isogu
Caught by the rain / the woman with her load / hurries onwards (Tr. by Dennis Keene)

shigururu ashiato o tadoriyuku
It rains and I / follow after / the footprints (Tr. by Dennis Keene)

nami oto shigurete harete
The sound of waves / in the rain / in the sunlight (Tr. by Dennis Keene)

matsu no ki matsu no ki to shigurete iru
Rain falling on / the pine tree and / the pine tree (Tr. by Dennis Keene)

shigururu ya inu to mukiatte iru
In the falling rain / my way barred by / a dog (Tr. by Dennis Keene)

tsuki no akarusa wa doko o bakugeki shite iru koto ka
Bright light of the moon / does it know where they / are bombing tonight (Tr. by Dennis Keene)

kogarashi no hi no maru futatsu futari mo dashite iru
Beaten by the wind even / a house like this has given / both sons as the signs show (Tr. by Dennis Keene)

kataneba naranai daichi issei ni mebukô to suru
We must win all / burgeoning together / through the great earth (Tr. by Dennis Keene)

futatabi wa fumamai tsuchi o fumishimete iku
Marching firmly on the / earth their feet will / never tread again (Tr. by Dennis Keene)

aruku hoka nai aki no ame furitsunoru
All I can do is / walk the autumn rain / falls furiously (Tr. by Dennis Keene)

shigurete nurete tabigoromo shibotte wa yuku
Soaked through in the autumn / rain I wring out my / travel garment and go on (Tr. by Dennis Keene)

nakanaka shinenai higanbana saku
Unable yet to die / flowers of the other shore / in bloom (Tr. by Dennis Keene)

shi o hishi hishi to mizu no umasa kana
Hurrying on to / death the water / tastes so good (Tr. by Dennis Keene)

shigurete yama o mata yama o shiranai yama
Rain falls on one then / another mountain / unknown mountains (Tr. by Dennis Keene)

karada nagedashite shigururu yama
Striding out urging / my body onwards cold / rain falls on the mountain (Tr. by Dennis Keene)

shigurete michi shirube sono ji ga yomenai
In the cold rain / the signpost and I / cannot read it (Tr. by Dennis Keene)

Stephen Addiss
Haiku: An Anthology of Japanese Poems (with Fumiko and Akira Yamamoto). Boston and London: Shambhala Publications, 2009, 208 pages

enten hateshinaki kaze fuku
Endless scorching sun- / the wind blows (Tr. by Stephen Addiss with Fumiko and Akira Yamamoto)
Comment by Addiss:
Here the calligraphy seems more restrained and graceful than the previous tanzaku, but the freedom of the brushwork is at least as strong as before, if more subtle. The single column of words is maintained within the center of the format as though the red paper were itself the blazing sunlight, withering the calligraphy as though it were Santoka's body in the heat.
For example, the kana syllable shi is created with a single thin verticle line in the center of the tanzaku, but when the character kaze is written three graphs later, it opens the space as it might cool the pores of a sweaty body.
For some viewers, it may seem odd to see a Santoka poem, with its simplicity of diction and plainness of speech, on a surface so highly decorated with fluid patterns of cut squares of gold leaf. However, the contrast may add to the effect of the calligraphy, just as it gives extra impact to the words of the haiku.

yuki e yuki furu shizukesa ni oru
Snow / falls on snow- / and remains silent (Tr. by Stephen Addiss with Fumiko and Akira Yamamoto)

ishi ni tombo wa mahiru no yume miru
Dragonfly on a rock- / absorbed in / a daydream (Tr. by Stephen Addiss with Fumiko and Akira Yamamoto)

hitori hissori takenoko take ni naru
Alone, silently- / the bamboo shoot (Tr. by Stephen Addiss with Fumiko and Akira Yamamoto)

yama no shizukasa e shizuka naru ame
To the mountain quietude / the quiet / rain (Tr. by Stephen Addiss with Fumiko and Akira Yamamoto)

amadare no oto mo toshi totta
The sound / of the raindrops / also grown older (Tr. by Stephen Addiss with Fumiko and Akira Yamamoto)

shigururu ya shinanaide iru
Winter rain- / I am not dead yet (Tr. by Stephen Addiss with Fumiko and Akira Yamamoto)

kokoro tsukarete yama ga umi ga utsukushisugiru
Tired heart- / mountains and ocean / too much beauty (Tr. by Stephen Addiss with Fumiko and Akira Yamamoto)

shinde shimaeba zassô ame furu
When I finally die- / weeds / falling rain (Tr. by Stephen Addiss with Fumiko and Akira Yamamoto)

Donald Keene
Dawn to the West: Japanese Literature of the the Modern Era: Poetry, Drama, Criticism (History of Japanese Literature - Volume 4), New York: Holt, Rinehart and Winston, 1984.

Hosai and Santoka
In: Windows. A selection of the free-form haiku of Ozaki Hosai. Translated with an introduction by Stephen Wolfe, February 11, 1977
http://elib.doshisha.ac.jp/cgi-bin/retrieve/sr_bookview.cgi/U_CHARSET.utf-8/BD00001544/Body/e01606.pdf

Hailstones: haiku by Taneda Santoka, by Lidia Rozmus (Evanston, Ill.: Deep North Press, 2006), 7 x 9.5. Boxed, limited edition. [33 haiku]
http://www.brooksbookshaiku.com/LidiaRozmus/books/hailstones_review.htm

Alex Fyffe
http://longdream.wordpress.com/category/poetry/taneda-santoka/
Taneda Santōka (1882-1940) was an early free-form haiku poet, a contemporary of Ogiwara Seisensui and Ozaki Hōsai. His given name was Taneda Shōichi (種田正一), but like most (if not all) Japanese haiku poets (俳人, haijin) he gave himself a haiku pseudonym (俳号, haigou). Santōka (山頭火) means "fire on the mountain." I hope that you have enjoyed taking this little walk with me and Santōka. But now I think it's time to let him walk the mountains alone, once again, with the insects. All poems taken from the Gendai Haiku Association Database (現代俳句協会, Modern Haiku Association)
ふるさとの土の底から鉦たたき
From deep beneath
my hometown soil
a gong is struck
へそが汗ためてゐる
Sweat collects
in my belly button
咳がやまない背中をたたく手がない
Can't stop coughing
No hand to tap me on the back
夕立が洗つていつた茄子をもぐ
Chewing on eggplant
washed clean by rain
春の雪ふる女はまことうつくしい
Spring snowfall
She is truly
a beautiful woman
けふもいちにち誰も来なかつたほうたる
No one came by today, either,
little firefly
月かげのまんなかをもどる
returning
to the center
of the moonlight
よい道がよい建物へ、焼場です
A pleasant road
leads to a pleasant building,
a crematorium
しぐるるや死なないでゐる
drizzling rain –
I'm not dead yet
木の葉散る歩きつめる
Tree leaves fall
Walking just to walk
まつすぐな道でさみしい
The road ahead
is lonesome
あるけばかつこういそげばかつこう
walking,
downhill
running,
downhill
この道しかない春の雪ふる
This is the only road
Snowfall in spring
笠にとんぼをとまらせてあるく
A dragonfly
on my straw hat,
I walk on
ほうたるこいこいふるさとにきた
Firefly, come, come
We've made it to my hometown
雨ふるふるふるさとははだしであるく
rain falls and falls
walking barefoot
through my hometown
ビルとビルとのすきまから見えて山の青さよ
In the cracks between the buildings
I can see the blue of the mountains
ほととぎすあすはあの山こえて行かう
Cuckoo,
tomorrow let's climb
over that mountain
ふくろふはふくろふでわたしはわたしでねむれない
The owl, being an owl,
and I, being me,
can't sleep
どうしようもないわたしが歩いてゐる
Nothing else I can do
I'll just keep on walking
月が昇れりわがまへの花ひらくべし
The moon rises
A flower blooming
Before my eyes
もりもりもりあがる雲へ歩む
rising high high higher
walking toward the clouds
つかれた脚へとんぼとまった
A dragonfly landed
at my weary feet
雨だれの音も年とった
Even the sound
of the rain
has grown old
何を求める風の中ゆく
Whatever you wish for
blows away in the wind
窓あけて窓いっぱいの春
Open the window
and the window
is filled with Spring
生死の中の雪ふりしきる
Snow falls endlessly
between life and death
歩きつづける彼岸花咲きつづける
I keep on walking
and the red spider lily
keeps on blooming

J. Thomas Rimer. "The Poetry of Santoka (1882-1940)"
in: A Reader's Guide to Japanese Literature, Kodansha International, 1988, pp. 121-23.
In the following essay, Rimer discusses Santoka's life and "laconic, deceptively simple" haiku poetry.

The reader who believes that art transcends its own times will surely take solace and inspiration from the work of Taneda Santoka (1882-1940), a remarkable Zen priest and poet of our century who produced poetry as personal and profound as that of his illustrious predecessor and spiritual mentor, Ryokan (1758-1831). Like Ryokan's poetry, Santoka's work can best be understood as a record of his quest for spiritual enlightenment, the kind of voyage that can be undertaken in any era. Readers in our increasingly secular age may first be drawn to Santoka out of a sense of nostalgia, but in reading his poetry they will immediately come face to face with a strong will and the personality of a man who, whatever his personal weaknesses, appears quite unafraid to live on the very edge of society, far from its received values and expectations. Santoka explores, or re-explores, realms that are commonly believed no longer to exist.

Santoka (a pen name the translator John Stevens has rendered "Burning Mountain Peak") began his life as an ordinary young man with some interest in literature. His father was a local politician who owned a certain amount of property. Santoka began writing haiku in college, where he also slipped into a pattern of heavy drinking. Married, then separated, he drifted from job to job until, after what may have been a suicide attempt, he was sent to convalesce in a Zen temple. This proved the turning point in his spiritual life, and in 1925 he was officially ordained as a Zen priest. Santoka went here and there begging for his sustenance, short trips turning into longer pilgrimages. Sinking into drunkenness again, he was rescued by friends, who found him a small cottage to use as a hermitage. This served as a base for his walking trips, which took him through many parts of Japan, begging, writing, drifting. Some of these trips were undertaken in order to seek out certain traditional sites holy to Buddhists in Japan, some without apparent destination. A number of his poems were published during his lifetime, and indeed he achieved a degree of fame. But worldly attention was apparently of little interest. He once told a newspaper reporter, "I' m one of society's warts."

Santoka's free-style haiku poetry, like his life, appears stripped to the essentials.

No path but this one--
I walk alone.
(trans. John Stevens)

Walking into the wind,
heaping abuse upon myself.
(trans. James Abrams)

Walking, walking, he traveled on. Like his great poet predecessors, stretching back through Basho to Saigyo and beyond, Santoka perceived that movement, in and of itself, provided a sense of elevated awareness that might in turn lead to some higher level ofunderstanding.

Stretching out my feet;
Some daylight still remains.
(trans. John Stevens)

A steady autumn drizzle,
one road, straight ahead.
(trans. James Abrams)

Laconic, deceptively simple, these brief vignettes allow the reader to penetrate special instants in the poet's journey, creating an empathy of strong feeling between poet and reader.

For all the timelessness of this spiritual landscape, Santoka is quite able to record our own century when he feels the need.

At the tobacco shop
no cigarettes,
a cold rain falls.
(trans. James Abrams)

The deep, cool moon
Appears between the buildings.
(trans. John Stevens)

The moon, traditionally a Buddhist symbol for enlightenment, remains; only the milieu has changed.

Haiku being as difficult as they are to render into English, it sometimes helps to contrast translations of the same poem in order to uncover layers of implicit meaning. Here, for example, is a famous poem in which, by extension, walking may serve as a symbol for the difficult, unending search for self-understanding.

Going deeper,
And still deeper--
The green mountains.
(trans. John Stevens)

I push my way through,
push my way through,
green mountains
(trans. James Abrams)

There are few answers in Santoka's poetry, only signs of his continuing search. Success, failure, and frustration are courageously recorded.

Thinking of nothing,
I walk among
A forest of withered trees.
(trans. John Stevens)

Difficult as Santoka's life and art may be to describe, the reader who examines these haiku with care and sympathy can experience something of them both. The poems are so close to the heart of the man that one seems a reflection of the other. The reader's interest can begin with either.

Alexander M. Kabanoff (Александр Михайлович Кабанов 1952-2011)
Taneda Santoka: the Last wandering Poet of Japan
Traditional and Modern in Japanese Literature and Language, Prague, 1994, pp. 38-44.

Michael Hoffman
Walking Zen
https://web.archive.org/web/20080229061357/http://michaelhoffman.squarespace.com/
(This story first appeared in The Common Review, Spring 2005 , under the title "Vagrant Haiku.")
"Talentless and incompetent as I am," wrote the vagrant poet Taneda Santoka two months before his death in 1940, "there are two things I can do, and two things only: walk with my own two feet; compose, compose my poems."
In most significant lives there is a turning point, a decisive break with the ordinary. In Santoka's life there were two. The first was his mother's suicide when he was nine. The second was his own apparent suicide attempt at age 42. Instead of death it brought him to a Zen temple. Here his life proper may be said to begin.
"soppy with morning dew/ I go off/ in any direction I please"
If his poems seem simple at times almost to simplemindedness, we must bear in mind the bitter life whose fruits they are. Few privations were spared him. His unstable character afforded him no place in settled society. Homeless, jobless, often friendless, he took to the road, tramping, it has been calculated, some 28,000 miles over 14 years through the Japanese backwoods, begging for his sustenance, sleeping in flophouses, drinking to excess - and writing his snippets of poetry, word-shards of ecstasy and despondency and, fitfully, what Buddhists regard as the most precious of life's gifts, serene acceptance.
"drizzly rain/ only one road/ to go by"
He was born Taneda Shoichi (Santoka, meaning "mountaintop fire," was a literary name adopted when he began writing haiku in university) in the village of Sabaryo in southwestern Honshu in 1882. His father was a wealthy landowner and prominent local politician whose compulsive womanizing depleted the inherited family fortune and drove his wife to despair. One day in 1892 the nine-year-old Shoichi was playing with friends when a sudden commotion drew him to a well on the family property. He arrived to find his mother's lifeless body being lifted out of it.
From then on he seems at home nowhere and fit for nothing - except poetry, for which he showed an early aptitude. He entered the literature faculty of Tokyo's prestigious Waseda University in 1902, only to suffer a nervous breakdown and leave without completing his first year. A sake-brewing business he and his father set up in Sabaryo failed. An arranged marriage in 1909 produced a son the following year, but broke down at last in 1920, his unfitness for married life so plain in his own eyes that he acceded to his wife's family's plea for a divorce.
"husband and wife quarreling/ night/ spiders dangle down"
It is an early poem (1917), restless but homey, the open road that dominates his mature work nowhere in evidence. His first poems had begun appearing in 1913 in Soun , Layered Cloud, a new magazine dedicated to a new poetic form: free-verse haiku. He was, for a time, a member of its editorial board.

Then as now, poetry operated largely outside the economic sphere. In 1919, the year before his divorce, he went to Tokyo to look for paying work. A part-time position with a cement company was followed by a full-time job at a library. A second nervous breakdown put an end to it. In 1923 the Great Kanto Earthquake struck, levelling his boarding-house along with much of the rest of Tokyo. Penniless, he headed south to Kumamoto on the island of Kyushu, to work in the picture-frame store his ex-wife had opened there.
And now we come to the second great turning point in Santoka's life, the near-death experience that snapped his precarious attachment to the conventional world and showed him a new path: the liberating potential of misery.
Was he bent on suicide, or was he too drunk to know what he was doing? One night in December 1924 he planted himself on a Kumamoto railroad track and, arms raised, stared down an oncoming trolley. The trolley screeched to a halt, at which - according to one version of the story - an exasperated passenger leapt off, collared the wretch, and dragged him to a Zen temple for discipline.
What would his fate have been had he been handed over to the police instead? The head priest of the Ho'on-ji Temple was one Mochizuki Gian. Asking no questions, issuing no reproaches, he fed the overgrown waif and told him he could stay as long as he liked. Under Gian's guidance Santoka meditated, studied the Buddhist sutras and did odd jobs around the temple. In 1925, aged 42, he was ordained a Zen priest. Now he embarked upon vagrancy in earnest.
"What I forever aspire to," he wrote in his diary seven years later, "is a mind calm and free from pressure, a realm of roundness, wholeness... I have to walk, walk, walk until I get there."
In other words:
"as muddy water flows/ it becomes clear"
The rest of his life, at least its externals, is easily summarized: he walked, begged, drank and wrote. Many of the poems are about walking, begging, drinking and writing:
"hurry down the road/ never look back"
"no help/ for the likes of me/ I go on walking"
"get drunk/ you hear all sorts of voices/ winter rain"
"Heaven/ doesn't kill me/ it makes me write poems"
"even in/ my iron begging bowl/ hailstones"
"autumn wind/ for all my walking/ for all my walking"
That last was written in 1939, the year before his death. With a few sedentary interludes, he had been on the road 13 years. The poet seems to feel he had little to show for all his walking, certainly not that "realm of wholeness" he had been seeking. On the other hand (there is always an "other hand" in the cryptic, ambiguous world of haiku), the poem may admit of a brighter interpretation. In a diary notation of 1930 Santoka had quoted the 10th-century Chinese monk Fayan Wenyi's dictum: "Each step is an arrival," adding on his own account, "Forget about past walking, don't think about future walking; one step, another step, no long ago, no now, no east or west, one step equals totality. Get this far and you understand the meaning of walking Zen."
His first walking trip began in 1926; it lasted three years. He wore the black robes of a mendicant monk. On his shaven head perched a wide-brimmed conical straw hat, his only protection against the rain. He carried a wooden staff and an iron begging bowl. Begging is a traditional religious discipline undertaken by Buddhist monks on behalf of their temples, but Santoka belonged to no temple and thus forfeited all claims to popular respect. He was a beggar, pure and simple. His practice was to stand in front of a house or shop and chant a sutra until he was either given something or chased away. As the Depression of the 1930s deepened, patience with "the likes of him" wore increasingly thin.
"Living," he noted in his diary in 1932, "is tasting. People are happiest when they can really learn to be who they are. A beggar has to learn to be an all-out beggar. Unless he can be that, he will never taste the happiness of being a beggar."
Did he taste it? If so, the savor quickly faded. "I hate begging," he wrote in 1930. "I hate wandering. Most of all, I hate having to do things I hate!" Such black moods were transitory but recurring. "Even if it means nothing to eat," he wrote in 1933, "I don't want to do any more of that hateful begging! People who have never done any begging seem to have difficulty understanding how I feel about this."
And yet he persisted. Even after he managed to procure a retreat for himself, an abandoned cottage he moved into in 1932, he continued to walk, continued to beg. At home in his hermitage, he found he spent more time cultivating his garden than writing his poems. Only on the road could he write. And so, even when relatively settled, he set out frequently, walking nowhere that a non-poet would recognize as a destination. His begging generally began at dawn and ended as soon as he had enough to satisfy his immediate wants: a simple meal, enough sake to induce a measure of self-forgetfulness, a bath, and a night's lodging at the cheapest of inns. Of one particularly crowded hostelry he wrote:
"stretching out my feet/ they touch the man from Shikoku"
Haiku is the world's shortest verse form. Rooted in the light verse that absorbed so much of the leisure of ancient Japan's dilettante-aristocracy, it was elevated to a serious art form in the 17th century by the most famous of Japan's many wandering poets, Matsuo Basho. He set the standards for imbuing haiku's 17 syllables with transcendantal implications as vast, he claimed, as the universe itself. As the modern Zen master Daisetsu Suzuki explains, "At the supreme moment of life and death we just utter a cry or take to action, we never argue, we never give ourselves up to lengthy talk." Haiku aspires to be that cry uttered at "the supreme moment," which is every moment lived to the full.
A modern haiku revival that began in the late 19th-century included among its innovations "free-verse haiku." This dispensed with the 17-syllable format and the traditional obligation to include a "seasonal" word. Soun was at the forefront of this novelty. Santoka embraced it with particular enthusiasm. His verses, indeed, are so free as to blur at times the distinction between a poem and a random jotting:
"tree fallen over/ sitting on it"
"on the road/ a tooth/ about to come loose"
"cold clouds/ hurrying"
"Haiku-like haiku aren't particularly bad," he wrote. "But haiku that don't seem haiku-like at all - nowadays that's the kind I'm after."
Simplicity is not easy. "Today I managed to write ten haiku. To be sure, they're about as much good as bits of broken tile. Still, if I polish them up, they'll probably shine insofar as bits of tile can. So it's polish, polish! Polish until they shine!"
"Santoka," he admonished himself, "you are a man who lives only for haiku. Without haiku, you don't even exist!"
True enough, his haiku and his existence are inseparable. He crafted, endured, at times even relished, the sort of life whose every passing moment is a poem - at least a poem in embryo.
"not a cloud in sight/ off comes my hat"
"If," he wrote, "there is anything good in my life - or I should say, anything good in my poems - it comes from the fact that they are not imitative, they are not contrived, they tell few lies, they're never forced."
"camellia/ I turned to look back at/ red"
He gave up everything - home, family, dignity, all the comforts and joys of a normal, settled, prosaic life - for what? To discover what? The redness of a camellia?
Doesn't everyone know that camellias are red? Of course, but it is the haiku poet's peculiar gift to be startled by the familiar - to be jolted by it into a state of poetry. The distinction is not between knowing and not knowing, but between knowing and experiencing . If a poem can impart the experience , as opposed to mere information, it is a success, and its brevity and simplicity do it no discredit.
Here Japanese has a distinct advantage over English. English is hard pressed to convey the poetic ambiguity, so natural in Japanese, as to, for example, what the subject of a sentence might be. The camellia poem, eight words long in English, has four words in Japanese, and "I" is not one of them. That could be you looking back at the camellia, or it could be some third party; it could be all of us together. For that matter, there is no certainty it is the camellia that is being looked back at. Grammatically speaking, it could be the red camellia looking back - at you, perhaps. All this bears on the distinction beteween knowing, which is precise and logical but abstract, and experiencing, which is concrete but inconclusive.
"Let neither of us think too much," Santoka once wrote to a friend. "Let's become more foolish. Better: let's revert to our original foolishness." Why? To experience life rather than know it, to see the world and everything in it, every "supreme moment," as though for the first time - "like a baby who is yet unable to smile," as the Chinese sage Lao Tzu put it 2500 years ago. Was Santoka that ancient baby, blundering, through a freak accident of reincarnation, into the 20th-century?
"nearly run over/ by a car/ cold cold road"
Assuredly, he was no better suited than an infant for the complexities and noisy distractions of 20th-century life. Not that he disdained modernity. On the contrary, he admired it, and we catch him in October 1930 confiding to his diary: "Today as I was walking along, I kept thinking to myself: when there are trains, when there are automobiles, to walk, and moreover to walk in straw sandals - what an outmoded, what an inefficient and burdensome way to travel!"
Yes, but: "Nevertheless, by venturing to do something so ludicrous, I, who am not very clever, justify my existence."
Santoka published several haiku collections in his lifetime; on his journeys he corresponded with other poets by mail, and was a welcome guest at poetry meetings - one was in fact to have taken place at his cottage the night he died. Still, his admirers were few, and after his death in 1940 he was soon forgotten. A Santoka revival a generation later would have seemed highly improbable, and yet, against all odds, that is what occurred. It began in the 1970s, and swelled to such proportions that "at present," noted one commentator in 1980, "more books on Santoka are available than perhaps on any other Japanese poet, ancient or modern."
What do Japanese today, busy to the point of workaholism, prosperous to the point of stupefaction, webbed and wired via electronic gadgetry to a world of unending affairs and non-stop chatter, see in this solitary, rootless, silent, poverty-stricken poet who situated himself in the universe as a beggar and sought the wisdom of foolishness?
What they see is, of course, what they sense is missing from their own lives. They - we - could pursue it easily enough. All that's necessary is to cast off everything, but who has the courage, or the madness, to do it? Vagrant poets have it. It is their curse and their gift. They follow where it leads, shouldering its burdens and reaping its rewards:
"the deeper I go/ the deeper I go/ green mountains"
Pilgrim Road (Excerpt)
by Michael Hoffman
(Japan Times, April 30, 2006)

"A beggar," wrote the vagrant priest and haiku poet Taneda Santoka in a diary entry dated April 6, 1932, "has to learn to be an all-out beggar. Unless he can be that, he will never taste the happiness of being a beggar."

Did Santoka taste it? If so, only fitfully. "I hate begging," he noted on Dec. 19, 1930. "I hate wandering. Most of all, I hate having to do things I hate!"

Early in his career, Santoka (1882-1940) was a henro . Thereafter, and for the rest of his life, he was a pilgrim of a different breed, a most peculiar breed---walking, it has been said, some 40,000 kilometers over the years, his destination nowhere, his purpose to be free of purpose, his harvest a mixed bag of miniature poems. The experts call them free-verse haiku. Make of them what you will:

even in
my iron begging bowl
hailstones

a drink would be nice now
sunset sky

all day
in the mountains
ants too are walking

And so on. A most unaccountable character, Santoka. Born in Yamaguchi Prefecture in 1882, he was 10 when his mother committed suicide by throwing herself into a well. The experience uprooted him, as well it might. A stint in a Zen temple was the most settled experience of his adult life. Ordained a priest, he turned his back on everything fixed, stable and comfortable in life. Always alone, he tramped the backroads of southwestern Japan, begging his sustenance, staying in flophouses, drinking as much as he could afford to, and writing poems.

autumn wind
for all my walking---
for all my walking---

"Where is the Way?" he was once asked.
"Under your feet," he replied.

Or under yours. Or under mine. The pilgrim who hasn't learned that hasn't walked far enough.

Robin D. Gill
Cherry Blossom Epiphany: The poetry and philosophy of a flowering tree, Paraverse Press, Coconut Grove, Florida 2007, pp. 303-304.
hana ga ha ni naru tôkyô yo sayônara (1940)
the blossoms / have become leaves so / tokyo, i leave (Tr. by Robin D. Gill)
hey, tokyo / your blossoms are leaves: / good-bye! (Tr. by Robin D. Gill)

itsu to naku sakura ga saite atte wa wakareru (1940)
well, the cherries / they blossomed in a wink / we meet, we part (Tr. by Robin D. Gill)
i almost missed / the cherry's bloom: soon as / we meet we part (Tr. by Robin D. Gill)

Robin D. Gill
The 5th Season, Paraverse Press, Coconut Grove, Florida 2007, pp. 128, 156, 435.
damatte kyô no waraji haku
wordless / i put on my waraji / for today (Tr. by Robin D. Gill)
lips clenched / i put on today's footwear (Tr. by Robin D. Gill)

ômisoka oroka nari ganjitsu nao oraoka nari
New Year's Eve / is dumb and New Year's / even dumber (Tr. by Robin D. Gill)

asu wa ganjitsu no tsume demo kirô
this morning / i guess i'll clip the nails / of the new year (Tr. by Robin D. Gill)
i guess i'll clip / my new year nails / this morning (Tr. by Robin D. Gill)

Haiku Poems after Taneda Santoka - THE MEANINGLESSNESS OF WRITING SANTOKA-LIKE HAIKU AFTER HIM By Susumu Takiguchi, World Haiku Review, January 2010
http://sites.google.com/site/worldhaikureview2/worldhaikureview,january2010/themeaninglessnessofwritingsantoka-likeh
The literal meaning of haiku poems written by Santoka Taneda (1882-1940) is not that difficult to convey in translation into different languages. This is mainly because his words are clear, specific and plain. However, the style, choice of words and the rhythm of his haiku so distinct in the original Japanese get largely lost in translation. They are so distinct that ironically it is not difficult at all to create Santoka-like haiku in Japanese.

As far as I know, there has been little attempt by any Japanese haiku writers to compose haiku in the style of Santoka or even by imitating his works. In his days there were obviously poets of the vers libre school such as the group called Soun, who wrote haiku poems similar in style to Santoka, and of course there was Hosai Ozaki (1885-1926). This is somewhat puzzling when compared with poets like Kyoshi Takahama (1874-1959) in whose style millions of Japanese haiku poets have written their works. There are millions of copycats for Kyoshi and none for Santoka.

Among the reasons for this strange phenomenon I can think of, the following seem most important. Firstly, though the technical side of Santoka's haiku (e.g. style, choice of words or ordinary events etc.) may be clear and therefore easy to imitate, the deeper meaning and philosophy of it are not easy to fathom or grasp. Secondly, it is not easy and may even be impossible for anyone to write Santoka-like haiku by mimicking him superficially without leading a life half as much desperate, poverty-stricken, reliant on other people's alms, self-indulgent and self-mocking as Santoka's. In short, they may imitate his haiku but can they be beggars?

Whatever the reason, it is odd that no one seems to be interested in writing haiku in the style of Santoka in a country where so many other things get copied almost overnight. My own strong feeling is that Santoka alone could write haiku that he wrote. Even stronger is my conviction that there just isn't any point in producing imitations of Santoka's works in the same sense as there is no point in producing imitations of Picasso's works.

Taneda Santōka (種田 山頭火, 1882 -1940)
Translations by Ronald S. Green, Coastal Carolina University
PDF of the first 10 pages of 自選句集 Self Selected Verse Collection: 『草木塔』 "Plant Pagoda," 2015

Santoka's Shikoku An introduction to and translation of the opening sections of the Shikoku Henro Diary

La poesía zen de Santôka: 70 haikus esenciales / Taneda Santôka ; traducción de Vicente Haya y Hiroko Tsuji ; prólogo de Chantal Maillard. Málaga : Servicio de Publicaciones, Centro de Ediciones de la Diputación Provincial de Málaga (CEDMA), 2002. 93 p.
Haya Segovia, Vicente = Vicente Haya, Abdelmumin Aya
Nacido en 1962, Doctor en Filosofía Pura por la Universidad de Sevilla. Tesis Doctoral: "La expresión de lo sagrado en el haiku japonés", traductor de poesía japonesa, discípulo de Reiji Nagakawa. Imparte cursos de introducción al haiku en Casa Asia (Barcelona) y Casa Asia (Madrid). Conferenciante especializado en diálogo interreligioso.
http://www.vicentehaya.com/resources/HAYA.pdf

Saborear el agua : 100 haikus de un monje zen / Taneda Santôka ; traducción de Vicente Haya y Hiroko Tsuji. (Poesía Hiperión, 477), Madrid : Hiperión, 2004. 159 p.
Santôka es el heredero de una larga tradición de poetas vagabundos en un siglo como el XX que ya apenas permitía ese modo de vida. Su poesía lo consagra, además, como el último de los clásicos japoneses, el poeta actual más citado y leído, omnipresente en librerías y editoriales niponas, comparable en reconocimiento general a lo que podría ser Federico García Lorca en Espana.
La razón de la popularidad de Santôka está en su carácter simbólico. Santôka no es sólo el genio del haiku sin metro fijo; es mucho más. Es una muestra de cómo lo antiguo puede vivir en lo moderno, un espejo en el que a pesar de todo hay que mirarse, un ejemplo de cómo transformar el fracaso en aprendizaje espiritual, y hasta un mártir del amor a la libertad de uno mismo, al propio camino, sin objeto, sin orgullo. Santôka no es un héroe nacional; es un hombre que transforma en poesía mística lo que otros considerarían las circunstancias materiales de una vida miserable.
Vicente Haya es Doctor en Filosofía y autor de El corazón del haiku: la expresión de lo sagrado (ed. Mandala, Madrid, 2002) y ya trabajó junto con Hiroko Tsuji en La poesía zen de Santôka (ed. Maremoto, Diputación Provincial de Málaga, 2002).

El monje desnudo. 100 haikus de Taneda Santôka ; traducción de Abdelmumin Aya (=Vicente Haya), Akiko Yamada y José Manuel Martín Portales. Madrid : Miraguano Ediciones, 2006, 224 p.

Taneda Santóka (1882-1940), el monje que exhibe su desnudez en sus haikus -desnudez física, desnudez de alma, alcoholismo, pobreza-, representa la prueba viva de que el ser humano puede transmutar su fracaso en excelencia. Santóka es el último monje itinerante de la historia de Japón. En uno de sus diarios postreros escribe: "No soy otra cosa que un monje errante. No hay nada que se pueda decir de mí excepto que soy un peregrino loco que ha gastado toda su vida de aquí para allá, como las plantas que flotan en el agua que va discurriendo de una orilla a otra. Parece patético pero he encontrado la felicidad en esta vida miserable y tranquila. El agua fluye, las nubes pasan, sin nunca pararse ni establecerse. Cuando sopla el viento, caen las hojas. Como nadan los peces o vuelan los pájaros, yo ando y ando, y sigo adelante...".


Cómo me hice monje
Hijo de madre suicida y padre borracho. Casado en un matrimonio arreglado. Puesto a cargo de una fábrica de sake siendo alcohólico. Intelectual socialista llevado preso. Golpeado por los pasajeros del tren bajo el que quiso matarse. La lista de fracasos, rechazos y derrotas de Taneda Santoka sólo pareció interrumpirse cuando fue ordenado monje en 1929. Pero al poco tiempo abandonó el monasterio y se entregó al desapego absoluto de caminar, aceptar lo que pusieran en su cuenco y escribir haikus inauditos que, con humor y libertad, nacieron del corazón de la soledad. La antología El monje desnudo, publicada en Espa?a, rescata para Occidente la obra inédita en castellano de este japonés leído con devoción por las generaciones japonesas post Hiroshima.

Por Guillermo Saccomanno
Un chico de once años observa cómo extraen a su madre muerta del pozo de agua de la casa. El padre, un terrateniente borracho y putañero, ha sido la causa del suicidio. Así puede empezar el camino poético de Taneda Santoka (1882-1940). "En mi principio está mi fin", escribe en sus cuartetos T. S. Eliot. Y ésta puede ser también una explicación, de principio a fin, del camino elegido por el monje trashumante. La conjunción de monje y poeta puede resultar contradictoria, sin embargo refiere una coherencia si se entiende la vida como camino, al monje como peregrino y al poeta como responsable de una elección en la que pesan el desapego y la comprensión de la naturaleza como carente de moral. "El Cielo y la Tierra no reconocen benevolencia", ha escrito Lao Tsé en el Tao Te Ching (según la inteligente edición a cargo de Leonor Calvera). Camino, en este caso, carece también del significado que Dante le otorga a su vida como trayecto culposo interesado en redención y recompensa. Camino en Santoka es el Tao. Y un trabajo constante con el silencio. "La abundancia de palabras pronto se agota/ lo mejor es mantenerse en el centro", dice Lao Tsé. Por su parte, Santoka escribe: "Penetra la luz de la luna/ hasta la cocina/ Estoy solo". La soledad que trasunta su poesía es insondable. En japonés, "luz de luna" se dice "sombra de luna". Pues bien, Santoka escribe desde este lado de la luz, el de la sombra. Lo que explica también por qué es uno de los poetas más leídos por las nuevas generaciones japonesas post Hiroshima junto con Sinichi Isakana, más conocido como Takuboku, cuya obra, una colección de tankas, fue antologizada bajo el título "Un pu?ado de arena". Al acercarnos a esta poesía cabe preguntarse cuál es el secreto de su aura en superficie enigmática, que ha inspirado, por ejemplo, a Roland Barthes, a iniciar su seminario sobre "La preparación de la novela" con un análisis del haiku que, dicho sea de paso, no logra atenuar su eurocentrismo. ¿Acaso Barthes, que proyecta su curso con Proust como paradigma novelesco, no está sugiriendo que todos los tomos de A la búsqueda del tiempo perdido pueden concentrarse en dos o tres versos? En El libro del haiku el crítico Alberto Silva define: "El haiku es algo que ocurre fuera de la lengua". A la vez, en el haiku, como paradoja, lo que importa es la lengua, su uso, el decir que contiene el misterio y también el satori. Para la revelación es necesario un empe?oso, no forzado, desapego absoluto: "Rodeado por arbustos de té/ llevando una existencia/ anónima", escribe Santoka insinuando que lo que cuenta es esa verdad intuida y no su propiedad intelectual. Nada más distante del Tao que los conceptos de propiedad y de intelectualidad: bloqueo total del yo y una fusión con lo cotidiano que no es antagónica con el desapego. "Cuando trabajo la tierra/ a solas/ surge una canción", escribe Santoka.

El monje desnudo. 100 haikus Edición y traducción de Vicente Haya, Akiko Yamada y José Manuel Portales. Prólogo de Chantal Maillard Miraguano Ediciones, Barcelona 203 páginas
La visión del cuerpo materno extraído del pozo atormentará al chico y complicará su vínculo con las mujeres, pero si Santoka debe elegir entre una noche de erotismo y escribir un haiku, Santoka no dudará. En su crack-up, los componentes trágicos que lo justifican no son escasos: además del suicidio materno, el derrumbe del padre y su economía, el suicidio de otro de sus hijos, el alcoholismo precoz del mismo Taneda. El padre procura diversos negocios para recuperar la posición económica, desde un almacén hasta una librería de usados, y, tratando de ayudar a su hijo, le busca una esposa y lo pone al mando de una fábrica de sake. El matrimonio y la destilería, inexorable, tienen fecha de vencimiento. No obstante, a pesar de que la suerte le falla una y otra vez, Taneda lucha contra una profecía de su abuela: "Es tu karma, decía mi abuela. Pero cuando yo lo digo significa otra cosa. Es una revelación en solitario. Después de todo, mi camino es el de seguir mi estupidez hacia el final", escribe en su diario.

Si la poesía se transforma en sacramental, la misión del poeta consiste en el sacrilegio. Esta y no otra pareciera ser la lección hierofante de Santoka, el bonzo borracho que, en su recorrido autodestructivo, irá derrapando hasta el fin de sus días sin abandonar ni el sake ni la poesía. "Mi cuenco de mendigar/ ha aceptado/ las hojas que le han caído", escribe. Su austeridad no es pose sino un estilo existencial. "Está lloviznando/ No hay quien lea/ la señal del camino." Es que Santoka pide abandonar todo enfoque prejuicioso: una estética del despojamiento, eso. El mejor ejemplo, el primer haiku que inaugura esta antología: "En la más honda espesura/ de la montaña/ llegar a la desnudez".

Al tratarse de la forma haiku, los occidentales padecemos la inequívoca tendencia de convertir esta poesía en una pagoda a la que acceden sólo elegidos. El haiku, en su compleja sencillez, conectando el uno con el todo, está ahí, al alcance de quien se le arrime.

Hay que subrayar el lúcido y ameno prólogo de Chantal Maillard, estudiosa del género, a El Monje desnudo: "Se ha dicho que el haiku es como una piedra lanzada en el estanque del espíritu del que escucha, imagen, ésta, extremadamente parecida a la que utilizó en el siglo IX el autor del primer gran Tratado de Poética que se conoce, el Dhvanayaloka o "Teoría de la resonancia". "La palabra poética", decía Anandavardhana en este tratado, "tiene, a diferencia de la palabra en su uso coloquial, la facultad de sugerir. La sugerencia poética semeja las ondas que se propagan concéntricamente en la superficie cuando una piedra cae en un estanque, o las que transmiten por el aire después de que el badajo haya golpeado el bronce de una campana. La resonancia alcanza el corazón del oyente y, cuanto más ancho sea el radio desde el lugar del impacto al de la recepción, tanto mayor será el espacio de resonancia. La resonancia no ha de ser entendida aquí tan sólo como connotación, es decir, como ampliación de la significación a nivel semántico por sugerencia analógica, sino también, y sobre todo, como la capacidad de modificar anímicamente al receptor y de evocar en él estados sentimentales. La resonancia tiene, más que nada, el carácter de inducción empática." Maillard desacartona el tufito elitista que se le ha impregnado en Occidente a esta poesía. Titula su ensayo: "Orinar en la nieve". Y así resume el irónico y desacartonado sentido existencial de la obra de Santoka, quien burla las reglas del género violentándolas al huir de la métrica convencional y reducir a veces un poema a una sola línea, con un humor a veces piadoso y otras destemplado.

Una secuencia de tres haikus narra: 1) "En la más honda espesura/ de la montaña/ llegar a la desnudez"; 2) "Un revolcón en la hierba/ Los calzoncillos/ Ya están secos"; y 3) "Libélula,/ estoy en pelotas,/ a ver dónde vas a posarte". No hace falta demasiada perspicacia para advertir que el monje desnudo tendió a secar su calzoncillo y el lugar donde fue a posarse el insecto fueron sus genitales. "Un manotazo a una mosca/ otro a un mosquito/ y otro a mí mismo", bromea consigo. De este modo el haiku, proponiendo que únicamente la desnudez accede a lo evidente, se ofrece como una poesía donde lo táctil y los sentidos todos tienen más trascendencia que los revoloteos metafísicos.

En su diario, Santoka anota: "Si escribiese una autobiografía tendría que comenzar de este modo: 'Los infortunios de mi familia comenzaron con el suicidio de mi madre cuando yo tenía once a?os. Fue el gran acontecimiento de mi vida, tal vez el único que tuvo importancia. Mi madre no puede ser culpada. Nadie puede serlo. Si se ha de culpar a alguien, se tiene que culpar a todos. Es la condición humana a la que se tiene que culpar. Oh mi madre! Qué recuerdo'". Pero no son en ocasiones estos autorreproches en el diario los que expresan y revelan sus sentimientos tal vez con mayor poder de síntesis y desgarramiento. Como ejemplo, dos haikus referidos a la madre, el primero escrito en el 47? aniversario de su muerte: 1) "Ofrendando fideos/ Madre / Yo también comeré"; 2) "Dientes de león cayendo,/ la muerte de mi madre,/ aquello en lo que pienso incesantemente".

Pero Santoka, a pesar del humor con que juega con las formas tradicionales, no es jamás un improvisado. En su juventud ha estudiado Letras -habrá de contarlo en su diario- y comenzado sus primeras búsquedas literarias al publicar, en 1911, una serie de traducciones de Turgenev y Maupassant en la revista literaria Seinen. Ese mismo a?o, integra un grupo de poetas abocados al estudio y la experimentación del haiku. "No busco el camino de los antiguos. Busco lo que ellos buscaban", había escrito Basho. Santoka adopta su ejemplo. Le apasiona encontrar un verso afilado que respire libertad. En este camino, no anda lejos de los transgresores occidentales de su tiempo jugados al verso libre: Eliot, Ungaretti, Apollinaire, entre otros. El siguiente poema de Pound, aunque extenso, bien podría pertenecer a Santoka: "Cuando considero detenidamente los curiosos hábitos de los perros/ me veo forzado a sacar la conclusión/ de que el hombre es el animal superior.// Pero cuando considero los curiosos hábitos del hombre,/ confieso, amigo mío, que me quedo perplejo". Hay que destacarlo, el compromiso de Santoka con la vida lo induce al compromiso, y en lo político se hace socialista como otros jóvenes intelectuales contemporáneos: Takiji Kobayashi, el autor de Kanikosen, el pesquero, y el ya citado Takuboku. Entonces, además de todos los dramas que lo acosan, como el fracaso conyugal y el rechazo familiar, la cárcel. Al recuperar la libertad, continúa su peregrinaje solitario. En este punto, cabe recalcarlo aunque parezca obvio. Santoka no escribe sobre la soledad. El mismo es la soledad. Ejercicio de introspección que mantiene zonas de contacto con los aforismos de Wittgenstein, zonas donde la escritura poética expande lo filosófico.

En su registro sin autocompasión del desapego absoluto, Santoka describe a lo largo de los años y los poemas cómo va perdiendo los dientes: "No tengo dinero, no tengo cosas,/ No tengo dientes.../ Estoy completamente solo". En su diario anota: "Mendigar debiera ser como las nubes fluyendo y como el agua fluyendo. Si permanezco en un lugar aunque sea por un momento, me enredo. !Que mi mente sea como el agua! !Que mi mente sea como el cielo! Me gusta el sake y también el agua. Me gustaba el sake más que el agua hasta ayer. Hoy me gusta el agua tanto como el sake. Mañana podría gustarme el agua más que el sake. A veces siento que he vivido diez a?os en uno. Lúcido o borracho, cada vez que escribo un poema lo hago vacío de cuerpo y mente. Es el poema quien me escribe". También: "Me sirvo sake. Del sake sale mi poesía: 'Sake es el haiku de la carne,/ haiku es el sake del alma'".

"No soy otra cosa que un monje errante", anota en el diario. "No hay nada que se pueda decir de mí excepto que soy un peregrino loco que ha gastado toda su vida de aquí para allá, como las plantas que flotan en el agua que va discurriendo de una orilla a otra. Parece patético pero he encontrado la felicidad en esta vida miserable y tranquila. El agua fluye, las nubes pasan, sin nunca pararse ni establecerse. Cuando sopla el viento, caen las hojas. Como nadan los peces o vuelan los pájaros, yo ando y ando, y sigo adelante..." En el transcurso de su vagar, no faltan los estallidos de angustia, las catástrofes mentales y un intento de suicidio. "Paso a paso, pareciéndome/ en las manías a mi padre.../ que ya no está", escribe. Se acuesta sobre la vía de un tren. Pero la locomotora frena a tiempo. Los empleados del ferrocarril y los pasajeros lo agarran a golpes. Un bonzo lo rescata y le propone ingresar a un monasterio. "En febrero de 1929 fui ordenado monje y me convertí en residente en Mitori Kannon-do. Era una verdadera vida solitaria en el bosque, en lo que concierne a la quietud era quieta, y a la soledad era sola, tal era allí la vida."

Pero la disciplina monástica no lo convence. Y se marcha: "He retornado al 'mundo de la existencia' después de una larga lucha y siento como si hubiera 'vuelto a mi propio hogar y estuviese cómodamente sentado'. He estado a la deriva por un largo tiempo -no solamente mi cuerpo sino también mi mente-. He sufrido por cosas que debieran existir, y me he atribulado por cosas que no puedo evitar que existan, y ahora finalmente puedo estar en paz con las cosas que existen. Ahí es donde me encuentro ahora. Tanto las cosas que debieran existir y las cosas que no puedo evitar que existan, están contenidas en las cosas que existen. Cuando uno conoce las cosas que existen, conoce todas las cosas. No estoy tratando de abandonar las cosas que debieran existir, ni tampoco estoy tratando de escapar de las cosas que no puedo evitar que existan, ésta es mi actitud presente que busca entender el 'mundo de la existencia'. Lo esencial para alguien que escribe poesía es escribir poesía en sí misma. Debo expresarme a mí mismo como poesía: es mi deber tanto como mi esperanza. Las piedras de granizo al golpear, y la convicción de que el granizo golpeándome es un azote divino. Debería encontrar la forma de expresarlo, de encontrar palabras para expresar 'golpeando' o 'azotando'", escribe en su diario en el oto?o de 1934.

El deterioro, del que a veces emerge con asombro, hace su trabajo de zapa: "Profundamente emocionado/ por seguir vivo/ Es hora de remendar mis ropas". Si bien interpreta el declive como un proceso natural, es también cierto que muchas veces Santoka zafa a través de la solidaridad de sus admiradores, que se irán volviendo legión, como habrán de serlo, en la actualidad japonesa, sus lectores. "El largo puente/ que nunca volveré a cruzar/ Viento de eternidad", escribe. Una de las últimas entradas a su diario: "En diciembre 15, 1939, gracias a mis amigos en Matsuyama, y por las siguientes circunstancias, he decidido quedarme aquí por algún tiempo, o quizás, hasta que muera. Un buen amigo, Ichijun, me cargó sobre sus espaldas desde la posada en Dogo a esta nueva casa al pie del Mikizan. La casa está en una altura y es muy tranquila. La monta?a es bella, el agua sabe bien, y la gente aquí parece ser agradable. En realidad es una casa demasiado buena para un viejo vagabundo. Es más de lo que merezco pero la he aceptado agradecido. Esta 'casa para vagabundo' es más hermosa y cálida que la de Yamaguchi (Gochu-an)". Un último haiku parece indicar que ha quemado buena parte del diario: "El diario que tiré al fuego/ ?Sólo estas cenizas?". Y después, ¿qué? "Sin pensar en nada/ rompiendo ramitas secas". Después también escribe este otro haiku: "Ya que las montañas están en calma /Me quito mi kasa".

Tres monjes budistas. Tr. de Abdelmumin Aya (=Vicente Haya). Diputación Provincial de Málaga. Centro de Ediciones de la Diputación de Málaga (CEDMA), Colecc. Maremoto 27, Málaga, 2009, 134 páginas
Contenido del libro: 110 haikus inéditos de Ozaki Hôsai, Taneda Santôka y Yamaguchi Seishi, los tres poetas de haiku más célebres del siglo XX.
http://www.vicentehaya.com
http://blogs.periodistadigital.com/elalmadelhaiku.php?cat=9524
Nobashita ashi ni fureta tonari wa Shikoku no hito
Al estirar la pierna, / toqué al que estaba a mi lado: / un hombre de Shikoku (Tr. de Vicente Haya)

Yama shizukanareba kasa o nugu
Cuando la montaña se aquieta, / me quito mi sombrero de bambú (Tr. de Vicente Haya)

Futatabi wa wataranai hashi no nagai nagai kaze
El largo puente / que nunca volveré a cruzar / Viento de eternidad (Tr. de Vicente Haya)

Itsumademo tabi o suru koto no tsume o kiru
Me corto las uñas... / Hay que viajar hasta el fin (Tr. de Vicente Haya)

Kaze no kareki o hirotte wa aruku
Con viento, / recoger ramas secas / Caminar (Tr. de Vicente Haya)
Con viento / recojo una rama seca / y sigo caminando (Tr. de Vicente Haya)
En el viento, / recoger ramas secas / y caminar (Tr. de Vicente Haya)
Sopla el viento… / Recoger ramas secas / y caminar (Tr. de Vicente Haya)
Caminar: / Ir recogiendo ramas secas / con viento (Tr. de Vicente Haya)

Tomato o te ni mihotoke no mae ni chichi haha no mae ni
En la mano, un tomate / que ofrezco al Buda, / a papá y a mamá (Tr. de Vicente Haya)

Udon sonaete haha yo watakushi mo itadakimasuru
Te ofrezco udon, / querida mamá / Yo mismo me lo comeré (Tr. de Vicente Haya)

Dokodemo shineru karada de harukaze
Con un cuerpo / dispuesto a morir donde sea / Viento de primavera (Tr. de Vicente Haya)
Con viento de primavera, / el cuerpo puede morir / donde sea (Tr. de Vicente Haya)
No importa dónde / Morir con el cuerpo / Viento de primavera (Tr. de Vicente Haya)

Namioto no onembutsu ga kikoeru
En el sonido de las olas / se puede escuchar / las invocaciones al Buda (Tr. de Vicente Haya)

Ume ochi kochi minami subeku kita subeku
Ciruelos por todas partes… / ¿Debería ir al sur / o debería ir al norte? (Tr. de Vicente Haya)

Konna ni kusa no mi doko no kusa no mi
¿De dónde han salido / todas estas semillas / (arrastradas por el viento)? (Tr. de Vicente Haya)

Ware ima koko ni umi no aosa no kagiri nashi
Yo, ahora, aquí: / el azul del océano / sin límites (Tr. de Vicente Haya)

Shi o mae ni suzushii kaze
El viento frío, / indiferente, / pasa ante la muerte (Tr. de Vicente Haya)

Shibito torimaku hitobito ni kumo mo naki sora ya
En honor de la gente / que se reúne alrededor del muerto, / ¡ay!, un cielo sin una sola nube (Tr. de Vicente Haya)

Nagedashite mada hi no aru ashi
Estirando las piernas / todavía hay sol (Tr. de Vicente Haya)

Yama-michi kure isogu rindô
Por el camino de la montaña / el ocaso se apresura / en la flor del rindô (Tr. de Vicente Haya)

Ushirosugata no shigurete yukuka
La espalda en silueta / (del monje errante que se aleja) / "¿Se irá mojando?" (Tr. de Vicente Haya)

Tsuki yo yama yo watashi wa tabi de yande iru
¡Oh, Luna! ¡Oh, montañas! / Fijaos cómo yo, de tanto viajar, / he acabado enfermando (Tr. de Vicente Haya)

Kokoro shizuka ni yama no okifushi
El corazón en paz / La vida diaria de las montañas (Tr. de Vicente Haya)

Nantonaku aruite haka to haka to no aida
Deambulando, / me sorprendo entre una tumba / y otra tumba (Tr. de Vicente Haya)

Mado akete mado ippai no haru
Abriendo la ventana, / una ventana que está / a reventar de primavera (Tr. de Vicente Haya)

Netai dake neta karada yu ni nobasu
He dormido lo que quería / Mi cuerpo se esponja / en el agua caliente (Tr. de Vicente Haya)

Chôchô hirahira iraka o koeta
La mariposa revoloteando / ha pasado por encima / de lo más alto del tejado (Tr. de Vicente Haya)

Ikinokoru hae ga watashi o oboete iru
Moscas que sobreviven / Y guardan mi memoria (Tr. de Vicente Haya)

Asayake y?yake taberu mono ga nai
El alba / El ocaso / Nada que comer (Tr. de Vicente Haya)

Yuki no akarusa ga ie ippai no shizukesa
La luminosidad de la nieve / llena la casa / en calma (Tr. de Vicente Haya)

Subette koronde yama ga hissori
Resbalo… y caigo. / Todo en la montaña / sigue su curso (Tr. de Vicente Haya)

Kasa e pottori tsubaki datta
"Toc" contra mi sombrero de junco: / la camelia (Tr. de Vicente Haya)

Ame no torira wa taberu mono ga nai
Los pájaros de la lluvia… / Ellos sí que no tienen / nada que comer (Tr. de Vicente Haya)

Hitori no hi o tsukuru
Hacer un fuego / para uno solo (Tr. de Vicente Haya)

Ishi ni matsu ga mukashi nagara no chirimatsuba
Un pino entre la piedra / Desde hace mucho / Hojas caídas (Tr. de Vicente Haya)

Kuriya made tsuki kage no hitori de
Penetra la luz de la luna / hasta la cocina / Estoy solo (Tr. de Vicente Haya)

Shôji no naka no yuki furishikiru
Dentro de la vida y la muerte / la nieve cae incesantemente (Tr. de Vicente Haya)

Shinde shimaeba zassô ame furu
Si acabara muriendo... / Los hierbajos / Cae la lluvia (Tr. de Vicente Haya)

Hissori kuraseba misosasai
Sólo si tu vida / es algo no sabido, / el canto del misosasai (Tr. de Vicente Haya)

Cha no ki ni kakomare sokohakatonai kurashi
Rodeado por arbustos de té, / llevando una existencia anónima (Tr. de Vicente Haya)

Ichinichi mono iwazu nemurenai tsukiyo to naru
Tras un día en completo silencio, / una de esas noches de luna / en las que no se puede dormir (Tr. de Vicente Haya)

Omou koto naki kao shite mo aki no kure
También para quien tiene / cara de no pensar nada, / el atardecer de otoño (Tr. de Vicente Haya)

Santoka o la intolerable compañía de la soledad
Por Carlos Fleitas
Abril 2005
https://www.scribd.com/doc/219295173/4/El-peregrino

http://blogs.periodistadigital.com/elalmadelhaiku.php?cat=9524

Robert F. Wittkamp: Santôka - Ein moderner Wanderdichter. Unveröf-fentlichte Magisterarbeit, Köln, 1992

Robert F. Wittkamp: "Anmerkungen zur Onomatopoesie und Klangverarbeitung in der Dichtung Santôkas", in: NOAG 155-156.
http://www.uni-hamburg.de/Japanologie/noag/noag1994_5.pdf

Robert F. Wittkamp: Santôka. Haiku, Wandern, Sake. OAG Taschenbuch Nr. 66. Tôkyô: Deutsche Gesellschaft für Natur- und Völkerkunde Ostasiens Tôkyô. (OAG Taschenbuch Nr. 66), 1996, 155 S.
otowa / shigure ka
Dieser Klang - Ob das der Herbstregen ist? (Übers. Robert F. Wittkamp)

nami no oto / shigurete kurashi
Rauschen der Wellen - herbstregennasse Dunkelheit … (Übers. Robert F. Wittkamp)

(anchuu dokuza)
kokoro ochitsukeba / mizu no oto
(in der Klause alleine)
Kommt das Herz zur Ruhe bleibt der Klang des Wassers (Übers. Robert F. Wittkamp)

ki no ha ni kasa ni / oto tatete arare
Auf die Blätter, auf meinen Strohhut prasselt Hagel - laut vernehmbar (Übers. Robert F. Wittkamp)

amadare no / oto mo / toshitotta
Selbst der Klang der Regentropfen ist gealtert (Übers. Robert F. Wittkamp)

wakeireba / mizu oto
Schreite ich hindurch -Wasserklänge (Übers. Robert F. Wittkamp)

mizu oto no / taezushite / gobutsu to ari
Im nie verklingenden Wasser - ist Buddha (Übers. Robert F. Wittkamp)

nete mo samete mo / yo ga nagai / se no oto
Ob ich schlafe oder wache lang ist die Nacht beim Rauschen der Stromschnellen (Übers. Robert F. Wittkamp)

nami oto / shigurete / harete
Wellenrauschen ob Herbstregen oder klarer Himmel (Übers. Robert F. Wittkamp)

arashi no ato no / shizukesa no / hae de
Nach dem Sturm: nur die Stille summender Fliegen! (Übers. Robert F. Wittkamp)

yuki he / yuki furu / shizukesa ni oru
Schnee fällt auf Schnee -und alles in tiefer Stille (Übers. Robert F. Wittkamp)

shi no shizukesa wa / harete / ha no nai ki
Stille des Todes: Bäume ohne Blätter bei strahlend schönem Wetter (Übers. Robert F. Wittkamp)

shizukesa / take no ko mina / take ni natta
Ganz leise wurden alle Sprößlinge zu Bambus (Übers. Robert F. Wittkamp)

yama no shizukesa wa / shiroi hana
Stille der Berge in dieser weißen Blume (Übers. Robert F. Wittkamp)

shimijimi / shizukana / tsukue no chiri
Staub auf dem Tisch: in eindringlicher Stille (Übers. Robert F. Wittkamp)

yama shizukanareba / kasa wo nugu
Wenn es still wird in den Bergen nehme ich meinen Hut ab (Übers. Robert F. Wittkamp)

ichinichi mono iwazu / nami no oto
Den ganzen Tag kein einziges Wort Wellenrauschen (Übers. Robert F. Wittkamp)

semishigure / shi basho wo / sagashite iru no ka
Zikaden-Sinfonie: suchen wohl einen Ort zum Sterben? (Übers. Robert F. Wittkamp)

ura ni ki ga / shi go hon areba / tsukutsukubôshi
Am Strand zwei, drei Bäume - schon sirren die Zikaden (Übers. Robert F. Wittkamp)

tôku / higurashi ga / naku
In der Ferne das Zirpen der Abendzikaden (Übers. Robert F. Wittkamp)

kuzureru ie no / hisoka ni kuzureru / higurashi
Beim Sirren der Zikaden verbröckelt heimlich mein eh' schon verbröckeltes Haus (Übers. Robert F. Wittkamp)

ushiro sugata no / shigurete yuku ka
Diese Gestalt, von hinten gesehen - verliert sie sich im Herbstregen? (Übers. Robert F. Wittkamp)

karasu naite / watashi mo hitori
Schreiende Krähen -auch ich bin alleine (Übers. Robert F. Wittkamp)

naite karasu no / tonde karasu no / ochitsuku / tokoro ga nai
Schreiende Krähen fliegende Krähen finden keinen ruhigen Ort (Übers. Robert F. Wittkamp)

kareki ni karasu ga / oshôgatsu mo / sumimashita
Auf diesem kahlen Baum -hat eine Krähe Neujahr verbracht (Übers. Robert F. Wittkamp)

kurete mo yado ga nai / mozudori ga naku
Schon wird es dunkel, aber eine Unterkunft habe ich nicht - laut kreischen die Würger (Übers. Robert F. Wittkamp)

karete karekitte / ishikoro gorogoro
Stocktrocken kleine Brocken Kiesel rieseln den Abhang hinab … (Übers. Robert F. Wittkamp)

karekitta kawa wo / wataru
Diesen knochentrockenen Bach überschreite ich … (Übers. Robert F. Wittkamp)

haru no yama kara / korokoro ishikoro
Aus den Bergen im Frühling -der Laut kullernder Steine (Übers. Robert F. Wittkamp)

chôchô hirahira / iraka wo koeta
Schmetterling - flatter flatter über Dachziegel hinweg (Übers. Robert F. Wittkamp)

kasa he pottori / tsubaki datta
Fiel "plumps" auf meinen Hut - war eine Kamelien-Blüte … (Übers. Robert F. Wittkamp)

horohoro / horobi yuki / watakushi no aki
So tröpfelt er langsam seinem Ende zu: mein Herbst … (Übers. Robert F. Wittkamp)

horohoro yotte / ko no ha chiru
Angeheitert wie ich Blätter tänzeln zu Boden (Übers. Robert F. Wittkamp)

wakeitte mo / wakeitte mo / aoiyama
Tiefer und tiefer schreite ich voran, in das Grün der Berge (Übers. Robert F. Wittkamp)

ame furu / furusato wa / hadashi de aruku
Barfuß laufe ich durch den Regen meiner Heimat (Übers. Robert F. Wittkamp)

harukaze no / hachi no ko hitotsu
Im Frühlingswind eine einzelne Bettelschale … (Übers. Robert F. Wittkamp)

teppatsu no / naka he mo / arare
Selbst in meinen Bettelnapf prasselt Hagel (Übers. Robert F. Wittkamp)

Haiku von Taneda Santoka in deutscher Übersetzung von Dietmar Tauchner
http://www.wowwi.orc.ru/cgi-bin/shuttle/haiku_by_author.cgi?author_id=1247053675&page=1
http://bregengemme.net/chrysanthemum/media/archiv/Chrysanthemum3.pdf
kusa no aosa yo hadashi de modoru
das gras so grün / ich komme barfuß zurück (Übers. von Dietmar Tauchner)

karasu naite watashi mo hitori
eine krähe krächzt / auch ich bin allein (Übers. von Dietmar Tauchner)

shi no shizukesa wa harete ha no nai ki
todesstille der klare blattlose baum (Übers. von Dietmar Tauchner)

yoi yu kara yoi tsuki e deta
ich steige aus einer guten warmen quelle zum guten mond (Übers. von Dietmar Tauchner)

yoizame no hoshi ga matataite iru
mein kater vorbei / die blinkenden sterne (Übers. von Dietmar Tauchner)

massuguna michi de samishii
die straße so gerade es ist einsam (Übers. von Dietmar Tauchner)

nagori dariya karentoshite utsukushii
die letzte dahlie / vorm verblühen / und schön wie sie ist (Übers. von Dietmar Tauchner)

kono michi shika nai haru no yuki furu
das ist der einzige weg / frühlingsschnee fällt (Übers. von Dietmar Tauchner)

kyô mo ichinichi dare mo konatta hôtaru
heute wieder ist den ganzen tag niemand gekommen leuchtkäfer (Übers. von Dietmar Tauchner)

dôshiyô mo nai watashi ga aruite iru
unwürdig gehe ich (Übers. von Dietmar Tauchner)

nani ga nani yara minna saite iru
was ist was / alles blüht (Übers. von Dietmar Tauchner)

Taneda, Santoka. Stikhi i proza; perevod s iaponskogo Aleksandra Dolina. Sankt-Peterburg : Giperion, 2001. 252 str. (Iaponskaia klasicheskaia biblioteka)
Танэда Сантока: стихи и проза. Перевод с японского Александра Долина, Санкт-Петербург, "Гиперион", 2001
http://www.wtr.ru/aphorism/santoka.htm
http://graf-mur.holm.ru/classic/santoka.htm

Taneda Szantóka: Hóra hulló hó (Szabadhaikuk), Terebess Gábor fordításai
[415 haiku translated into Hungarian by Gabor Terebess]


DOC >

PDF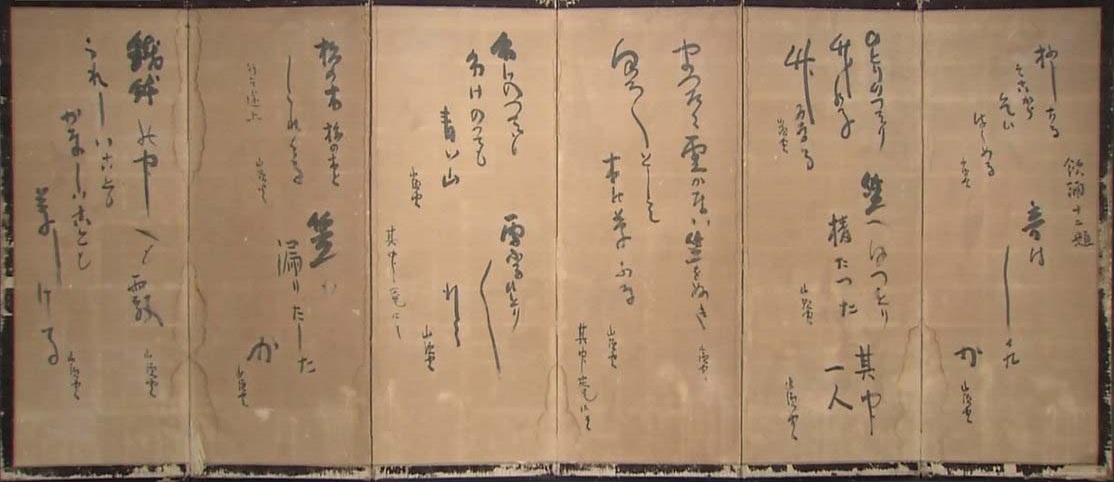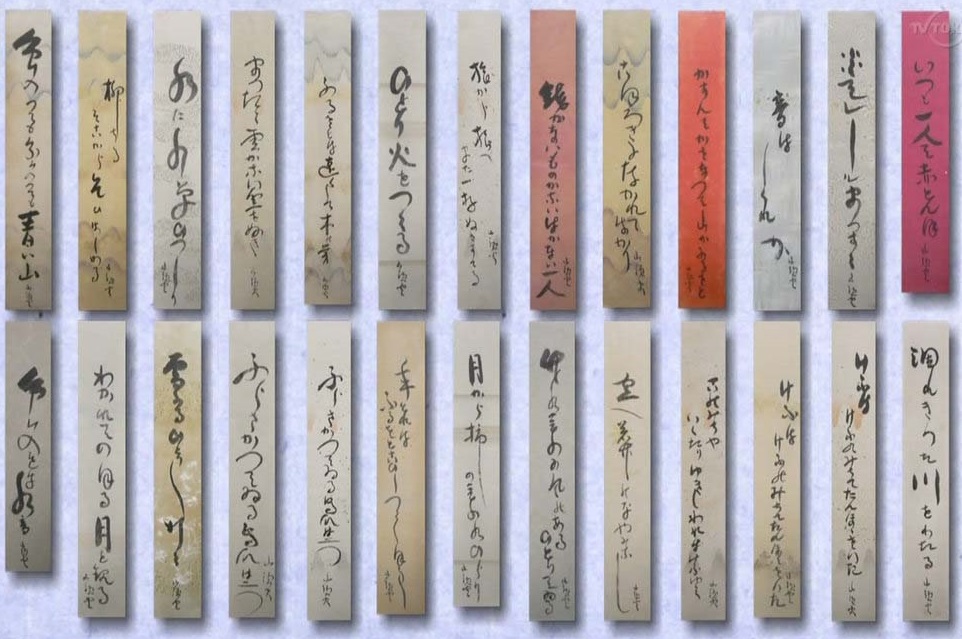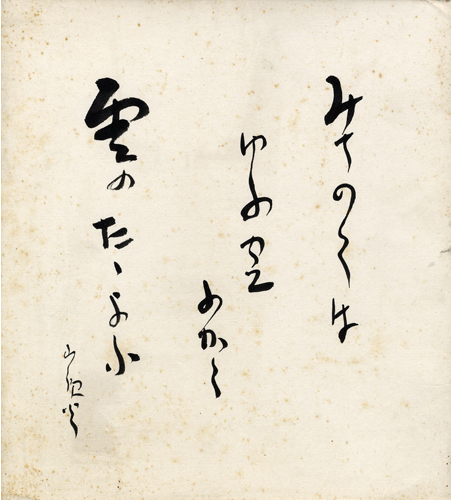 『みちのくは ゆふ空ふかく 雲のたゝよふ 山頭火』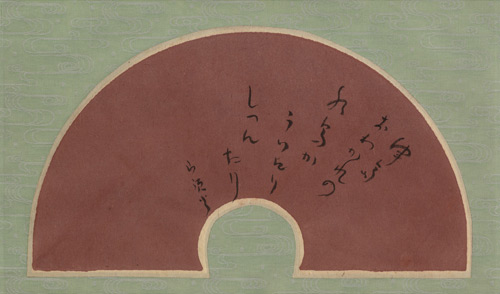 『津島おわかれの 水鳥かういたり しつんたり 山頭火』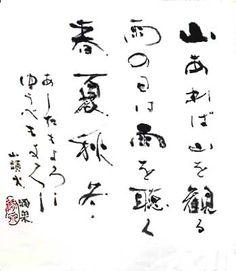 『山あれば山を観る 雨の日は雨を聴く 春夏秋冬 あしたもよろし ゆふべもよろし』
"If there are mountains / I see mountains / If there are rainy days / I hear rains / All through the four seasons / Tommorow is better / Yesterday is better."