Terebess Asia Online (TAO)
Index
Home
For All My Walking:
Free-Verse Haiku of Taneda Sant˘ka,
translated by Burton Watson.
New York, Columbia University Press, 2003, 118 pages, [245 haiku]
http://www.scribd.com/doc/49148265/For-All-My-Walking-Taneda-Santokapdf
(SMT) = S˘mokut˘
Taish˘ 3 (1914)
1
sora ni kumo nashi sakashimiru kashu no k˘ki iro yo
cloudless sky / peer through a glass of hard liquor / that deep color!
Taish˘ 4 (1915)
2
kaze ga umi yori dotegusa no ch˘ch˘ ochitsukazu
wind from the sea / butterflies in embankment weeds / never resting
Taish˘ 6 (1917)
3
isakaeru fűfu ni yoru kumo sagari keri
husband and wife quarreling / night / spiders dangle down
4
kina ana ga horaruru machi no shizukesa yo
so still the street / big hole / dug in it
Taish˘ 7 (1918)
5
meshi no shirosa no umeboshi no akasa t˘t˘ kere
whiteness of the rice / red of pickled plum / these treasures!
Taish˘ 9 (1920)
6
yuki furu naka o kaeri kite tsuma e tegami kaku
come home / in falling snow / write my wife a letter
Taish˘ 15 (1926)
7
wakeitte mo wakeitte mo aoi yama (SMT)
the deeper I go / the deeper I go / green mountains



(Sant˘ka's haiku in his own calligraphy)

8
shitodo ni nurete kore wa michishirube no ishi (SMT)
wet to the skin / the stone here / pointing out the path
9
enten o itadaite koiaruku (SMT)
blazing sky above me / walking / begging
Sh˘wa 2–3 (1927–1928)
10
fumiwakeru hagi yo susuki yo (SMT)
bush clover! / pampas grass! / I'm coming through
11
hy˘hy˘ to shite mizu o ajiwau (SMT)
wobbly on my feet / the good taste / of water
12
ochikakaru tsuki o mite iru ni hitori (SMT)
watching the moon / go down / me alone
13
ikinokotta karada kaite iru (SMT)
this body / still alive / scratching it
14
mizu ni kage aru tabibito de aru (SMT)
reflection / in the water / a traveler
15
horo-horo y˘te ko no ha furu (SMT)
happily drunk / tree leaves / drifting down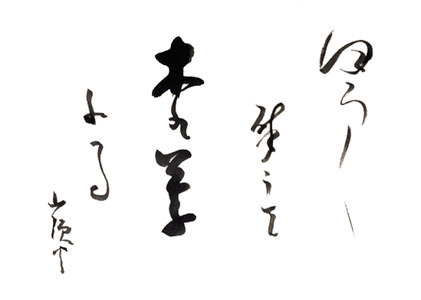 Brushed by Sant˘ka. (Shambala Zen Art Gallery)

16
massugu na michi de samishii (SMT)
road running / straight ahead / lonely
17
kasa ni tombo o tomarasete aruku (SMT)
letting a dragonfly / sit on my hat / walking along
18
arukitsuzukeru higanbana sakitsuzukeru (SMT)
I go on walking / higan lilies / go on blooming
*Higanbana (equinox flower), also called manjushage, is a wild lily that blooms around the autumn equinox.
Sh˘wa 4 (1929)
19
subette koronde yama ga hissori (SMT)
slipped / fell down / mountains are silent
20
tsukareta ashi e tombo tomatta (SMT)
legs worn out / a dragonfly / lights on them
21
harikaeta sh˘ji no naka no hitori (SMT)
inside the newly mended / paper panels / alone
22
sutekirenai nimotsu no omosa mae ushiro (SMT)
front, back / weight of baggage / I can't throw off
Sh˘wa 5 (1930)
23
furikaeranai michi o isogu
hurry down the road / never look back
24
iwakage masashiku mizu ga waite iru (SMT)
in the shade of the rock / sure to be / water bubbling up
25
ano kumo ga otoshita ame ni nurete iru (SMT)
rain dumped / from that cloud / getting wet in it
26
kasa mo moridashita ka (SMT)
has my hat too / sprung a leak?
27
koromo konna ni yaburete kusa no mi (SMT)
my monk's robe / all torn like this / grass seeds
28
y˘te k˘rogi to nete ita yo (SMT)
so drunk / I slept / with the crickets!
29
donata ka kakete kudasatta mushiro atatakashi
warm / the straw matting / someone spread over me
30
d˘sh˘mo nai watashi ga aruite iru
no help / for the likes of me / I go on walking
31
karekitta kawa o wataru (SMT)
I cross / a river / that's all dried up
32
kayui tokoro o kaku te ga atta
there were hands / to scratch / the itchy places
33
afururu asayu no shizukesa ni hitaru
morning bath / soaking in the stillness / of hot water brimming over
34
mada oku ni ie ga aru ushi o hiite yuku
more houses / deeper in the mountain? / he's got an ox in tow
35
mata miru koto mo nai yama ga t˘zakaru (SMT)
falling away behind me / mountains I'll never see again
36
yakisutete nikki no hai no kore dake ka
now they're burned / these are all the ashes / from my diaries?
*Santoka burned the diaries from his first trip because he was ashamed of what he had written.
37
kabe o hedatete yu no naka no danjo sazamekiau
men and women in the bath / shouting back and forth / over the partition
38
nageataerareta issen no hikari da
gleam / of the 1-sen coin / tossed my way
39
sugenai onna wa ˘kiku harande ita
curt unfriendly woman / body big / in late pregnancy
40
hitosuji no mizu o hiki hitotsuya no aki
one water pipe / leads off from the stream / lone house in autumn
41
tsuki no mizu o kumiagete nomitatta
dipped up / moonlit water / drank my fill
42
kokoro shizuka ni yama no okifushi
peaceful in mind / getting upáá going to bed / in mountains
43
sukoshi netsu ga aru kaze no naka o isogu
a little bit feverish / hurrying in the wind
44
izure wa tsuchikure no yasukesa de tsuchi ni neru
sleep on the ground / sooner or later / peaceful as a clod of dirt
45
mizuoto to issho ni sato e kudarite kita (SMT)
to the sound / of flowing water / found my way down to the village
46
mattaku kumo ga nai kasa o nugi (SMT)
not a cloud in sight / off comes my hat
47
karari to hareta asa no waraji mo shikkuri
clear bright morning / straw sandals / feel just right
48
namioto t˘ku nari chikaku nari yomei ikubaku zo
sound of waves / far off áclose by / how much longer to live?
49
hitokire no kumo mo nai sora no sabishisa masaru
not a scrap of cloud in it / sky lonelier than ever
50
aruiwa kou koto o yame yama o mite iru (SMT)
at times / I stop begging / looking at mountains
51
mono kou ie mo naku nari yama ni wa kumo (SMT)
no more houses / to beg from / clouds on the mountain
52
kaze no yo no to o tataku oto ga aru
windy night / a sound of tapping / at the door
53
aki wa ichihayaku yama no haze o some
autumn / already reddening / the leaves of the mountain sumac
54
furu mo yokar˘ ame ga furu
I don't care / if it does rain-- it rains
55
daichi hiebie to shite netsu no aru karada o makasu
chill chill of earth / I give up / my feverish body to it
56
yűutsu o yu ni tokas˘
foul mood / soak it away / in bath water
57
tabi no aruhi no chikuonki kikasete morau
passing through one day-- / they let me listen / to their phonograph
58
kaze no machi no kegawa urenai Senjin de
windy town / and a Korean / whose furs don't sell
59
fukete bakuchi utsu koe
late at night / gamblers' voices
60
shigururu ya michi wa hitosuji
drizzly rain / only one road / to go by
61
jid˘sha ni hikaren to shite samui samui michi
nearly run over / by a car / cold cold road
Sh˘wa 6 (1931)
62
hitori nite hitori taberu oz˘ni
cook it alone / eat it alone / New Year's soup
63
ky˘ mo henji ga konai shigure moy˘
today again / no answer / rain coming on
64
asagiri no akai posuto ga tatte iru
red mailbox / standing / in the morning mist
65
fűfugenka mo itsu shika yanda kan no tsuki
husband-and-wife spat / over now, it seems / cold-season moon
66
ippai yaritai yűyake-zora
a drink / would be nice now / sunset sky
67
hitori no hi o tsukuru (SMT)
I make / a fire / for one
68
ame no nikai no onna no hitori kuchibue o fuku
woman upstairs in the rain / whistles / to herself
69
samui kumo ga isogu (SMT)
cold clouds / hurrying
70
ushiro sugata no shigurete yuku ka (SMT)
how must I look / from behind / going off in the drizzling rain?
Sh˘wa 7 (1932)
71
rajio de tsunagatte koky˘ no uta
coming over the radio / song from / where I grew up
72
teppatsu no naka e mo arare (SMT)
even inmy iron begging bowlhailstones
73
yuki no akarusa ga ie ippai no shizukesa (SMT)
snow's brightness / a stillness / that fills the house
74
wakaranai kotoba no naka o t˘ru
passing through / dialects / I don't understand
75
ushi wa omoni o owasarete suzu wa rin-rin
ox straining / under a heavy load / its bell goes tinkle-tinkle
76
chichi ni y˘nita koe ga dete kuru tabi wa kanashii
came out with a voice / just like my father's-- / trips are sad
77
itsu made tabi suru koto no tsume o kiru (SMT)
how much longer / on the road? / clipping my nails
78
machi-hazure wa bochi to naru namioto
edge of town / all graveyard / and the sound of waves
79
nukes˘na ha o motte tabi ni oru
on the road / a tooth / about to come loose
80
yamaji kite hitorigoto iute ita
came along / a mountain path / talking to myself
81
furusato wa t˘ku shite ki-no-me (SMT)
home / a long way off / budding trees
82
itadaite tarite hitori no hashi o oku (SMT)
I was given it / it was enough / I lay down my lone chopsticks
83
horori to nuketa ha de wa aru (SMT)
plop! / the tooth / just fell out
84
kaze no tonneru nukete sugu koihajimeru
through the windy tunnel / then start right in / begging
85
sukkari hagete Hotei wa waraitsuzukete iru
paint all / worn off him / Hotei still laughing
86
ki-kage kumo-kage neko no shigai ga nagarete kita
tree reflections / cloud reflections / a dead cat came floating by
87
asu mo atatak˘ arukaseru hoshi ga dete iru
warm again tomorrow / stars out / promise of good walking
88
doko ka de atama no naka de karasu ga naku
somewhere / inside my head / a crow is cawing
89
mizutamari ga hogaraka ni kodomo no kage utsusu
serenely / the puddle reflects / the figure of the child
90
kasa e pottori tsubaki datta (SMT)
went thump! / on my hat / a camellia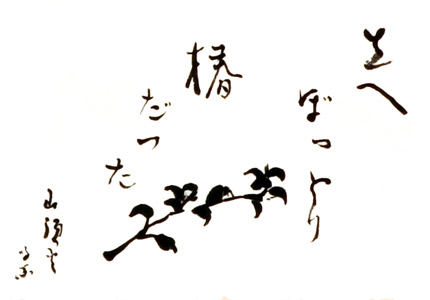 Brushed while drunk by Sant˘ka. (Shambala Zen Art Gallery)

91
kaki no wakaba ga mieru tokoro de nekorobu
new leaves on persimmon trees / flopping down / where I can see them
92
furusato no kotoba no naka ni suwaru
(On a visit to his hometown)
I sit down / in the midst of / my local dialect
93
furusato wa mikan no hana no niou toki
old home / when tangerine blossoms / make a good smell
94
yasuyado no zakuro takusan hana tsuketa
run-down inn / its pomegranate tree / loaded with blossoms
95
mukiatte oshaberi no mame o muku
face to face / jabbering away / shelling beans
96
suzushiku hebi asa no nagare o yokogitta
a snake angled / coolly / across the morning stream
97
yama no ichinichi ari mo aruite iru
all day / in the mountains / ants too are walking
98
tabi no h˘e ga kawaku made zass˘ no kaze
monk's robe traveling garb / till it dries / weed bank breezes
*Santoka had no change of clothing, so when he washed his robe in a stream he had to wait until it dried before he could go on.
99
ame furu furusato wa hadashi de aruku (SMT)
raining / in my home town / walking barefoot
100
omoide no kusa no komichi o ohaka made
down the weedy path / I remember / to the graves
101
˘kina koe de shinuru hoka nai
Flypaper / no outs-- / yell in a loud voice / till you're dead
102
utsurikite ohiganbana no hanazakari (SMT)
(First days in the Gochű-an)
moving in / higan lilies / at their best
103
kokoro sunao ni gohan ga fuita (SMT)
the rice / dutiful by nature / began to boil
104
suminarete cha no hana no hiraite wa chiru
getting used to living here / tea blossoms open / then scatter
105
hitori sumeba aoao o shite kusa (SMT)
live alone / and the grasses / are green so green
106
nema made tsuki o ire neru to suru (SMT)
sleep / where the moonlight / reaches my bedding
107
yűzora kara yuzu no hitotsu o mogitoru
one citron / I pluck / from the evening sky
108
watakushi no h˘rens˘ga yotsuba ni natta
my spinach plants / have four leaves now
109
mahiru no miakashi no moetsuzukeru
midday / votive lamp / keeps on burning
110
nasu kyűri kyűri nasu bakari taberu suzushisa
all I eat / cucumbers eggplant eggplant cucumbers / the coolness!
111
akete kuru kama o togu (SMT)
dawn coming on / honing the sickle
112
hitori oreba haetorigami no hae ga naku
now I'm alone / flies on the flypaper / start in buzzing
113
oto wa shigure ka
that sound / the rain?
114
asa wa yoi kana ochita ha mo ochinu ha mo
mornings are good! / leaves fallen / leaves yet to fall
115
aki no yo no doko ka de shamisen hiite iru
in the autumn night / somewhere / playing a samisen
116
hito ga ite shigureru kaki o moide ita
someone there / picking persimmons / in the rain
117
cha no hana ya mi ni chikaku fuyu no kite iru
tea blossoms / winter coming / nearer me now
Sh˘wa 8 (1933)
118
osh˘gatsu no karasu kaa-kaa (SMT)
the crow at New Year's / caw-caw
119
yuki e yuki furu shizukesa no oru
here in the hush / of snow / falling on snow
120
waraya shitashiku tsurara o tsurane
thatched roof / making me nice rows / of icicles
121
yuki furu sono naka hitori to shite hi o moyasu
snow falling / alone in the middle of it / build a fire
122
yuki furu hitori hitori yuku (SMT)
snow falling / one by one / they go
123
yuki mo yoi yuki ni naranai k˘j˘chitai no kemuri (SMT)
even the snow / can't be good snow / factory zone smoke
124
yappari hitori ga yoroshii zass˘
after all / alone is best / weeds
125
yoeba iro-iro no koe ga kikoeru fuyuame
get drunk / you hear all sorts of voices / winter rain
126
nukui hi no,mada taberu mono wa aru (SMT)
warm day-- / and still / some food on hand
127
tsumetasa no ha ni shimiru ha o itawar˘
babying it / the tooth so sensitive / to cold things
128
harusame no yoake no mizuoto ga naridashita
spring rain / at dawn came a sound of water
129
yake-ato nani yara saite iru
there / where the fire was / something blooming
130
hisabisa modoreba takenoko nyoki-nyoki (SMT)
Returning to My Hut
coming back after a long time / bamboo shoots / nosing up all over
131
asu wa kuru to iu ame no fuki o nite oku
you said you'd come tomorrow / I'm cooking up / the rain-soaked butterbur
132
asatsuyu shittori ikitai h˘e yuku (SMT)
soppy with morning dew / I go off / any direction I please
133
te ga todoku ichijiku no urezama (SMT)
the figs / I can reach-- / their ripeness
134
matsuzemi ga atama no ue de namioto o mae
overhead / cicadas in the pines / in front a sound of waves
135
kaze no ch˘ch˘no yukue o miokuru
butterflies / in the wind / seeing them on their way
136
hototogisu asu wa ano yama koete yuk˘ (SMT)
cuckoo / tomorrow I'll cross over / that mountain
137
hi ga nagai ie kara ie e rusu bakari
long day / going from house to house / nobody home
138
uramichi wa natsugusa ga t˘renaku shita mamma
back road / just as before / choked with summer weeds
139
shinu yori hoka nai yama ga kasunde iru
nothing else / but to die / mountains misted over
140
shinjitsu yoi ame ga furu ichijiku no mi mo
truly good rain / falling / good for the figs too
141
sesse to tagusa toru˘ki na k˘gan
busy pulling away / at paddy weeds-- / those big balls
*In Santoka's time, Japanese farmers working inthe fields in hot weather often wore only a simple loincloth.
142
boro kite suzushii hitori ga aruku
wearing rags / cool / one man walks along
143
kaeru osanaku aoi ha no mannaka ni
frog / still a baby / middle of the green leaf
144
ky˘no ohiru wa kusa ni suwatte tomato futatsu
lunch today / sitting on the grass / two tomatoes
145
yoi yado de dochira mo yama de mae wa sakaya de
nice inn / mountains all around / sake store in front
146
yatto ito ga t˘tta hari no kanshoku
feel of the needle / when at last / you get the thread through it
147
hitotsu moide gohan ni sh˘
pick one / have it for supper
* "One" is the fruit of an old citron tree that grew inback of the Gochű-an.
148
shinitaku mo ikitaku mo nai kaze ga furete yuku
no desire to die / no desire to live / the wind blows over me
149
sabishű nari atsui yu ni hairu
feeling lonely / getting in / the hot bath water
150
itsu-no-ma-ni-yara tsuki wa ochiteru yami ga shimijimi
hadn't noticed / moon gone down / thick darkness all around
151
hito o miokuri hitori de kaeru nukarumi (SMT)
seeing someone off / coming back alone / muddy road
152
m˘ akikaze no Jiz˘sama no kubi dake atarashii
autumn winds already / Lord Jizo / only his head is new
*Lord Jizo is a Buddhist saint and protector of children. Stone statues of him are stationed here and there along the roads and are fitted with a new head if the old one falls off.
153
futo mezametara namida koborete ita
(In sickness)
woke up suddenly / tears coming down
Sh˘wa 9 (1934)
154
sarasara sasa no yuki
rustle rustle / snow on bamboo grass
155
kareki wa tabi o kawakashite iru
the leafless tree / is drying / my tabi socks
156
tsubo ni suisen watakushi no haru wa jűbun
jonquils in a jar / all the spring I need
157
t˘yama no yuki no hikaru ya tabidatsu to suru
snow shining / on far-off mountains / I'll take a trip
158
kono michi shika nai haru no yuki furu (SMT)
no road / but this one / spring snow coming down
159
ky˘ wa koko made no waraji o nugu (SMT)
far enough / for today-- / I undo my straw sandals
160
yoi michi ga yoi tatemono e yakiba desu (SMT)
nice road / going to a nice building / crematorium
161
karasu ga aruite iru moedashita kusa
a crow walking there / new shoots of grass
162
ki ga taorete iru koshi o kakeru
tree fallen over / sitting down on it
163
muki˘te yu no afururu o
face to face / bath water brimming over
164
take to nariyuku take no ko no sunao naru kana
bamboo shoot / on its way to becoming bamboo / how honest of it!
165
ao-ao to take no ko no kawa nuide hikaru
sheath stripped away / bamboo shoot shines / green green
166
dare mo konai t˘garashi ak˘ naru (SMT)
no one comes / to see me / peppers turning red
167
tsubame tobikau tabi kara tabi e waraji o haku (SMT)
swallow on the wing / journey after journey / put on straw sandals
168
furikaeru tsubaki ga akai
camellia / I turned to look back at / red
169
ochite sono mama mebaeta biwa ni biwa
seeds dropped / sprouted where they fell / loquats piled on loquats
170
michi ga massugu ˘kina mono o korogashite kuru
road running straight ahead / rolling a big thing / down on me
171
tomokaku mo ikasarete wa iru natsugusa no naka (SMT)
somehow / I get to go on living / among summer grasses
172
chimpoko mo ososo mo waite afureru yu
(Scene in the Yuda "Thousand-Persons Hot-Spring Bath")
cocks and cunts / hot water / full and flowing over
173
ura kara kite kurete kusa no mi darake
you came the back way / covered with seeds / from all those grasses
174
omokute atsukute negirarete makeru no ka
(Scene with an itinerant peddler)
heavy load hot weather / dickering over price / I think he'll come down a little
175
yurete wa hagi no fushite wa hagi no koboruru hana
bush clover swaying / bush clover bending / its blossoms shower down
176
jukushi no amasa mo obasan no omokage
in the sweet taste / of a ripe persimmon too / I remember my grandmother
177
kare yuku kusa no utsukushisa ni suwaru
I sit / in the beauty / of grasses as they wither
178
hebi ga hinata ni m˘ana e haire
snake / sunning himself-- / get back in your hole!
179
kangaeru tomo naku kangaete ita shigurete ita
didn't mean to think of it / still I thought of it / rain coming down
180
fukur˘ wa fukur˘ de watashi wa watashi denemurenai (SMT)
owl in owl's way / I in mine / can't get to sleep
181
kaze ga fukinukeru korori-to shinde iru
wind blows right through me / plop / and I fall over dead
182
ochiba fumikuru sono ashioto wa shitte iru (SMT)
come tramping over / fallen leaves-- / I know the sound of your footsteps
183
dandan nite kuru kuse no chichi wa m˘ inai
more and more like him / my father / no longer alive
184
ate mo naku fumiaruku kusa wa mina karetari
all withered-- / grasses I walk over / going nowhere
Sh˘wa 10 (1935)
185
futo yoizame no kao go aru baketsu no mizu
suddenly / that hungover face / bucket water
186
harukaze no nara no ha no sukkari ochita
oak leaves / all blown down / in the spring wind
187
hitori taberu yud˘fu ugoku
boiled bean curd / eating it alone / it wobbles
188
biwa no utsukushisa kanojo wa warawanai
loquats / so beautiful / but she doesn't smile
189
yoizame no hana koboreru koboreru
hangover / and blossoms / scattering scattering
190
tsubaki ochite iru aogeba saite iru
camellia blossoms falling / look up and see / others still in bloom
191
omoioku koto wa nai yűbe imo no ha hirahira
no regrets / evening / taro leaves flap-flapping
192
mizu no kumo kage mo ochitsukasenai mono ga aru (SMT)
something about the water / even cloud reflections / can't settle down

193
aru dake no sake o tabe kaze o kiki
finish the last / of the sake / hear the wind
194
aoba no oku e nao komichi ga atte haka
narrow path / deep into green leaves / a grave
195
ashioto ga kite sono mama shimatta ochiba
footsteps approaching / now they've gone away / fallen leaves
Sh˘wa 11 (1936)
196
haru no yuki furu onna wa makoto utsukushii (SMT)
spring snow falling / woman / so very beautiful
197
koko made koshi o mizu nonde saru
got this far / drink some water / and go on
198
minna kaeru ie wa aru yűbe no yukiki (SMT)
(Osaka, D˘tombori entertainment district)
everyone / with a house to go home to / evening crowds
199
fukeru to suzushii tsuki ga biru no aida kara (SMT)
later on / a cool moon comes up / between the buildings
200
ch˘ch˘ hirahira iraka o koeta (SMT)
(At Eihei-ji, head temple of the S˘t˘ Zen school)
butterfly / fluttering fluttering / up over the temple roof finial
201
yama no shizukesa e shizuka naru ame
(At Eihei-ji)
over the mountain's silence / silent rain
202
mizu o wataru dare ni tomo naku say˘nara
crossing water / to no one in particular / good-bye!
203
ko no ha hikaru kumo ga aki ni narikitta
tree leaves shining / all autumn clouds now
204
yűbin ga kite sore kara kaki no ha no chiru dake
the mail came / and after that / just persimmon leaves falling
Sh˘wa 12 (1937)
205
nombiri shito suru kusa no me darake (SMT)
taking a leisurely piss / new grasses shoot up all over
206
ky˘ no yorokobi wa yama mata yama no mebuku iro
today's delight / mountain after mountain / the color of budding trees
207
midori yoeba iyo-iyo midori
green-- / drunk and it gets / even greener
208
gachagacha gachagacha naku yori hoka nai
katydid katydid / nothing to do / but cry
Sh˘wa 13 (1938)
209
mado akete mado ippai no haru
open the window / a whole windowful / of spring
210
ten ware of korosazu shite shi o tsukurashimu
Heaven / doesn't kill me / it makes me write poems
211
udon sonaete watakushi mo itadakimasu
(Santoka offers a dish of noodles before thememorial tablet of his mother on the anniversary of her death, March 6)
an offering / of noodles / I'm having some too
212
hitori yama koete mata yama
alone / crossing the mountain-- / another mountain
213
isamashiku mo kanashiku mo shiroi hako (SMT)
("Home Front")
valiantly-- that too / pitifully-- that too / white boxes
214
poroporo shitataru ase ga mashiro no hako ni (SMT)
("Home Front")
drops of sweat / plop-plopping / on blank white boxes
215
machi ni omatsuri okotsu to natte kaerareta ka (SMT)
("Home Front")
town festival / as bones / coming home for it?
216
kakashi mo gatchiri Hinomaru futte iru (SMT)
("Home Front")
scarecrow too / bravely waving / the Rising Sun flag
217
machi o nukeru to tsuki ga aru nagai hashi ga aru
once out of town / a moon / and a long bridge
218
kaze no naka onore o semetsutsu aruku
in the wind / walking alone / blaming myself
219
umareta ie wa atokata mo nai h˘taru (SMT)
nothing left of the house / I was born in / fireflies
220
heso ga ase tamete iru (SMT)
belly button / it gathers up / all the sweat
221
shigururu ya arudake no gohan y˘taketa (SMT)
late-fall drizzle / last of the rice / cooked up nicely
Sh˘wa 14 (1939)
222
haru no yama kara korokoro ishikoro
from the spring mountain / loose stones / clattering down
223
suzume no oshaberi karita mono ga kaesenai
sparrows chattering / can't pay back / what I borrowed
224
agattari sagattari onaji kotoba kurikaeshite nagai nagai hi
Elevator Girl
going up going down / saying the same words over and over / the long long day
225
yama no yosa o mizu no umasa o karada ippai
all through my body / goodness of mountains / good taste of water
226
yama no shizukesa wa shiroi hana (SMT)
the mountain's stillness / white blossoms
227
t˘wa gojű yűyű to shite shika
Nara Park
pagoda / five stories high / the slow-moving deer
228
madoromeba furusato no yume ashi hazure
Sleeping in the Field
doze off / dream of home / reed leaves rustling
229
asa-yake yű-yake taberu mono ga nai (SMT)
red of dawn sky / red of sunset sky / nothing to eat
230
yanagi chiru isoide ate mo nai tabi e
willow leaves scatter / rushing off on a trip / going nowhere
231
kono tabi shi no tabi de ar˘ hohoke tampopo
this trip / likely the one I'll die on / dandelions gone to fuzz
232
tomaru tokoro ga nai dokari to kureta
nowhere to put up / the dark came on / suddenly
233
tsukiyo akarui fune ga atte sono naka de neru
bright moonlight tonight / here's a boat / I'll sleep in it
234
ochiba shiite neru yori hoka nai yama no utsukushisa
nothing else to do / spread fallen leaves sleep on them / the mountain's beauty
235
ishi ni shikushiku shimit˘ru aki no yo no ame nari
soaking deeper and deeper / into the rocks / fall night rain
236
aki kaze aruite mo aruite mo
autumn wind / for all my walking-- / for all my walking—
237
yo no nagasa yod˘shi inu ni hoerarete
long night / barked at by a dog / the whole night through
238
yagi naite yagi o hippatte kuru onna
goat bleating / pulling the goat / a woman comes this way
Sh˘wa 15 (1940)
239
hiza ni sake no koboruru ni ait˘naru
sake slopping over / on our knees / wish we were together
240
asayu konkon afururu mannaka no watakushi
morning bath / hot water full and spilling over / me in the middle of it
241
kochira muite hiraite shiroi hana niou
facing this way / opening / white flowers smell good
242
mizu ga tombo ga watashi mo nagare yuku
water dragonflies / me too / all of us flow along
243
nani o matsu hi ni hi ni ochiba fuk˘naru (SMT)
waiting for what? / each day each day / more fallen leaves pile up
244
shigurete kaki no ha no iyo-iyo utsukushiku
fall rain coming down / persimmon leaves / more beautiful than ever
245
Otata mo aru hi wa kite kureru yama no aki fukaku
Otata will come again / one day / late fall in the mountains
*Otata was a woman who went around selling fish in the area of Santoka's cottage in Matsuyama.