ZEN MESTEREK ZEN MASTERS
« Zen főoldal
« vissza a Terebess Online nyitólapjára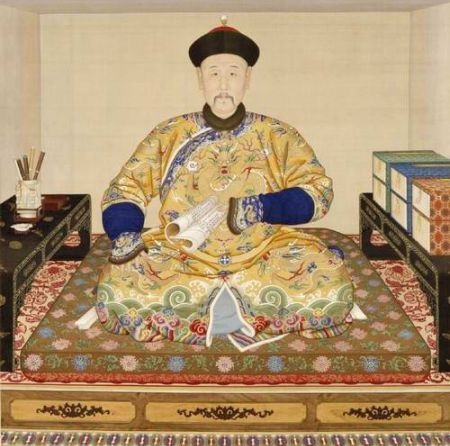 雍正 Yongzheng emperor (born 胤禛 Yinzhen, 1678-1735)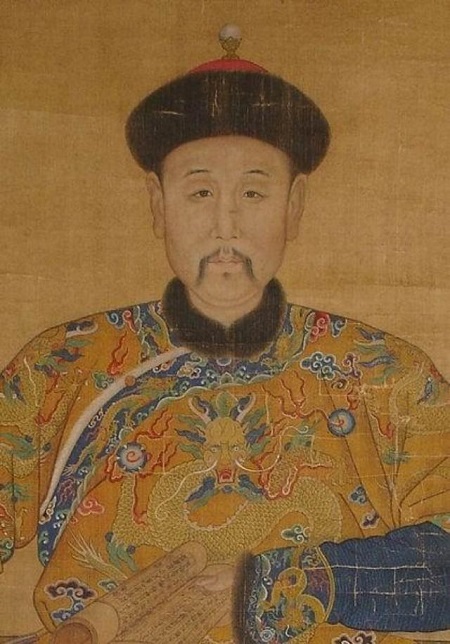 御選語錄 / 御选语录 Yuxuan yulu
(English:) Imperial Selections of Recorded Sayings / Emperor's Selection of Quotations
(Magyar:) Jung-cseng: Császári tallózás a csan irodalomban*
*címfordítás ©Terebess Gábor
大日本續藏經 Dai Nihon Zokuzōkyō. (Kyoto: Zokyō shuin, 1905-1912) 119: 357-809.

Yongzheng, Emperor (of Qing), Yōngzhèng 雍正 1678–1735—Third emperor of the Qing dynasty (r. 1722–1735)
Alternate names: given name: Aisin-Gioro Yìnzhēn 胤禛; temple name: Qīng Shìzōng 清世宗
Yongzheng's Chan Thought and Related Works
by Wu, Jiang
During his thirteen-year rule, Emperor Yongzheng (1678-1735) not only consolidated the Manchu political rule of China but also exerted great ideological control of the intellectual world. Among a series of interventions in monastic affairs, Yongzheng was best known for his refutation of Hanyue Fazang 漢月法藏 found in his eight-fascicle book, Jianmo bianyi lu 揀魔辨異錄 (Records of Pointing Out Demons and Discerning Heterodoxy). His involvement in Buddhist affairs have impacted the compilation of the so-called "Dragon Edition of the Buddhist canon" (Longzang 龍 藏)and the ordination system. In particular, he was interested in Chan Buddhism. He befriended with Chan master Jialing Xingyin 迦陵性音 (1671-1726)before he was enthroned and revived his interests in Chan during the last several years of his rule. He was also a prolific writer of Chan literature and compiled Chan works such as Yuexin ji 悅心集 (Essays That Entertain the Heart), Yuanming jushi yulu 圓明居士語錄 (The Recorded Sayings of Layman Yuanming), Yuxuan yulu 御選語錄 (Imperial Selections of Recorded Sayings), Yulu Zongjing dagang 御錄宗鏡大綱 (Imperially Recorded Essentials of Records of the Source-Mirror), Yulu Jinghai yidi 御錄經海一滴 (Imperially Recorded One Drop in the Sea of Scripture), etc. He developed his view of Chan enlightenment as well and systematized the theory of three stages or "passes" (sanguan 三關) of spiritual training.
Drawing upon my recent book, Enlightenment in Dispute: The Reinvention of Chan Buddhism in Seventeenth-century China (Oxford, 2008), I will examine Yongzheng's connection with Chan Buddhism through investigating his related works. I intend to show that Yongzheng's personal involvement in Buddhist affairs cannot be understood simply in terms of political power, for the emperor was deeply religious.

Ch. 6.
The Yongzheng Emperor and Imperial Intervention, 163
Yongzheng's Journey to Chan Enlightenment, 163
The Chan Society at the Imperial Court, 168
Yongzheng's Works on Buddhism, 173
The Emperor's Polemical Writing, 176
Conclusion, 1

Yongzheng's Chan Historiography

As the monarch and an ostensibly enlightened person, he considered it his
duty to rewrite Chan history and to apply his standard of Chan enlightenment.
Dissatisfied with popular Chan anthologies, which included dialogues from
all Chan masters without careful selection, Yongzheng compiled the Yuxuan
yulu (Imperial selection of recorded sayings) in 1733. In this work, the em-
peror, without being constrained by various Chan sectarian considerations,
intended to select the writings of Chan people according to his own standard.
In this sense, Yongzheng's compilation breached many accepted conventions
in the genre of Chan literature.

The arrangement of this anthology is unique. The main collection (zheng ji)
contains the works and sayings of fifteen "Chan" monks selected according to
the emperor's criteria. These monks included Yongjia Xuanjue (665–713),
Weishan Lingyou, Yangshan Huiji, Zhaozhou Congshen, Yunmen Wenyan,
Yongming Yanshou (904–975), Xuedou Chongxian (980–1052), and others.
Curiously, Yongzheng chose Sengzhao as the first "Chan master" on his list. A
few poet-monks, such as Hanshan and Shide, were also included. The only
contemporary Chan masters whose recorded sayings the emperor incorporated
were Yulin Tongxiu, his disciple Maoxi Xingsen, and Yongzheng himself. Re-
garding himself as the number one Chan teacher in the empire, Yongzheng put
his Recorded Sayings (Yuanming jushi yulu), compiled when he was still a
prince, in fascicle 12.
Most extraordinary is the inclusion of the sayings of the Taoist master
Zhang Boduan (987–1082) in this Chan anthology. This is because Yong-
zheng highly appreciated Zhang's works, such as the Wuzhen pian (Essay on
understanding the truth), which embodies the highest understanding of Chan
teaching according to the emperor. Although Yunqi Zhuhong combined Chan
with Pure Land and thus was not a pure Chan master, Yongzheng included
his selected works in fascicle 13, entitled "External Collection" (waiji), justify-
ing his decision by praising Zhuhong as a person with "correct knowledge and
correct views." Clearly, the emperor acknowledged Zhuhong as a true Chan
master even though this judgment disagreed with many Chan genealogies
compiled in the seventeenth century, which excluded Zhuhong completely
from Chan lineages because of his lack of dharma transmission.

Fascicles 14 and 15 are "The Early Collection" (qianji), which includes the
sayings of 156 Chan masters whose understanding Yongzheng regarded as
slightly inferior to the Chan figures listed in the main collection. Absent from
this collection are some famous names in Chan history, including Deshan Xuan-
jian, Xinghua Cunjiang, Fenyang Shanzhao, Dahui Zonggao, Juefan Huihong,
and Gaofeng Yuanmiao. This is because these so-called Chan masters did not
meet Yongzheng's standard of enlightenment. For example, he loathed Danxia
Tianran's (738–824) and Deshan Xuanjian's (782–865) teachings in particular
because their antinomian actions, such as burning the Buddha statue, implied a
serious challenge to the established hierarchy. With regard to the two monks
named Daowu in the Tang, which was central to the debate over dharma trans-
mission, the emperor included some of Tianwang Daowu's sayings in his "Early
Collection," suggesting that he might have accepted the two-Daowu theory. To
supplement the "Early Collection," Yongzheng compiled the "Later Collection"
(houji, fascicles 16, 17, and 18), which incorporates passages he selected from later
Chan anthologies, such as Jiaowai biechuan (Separate transmissions outside doc-
trine) and Chanzong zhengmai (True transmissions of the Chan lineage). The fi-
nal document in this collection (fascicle 19) contains records of his Dangjin fahui
(Contemporary dharma assembly), in which Yongzheng played the role of Chan
master and supervised Chan training sessions with his courtiers.

Such an unconventional and arbitrary collection reflects Yongzheng's ver-
sion of the unity of the three teachings. In his eyes, no sectarian boundary
should be set among the three teachings, and a Chan thinker should be judged
by his understanding of the ultimate truth, regardless of the conventional
fame ascribed to him. His view of the unity of the three teachings can be il-
lustrated by the emperor's favorite metaphor. At the end of his imperial edict
banning the works of Hanyue and his disciple, Yongzheng proposed to use the
relationship among the sun, the moon, and a star to analogize the relationship
among the three teachings: All three celestial objects share the quality of light
yet retain their individuality. Likewise, the three teachings, though function-
ing differently, share the same substance. Without contradiction, all teachings
contribute to the great Way, or, in other words, the only Way that an "enlight-
ened sovereign" had laid out.
pp. 173-175.



Stories of Six Ch'an Masters
from The Imperial Selection of Ch'an Sayings (Yu Hsuan Yu Lu)
Translated by 陸寬昱 Lu K'uan Yü [Charles Luk] (1898-1978)
In: Ch'an and Zen Teaching – First Series
Rider & Co., London, 1960.
(PDF version of the complete book)
1 Master Teh Ch'eng The Boat Monk at Hua Ting pp. 123-128.
2 Master Chi Hsien of Hsiang Yen pp. 129-131.
3 Master Chu Ti of Chin Hua pp. 134-135.
4 Master Hui Ts'ang of Shih Kung pp. 136-138.
5 Master Wu Chu, alias Wen Hsi of Hang Chou pp. 139-142.
6 Master Fu Ta Shih (Bodhisattva Fu, alias Shan Hui) pp. 143-145.
The Ch'an Shout, by Ch'an Master Chi Ch'eng
from The Imperial Selection of Ch'an Sayings (Yu Hsuan Yu Lu)
Translated by 陸寬昱 Lu K'uan Yü [Charles Luk] (1898-1978)
In: Practical Buddhism
by Lu K'uan Yü (Charles Luk)
London, Rider, 1971, pp. 39-42.
The Dayi juemi lu 大義覺迷錄
and the Lost Yongzheng Philosophy of Identity
by Pamela Kyle Crossley
http://www.eacrh.net/ojs/index.php/crossroads/article/view/27/Vol5_Crossley_html
Dayi juemi lu 大義覺迷錄, by Qing Emperor Yongzheng 雍正 (1677–1735, r. 1723–1735), in Jindai Zhongguo shiliao congkan; 351-352. Taibei: Wenhai, 1969 [Reprint of the original blockprint edition].