ZEN MESTEREK ZEN MASTERS
« Zen főoldal
« vissza a Terebess Online nyitólapjára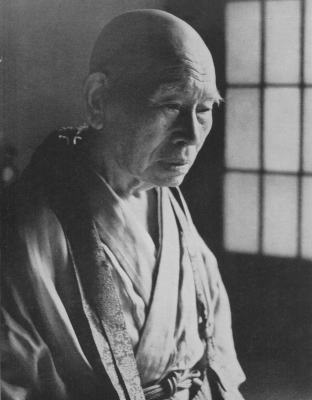 山本玄峰 Yamamoto Genpō (1866-1961)
山本 玄峰 宜詮 Yamamoto Gempō Gisen

Gempō Yamamoto (山本玄峰 Yamamoto Genpō, 1866-1961) was the abbot of both Ryūtaku-ji and Shoin-ji in Japan—also serving temporarily as the head of the Myōshin-ji branch of Rinzai Zen Buddhism. A renowned Japanese calligrapher, Yamamoto was a Rinzai Zen Buddhist priest who followed in the footsteps of the famous Master Hakuin Ekaku. According to the book Zen and the Art of Calligraphy, Yamamoto is sometimes called the "twentieth century Hakuin." Like so many prolific Zen masters throughout the ages, Yamamoto had no formal education. By today's standards Gempō would be deemed legally blind, and it was not until later in life that he was able to write and read. At the age of 25 he became ordained as a monk, travelling during this period to various temples throughout Japan. Yamamoto is probably most remembered for his many zenga paintings, which can be found hanging at Ryūtaku-ji today.
https://en.wikipedia.org/wiki/Gemp%C5%8D_Yamamoto
https://ja.wikipedia.org/wiki/%E5%B1%B1%E6%9C%AC%E7%8E%84%E5%B3%B0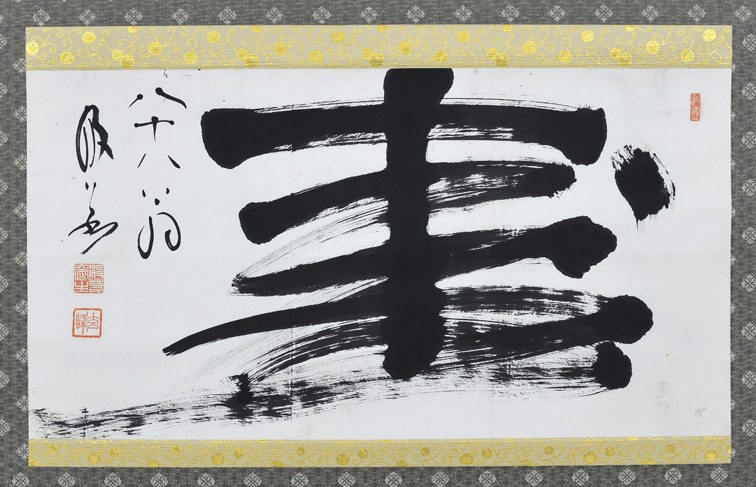 寿 八十八翁 般若 Longevity. 88 years old. Han'nya. 36 × 68.8 cm
Pen name: 般若窟 Han'nya-kutsu.
Dharma transmission from Genpo Sohan, Enpuku-ji. He had trouble with his eyes in his youth and so made a pilgrimage round the 88 Buddhist temples in Shikoku 7 times. On the way, he was saved by Taigen in Sekkei-ji and was ordained as a Rinzai Zen monk at the age of 25. He became the abbot of Ryutaku-ji in 1916. He made an effort to reconstruct Shoju-an Iiyama, Shoin-ji Hara and Zuisen-ji monastery. He founded Ryutaku-ji monastery in 1941 and was selected to become the chief abbot of Myoshin-ji in 1947. He retired and handed over to Soen Nakagawa in 1951.
Nakagawa Soen (1907-1984) Pen name: Mitta-kutsu, Ryu-sanjin, Ryuou. Dharma transmission from Genpo Yamamoto. He became the abbot of Ryutaku-ji in 1951. He went to the USA 12 times and contributed to the spread Zen in the world. He also made efforts to found Sobo-ji in New York and Daibosatsu Zendo Kongo-ji in New York State. He retired and devolved his responsibilities Zen master to his Dharma heir Sochu Suzuki Roshi in 1973. A Zen master with a talent for Haiku (Japanese poems of seventeen syllables).


禅板 zenpan
Chin rest
Inscription and stamps by 山本玄峰 Yamamoto Genpō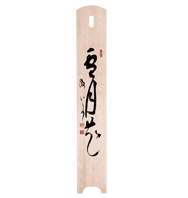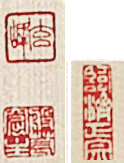 雪月花 setsugekka
"snow, moon, and flowers" (beauty of the four seasons)
50 × 8 × 0.6 cm