ZEN MESTEREK ZEN MASTERS
« Zen főoldal
« vissza a Terebess Online nyitólapjára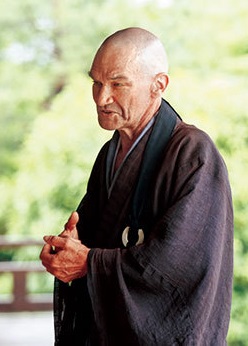 Thomas Yūhō Kirchner (1949-)
トーマス 雄峰 カーシュナー
釋, 雄峰 Shaku, Yūhō

釋 (釈) abbreviation of 釋迦牟尼 ‎("Shakyamuni"), a surname​
Thomas Kirchner, was born in Baltimore, Maryland, in 1949. He went to Japan in 1969 to attend Waseda University in Tokyo for a year, after which he remained in Japan to study Buddhism. He spent three years training under 山田無文 Yamada Mumon (1900-1988). In 1974 he was ordained and given the name 釋 雄峰 Shaku Yūhō. Following ordination he practiced under Minato Sodō Rōshi (1912–2006) at Kenchō-ji in Kamakura and Kennin-ji in Kyoto. Following graduate studies in Buddhism at Otani University he worked at the Nanzan Institute for Religion and Culture in Nagoya and subsequently at the Hanazono University International Research Institute for Zen Buddhism. He now serves as caretaker of the 天龍寺 Tenryū-ji in Arashiyama, Kyoto.


Works
Entangling vines: Zen koans of the Shūmon Kattōshū, translated and annotated by Thomas Yūhō Kirchner, Tenryu-ji Institute for Philosophy and Religion, in cooperation with the Institute for Zen Studies, 2004; Wisdom 2013
HTML: Entangling Vines
DOC: Entangling Vines
Sitting with Koans: essential writings on Zen Koan introspection, edited by John Daido Loori; foreword by Thomas Yuho Kirchner, Wisdom, 2006
The record of Linji, translation and commentary by Ruth Fuller Sasaki; edited by Thomas Yūhō Kirchner, University of Hawaii Press, 2009
HTML: The Record of Linji
PDF: The Record of Linji
Dialogues in a dream: the life and Zen teachings of Musō Soseki, translated and annotated by Thomas Yuho Kirchner, The Institute for Zen Studies, The Tenryu-ji Institute for Philosophy and Religion, 2010; Wisdom, 2015
How to do zazen, by Shōdō Harada; translated by Priscilla Daichi Storandt, Thomas Yūhō Kirchner, The Institute for Zen Studies, 2010
An English translation of Harada Shōdō Roshi's detailed instructions on Zen meditation for his Western students at Sōgen-ji Monastery. The book also contains a brief biography of Harada Roshi, the Roshi's answers to frequently asked questions on Zen, and romanized versions with English translations of the sutras and dharanis read during daily services at Zen temples. This book replaces the Institute's earlier book, How to Practice Zazen, by Yamada Mumon Roshi.
Interviews
Interview by Yuko Sugiyama (杉山優子), translation by Bianca Jarvis
April 2005
http://lik.kcif.or.jp/archives/0504/04_2005.htm

Could you please tell us a little bit about yourself?

My name is Thomas Kirchner. I was born in New Haven, Connecticut, in the United States. I first came to Japan in 1969 at the age of 19 to study at Waseda University on a junior-year-abroad program.

Have you lived in Japan ever since?

The Waseda program was only for a year, but right from the start I had a feeling I would be staying longer. At that time in my life I had no idea what I wanted to do in the future. No career seemed interesting, and I wondered just what the meaning of life was. So, to find out, I began practicing Zen meditation. At first, while teaching at an English conversation school, I meditated at a temple in Tokyo. I later trained at the temples Shoanji in Nagano Prefecture and Shofukuji in Kobe. After three years I had decided to become a monk, and received ordination.

Was it unusual for a foreigner to study Zen in Japan at that time?

Nowadays there are many Zen centers (dojo) overseas, but in the past if a westerner wanted to practice Zen there was little choice other than to do so in Japan. So staying here after the Waseda program seemed quite natural. At the time there were several monasteries that allowed Americans and Europeans to practice alongside Japanese monks. Most of these places have closed their doors to foreigners now, although other monasteries, like Sogenji in Okayama Prefecture and Hoshinji in Fukui Prefecture, have become popular Zen monasteries for westerners.

When did you first learn about Japan and Zen?

My father, a doctor, had a number of Japanese associates who often visited our home. So from the time I was a child I was used to Japanese people, and Japan didn't seem like such a far-off foreign land. Later, during high school, I became very interested in Zen from books I read. During my first year at college in the USA, Shibayama Zenkei, the former abbot of Nanzenji, gave a lecture at my school. I was deeply moved by his warm smile, his bright, peaceful eyes, and his cheerful, unpretentious personality. He must have been in his seventies at that time.

You must have faced many challenges in your life.

I was very idealistic in my twenties, but when I entered my thirties I calmed down a bit and found myself standing at a crossroads, wondering whether Zen practice was all there was to life. I left the monastery and became interested in Eastern medicine, which has connections with Buddhism. I entered acupuncture school and became a licensed therapist after three years of study. I'm not too confident with the acupuncture needles, but when it comes to shiatsu I can hold my own against anyone (laughter)! After finishing the medical course I studied for a master's degree in Buddhist Studies at Otani University, then worked as a copy editor at the Nanzan Institute for Religion and Culture in Nagoya. In the late 1990s a health breakdown caused me to reevaluate my life, and I realized that Zen had been the most meaningful thing I had ever done. I decided to return to the temple world, and came to Kyoto.

Please tell us about your recent book, Entangling Vines.

This is a book of 282 koans first published in Japan during the early Edo Period (1600-1868). Koans are special meditation problems that cut through ordinary, dualistic thought and help bring the practicer tospiritual awakening. The Zen master poses koan to his students to work on during meditation and daily life, and checks their progress during special one-to-one meetings called sanzen. A koan is not something you can understand through logic, you must break through to the state of mind that the koan expresses. This leads to a deepening in the meditator's understanding. My own teacher uses the koan with his foreign disciples, many of whom cannot understand Japanese. For that reason I began to work on English translations, and finally I just decided to do them all. I guess that was what got me started on this project.

Could you give us an example of a koan?

One of the most famous koan is Case #9 in Entangling Vines. A monk went to Zhaozhou, a famous Chinese Zen master, and asked, "Why did Bodhidharma [the founder of Zen] come all the way to China from India?" The teacher replied, "The juniper tree in the garden!" The monk asked again, but the teacher gave the same answer. The significance of Zhaozhou's response is that we, the juniper tree, and the universe are all one. But, of course, this is an understanding that we can only come to through the deep practice of meditation.

Who is the target audience for this book?

The book is intended mainly for Zen practicers, but I think it might also be interesting for people with an interest in poetry and literature. Their way of understanding the koan would be be different from that of Zen, of course, but there is nothing wrong with this. The koans have many layers of meaning, and there is no single "correct" understanding. Entangling Vines might also be useful for people suffering from insomnia as well, read ten pages, and you're sure to fall asleep!

Could you tell us a bit about Zen monastic life?

The daily schedule varies a bit at different Zen temples, but typically we wake up before four in the morning, and as early as 3:30 in summer. After arising, we chant sutras for an hour while beating a wooden temple drum. After that, we sit zazen for an hour, then see the master, one by one, for sanzen. This is followed by a breakfast of rice gruel. In the morning there is work or mendicancy (takuhatsu). After lunch there is a break, followed by work in the afternoon. Supper is at about 4:30, and after that there is meditation until about 10:00 or 11:00 at night.

Please tell us what you think of Kyoto.

I live in Kyoto not for the city itself, but because Kyoto is the heart of Zen culture in Japan and one of the best places to practice Zen. But I enjoy life here. Kyoto is just the right size. It's not a huge metropolis like Tokyo, yet it offers almost everything that Tokyo does. And many interesting and talented people live here. For that reason I think it's a wonderful city.
U.S. priest delivers book on Zen philosophy
by Kenichi Okumura, Daily Yomiuri, Dec 11, 2008
KYOTO, Japan -- A newly published book edited by an American Zen priest who lives in Kyoto provides an in-depth explanation of Zen Buddhism in English.
http://buddhistchannel.tv/index.php?id=44,7505,0,0,1,0

Thomas Kirchner, a 59-year-old associate researcher at the International Research Institute for Zen Buddhism at Hanazono University in Kyoto, spent 10 years working on "The record of Linji," a comprehensive tome supported by extensive footnotes and references.

Linji is a Zen denomination, and is known as Rinzai in Japanese. Kirchner, who lives in a temple in Kyoto, says the record of Linji has been an essential text of Chinese and Japanese Zen Buddhism for nearly a thousand years.

The mammoth task of translating the text into English was actually begun decades ago by Ruth Fuller Sasaki, an American who had been married to legendary Zen master Shigetsu Sasaki.

The couple lived together in the United States, but after Shigetsu's death, Ruth Sasaki moved to Japan in 1949 and began translating the record of Linji with the help of young Japanese and Western scholars.

She died suddenly in 1967, and though the project was nearly completed, progress ground to a halt.

Kirchner was approached by senior priests in 1998 about completing the project. He agreed, and was given about 10 folders of research documents collected by Sasaki.

Kirchner devoted himself to putting the finishing touches to the book, which introduces readers to Buddhist philosophy and Zen history. He says: "The book even explains the relationship between Zen and Chinese Confucianism and Taoism. That kind of background information can help people better understand Zen and Buddhism."

Hundreds of foreigners practice Zen in Japan, Kirchner says, along with thousands more around the world.

"Since many people who are interested in Zen are intelligent and influential, Zen maintains a relatively high profile in the United States and Europe," he says.

Kirchner has practiced Zen himself since first coming to Japan at the age of 20.

"To question who I am has great meaning in my life. I feel my own growth through Zen," he says.

"To be honest, Zen used to be a pain for me, like homework is for students. But now Zen itself is my sole aim in life."