ZEN MESTEREK ZEN MASTERS
« Zen főoldal
« vissza a Terebess Online nyitólapjára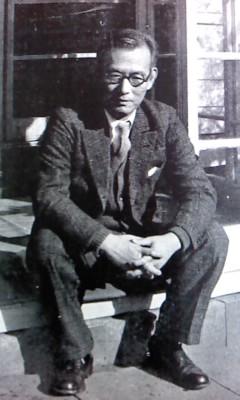 高橋新吉 Takahashi Shinkichi (1901-1987)

高橋新吉
たかはししんきち
(1901―1987)

詩人。愛媛県に 生まれる。 八幡浜 (やわたはま) 商業学校を卒業目前に中退。初め福士幸次郎の影響を受けたが、のちに『萬朝報 (よろずちょうほう) 』紙上に紹介されたダダイズム宣言に深い感銘を受け、1923年(大正12)辻 (つじ) 潤の編集になる詩集『ダダイスト新吉の詩』を刊行、詩壇に強い衝撃を与えた。その後詩集には『新吉詩抄』(1936)、『霧島』(1942)、『胴体』(1956)ほかがあるが、しだいに仏教的、東洋的観念の深いものとなっていった。ほかに小説『ダダ』(1924)、『狂人』(1936)、『ダガバジジンギヂ物語』(1965)、美術論集『すずめ』1~10(1961~70)や、『参禅随筆』(1958)など仏教関係の著作も多い。『高橋新吉全詩集』(1972)によって芸術選奨を受賞した。 [大塚 博]
『『高橋新吉全集』全四巻(1982・青土社)』

https://ja.wikipedia.org/wiki/%E9%AB%98%E6%A9%8B%E6%96%B0%E5%90%89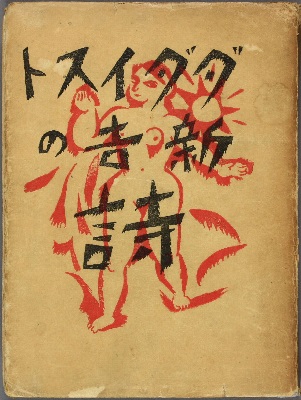 ダダイスト新吉の詩 中央美術社, 1923.
http://www.wul.waseda.ac.jp/kotenseki/html/bunko03a/bunko03a_00510/index.html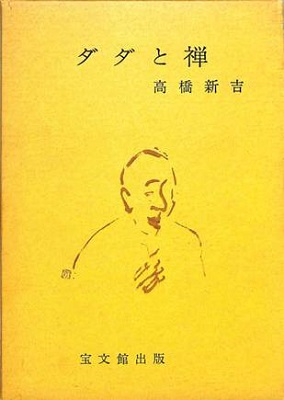 ダダと禅 宝文館出版, 1971.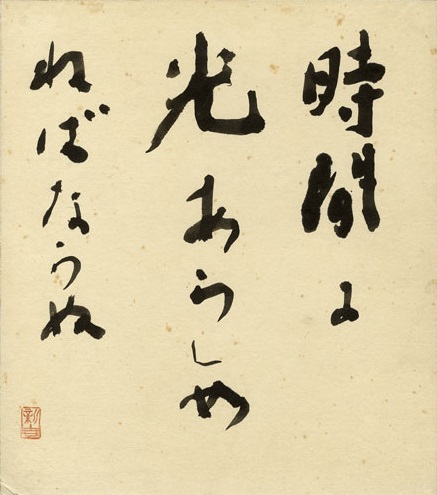 高橋新吉色紙 「時間よ光あらしめばならぬ 印」

Shinkichi Takahashi – Japanese Dadaist
By burnthewater July 2, 2014
https://burnthewater.wordpress.com/2014/07/02/shinkichi-takahashi-japanese-dadaist/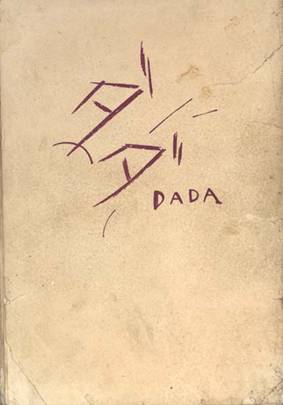 DADA – Shinkichi Takahashi (1924).
Shinkichi Takahashi, the great pioneer of Japanese DADA, the only real Zen poet of note in modern Japanese literature. Here is one of his Dadaist poems:
dish dish dish dish dish dish dish dish dish dish dish dish dish dish dish dish dish dish dish dish dish dish

ennui

passions crawling like a spider on the brow Don't wipe dishes

with the rice colored apron, a woman with black nostrils

Humor is becoming sooty there too. Dissolve life in the water.

On a cooled stew pot weariness floats.

Smash dishes.

Smash dishes and then there will come out the echo of ennui.
Shinkichi Takahashi, Contemporary Japanese Master
In: Zen Poetry: Let the Spring Breeze Enter
Translated by Lucien Stryk and Takashi Ikemoto
New York: Grove, 1995
Cf.
Triumph of the Sparrow: Zen Poems of Shinkichi Takahashi. Translated by Lucien Stryk and Takashi Ikemoto. Grove Press, 2000
After Images: Zen Poems by Shinkichi Takahashi. Translated by Lucien Stryk and Takashi Ikemoto. Doubleday, Anchor Books, 1972
A Wood in Sound

The pine tree sways in the smoke,
Which streams up and up.
There's a wood in sound.

My legs lose themselves
Where the river mirrors daffodils
Like faces in a dream.

A cold wind and the white memory
Of a sasanqua.
Warm rain comes and goes.

I'll wait calmly on the bank
Till the water clears
And willows start to bud.

Time is singed on the debris
Of air raids.
Somehow, here and now, I am another.

Canna

A red canna blooms,
While between us flickers
A death's head, dancing there
Like a pigmy or tiny ball.

We try to catch it—
Now it brushes my hands,
Now dallies with her feet.

She often talks of suicide.
Scared, I avoid her cold face.

Again today she spoke
Of certain premonitions.
How can I possibly
Save this woman's life?

Living as if dead, I shall
Give up my own. She must live.

Thistles

Thistles bloomed in the vast moonlit
Cup of the Mexican sands.

Thistles bloomed on the round hillock
Of a woman's heart.

The stained sea was choked with thistles,
Sky stowed away in thistle stalks.

Thistles, resembling a male corpse, bloomed
Like murex from a woman's side.

At the thorny root of a yellow cactus plant
A plucked pigeon crouched,

And off in the distance a dog whimpered,
As if swallowing hot air.

Burning Oneself to Death

That was the best moment of the monk's life.
Firm on a pile of firewood
With nothing more to say, hear, see,
Smoke wrapped him, his folded hands blazed.

There was nothing more to do, the end
Of everything. He remembered, as a cool breeze
Streamed through him, that one is always
In the same place, and that there is no time.

Suddenly a whirling mushroom cloud rose
Before his singed eyes, and he was a mass
Of flame. Globes, one after another, rolled out,
The delighted sparrows flew round like fire balls.

The Pipe

While I slept it was all over,
Everything. My eyes, squashed white,
Flowed off toward dawn.

There was a noise,
Which, like all else, spread and disappeared:
There's nothing worth seeing, listening for.

When I woke, everything seemed cut off.
I was a pipe, still smoking,
Which daylight would knock empty once again.

Destruction

The universe is forever falling apart—
No need to push the button,
It collapses at a finger's touch:
Why, it barely hangs on the tail of a sparrow's eye.

The universe is so much eye secretion,
Hordes leap from the tips
Of your nostril hairs. Lift your right hand:
It's in your palm. There's room enough
On the sparrow's eyelash for the whole.

A paltry thing, the universe:
Here is all strength, here the greatest strength.
You and the sparrow are one
And, should he wish, he can crush you.
The universe trembles before him.

What Is Moving

When I turned to look back
Over the waters
The sky was birdless.

Men were, are born.
Do I still live? I ask myself,
Munching a sweet potato.

Don't smell of death,
Don't cast its shadow.
Any woman when I glance her way,
Looks down,
Unable to stand it.
Men, as if dead,
Turn up the whites of their eyes.

Get rid of those trashy ideas—
The same thing
Runs through both of us.
My thought moves the world:
I move, it moves.
I crook my arm, the world's crooked.

The Peach

A little girl under a peach tree,
Whose blossoms fall into the entrails
Of the earth.

There you stand, but a mountain may be there
Instead; it is not unlikely that the earth
May be yourself.

You step against a plate of iron and half
Your face is turned to iron. I will smash
Flesh and bone

And suck the cracked peach. She went up the mountain
To hide her breasts in the snowy ravine.
Women's legs

Are more or less alike. The leaves of the peach tree
Stretch across the sea to the end of
The continent.

The sea was at the little girl's beck and call.
I will cross the sea like a hairy
Caterpillar

And catch the odor of your body.

Quails

It is the grass that moves, not the quails.
Weary of embraces, she thought of
Committing her body to the flame.

When I shut my eyes, I hear far and wide
The air of the Ice Age stirring.
When I open them, a rocket passes over a meteor.

A quail's egg is complete in itself,
Leaving not room enough for a dagger's point.
All the phenomena in the universe: myself.

Quails are supported by the universe
(I wonder if that means subsisting by God).
A quail has seized God by the neck

With its black bill, because there is no
God greater than a quail.
(Peter, Christ, Judas: a quail.)

A quail's egg: idle philosophy in solution.
(There is no wife better than a quail.)
I dropped a quail's egg into a cup for buckwheat noodles,

And made havoc of the Democratic Constitution.
Split chopsticks stuck in the back, a quail husband
Will deliver dishes on a bicycle, anywhere.

The light yellow legs go up the hill of Golgotha.
Those quails who stood on the rock, became the rock!
The nightfall is quiet, but inside the congealed exuviae

Numberless insects zigzag, on parade.

Rain

The rain keeps falling,
Even in dreams.
The skull leaks badly.

There's a constant dripping
Down the back.
The rain, which no one

Remembers starting,
Keeps falling,
Even on the finest days.

The Position of the Sparrow

The sparrow has cut the day in half:
Afternoons—yesterday's, the day after tomorrow's—
Layer the white wall.
Those of last year, and next year's too,
Are dyed into the wall—see them?—
And should the wall come down,
Why, those afternoons will remain,
Glimmering, just as they are, through time.
(That was a colorless realm where,
Nevertheless, most any color could well up.)

Just as the swan becomes a crow,
So everything improves—everything:
No evil can persist, and as to things,
Why, nothing is unchangeable.
The squirrel, for instance, is on the tray,
Buffalos lumber through African brush,
The snail wends along the wall,
Leaving a silver trail.
The sparrow's bill grips a pomegranate seed:
Just anything can resemble a lens, or a squirrel.

Because the whole is part, there's not a whole,
Anywhere, that is not part.
And all those happenings a billion years ago,
Are happening now, all around us: time.
Indeed this morning the sparrow hopped about
In that nebulous whirlpool
A million light years hence.
And since the morning is void,
Anything can be. Since mornings
A billion years from now are nothingness,
We can behold them.
The sparrow stirs,
The universe moves slightly.

Stitches

My wife is always knitting, knitting:
Not that I watch her,
Not that I know what she thinks.

(Awake till dawn
I drowned in your eyes—
I must be dead:
Perhaps it's the mind that stirs.)

With that bamboo needle
She knits all space, piece by piece,
Hastily hauling time in.

Brass-cold, exhausted,
She drops into bed and,
Breathing calmly, falls asleep.

Her dream must be deepening,
Her knitting coming loose.

Fish

I hold a newspaper, reading.
Suddenly my hands become cow ears,
Then turn into Pusan, the South Korean port.

Lying on a mat
Spread on the bankside stones,
I fell asleep.
But a willow leaf, breeze-stirred,
Brushed my ear.
I remained just as I was,
Near the murmurous water.

When young there was a girl
Who became a fish for me.
Whenever I wanted fish
Broiled in salt, I'd summon her.
She'd get down on her stomach
To be sun-cooked on the stones.
And she was always ready!

Alas, she no longer comes to me.
An old benighted drake,
I hobble homeward.
But look, my drake feet become horse hoofs!
Now they drop off
And, stretching marvelously,
Become the tracks of the Tokaido Railway Line.

Afterimages

The volcanic smoke of Mount Aso
Drifted across the sea, white ash
Clinging to mulberry leaves
And crowning the heads of sparrows.

An open-mouthed lava crocodile;
A sparrow like a fossil sprig,
The moon filling its eyes;
A colossal water lizard stuck to a dead tree,
Its headland tail quaking.

A cloud floats in my head—beautiful!
When the sparrow opens its eyes,
Nothing but rosy space. All else gone.

Don't tell me that tree was red—
The only thing that moved, ever closer,
Was a girl's nose. All mere afterimages.

Water, coldness itself, flows underfoot.

The sparrow, eyes half closed, lay in an urn
In the pit. Now it fans up. The earth's
Fiery column is nearly extinguished.

Shell

Nothing, nothing at all
is born,
dies, the shell says again
and again
from the depth of hollowness.
Its body
swept off by tide—so what?
It sleeps
in sand, drying in sunlight,
bathing
in moonlight. Nothing to do
with sea
or anything else. Over
and over
it vanishes with the wave.

Mushroom

I blow tobacco smoke
into her frozen ear.
A swallow darts above.

Pleasures are like mushrooms,
rootless, flowerless,
shoot up anywhere.

A metal ring hangs
from her ear, mildew
glowing in the dark.

Flight of the Sparrow

Sparrow dives from roof to ground,
a long journey—a rocket soars
to the moon, umpteen globes collapse.

Slow motion: twenty feet down, ten billion
years. Light-headed, sparrow does not think,
philosophize, yet all's beneath his wings.

What's Zen? "Thought," say masters,
"makes a fool." How free the brainless
sparrow. Chirrup—before the first "chi,"

a billion years. He winks, another. Head left,
mankind's done. Right, man's born again.
So easy, there's no end to time.

One gulp, swallow the universe. Flutter
on limb or roof—war, peace, care banished.
Nothing remains—not a speck.

"Time's laid out in the eavestrough,"
sparrow sings,
pecks now and then.

Sky

Climbing the wax tree
to the thundering sky,
I stick my tongue out—
what a downpour!

Sparrow in Withered Field

Feet pulled in, sparrow dead
under a pall of snow.
"Sparrow's a red-black bird,"
someone says, then—
"sun's a white-winged bird."

If the bird sleeps, so will man:
things melt in air, there's only breathing.
You're visible, nose to feet,
and while an ant guard rams a 2-by-4
genitals saunter down the road.

Budge them, they'll roll over—
pour oil on them, light up.

Atom of thought, ten billion years—
one breath, past, present, future.

Wood's so quiet. I cover my ears—
how slowly the universe crumbles.

Snow in withered field, nothing to touch.
Sparrow's head clear as sky.

Afternoon

My hair's falling fast—
this afternoon
I'm off to Asia Minor.

Hand

I stretch my hand—
everything disappears.

I saw in the snake-head
my dead mother's face,

in ragged clouds
grief of my dead father.

Snap my fingers—
time's no more.

My hand's the universe,
it can do anything.

Sweet Potato

Of all things living
I'd be a sweet potato,
fresh dug up.

Camel

The camel's humps
shifted with clouds.

Such solitude beheads!
My arms stretch

beyond mountain peaks,
flame in the desert.

Raw Fish and Vegetables

When unborn, my mother minced
time with her rusty knife—
rain-soft, grained like cod-roe.
When ready, I burst from her womb.

Nothing better to do, I try
to relive that first house:
no one else there, however I
kicked touching nothing in
darkness—mite in a whale.

Posterity aeons hence, listen:
time's a white radish, pickled,
yellowing. My father swam that
vinegar's raw fish and vegetables.

Downy Hair

Charmed by a girl's soft ears,
I piled up leaves and burnt them.

How innocent her face
in rising smoke—I longed

to roam the spiral of those ears,
but she clung stiffly

to the tramcar strap, downy
hair fragrant with leafsmoke.

Toad

"The instant he boarded the plane
Toad was in London"—wrong.

Toad's unaware of distance,
between his belly and man's,
between himself, the crushing wheel.

"Shrinking utterly, he's nowhere"—right.
London, Tokyo flattened by webbed feet
all at once. In the marsh—no distance, sound—
a scaly back is overgrown with moonflowers.
Drizzle

Cat runs the dripping fence,
melts into green shade
hollow as thought lost.

Earth in a claw of dead cat,
guts strewn on pavement—
time, those needle eyes.

In the garret three kittens lap.
An old woman, like a crumpled bill,
tries to recall cat's name.

Sea of Oblivion

Future, past, the sea
of oblivion,
with present capsized.

Sun splits the sea
in two—
one half's already bottled.

Legs spread on the beach,
a woman feels
the crab of memory

crawl up her thigh.
Somewhere
her lover drowns.

Sand-smeared, bathing
in dreams,
the young leap against each other.

Cloud

I'm cheerful, whatever happens,
a puff in sky—
what splendor exists, I'm there.

Mother and I

While boats list in port
sunset ripens
the forest of Hakone.

Men fall like raindrops.
I perch on
a chair, open my umbrella.

Cloud-burst. Smiling, mother
sits up in
her coffin. Ages ago.

Tomorrow Columbus will reach
(was it?)
Venezuela, this hand

will embrace or kill—takes
but a finger.
Under white sail, the universe.

Sheep

Awaking on grass, sheep, goat
stay put—how fine doing nothing.
Crow points from dead branch.

Sheep could care less—life, death,
all one where she lies
soft warm wool. Goat bleats,

horns sun-tipped. What's better
than warmth? sheep muses, sharing
her wonder with goat, with crow.

Eternity

Ice on eaves, sparrow melts in my head,
cracked shapeless, no hint of brain.

Sparrow's long journey. Now road flowers,
young girls breasting wheat.

(Once fry shot upstream towards clouds.)

Sparrow blinked: drifting on the moonlit sea,
a woman, legs octopus arms, waves biting

to black eyes. No need to grasp, no rim,
depth, shallowness—sun's steering

round the navel, galaxies whirl the spine.
Snow's hip-high, thighs stiff with frost.

(Sweet as fish, how fresh death's breeze.)

Sparrow and Bird-Net Building

Sparrow's always sleeping—
meanwhile
a building surrounds him.

Snoop, shoot up the
elevator,
quite alone: the building's

a pinch of dust. No day,
night,
so light strikes from

his throat, under a wing
glow
sun, moon, stars. No one's here,

no one's expected for a billion
years.
Sparrow dreams, sparrow knows.

Clay Image

Near the shrine, humped back,
bird on pole—eyes, warm
as folded wings, reflect
the penumbra of the universe.

On the horizon,
a cylindrical building,
once bird, now mud and stone.

Birth's a crack in the
ground plan. Since universe
is no bigger than its head,
where's the bird to fly?

Who says bird's eyelashes
are short? A lump,
time rolled from nostril.

Cooling the bird's hot tongue,
the unglazed red clay image.

Its eyes dark, and in their
cavities—
minute vibrations, earthquakes.

Gods

Gods are everywhere:
war between Koshi and Izumo
tribes still rages.

The all of All, the One
ends distinctions.

The three thousand worlds
are in that plum blossom.
The smell is God.

Braggart Duck

Duck lives forever,
daily. Waking, he finds
he's slept a billion years.

The very center of the
universe, he has no use
for eyes, ears, feet.

What need for one
who knows his world
of satellite stations?

Freed from time,
changeless. Duck's not
sharp as dog shooting

through space, a rocket.
Besides he's
been there already.

Stone Wall

Flower bursts from stone,
in rain and wind
dog sniffs and aims a leak.
Butterfly-trace through haze
where child splashes.

Over the paper screen,
a woman's legs, white, fast.
No more desire, I'm content.

Later I saw her, hands
behind her back—
repulsing nothing really,
welcoming sun
between her thighs.

Near the stone wall,
a golden branch.

Beach

Gale: tiles, roofs whirling,
disappearing at once.

Rocks rumble, mountains
swallow villages,
yet insects, birds chirp by
the shattered bridge.

Men shoot through space,
race sound. On TV nations
maul each other, endlessly.

Why this confusion,
how restore the ravaged
body of the world?

Moon and Hare

Things exist alone.
Up on the moon
I spot Hare

in a crater
pounding rice to cakes.
I ask for one.

"What shape?" says Hare.
"One like a rocket."
"Here—take off!"

Up and out,
pass everything
at once,

free at last—
unaware of
where I'm heading.

Lap Dog

Lap dog in a cloth-wrapped box,
moist eyes, nose,
I tote you in place
of your evaporated mistress.

I'd like to brew down, devour,
ten thousand mini-skirted legs.

Body torn, yet spirit's whole,
no knife can reach it.
Dawn breaks from her buttocks.

Runaway tramcar thunders by,
sun-flash! Fling
the lap dog down a manhole.

Ha! Sun-blade's in her back.

Moon

Moon shines while billions
of corpses rot
beneath earth's crust.
I who rise from them,
soon to join them—all.
Where does moon float?
On the waves of my brain.

Vimalakirti

Vimalakirti, Vaishali
millionaire, sutra hero,
in bed in his small space—

while you're sick,
I'll lie here.
Revive, I'm whole.

Illness, a notion,
for him body is sod, water—
moves, a fire, a wind.

Vimalakirti, layman hero,
at a word draws galaxies
to the foot of his bed.

Snowy Sky

The blackbird swooped,
eyes shadowing earth, dead leaves,
feathers tipped with snow.

One finds beaches anywhere,
airports, skies of snow.

Perched on the ticket counter,
blackbird watches
the four-engined plane land,
propellers stilled.

Dead leaves flutter from the sky.

Near Shinobazu Pond

A bream swam by the tramcar window,
the five-tiered pagoda bright in rain.

On the telephone wire, sparrow—
amused, in secret dialogue.

Voiceless, rock glimmers with
a hundred million years.

Day before yesterday, the dead sparrow
hopped on the fish-tank

where froth-eyed salamander
and a tropic fish curled fins.

The sparrow, spot of rose among
the lotus leaves, stirs evening air.

Let's Live Cheerfully

Dead man steps over sweaty sleepers
on the platform, in quest of peace.

Thunderously dawn lights earth.

Smashed by the train, head spattered
on the track—not a smudge of brain.

Nothing left: thought—smoke.
A moment—a billion years.

Don't curl like orange peel, don't ape
a mummified past. Uncage eternity.

When self's let go, universe is all—
O for speed to get past time!

Rocks

Because the stake was driven
in that rice paddy,
world was buried in mud.

Rocks dropped like birds
from the crater:
being is mildew spread on non-being.

Rocks that were women stand,
wooden stakes, everywhere,
give birth to stones.

No-minds—whirling, flying off, birds.

Urn

Autumn blast—wild boar
limps, one leg dead grass.
Bird sings, feathers tattered,
eyes stiff twigs.
Boar gives his own.

As those bronze cavities
decay, he fuses into rock,
sets it and bird to flame,
and meteors to the sky.

Boar flashes on the sun,
red tail severed, scorching:
urn, inlaid with gold
and silver, holds the image.

Through night, glittering
with millet seeds,
boar shoots, a comet.

Spring

Spring one hundred years ago
was very warm: it's in my
palm, such life, such gaiety.

Future is a bird streaking
aimlessly, past is dregs—
everything's here, now.

Thought sparking thought
sparking thought: headlands
pocked by time, the ram of tides.

Rock rising, rock sinking.
No space, what was is nowhere—
a hundred years hence,

spring will be as warm.

Peach Blossom and Pigeon (painting by Kiso)

Pink petals of peach blossom,
blue/green pigeon's head,

eyes bamboo slits, rainbow
wings fold in all history.

Black tail down, you fly to
future's end, beyond the sun.

To clear the air, make sweetest
scent, you bulge your breast.

Branch in your coffee-colored claws,
wait till phantom bubbles burst around.

Spinning Dharma Wheel

A stone relief I never tire of:
life-sized Buddha, broken nose,
hair spiraling, eyes serene moons,
chipped mudra-fingers at the breast,
legs crossed in lotus. Under each arm
a red line streams—warm blood.
Around the halo, angels among flowers,
on either side, beasts, open-mouthed,
on guard. He turns the treasure wheel.
Three thousand years since Buddha
found the morning star—now
sun itself is blinded by his light.

Four Divine Animals

Snake swam across the blue stream.
You've seen its slough—your own?

Tiger in the white bamboo, eyes hard:
learn from this—to see death
is to see another, never oneself.

Flames char the bamboo grove,
the vermilion sparrow has flown
into a fossil—just like that.

Tortoise moves, a slow fire,
down hill, flushed in sunset—
claws death to shreds, red, brown.

Tiger's soft tongue laps a dragon
from the sea. Sparrow, riding
a shell-tank, makes for its belly.

What's this? My body's shaking with laughter.

A Little Sunlight

Trees in the wood lifeless,
leaves pall the earth.
On a large drift the red-sweatered

woman waits. There's just
a blink of sun, a leaf blows
on her face. The man comes up

quietly, lies down beside her.
Soon she takes off alone,
toting her case. He prays

(I hear him now) all may go well
with her. A plane roars above,
he snuffs his cigarette.

Two dead leaves blow apart.

Explosion

I'm an unthinking dog,
a good-for-nothing cat,
a fog over gutter,
a blossom-swiping rain.

I close my eyes, breathe—
radioactive air! A billion years
and I'll be shrunk to half,
pollution strikes my marrow.

So what—I'll whoop at what
remains. Yet scant blood left,
reduced to emptiness by nuclear
fission, I'm running very fast.

Railroad Station

A railroad station, a few
passengers getting on, off,
a closed stall on the platform.

Is it there or in my head,
floating on the creases
of my brain? No need to stay

or leave, a place so quiet:
ticket window, wicket, employees—
none. But there's a samurai

committing suicide. Station
master cocks the camera's eye,
proof of his diligence.

Train skims rails of my brain,
what's hanging to that strap
is briefcase, camera, no man.

Absence

Just say, "He's out"—
back in
five billion years!
Afterword
Death of a Zen Poet: Shinkichi Takahashi (1901—1987)
by Lucien Stryk
It was one of those moments one stands outside one's body, staring at the silhouette, dumbstruck, not wanting to believe words coming in. The phoned message from Japan was that the greatest modern Zen poet had died. I waited for the eulogies, a voice to cry out at the passing of a man who made fresh visions of the world, made wild and powerful music out of anything: shells, knitting, peaches, an airplane passing between his legs, the sweet-sour smell coming from a cemetery of unknown soldiers, the crab of memory crawling up a woman's thigh, a sparrow whose stir can move the universe. A man who showed that things loved or despised were, when all's said and done, as important and unimportant as each other. But all was silence as I looked out, hoping for a cloud of his beloved sparrows bearing his karma wheel around the earth.
I realized that he might prefer it this way. Yet there remain the masterworks, his gift to us, in spite of his mixed feelings on the handing down of insight with mere words. "If we sit in Zen at all," he says in the foreword to Afterimages, a collection of his poems, "we must model ourselves on the Bodhidharma, who kept sitting till his buttocks grew rotten. We must have done with all words and letters, and attain Truth itself. As a follower of the tradition of Zen which is above verbalization, I must confess that I feel ashamed of writing poems and having collections of them published. My wish is that through books like this the West will awake to the Buddha's Truth. It is my belief that Buddhism will travel round the world till it will bury its old bones in the ridges of the Himalayas."
Yet, paradoxically, Shinkichi Takahashi was one of Japan's most prolific poets, greatly honored (his Collected Poems won the Ministry of Education's Prize for Art), thought by the Japanese to be their only poet who could properly be called a Zen poet, for his practice of the discipline was exceptionally pure. He discovered early in life that unless he grappled with the severest of the doctrine's principles he would not be living, or writing, worthily. Yet, stuffy as this sounds, there was much humor in him, as in all enlightened Zenists:
Afternoon

My hair's falling fast—
this afternoon
I'm off to Asia Minor.

The Pink Sun

White petals on the black earth,
Their scent filling her nostrils.

Breathe out and all things swell—
Breathe in, they shrink.

Let's suppose she suddenly has four legs—
That's far from fantastic.

I'll weld ox hoofs onto her feet—
Sparks of the camellia's sharp red.

Wagging her pretty little tail,
She's absorbed in kitchen work.

Look, she who just last night
Was a crone is girl again,

An alpine rose blooming on her arm.
High on a Himalayan ridge

The great King of Bhutan
Snores in the pinkest sun.
The poet, born in 1901 in a fishing village on Shikoku, smallest of Japan's four main islands, was largely self-educated, but broadly so: writing extensively on many aspects of Japanese culture, he introduced an important series of art books and had a successful career as a man of letters. Not bad for one who had dropped out of high school and rushed off to Tokyo in hope of a literary career. There he contracted typhus and, penniless, landed in a charity hospital. His circumstances forced him to return to his village. But one day, fired up by a newspaper article on dada-ism, he returned to Tokyo, working as a waiter in a shiruko restaurant (shiruko is red-bean soup with bits of rice cake) and as a "pantry boy" in a newspaper office, running errands and serving tea.
In 1923 he brought out Dadaist Shinkichi's Poetry. The first copy of it was handed him through the bars of a police cell—at this time he was often in trouble for impulsive actions—and he tore it up without so much as a glance. Other collections followed, but by 1928 he knew his life was in dire need of guidance, and like many troubled artists he sought the advice of a Zen master. He could not have chosen better. Shizan Ashikaga, illustrious Rinzai Zen master of the Shogen Temple, was known to be a disciplinarian, one not likely to be impressed by a disciple's literary forays.
At first the toughness of the training proved too much. Pacing the temple corridor, he fell unconscious; when he came to, he was incoherent. Later he was to write that this was inevitable, considering how completely different ascetic exercises were from his daily life and with what youthful single-mindedness he had pursued them. He was sent back to his family and virtually locked up in a small (two-mat) room for three long years. During this confinement he wrote many poems, which may have helped him to survive the ordeal and recover.
Back in Tokyo in 1932, Takahashi began attending Master Shizan Ashikaga's lectures on Zen. Shizan once cautioned him, "Attending lectures cuts no ice. Koan exercise [meditation on Zen problems set by a master] is all-important." Takahashi became his disciple in 1935. During almost seventeen years of rigorous training he experienced both great hardships and exultations of satori. By 1951, having learned all that he could, he was given, in the master's own calligraphy, "The Moon-on-Water Hall"—his inka, or testimony that he had successfully completed the full course of discipline, one of only seven over many years so honored by the master.
Takahashi visited Korea and China in 1939 and was deeply impressed by Zenists he met there. He lived chiefly by his writings, and in 1944 began work for a Tokyo newspaper, leaving when its office was bombed out in 1945. He married in 1951 and lived with his wife and their two daughters in great serenity, a life he scarcely could have dreamt of in his turbulent youth.
The poet had distinguished himself in many ways by the time the first translated collection of his poems, Afterimages, appeared (simultaneously in the United States and England in 1970) to much acclaim. A reviewer in the Hudson Review observed that while other poets, East and West, would appear to descend from time to time into the natural world, Takahashi would emerge from it like a seal from the depths of the sea, his constant element. But it wasn't sea or nature the poet lived in, it was Zen.
Yet that would hardly account for the appeal of his work, especially among fellow poets, throughout the world, with or without interest in Zen. He was foremost an artist. Many aestheti-cians have spoken of the difficulty of defining art, yet some artists have on occasion chosen to speak out, as did Tolstoy in What Is Art? Tolstoy identified three essential ingredients of effective art—individuality, clarity and sincerity—and to the degree that each, in combination with the others, was present, a work could be ranked on a scale of merely acceptable to necessary. Tolstoy was a moralist in all such matters, and never tired of inveighing against aesthetic notions based largely on the pleasure principle, among them "art for art's sake"—life was too serious for such twaddle.
Though as a Zenist Takahashi was not inclined to theorize on literary matters, he might well have agreed with Tolstoy. Surely none would question the sincerity (integrity?) of his work, and that it should be individual, as all true Zen art, is perhaps axiomatic. It is the remaining essential in Tolstoy's triad, clarity, that some may claim is critically missing. But as the poet often said, the very nature of the Zen pursuit, the attainment of spiritual awakening, rules out likelihood of easy accessibility to its arts. "When I write poems," he told me, "no allowances can be made. Thought of a poem's difficulty never troubles me, since I never consciously make poems difficult."
A major reason for the difficulty of Zen poems, throughout the fifteen hundred years they have been written, is that many, perhaps the best known and most valued in and out of Zen communities, are those of "mutual understanding" (agyo or toki-no-ge in Japanese). Such poems are basically koan interpretations, as is the following piece, "Collapse," written by Takahashi early in Zen training:
Time oozed from my pores,
Drinking tea
I tasted the seven seas.

I saw in the mist formed
Around me
The fatal chrysanthemum, myself.

Its scent choked, and as I
Rose, squaring
My shoulders, the earth collapsed.
This, Takahashi told me, was written in response to a koan his master asked him to meditate on, one often given disciples early in training, "Describe your face before you were begotten by your parents." We observe the poet deep in zazen (formal Zen meditation), experiencing the extraordinary expansions and penetrations sometimes realized by the meditator. Suddenly, in the mist, he sees that face and is repulsed ("Its scent choked"). He rises, freed from it, ready for anything. The old world breaks up, and he enters the new.
Though Takahashi was always forthcoming with me about circumstances that may have led to the making of such poems (I was, after all, his translator), he was reluctant to reveal the manner in which they were received by the master, feeling such revelations would be too intimate. That attitude is only natural, perhaps, and besides, Zenists are cautioned to avoid such disclosures. The poet did confide, however, that the following was his versification of the master's response to one of his koan-based poems:
Words

I don't take your words
Merely as words.
Far from it.

I listen
To what makes you talk—
Whatever that is—
And me listen.
It is intriguing to imagine the scene: poet sitting before master for sanzen (a meeting for discussion of progress with koan), daring to complain that his interpretive poem was being misunderstood. "Words," expressing more than gentle reproach, relates intimately to a special bond, while at the same time it defines perhaps the nature of such talk, in or out of a zendo (meditation hall). As one might suppose, there are no correct interpretations. The koan is meant to dislodge, throw off balance, and the adequate poem reveals to what degree the disciple has righted himself—nothing more or less. And the more successful the interpretation, the finer the poem as poem.
The poem of mutual understanding, important to Zen since the T'ang dynasty, is a clear gauge of progress in discipline. It is not "poem" until such judgment is made, not by a literary critic but by a qualified master. Most awakening poems are of this type, though hardly planned or anticipated. Only a master, aware of his disciple's needs, lacks and strengths, knows whether the longed-for breakthrough has been made. The poem tells all, accompanied of course by numerous signs in conduct itself, in speech, walk, work and relationship with others.
The Japanese master Daito (1282–1337), when a disciple, was given by his master the eighth koan of Hekiganroku, a Chinese work of great antiquity made up of one hundred Zen problems with commentary. Daito, who gained satori from his struggle with the koan, wrote at least two poems of mutual understanding based on it. Here is the text of the koan and the two most important poems it inspired:
Attention! Suigan, at the end of the summer, spoke to the assembly and said: "For the whole summer I have lectured to the brethren. Look! Has Suigan any eyebrows?" Hofuko said, "He who does robberies has a heart of deceit." Chokei said, "They grow." Unmon said, "A barrier!"

Unmon's barrier pulled down, the old
Path lost. Blue sky's my home,
My every action beyond man's reach:
A golden priest, arms folded, has returned.
At last I've broken Unmon's barrier!
There's exit everywhere—east, west; north, south.
In at morning, out at evening; neither host nor guest.
My every step stirs up a little breeze.
Not all awakening poems are written in response to koan. Often a master, in normal conversation, will unconsciously challenge disciples to grapple with more general things. The subject of Time is much discussed in Zen communities. Takahashi once told me that the following lines came about that way.
Time

Time like a lake breeze
Touched his face.
All thought left his mind.

One morning the sun, menacing,
Rose from behind a mountain,
Singeing—like hope—the trees.

Fully awakened, he lit his pipe
And assumed the sun-inhaling pose:
Time poured down—like rain, like fruit.

He glanced back and saw a ship
Moving toward the past. In one hand
He gripped the sail of eternity,

And stuffed the universe into his eyes.
The American poet Richard Ronan, in his master's thesis, "Process and Mastery in Bashō and Wallace Stevens," dealt most convincingly with this and other Takahashi poems. He wrote:
The "lake breeze" is an allusion to the Hindu concept of nirvana, literally to be "blown away," a concept from which the Japanese satori, enlightenment, is derived. Reaching nirvana/satori, one's relativity is necessarily blown away, leaving only one's essential nature, which is identical to that of the Void, the Buddhist Absolute. Having conquered the sun of Time, the speaker inhales it, absurdly smoking his pipe. He consumes the universe by seeing it for the first time as it is. "Devouring time" is devoured by the poet's satori conquest of the relative.
The conquest of the relative, the leap from the conditioned to an unconditioned plateau of being, is the extraordinary goal of Zen, and it is the reigning paradox of Zen art that work so private, of "mutual understanding," should have such broad appeal. In order for the Zenist to take the leap, he must attain a state of no-mind (wu-hsin in Chinese)—"All thought left his mind" in Takahashi's "Time"—an essential precondition of muga, the full identification of observer and observed. The aesthetic term zenkan (pure seeing) has application to all Zen arts, and what it implies about the practitioner is startling: somehow he has won through, crushed the hungering ego, which in the unenlightened bars realization. The true Zen artist, of whatever medium, is a man risen from that smoldering.
Among modern poets, East and West, Shinkichi Takahashi was distinguished largely through the practice of zenkan, identifying effortlessly with all he observed, through which he ennobled not only his art but life itself. Like all awakened Zenists he found no separation between art and life, knowing the achievement of no-mind led not only to right art but to right living. He rarely used such general terms, but on occasion would explain what the practice of zenkan had meant to him. As an artist, he had engaged for years in intense, unobstructed observation. Things moving, stationary; one no more appropriate than another, no circumstance more or less favorable. He always cautioned, as he himself had been, against dualism, assuring that little by little one learns to know true seeing from false, that it was possible to reach the unconditioned. The world, he claimed, is always pure—we, with our dripping mind-stuff, foul it.
So puzzling to most of us. In the West some—Paul Valéry for one—without reference to Zen or other disciplines, turned in horror from the shifting mind, all a-wobble, twisted this way and that, filled with anxieties. Such men have spoken out of the need to subdue the mind, crush the ego, but where have they offered the way to make that possible? We don't appreciate how wise we are when we speak of troubles being "only in the mind," for born and heavily nourished there, they become giants that slay. When emptied of them and pointed properly, the mind is no longer a destructive agent: it is the only light we need. Zen has been saying this for fifteen hundred years, never more effectively than through its poets, among whom in our lifetime Shinkichi Takahashi was the most profound.
I last saw the poet in the summer of 1985. He had insisted on postponing entering the hospital so that we might meet at his home in Tokyo. Ten years had passed since our last meeting, in the very same room. Though much changed, so weak he could not stand, there was the same vitality in his voice, the old sparkle in his eyes. In the past we had met chiefly to discuss his poems, pieces I was attempting with Takashi Ikemoto's help to render into English. Now we laughed together with his gentle wife, remembering old moments. When a common friend took out a camera, he begged him not to waste the film on him but to instead photograph his inka framed on the wall. Suddenly he looked up, smiled at me and said, "You have seen me on the path of life. Now I am on the path of death." As he spoke, lines from his poem "Life Infinite" flashed through my mind:
Beyond words, this no-thingness within,
Which I've become. So to remain

Only one thing's needed: Zen sitting.
I think, breathe with my whole body—

Marvelous. The joy's so pure,
It's beyond lovemaking, anything.

I can see, live anywhere, everywhere.
I need nothing, not even life.
Shinkichi Takahashi was a remarkable poet. Few in our time have encompassed so much, left such a bracing legacy. How he achieved so much will, I am confident, engage the minds and talents of future scholars, but this I will claim for him: he found early in life what his life most needed, lived it, and wrote it as no other could.
The poet died the night of June 4, 1987. I could only lift my head with gratitude for having known him, and I now offer to his memory a few words:
June 5, 1987

While I wash dishes to
Gregorian chants, what
started out a ho-hum
day—the usual round

of doodles, chores,
anxieties—explodes
with a bright swallowtail
joyriding by the window,

looping where by whitest
columbines a robin, head
cocked to love sounds,
watches as a squirrel

near the old pear tree
quivers astride his mate.
The phone rings, bringing
word Shinkichi Takahashi

died last night.

And so

the world goes on. Now
the squirrels scamper

through the branches,
making leaves dance
like the poet's sparrows
wing-stroking an elegy in air.

LUCIEN STRYK