ZEN MESTEREK ZEN MASTERS
« Zen főoldal
« vissza a Terebess Online nyitólapjára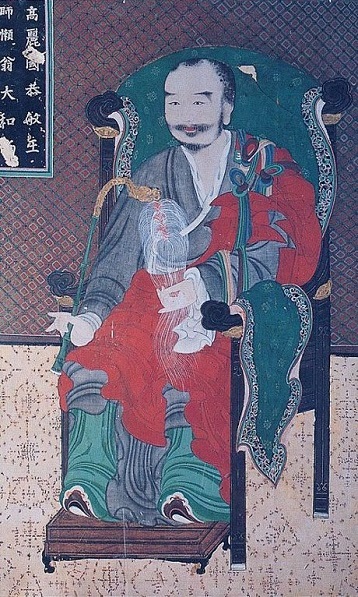 나옹혜근 / 懶翁慧勤 Naong Hyegeun (1320–1376)
(Magyar átírás:) Naong Hjegun

PDF: THE RECORDED SAYINGS OF NAONG
In: The Collected Works of Korean Buddhism
© 2012 by Compilation Committee of Korean Buddhist Thought, Jogye Order of Korean Buddhism
9. VOLUME 8: 禪語錄 SEON DIALOGUES
Edited and Translated by John Jorgensen
http://www.international.ucla.edu/media/files/08_Seon-Dialogues_web-nf-uys.pdf
> pp. 49-51, 54, 395-514.
PDF: SONGS OF PRECEPTOR NAONG (1320–1376) 懶翁和 尙歌 頌
In: The Collected Works of Korean Buddhism
© 2012 by Compilation Committee of Korean Buddhist Thought, Jogye Order of Korean Buddhism
10. VOLUME 9: 詩選集 SEON POEMS: SELECTED WORKS
http://www.international.ucla.edu/media/files/09_Seon-Poems_web-ac-l3s.pdf > pp. 191-222.
ZEN MASTER NAONG HYEGEUN
»Relying entirely on mindfulness of the Buddha,
striving assiduously
abandon your lust and fancies
and enter into Nirvana «
Career
Master Naong lived at a time of much upheaval at the end of the Goryeo Dynasty. Together with Taego Bou, he is regarded as a great Master who helped lay the foundation for the Buddhism in the Joseon era. His dharma name is Hyegeun, his ordination name is Naong, and he also went by the name Gangwolheon, following the name of the room where he stayed for many years. He had the title of "Bojejonja" when he served as a royal monk and was given the posthumous title Seongak.
When the master was twenty, facing the death of one of his companions, he asked his elders where people went when they died, but no one could give him an answer. With a very sad heart, he went to Mt. Gongdeoksan where he was ordained under Master Yoyeon. Following this, he went on pilgrimage to every well-known temple in the nation, practicing diligently until in 1344 (the fifth year of King Chunghye's reign) he had a great awakening at Mt. Cheonbosan's Hoeam-sa in Yangju.
The 14 th century Goryeo of Naong's time was at the height of crisis both politically, owing to the interference of the Yuan in their domestic affairs as well as the dynastic shift on the continent seeing the Yuan being taken over by the Ming, and socially, due to the frequent incursions of Red Turbans and Japanese pirates that were bringing excessive disorder. Moreover, with the rising tide of the Song Confucianism faction bringing an intensification of the militant criticism of Buddhism, favorable conditions for the existence of Buddhism began to narrow. Exerting themselves to overcome this crisis, numerous masters sought out the direct transmission of the Linji chan of Yuan.
At the age of 27, in 1347, Master Naong went to study in the State of Yuan, staying at Fayuan-si in Yanjing. There, he studied under the Indian Master Zhikong for two years. Master Zhikong, known as the 108 th dharma-descendant of Mahakasyapa, was a master of high regard and revered as one of the "108 Great Patriarchs of India. "Following his study with Zhikong, Naong went to Jingci Temple where he was instructed in the dharma by the 18 th Patriarch of the Linji School, Pingshan Chulin, and received his flywhisk, signifying the approval of his enlightenment. In May 1351, he also received the approval of dharma transmission from Master Jigong along with his robes, a flywhisk, and letter written in Sanskrit. In this way, Master Naong had the rare occasion to inherit the trust and confidence of two masters.
In 1355, on the authority of Yuan Emperor Shundi, he resided at Guangji Temple as a missionary, and also received golden brocade robes and a flywhisk made of ivory from the Crown Prince.
Upon his return to Goryeo in 1358, he stayed at many temples, including Sangdu-am Hermitage at Mt. Odaesan, and in 1361, following the order of King Gongmin, he did propagation work at temples such as Singwang-sa, Cheongpyeong-sa, and Hoeam-sa. At this time he supervised the Grand Assembly of Seon Study.
The monk's examinations, which were regarded as prerequisites for conferral of the dharma precepts, had suffered from the stagnation brought on by various squabbles after the reign of King Gojong. However, during the reign of King Gongmin, under the supervision of Naong, the tradition of "examinations for the practice and study of Seon" was once again re-established. This holds a particularly important meaning, because the reimplementation of the monk's exam, which was suspended after the expulsion of Shin Don, greatly helped in reinvigorating the atmosphere of Buddhism and in stimulating the spirit of the sangha.
In 1371, he became a royal monk and served as abbot of Suseon-sa (later Songgwang-sa). Later he became abbot of Hoeam-sa, and through his temple renovation efforts he greatly promoted the teachings of the dharma, receiving ceaseless visits from people in the capital and the neighboring areas.
In 1376, while Naong was in the process of moving to Youngwon-sa in Milseong (present day Miryang) on the king's authority, he passed away at Silleuk-sa in Yeoju on May 15 at the age of 56, after 37 years in the sangha. Among his 2000 plus disciples were Hwanam Honsu (1320-1392) and Muhak Jacho (1327-1425), the latter being known for his great contributions to the foundation of the Joseon dynasty.
Writings
Master Naong's extant literary output includes a volume work titled Sayings of Master Naong and another one volume text, Odes of Monk Naong , and beyond that, a number of texts self-published at his temples.
In 1363, Sayings of Master Naong , a collection of 61 literary gems, in the form of representative Seon sermons, commentaries on koans, letters, and Seon instructions, was compiled by Naong's disciple Gangnyeon and proofread and published by Honsu.
Intellectual Distinction
Master Naong's intellectual distinction is his consciousness of admonition to his age, based on the foundation of thought labeled, "one mind, three treasures" ilsim sambo. In Buddhism, the Buddha, his teachings, and the community that follows those teachings are known as the three treasures, and Naong's teaching puts faith and devotion to these three treasures at the very center of Buddhist practice. However, these three jewels weren't to be found someplace outside, they were said to be found in the minds of all sentient beings, and that we were to revere the three treasures in our own minds.
Moreover, he said that each being must have a clear faith in their own being, and that awakening will only ripen when, based on this confidence, one does not become attached to anything else. Based on this idea of "one mind, three treasures," Master Naong wanted to enlighten the whole world. As everyone is possessed of the ability to become a Buddha, he focused on the fact that we must diligently give all our efforts to become aware that we maintain this capability. This was precisely his spirit of admonishment to society.
Master Naong strove to make known far and wide that it wasn't power or profit in the mundane world, nor was it the pursuit of worldly fame that stood as our most urgent task, rather, in this present life it was the cultivation of mind that was our dire purpose. Since he claimed that anyone who practiced diligently could become a Buddha, he sincerely appealed to society, asking why they weren't practicing.
With this spirit of warning as his basis of Seon thought, he taught various ways to examine one's level of study through the Assembly of Examination Seon. Moreover, through the restoration work of Hoeam-sa, he served the masses, exemplifying the concrete works he was doing to create happiness and fortune.
It is also important to note that Naong's way was not to employ difficult dogma, but rather he pulled at heartstrings, appealing to people's sensitivity using popular language through poems and songs in order to save all beings. This aspect of the Master's spreading the strong feeling of enlightenment to the masses earned him great respect extending into the Joseon dynasty, and it was said that he must have been a reincarnation of Shakyamuni Buddha.
All you who seek fame and love profit / your greed never satisfied, in vain your head has turned greyFame and profit are gates full of fire / from time immemorial, how many thousands have perished in their flames?
(From "Gyeongse," Sayings of Master Naong)

Relying entirely on mindfulness of the Buddha, striving assiduously / abandon your lust and fancies and enter into Nirvana
(From "Sijeyeombul-in," Sayings of Master Naong)
Especially in his practice, Master Naong never made distinctions between the men or women among the sangha, leading everyone on the path such that they could study the dharma. Therefore, he made a checklist of ten stages to examine oneself along the path, the "10 steps of Practice."By adopting a diverse practice regimen, emphasizing not only Ganhwa Seon but also the practice of Buddha recitation, he displayed an intellectual tolerance that was not localized within the characteristics of only one sect. While Seon is a self-powered practice aimed towards becoming a Buddha though the awakening to one's own mind, Pure Land is an "other power" practice based on the power of Original Vow of Amida Buddha that helps those who wish to be reborn in the Pure Land. Based on the teaching of "one mind, three treasures" and the idea that the "mind only is the Pure Land," he allowed for the "other-powered" practices of "contemplating the Buddha's image" and "chanting the Buddha's name" in order to present a diversity of practice methods applicable to the various levels of spiritual capability. In this way, just as the essence of different metals are reborn in the melting process forged in a blast furnace, through the advocacy of a diversity of practices to work in accord with the diverse needs of the people, Master Naong embraced the masses with a light of hope during the political and social strife that marked the latter days of the Goryeo Dynasty.
Ten Points on Seon Practice

1. When ordinary people see a visual form or hear a sound, they are unable to escape it. What shall you do to be able to escape the world of form and sound?
2. If you have already escaped the realm of sound and form, you must immediately begin studying. What is the proper way to practice?
3. If you have already begun your practice, you then need to ripen your practice, but how?
4. If your practice has ripened, you must then rid yourself of all traces. How can these traces be eliminated?
5. If all traces have been removed, you become cold and aloof, with no appetite and absolutely no vigor. Your consciousness connects with nothing, your mind not active, in this state you are like a phantom, not knowing the ways of the human world. When you've gotten to this point, what is the boundary between human and phantom?
6. When your practice becomes extremely intense, you become perfectly still, unvarying whether asleep or awake. Though struck, you are not perturbed; though moved, your focus is not lost. Like when a dog sees a kettle of boiling oil, though they may have an urge to lick it, they cannot, in the same way, though we may want to quit our study, we seemingly cannot. At that point, what are you going to have to do?
7. Suddenly, it seems as if a two-hundred pound weight is brought down on you, instantly crushing and breaking you. At that point, what is your self-nature?
8. If you have already awakened to your own self-nature, you must know the correct way to utilize the original function of your self-nature, in accordance with your karma. What is the correct way to utilize the original function of your self-nature?
9. If you already know the function of your self-nature, you must be freed from life and death. When your sight fails you and your body withers, how will you free yourself?
10. If you are already free from life and death, you must know where you are going. When the four elements (earth, water, fire and wind) become dispersed, where do they go?

A Letter to Minister Mok In-gil

This business of enlightenment does not depend on whether you are lay or ordained, a novice or experienced, nor is dependent on the influence or the practice of the many past lives. Sudden awakening only lies within the one clear faith of the practitioner's thought. This is why the Buddha also said, "Faith, as the root of one's fundamental being and the mother of virtue, brings about the development of the good dharma of the fundamental unity. Faith brings about the development of wisdom's virtue and faith infallibly brings one to the arrival in the seat of Vairocana."

Whether presiding over domestic matters, directing public affairs at the ministry, having guests over to share some conversation, eating and having some tea, going out, standing, sitting or lying down, in the end, by all means please ask yourself, "What is all of this?" If you simply ask yourself this question ceaselessly, meditating on the truth without rest, before you know it you'll find yourself laughing uproariously. Thereupon you'll come to know for the first time that it is not necessary to shave your head, wear the robes, leave home, practice asceticism or sit on a cushion like a monk in order to have such an experience of awakening.

A letter written to Her Excellency Princess Sungnyeong

If you want to want to accomplish the one great thing, it makes no difference whether you reside amongst the ordained or not, among men or women, beginning or senior students. Everything lies within your final sincere singular thought. What I see that is different in the princess's innate disposition compared to others is that from the beginning, there has never been selfishness or suspicion or a deluded mind, there has been nothing other than an entirely sincere mind searching for the complete and unsurpassed supreme enlightenment of Buddhahood. Isn't it as if you've been permeated with the correct dharma of wisdom through a close association with Seon knowledge from some countless eons ago in the past? As the ancients say, "A grown man is not someone who pays attention to a woman's figure, a grown man is someone who is endowed with the four dharmas." These four dharmas are: one, an acquaintance with the knowledge of Seon; two, hearing the correct teachings; three, thinking about the meaning of those teachings; and four, acting in accordance with those teachings. If you are imbued with these four dharmas, it can truly be said that you are fully grown, if not, though you may have the body of an adult, it cannot be said that you are fully grown.

I pray, my princess, that you believe this teaching beyond a shadow of a doubt and that you ceaselessly focus on your hwadu everyday, twenty four hours a day, in all four of the bodies postures, whether walking, standing, sitting or lying down. If you concentrate without stopping, never resting, and question your hwadu whether in the midst of tranquility or noisiness, even if you are not trying to concentrate, you will naturally concentrate. When speaking or being silent, even if you are not questioning your hwadu, you naturally question. Awake or asleep, your hwadu appears before you and though you may want to forget it, you do not; though you may want to awake from it, you will not awaken. In this mental state, unwittingly the body is overturned and abandoned. It is here where a woman's body changes into a man's, a man's body changes and becomes a Buddha. This is my most ardent and sincere request of you.

Mosquito

Without knowing you were born a weakling
You drink too much blood and can't take to the sky
By all means, don't covet other people's precious things
Later on, you'll certainly have to repay in full

Admonishing the People

Because you were busy wandering through the mundane world
You didn't realize you were growing old and gray
Wealth and fame is like a gate of misfortune engulfed in blazes
From time immemorial, how many have perished in its flames?

Buddha's Birthday

Even though the newborn took seven steps, it was still a mistake
But pointing to the earth and sky was even worse
Were it not for those mistakes then
He might have been spared the pain of Yumen's cudgel

A Vow

I wish, in every place that I am reborn
No matter where I am, I never retreat from the wisdom of the dharma
Like Shakyamuni, with dauntless cognition
Like Vairocana, with profound attainment of enlightenment
Like Manjusri, with great wisdom
Like Samantabhadra, with extensive practice
Like Ksitigarbha, with a limitless body
Like Guanyin, through thirty different manifestations
In the worlds of the ten directions, may I emanate in every place, without exception
Leading all sentient beings to the state of the unconditioned
Let those who hear my name be freed from the three hells
Those who see my form attain enlightenment
In this way, I will continue enlightening the world, unto eternity
Until finally, there comes to be neither Buddhas nor sentient beings
I pray to the heavenly dragons and eight types of dharma protectors
In order to protect me, do not part from me
No matter what difficulty arises, please clear the way
And help bring about the realization of this profound vow

Zen Song

Zen meditation doesn't need much talk,
just like whipping a running horse on.

Once the question mass cracks,
your eyes will open wide and light up the prior time to the universe.

Just stick to whadu (= koan) and don't loose it.
Struggling with it, just continue questioning 'What is this ?'

Endless questioning will be like a fireball,
and suddenly you will awake from the long dream of life and death.

Innumerable years of quiet zazen
made the thinking walllike and all the others forgotten.

With keen questioning through millions of thoughts,
I passed rivers and mountains, not knowing spring had come.

Raise the question of whadu every way.
Don't keep anything but whadu.

Nothing is left, so mind is free.
All is silent, so no dust arises.

In a street or thick woods, on a plain or the seashore,
only Nirvana ecstasy is always for him absorbed in whadu.

Go right ahead without looking elsewhere.

When you take one step forward where you cannot go further,
there will truly not be any matter at all,
and you can pass through a thorny thicket, even swinging your arms.

The integrity of proud loneliness is lofty
like a great mountain,
and dhyana is free like a sea gull, forever.

Reverse a round desperately with all your strength,
and passion-free world will be clear beyond in and out.

The essence of whadu lies in great questioning.

When the question defeats the blue eyes of Boddhidharma,
you will be free to kill and revive others, hence notorious all over the world.

The subtlety of zen is from keenness.
Dull questioning cannot solve the life and death problem.

When the question cracks, space will split,
and time will fuse in a beam of cold light.

Be always earnest in pondering over whadu,
and sweep out worldly idle thoughts by the question.

Only after you let go the hold on the bottomless cliff,
the earth and space will disappear all together.

As the question cracks and passions die suddenly,
there is no shade in every direction all the way.

As the spacious spirits void all directions,
you can stroll about and relax even on the way to Eternal Hell,
accompany various people and pass like a wind.

Liberation by zen practice is not so hard,
only if you turn a thought round instantly.

Where waters end and mountains are passed,
there is no water and no mountain,
yet mountain is mountain and water is water.