Terebess Asia Online (TAO)
Home
Zen Index
.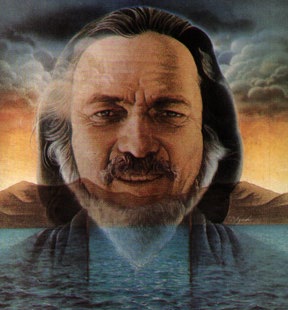 Alan Watts (1915-1973)


Művei magyarul


Contents

PDF: A könyv az önmagunk megismerését tiltó taburól
[ford. Holló Imola Dalma]
Budapest : Cartaphilus, 2004. 221 p.

PDF: A bizonytalanság bölcsessége
[ford. Magyar László András]
Budapest : Édesvíz, 1999. 150 p.

PDF: A zen útja
[ford. Kepes János]
[Budapest] : Polgár, 1997. 240 p.

Részlet: A haiku és a zen

Az ufo-kérdés : rejtélyes égi járművek
[ford. Greguss Ferenc]
Budapest : Édesvíz, 1996. 220 p.

Tao: az áramlás útja
by Alan Watts & Al Chung-liang Huang
[ford. Bakos József]
Budapest : Orient Press, 1990. 104 p.

Lecture on Zen
Beat Zen, Square Zen, and Zen
The Nature of Consciousness
The Book: On the Taboo Against Knowing Who You Are (PDF)
The Way of Zen (PDF) > 2nd version (PDF)
The Way of liberation: essays and lectures on the transformation (PDF)
The Spirit of Zen (PDF)
Tao: the watercourse way (PDF)
This is it, and other essays on Zen and spiritual experience (PDF)

From Time to Eternity
The World As Emptiness
The Philosophies of Asia
Taoism
Self and Other - a lecture

The Joyous Cosmology
Psychedelics and Religious Experience
The Value of Psychotic Experience
The New Alchemy
A Psychedelic Experience - Fact or Fantasy?
Psychotherapy East and West
The Houseboat Summit: February, 1967, Sausalito
Timothy Leary, Gary Snyder, Alan Watts, Allen Ginsberg

The Soul-Searchers
The Cross of Cards

Zen Effects - Life of Alan Watts (PDF)
by Monica Furlong
Psychedelics and Religious Experience
by Alan Watts
(Originally appeared in the California Law Review,
Vol. 56, No. 1, January 1968, pp. 74-85.)

The experiences resulting from the use of psychedelic drugs are often described in religious terms. They are therefore of interest to those like myself who, in the tradition of William James, (1) are concerned with the psychology of religion. For more than thirty years I have been studying the causes, the consequences, and the conditions of those peculiar states of consciousness in which the individual discovers himself to be one continuous process with God, with the Universe, with the Ground of Being, or whatever name he may use by cultural conditioning or personal preference for the ultimate and eternal reality. We have no satisfactory and definitive name for experiences of this kind. The terms "religious experience," "mystical experience," and "cosmic consciousness" are all too vague and comprehensive to denote that specific mode of consciousness which, to those who have known it, is as real and overwhelming as falling in love. This article describes such states of consciousness induced by psychedelic drugs, although they are virtually indistinguishable from genuine mystical experience. The article then discusses objections to the use of psychedelic drugs that arise mainly from the opposition between mystical values and the traditional religious and secular values of Western society.
The Psychedelic Experience
The idea of mystical experiences resulting from drug use is not readily accepted in Western societies. Western culture has, historically, a particular fascination with the value and virtue of man as an individual, self-determining, responsible ego, controlling himself and his world by the power of conscious effort and will. Nothing, then, could be more repugnant to this cultural tradition than the notion of spiritual or psychological growth through the use of drugs. A "drugged" person is by definition dimmed in consciousness, fogged in judgment, and deprived of will. But not all psychotropic (consciousness-changing) chemicals are narcotic and soporific, as are alcohol, opiates, and barbiturates. The effects of what are now called psychedelic (mind-manifesting) chemicals differ from those of alcohol as laughter differs from rage, or delight from depression. There is really no analogy between being "high" on LSD and "drunk" on bourbon. True, no one in either state should drive a car, but neither should one drive while reading a book, playing a violin, or making love. Certain creative activities and states of mind demand a concentration and devotion that are simply incompatible with piloting a death-dealing engine along a highway.
I myself have experimented with five of the principal psychedelics: LSD-25, mescaline, psilocybin, dimethyl-tryptamine (DMT), and cannabis. I have done so, as William James tried nitrous oxide, to see if they could help me in identifying what might be called the "essential" or "active" ingredients of the mystical experience. For almost all the classical literature on mysticism is vague, not only in describing the experience, but also in showing rational connections between the experience itself and the various traditional methods recommended to induce it-fasting, concentration, breathing exercises, prayers, incantations, and dances. A traditional master of Zen or Yoga, when asked why such-and-such practices lead or predispose one to the mystical experience, always responds, "This is the way my teacher gave it to me. This is the way I found out. If you're seriously interested, try it for yourself." This answer hardly satisfies an impertinent, scientifically minded, and intellectually curious Westerner. It reminds him of archaic medical prescriptions compounding five salamanders, powdered gallows rope, three boiled bats, a scruple of phosphorus, three pinches of henbane, and a dollop of dragon dung dropped when the moon was in Pisces. Maybe it worked, but what was the essential ingredient?
It struck me, therefore, that if any of the psychedelic chemicals would in fact predispose my consciousness to the mystical experience, I could use them as instruments for studying and describing that experience as one uses a microscope for bacteriology, even though the microscope is an "artificial" and "unnatural" contrivance which might be said to "distort" the vision of the naked eye. However, when I was first invited to test the mystical qualities of LSD-25 by Dr. Keith Ditman of the Neuropsychiatric Clinic at UCLA Medical School, I was unwilling to believe that any mere chemical could induce a genuine mystical experience. At most, it might bring about a state of spiritual insight analogous to swimming with water wings. Indeed, my first experiment with LSD-25 was not mystical. It was an intensely interesting aesthetic and intellectual experience that challenged my powers of analysis and careful description to the utmost.
Some months later, in 1959, I tried LSD-25 again with Drs. Sterling Bunnell and Michael Agron, who were then associated with the Langley-Porter Clinic, in San Francisco. In the course of two experiments I was amazed and somewhat embarrassed to find myself going through states of consciousness that corresponded precisely with every description of major mystical experiences that I had ever read. (2) Furthermore, they exceeded both in depth and in a peculiar quality of unexpectedness the three "natural and spontaneous" experiences of this kind that had happened to me in previous years.
Through subsequent experimentation with LSD-25 and the other chemicals named above (with the exception of DMT, which I find amusing but relatively uninteresting), I found I could move with ease into the state of "cosmic consciousness," and in due course became less and less dependent on the chemicals themselves for "tuning in" to this particular wave length of experience. Of the five psychedelics tried, I found that LSD-25 and cannabis suited my purposes best. Of these two, the latter---cannabis---which I had to use abroad in countries where it is not outlawed, proved to be the better. It does not induce bizarre alterations of sensory perception, and medical studies indicate that it may not, save in great excess, have the dangerous side effects of LSD.
For the purposes of this study, in describing my experiences with psychedelic drugs I avoid the occasional and incidental bizarre alterations of sense perception that psychedelic chemicals may induce. I am concerned, rather, with the fundamental alterations of the normal, socially induced consciousness of one's own existence and relation to the external world. I am trying to delineate the basic principles of psychedelic awareness. But I must add that I can speak only for myself. The quality of these experiences depends considerably upon one's prior orientation and attitude to life, although the now voluminous descriptive literature of these experiences accords quite remarkably with my own.
Almost invariably, my experiments with psychedelics have had four dominant characteristics. I shall try to explain them -in the expectation that the reader will say, at least of the second and third, "Why, that's obvious! No one needs a drug to see that." Quite so, but every insight has degrees of intensity. There can be obvious-1 and obvious-2---and the latter comes on with shattering clarity, manifesting its implications in every sphere and dimension of our existence.
The first characteristic is a slowing down of time, a concentration in the present. One's normally compulsive concern for the future decreases, and one becomes aware of the enormous importance and interest of what is happening at the moment. Other people, going about their business on the streets, seem to be slightly crazy, failing to realize that the whole point of life is to be fully aware of it as it happens. One therefore relaxes, almost luxuriously, into studying the colors in a glass of water, or in listening to the now highly articulate vibration of every note played on an oboe or sung by a voice.
From the pragmatic standpoint of our culture, such an attitude is very bad for business. It might lead to improvidence, lack of foresight, diminished sales of insurance policies, and abandoned savings accounts. Yet this is just the corrective that our culture needs. No one is more fatuously impractical than the "successful" executive who spends his whole life absorbed in frantic paper work with the objective of retiring in comfort at sixty-five, when it will all be too late. Only those who have cultivated the art of living completely in the present have any use for making plans for the future, for when the plans mature they will be able to enjoy the results. "Tomorrow never comes." I have never yet heard a preacher urging his congregation to practice that section of the Sermon on the Mount which begins, "Be not anxious for the morrow...." The truth is that people who live for the future are, as we say of the insane, "not quite all there"--- or here: by over-eagerness they are perpetually missing the point. Foresight is bought at the price of anxiety, and when overused it destroys all its own advantages.
The second characteristic I will call awareness of polarity. This is the vivid realization that states, things, and events that we ordinarily call opposite are interdependent, like back and front, or the poles of a magnet. By polar awareness one sees that things which are explicitly different are implicitly one: self and other, subject and object, left and right, male and female-and then, a little more surprisingly, solid and space, figure and background, pulse and interval, saints and sinners, police and criminals, in-groups and out-groups. Each is definable only in terms of the other, and they go together transactionally, like buying and selling, for there is no sale without a purchase, and no purchase without a sale. As this awareness becomes increasingly intense, you feel that you yourself are polarized with the external universe in such a way that you imply each other. Your push is its pull, and its push is your pull---as when you move the steering wheel of a car. Are you pushing it or pulling it?
At first, this is a very odd sensation, not unlike hearing your own voice played back to you on an electronic system immediately after you have spoken. You become confused, and wait for it to go on! Similarly, you feel that you are something being done by the universe, yet that the universe is equally something being done by you-which is true, at least in the neurological sense that the peculiar structure of our brains translates the sun into light, and air vibrations into sound. Our normal sensation of relationship to the outside world is that sometimes I push it, and sometimes it pushes me. But if the two are actually one, where does action begin and responsibility rest? If the universe is doing me, how can I be sure that, two seconds hence, I will still remember the English language? If I am doing it, how can I be sure that, two seconds hence, my brain will know how to turn the sun into light? From such unfamiliar sensations as these, the psychedelic experience can generate confusion, paranoia, and terror-even though the individual is feeling his relationship to the world exactly as it would be described by a biologist, ecologist, or physicist, for he is feeling himself as the unified field of organism and environment.
The third characteristic, arising from the second, is awareness of relativity. I see that I am a link in an infinite hierarchy of processes and beings, ranging from molecules through bacteria and insects to human beings, and, maybe, to angels and gods-a hierarchy in which every level is in effect the same situation. For example, the poor man worries about money while the rich man worries about his health: the worry is the same, but the difference is in its substance or dimension. I realize that fruit flies must think of themselves as people, because, like ourselves, they find themselves in the middle of their own world-with immeasurably greater things above and smaller things below. To us, they all look alike and seem to have no personality-as do the Chinese when we have not lived among them. Yet fruit flies must see just as many subtle distinctions among themselves as we among ourselves.
From this it is but a short step to the realization that all forms of life and being are simply variations on a single theme: we are all in fact one being doing the same thing in as many different ways as possible. As the French proverb goes, plus ca change, plus c'est la meme chose (the more it varies, the more it is one). I see, further, that feeling threatened by the inevitability of death is really the same experience as feeling alive, and that as all beings are feeling this everywhere, they are all just as much "I" as myself. Yet the "I" feeling, to be felt at all, must always be a sensation relative to the "other"-to something beyond its control and experience . To be at all, it must begin and end. But the intellectual jump that mystical and psychedelic experiences make here is in enabling you to see that all these myriad I-centers are yourself---not, indeed, your personal and superficially conscious ego, but what Hindus call the paramatman, the Self of all selves. (3) As the retina enables us to see countless pulses of energy as a single light, so the mystical experience shows us innumerable individuals as a single Self.
The fourth characteristic is awareness of eternal energy, often in the form of intense white light, which seems to be both the current in your nerves and that mysterious e which equals mc2. This may sound like megalomania or delusion of grandeur-but one sees quite clearly that all existence is a single energy, and that this energy is one's own being. Of course there is death as well as life, because energy is a pulsation, and just as waves must have both crests and troughs, the experience of existing must go on and off. Basically, therefore, there is simply nothing to worry about, because you yourself are the eternal energy of the universe playing hide- and-seek (off-and-on) with itself. At root, you are the Godhead, for God is all that there is. Quoting Isaiah just a little out of context: "I am the Lord, and there is none else. I form the light and create the darkness: I make peace, and create evil. I, the Lord, do all these things." (4) This is the sense of the fundamental tenet of Hinduism, Tat tram asi---"THAT (i.e., "that subtle Being of which this whole universe is composed") art thou." (5) A classical case of this experience, from the West, is in Tennyson's Memoirs:
A kind of waking trance I have frequently had, quite up from boyhood, when I have been all alone. This has generally come upon me thro' repeating my own name two or three times to myself silently, till all at once, as it were out of the intensity of the consciousness of individuality, the individuality itself seemed to dissolve and fade away into boundless being, and this not a confused state, but the clearest of the clearest, the surest of the surest, the weirdest of the weirdest, utterly beyond words, where death was an almost laughable impossibility, the loss of personality (if so it were) seeming no extinction but the only true life. (6)
Obviously, these characteristics of the psychedelic experience, as I have known it, are aspects of a single state of consciousness--for I have been describing the same thing from different angles. The descriptions attempt to convey the reality of the experience, but in doing so they also suggest some of the inconsistencies between such experience and the current values of society.
Opposition to Psychedelic Drugs
Resistance to allowing use of psychedelic drugs originates in both religious and secular values. The difficulty in describing psychedelic experiences in traditional religious terms suggests one ground of opposition. The Westerner must borrow such words as samadhi or moksha from the Hindus, or satori or kensho from the Japanese, to describe the experience of oneness with the universe. We have no appropriate word because our own Jewish and Christian theologies will not accept the idea that man's inmost self can be identical with the Godhead, even though Christians may insist that this was true in the unique instance of Jesus Christ. Jews and Christians think of God in political and monarchical terms, as the supreme governor of the universe, the ultimate boss. Obviously, it is both socially unacceptable and logically preposterous for a particular individual to claim that he, in person, is the omnipotent and omniscient ruler of the world-to be accorded suitable recognition and honor.
Such an imperial and kingly concept of the ultimate reality, however, is neither necessary nor universal. The Hindus and the Chinese have no difficulty in conceiving of an identity of the self and the Godhead. For most Asians, other than Muslims, the Godhead moves and manifests the world in much the same way that a centipede manipulates a hundred legs-spontaneously, without deliberation or calculation. In other words, they conceive the universe by analogy with an organism as distinct from a mechanism. They do not see it as an artifact or construct under the conscious direction of some supreme technician, engineer, or architect.
If, however, in the context of Christian or Jewish tradition, an individual declares himself to be one with God, he must be dubbed blasphemous (subversive) or insane. Such a mystical experience is a clear threat to traditional religious concepts. The Judaeo-Christian tradition has a monarchical image of God, and monarchs, who rule by force, fear nothing more than insubordination. The Church has therefore always been highly suspicious of mystics, because they seem to be insubordinate and to claim equality or, worse, identity with God. For this reason, John Scotus Erigena and Meister Eckhart were condemned as heretics. This was also why the Quakers faced opposition for their doctrine of the Inward Light, and for their refusal to remove hats in church and in court. A few occasional mystics may be all right so long as they watch their language, like St. Teresa of Avila and St. John of the Cross, who maintained, shall we say, a metaphysical distance of respect between themselves and their heavenly King. Nothing, however, could be more alarming to the ecclesiastical hierarchy than a popular outbreak of mysticism, for this might well amount to setting up a democracy in the kingdom of heaven-and such alarm would be shared equally by Catholics, Jews, and fundamentalist Protestants.
The monarchical image of God, with its implicit distaste for religious insubordination, has a more pervasive impact than many Christians might admit. The thrones of kings have walls immediately behind them, and all who present themselves at court must prostrate themselves or kneel, because this is an awkward position from which to make a sudden attack. It has perhaps never occurred to Christians that when they design a church on the model of a royal court (basilica) and prescribe church ritual, they are implying that God, like a human monarch, is afraid. This is also implied by flattery in prayers:
O Lord our heavenly Father, high and mighty, King of kings, Lord of lords, the only Ruler of princes, who dost from thy throne behold all the dwellers upon earth: most heartily we beseech thee with thy favor to behold....(7)
The Western man who claims consciousness of oneness with God or the universe thus clashes with his society's concept of religion. In most Asian cultures, however, such a man will be congratulated as having penetrated the true secret of life. He has arrived, by chance or by some such discipline as Yoga or Zen meditation, at a state of consciousness in which he experiences directly and vividly what our own scientists know to be true in theory. For the ecologist, the biologist, and the physicist know (but seldom feel) that every organism constitutes a single field of behavior, or process, with its environment. There is no way of separating what any given organism is doing from what its environment is doing, for which reason ecologists speak not of organisms in environments but of organism-environments. Thus the words "I" and "self" should properly mean what the whole universe is doing at this particular "here-and-now" called John Doe.
The kingly concept of God makes identity of self and God, or self and universe, inconceivable in Western religious terms. The difference between Eastern and Western concepts of man and his universe, however, extends beyond strictly religious concepts. The Western scientist may rationally perceive the idea of organism-environment, but he does not ordinarily feel this to be true. By cultural and social conditioning, he has been hypnotized into experiencing himself as an ego- as an isolated center of consciousness and will inside a bag of skin, confronting an external and alien world. We say, "I came into this world." But we did nothing of the kind. We came out of it in just the same way that fruit comes out of trees. Our galaxy, our cosmos, "peoples" in the same way that an apple tree "apples."
Such a vision of the universe clashes with the idea of a monarchical God, with the concept of the separate ego, and even with the secular, atheist/agnostic mentality, which derives its common sense from the mythology of nineteenth-century scientist According to this view, the universe is a mindless mechanism and man a sort of accidental microorganism infesting a minute globular rock that revolves about an unimportant star on the outer fringe of one of the minor galaxies. This "put-down" theory of man is extremely common among such quasi scientists as sociologists, psychologists, and psychiatrists, most of whom are still thinking of the world in terms of Newtonian mechanics, and have never really caught up with the ideas of Einstein and Bohr, Oppenheimer and Schrodinger. Thus to the ordinary institutional-type psychiatrist, any patient who gives the least hint of mystical or religious experience is automatically diagnosed as deranged. From the standpoint of the mechanistic religion, he is a heretic and is given electroshock therapy as an up-to-date form of thumbscrew and rack. And, incidentally, it is just this kind of quasi scientist who, as consultant to government and law-enforcement agencies, dictates official policies on the use of psychedelic chemicals.
Inability to accept the mystic experience is more than an intellectual handicap. Lack of awareness of the basic unity of organism and environment is a serious and dangerous hallucination. For in a civilization equipped with immense technological power, the sense of alienation between man and nature leads to the use of technology in a hostile spirit---to the "conquest" of nature instead of intelligent co-operation with nature. The result is that we are eroding and destroying our environment, spreading Los Angelization instead of civilization. This is the major threat overhanging Western, technological culture, and no amount of reasoning or doom-preaching seems to help. We simply do not respond to the prophetic and moralizing techniques of conversion upon which Jews and Christians have always relied. But people have an obscure sense of what is good for them-call it "unconscious self-healing," "survival instinct," "positive growth potential," or what you will. Among the educated young there is therefore a startling and unprecedented interest in the transformation of human consciousness. All over the Western world publishers are selling millions of books dealing with Yoga, Vedanta, Zen Buddhism, and the chemical mysticism of psychedelic drugs, and I have come to believe that the whole "hip" subculture, however misguided in some of its manifestations, is the earnest and responsible effort of young people to correct the self-destroying course of industrial civilization.
The content of the mystical experience is thus inconsistent with both the religious and secular concepts of traditional Western thought. Moreover, mystical experiences often result in attitudes that threaten the authority not only of established churches, but also of secular society. Unafraid of death and deficient in worldly ambition, those who have undergone mystical experiences are impervious to threats and promises. Moreover, their sense of the relativity of good and evil arouses the suspicion that they lack both conscience and respect for law. Use of psychedelics in the United States by a literate bourgeoisie means that an important segment of the population is indifferent to society's traditional rewards and sanctions.
In theory, the existence within our secular society of a group that does not accept conventional values is consistent with our political vision. But one of the great problems of the United States, legally and politically, is that we have never quite had the courage of our convictions. The Republic is founded on the marvelously sane principle that a human community can exist and prosper only on a basis of mutual trust. Metaphysically, the American Revolution was a rejection of the dogma of Original Sin, which is the notion that because you cannot trust yourself or other people, there must be some Superior Authority to keep us all in order. The dogma was rejected because, if it is true that we cannot trust ourselves and others, it follows that we cannot trust the Superior Authority which we ourselves conceive and obey, and that the very idea of our own untrustworthiness is unreliable!
Citizens of the United States believe, or are supposed to believe, that a republic is the best form of government. Yet vast confusion arises from trying to be republican in politics and monarchist in religion. How can a republic be the best form of government if the universe, heaven, and hell are a monarchy? (8) Thus, despite the theory of government by consent, based upon mutual trust, the peoples of the United States retain, from the authoritarian backgrounds of their religions or national origins, an utterly naive faith in law as some sort of supernatural and paternalistic power. "There ought to be a law against it!" Our law-enforcement officers are therefore confused, hindered, and bewildered-not to mention corrupted-by being asked to enforce sumptuary laws, often of ecclesiastical origin, that vast numbers of people have no intention of obeying and that, in any case, are immensely difficult or simply impossible to enforce-for example, the barring of anything so undetectable as LSD-25 from international and interstate commerce.
Finally, there are two specific objections to use of psychedelic drugs. First, use of these drugs may be dangerous. However, every worth-while exploration is dangerous-climbing mountains, testing aircraft, rocketing into outer space, skin diving, or collecting botanical specimens in jungles. But if you value knowledge and the actual delight of exploration more than mere duration of uneventful life, you are willing to take the risks. It is not really healthy for monks to practice fasting, and it was hardly hygienic for Jesus to get himself crucified, but these are risks taken in the course of spiritual adventures. Today the adventurous young are taking risks in exploring the psyche, testing their mettle at the task just as, in times past, they have tested it---more violently---in hunting, dueling, hot-rod racing, and playing football. What they need is not prohibitions and policemen, but the most intelligent encouragement and advice that can be found.
Second, drug use may be criticized as an escape from reality. However, this criticism assumes unjustly that the mystical experiences themselves are escapist or unreal. LSD, in particular, is by no means a soft and cushy escape from reality. It can very easily be an experience in which you have to test your soul against all the devils in hell. For me, it has been at times an experience in which I was at once completely lost in the corridors of the mind and yet relating that very lostness to the exact order of logic and language, simultaneously very mad and very sane. But beyond these occasional lost and insane episodes, there are the experiences of the world as a system of total harmony and glory, and the discipline of relating these to the order of logic and language must somehow explain how what William Blake called that "energy which is eternal delight" can consist with the misery and suffering of everyday life. (9)
The undoubted mystical and religious intent of most users of the psychedelics, even if some of these substances should be proved injurious to physical health, requires that their free and responsible use be exempt from legal restraint in any republic that maintains a constitutional separation of church and state. (10) To the extent that mystical experience conforms with the tradition of genuine religious involvement, and to the extent that psychedelics induce that experience, users are entitled to some constitutional protection. Also, to the extent that research in the psychology of religion can utilize such drugs, students of the human mind must be free to use them. Under present laws, I, as an experienced student of the psychology of religion, can no longer pursue research in the field. This is a barbarous restriction of spiritual and intellectual freedom, suggesting that the legal system of the United States is, after all, in tacit alliance with the monarchical theory of the universe, and will, therefore, prohibit and persecute religious ideas and practices based on an organic and unitary vision of the universe. (11)
(1) See W. James, The Varieties of Religious Experience (1902).
(2) An excellent anthology of such experiences is R. Johnson Watcher on the Hills (1959).
(3) Thus Hinduism regards the universe not as an artifact, but as an immense drama in which the One Actor (the paramatman or brakman) plays all the parts, which are his (or "its") masks or personae. The sensation of being only this one particular self, John Doe, is due to the Actor's total absorption in playing this and every other part. For fuller exposition, see S. Radhakrishnan, The Hindu View of Life (1927); H. Zimmer, Philosophies of India (1951), pp. 355-463. A popular version is in A. Watts, The Book---On the Taboo Against Knowing Who You Are (1966).
(4) Isaiah 45: 6, 7.
(5) Chandogya Upanishad 6.15.3.
(6) Alfred Lord Tennyson, A Memoir by His Son (1898), 320.
(7) A Prayer for the King's Majesty, Order for Morning Prayer, Book of Common Prayer (Church of England, 1904).
(8) Thus, until quite recently, belief in a Supreme Being was a legal test of valid conscientious objection to military service. The implication was that the individual objector found himself bound to obey a higher echelon of command than the President and Congress. The analogy is military and monarchical, and therefore objectors who, as Buddhists or naturalists, held an organic theory of the universe often had difficulty in obtaining recognition.
(9) This is discussed at length in A. Watts, The Joyous Cosmology: Adventures in the Chemistry of Consciousness (1962).
(10) "Responsible" in the sense that such substances be taken by or administered to consenting adults only. The user of cannabis, in particular, is apt to have peculiar difficulties in establishing his "undoubted mystical and religious intent" in court. Having committed so loathsome and serious a felony, his chances of clemency are better if he assumes a repentant demeanor, which is quite inconsistent with the sincere belief that his use of cannabis was religious. On the other hand, if he insists unrepentantly that he looks upon such use as a religious sacrament, many judges will declare that they "dislike his attitude," finding it truculent and lacking in appreciation of the gravity of the crime, and the sentence will be that much harsher. The accused is therefore put in a "double-bind" situation, in which he is "damned if he does, and damned if he doesn't." Furthermore, religious integrity-as in conscientious objection-is generally tested and established by membership in some church or religious organization with a substantial following. But the felonious status of cannabis is such that grave suspicion would be cast upon all individuals forming such an organization, and the test cannot therefore be fulfilled. It is generally forgotten that our guarantees of religious freedom were designed to protect precisely those who were not members of established denominations, but rather such (then) screwball and subversive individuals as Quakers, Shakers, Levellers, and Anabaptists. There is little question that those who use cannabis or other psychedelics with religious intent are now members of a persecuted religion which appears to the rest of society as a grave menace to "mental health," as distinct from the old-fashioned "immortal soul." But it's the same old story.
(11) Amerindians belonging to the Native American Church who employ the psychedelic peyote cactus in their rituals, are firmly opposed to any government control of this plant, even if they should be guaranteed the right to its use. They feel that peyote is a natural gift of God to mankind, and especially to natives of the land where it grows, and that no government has a right to interfere with its use The same argument might be made on behalf of cannabis, or the mushroom Psilocybe mexicana Heim. All these things are natural plants, not processed or synthesized drugs, and by what authority can individuals be prevented from eating theme There is no law against eating or growing the mushroom Amanita pantherina, even though it is fatally poisonous and only experts can distinguish it from a common edible mushroom. This case can be made even from the standpoint of believers in the monarchical universe of Judaism and Christianity, for it is a basic principle of both religions, derived from Genesis, that all natural substances created by God are inherently good, and that evil can arise only in their misuse. Thus laws against mere possession, or even cultivation, of these plants are in basic conflict with biblical principles. Criminal conviction of those who employ these plants should be based on proven misuse. "And God said 'Behold, I have given you every herb bearing seed, which is upon the face of all the earth, and every tree, in the which is the fruit of a tree yielding seed- to you it shall be for meat.... And God saw every thing that he had made, and, behold, it was very good." Genesis 1:29, 31.

The Value of Psychotic Experience
by Alan Watts
Originally broadcast on KSAN radio, San Francisco.
I think most of you know from the announcement of this series of seminars and workshops during the summer, they're entitled 'The Value of Psychotic Experience.' And many people who are interested in an entirely new approach to problems of what have hitherto been called mental health are participating in these seminars and workshops, and doing something which is extremely dangerous and in a way revolutionary. For this reason:
We are living in a world where deviant opinions about religion are no longer dangerous, because no one takes religion seriously, and therefore you can be like Bishop Pike and question the doctrine of the Holy Trinity, the reality of the virgin birth, and the physical resurrection of Jesus, and still remain a bishop in good standing. But what you can't get away with today, or at least you have great difficulty in getting away with is psychiatric heresy. Because psychiatry is taken seriously, and indeed, I would like to draw a parallel between today and the Middle Ages in the respect of this whole question.
When we go back to the days of the Spanish Inquisition, we must remember that the professor of theology at the University of Seville has the same kind of social prestige and intellectual standing that today would be enjoyed by the professor of pathology at Stanford Medical School. And you must bear in mind that this theologian, like the professor of pathology today, is a man of good will. Intensely interested in human welfare. He didn't merely opine; that professor of theology KNEW that anybody who had heretical religious views would suffer everlasting agony of the most appalling kind. And some of you should read the imaginative descriptions of the sufferings of Hell, written not only in the Middle Ages, but in quite recent times by men of intense intellectual acumen. And therefore out of real merciful motivation, the Inquisitors thought that it was the best thing they could do to torture heresy out of those who held it. Worse still, heresy was infectious, and would contaminate other people and put them in this immortal danger. And so with the best motivations imaginable, the used the thumbscrew, the rack, the iron maiden, the leaded cat-of-nine-tails, and finally the stake to get these people to come to their senses, because nothing else seemed to be available.
Today, serious heresy, and rather peculiarly in the United States, is a deviant state of consciousness. Not so much deviant opinions as having a kind of experience which is different from 'regular' experience. And as Ronald Lang, who is going to participate in this series, has so well pointed out, we are taught what experiences are permissable in the same way we are taught what gestures, what manners, what behavior is permissable and socially acceptable. And therefore, if a person has so-called 'strange' experiences, and endeavors to communicate these experiences--because naturally one talks about what one feels--and endeavors to communicate these experiences to other people, he is looked at in a very odd way and asked 'are you feeling all right?' Because people feel distinctly uncomfortable when the realize they are in the presence of someone who is experiencing the world in a rather different way from themselves. They call in question as to whether this person is indeed human. They look like a human being, but because the state of experience is so different, you wonder whether they really are. And you get the kind of--the same kind of queasy feeling inside as you would get if, for the sake of example, you were to encounter a very beautiful girl, very formally dressed, and you were introduced, and in order to shake hands, she removed her glove, and you found in your hand the claw of a large bird. That would be spooky, wouldn't it?
Or let's suppose that you were looking at a rose. And you looked down in the middle where the petals are closed, and you suddenly saw them open like lips, and the rose addressed you and said 'good morning.' You would feel something uncanny was going on. And in rather the same way, in an every day kind of circumstance, when you are sitting in a bar drinking, and you find you have a drunk next to you. And he tells you, 'undistinguishable drunken ranting' and you sort of move your stool a little ways away from this man, because he's become in some way what we mean by nonhuman. Now, we understand the drunk; we know what's the matter with him, and it'll wear off. But when quite unaccountably, a person gives representation that he's suddenly got the feeling that he's living in backwards time, or that everybody seems to be separated from him by a huge sheet of glass. Or that he's suddenly seeing everything in unbelievably detailed moving colors. We say, 'well that's not normal. Therefore there must be something wrong with you.' And the fact that we have such an enormous percentage of the population of this country in mental institutions is a thing we may have to look at from a very different point of view, not that there may be a high incidence of mental sickness, but that there may be a high incidence of intolerance of variations of consciousness.
Now in Arabic countries, where the Islamic religion prevails, a person whom we would define as mentally deranged is regarded with a certain respect. The village idiot is looked upon with reverence because it is said his soul is not with his body, it is with Allah. And because his soul is with Allah, you must respect this body and care for it, not as something that is to be sort of swept away and put out of sight, but as something of a reminder that a man can still be living on Earth while his soul is in Heaven. Very diffent point of view. Also in India, there is a certain difference in attitude to people who would be called nuts, because there is a poem--an ancient poem of the Hindus-- which says 'sometimes naked, sometimes mad, now's a scholar, now's a fool, thus they appear on Earth as free men.'
But you see, we in our attitude to this sort of behavior, which is essentially in its first inception harmless, these people are talking what we regard to be nonsense. And to be experienced in nonsense. We feel threatened by that, because we are not secure in ourselves. A very secure person can adapt himself with amazing speed to different kinds of communciation. In foreign countries, for example, where you don't speak the language of the people you are staying with, if you don't feel ashamed of this, you can set up an enormous degree of communication with other people through gesture and even something most surprising, people can communicate with each other by simply talking. You can get a lot across to people by talking intelligent nonsense, by, as it were, imitating a foreign language; speaking like it sounds. You can communicate feeligns, emotions, like and dislike of this, that and the other; very simply. But if you are rigid and are not willing to do this type of playing, then you feel threatened by anybody who communicates with you in a funny way. And so this rigidity sets up a kind of vicious circle. The minute, in other words, someone makes an unusual communciation to you about an unusual state of consciousness, and you back off, the individual wonders 'is there something wrong with me? I don't seem to be understood by anyone.' Or he may wonder 'what's going on? Has everybody else suddenly gone crazy?' And then if he feels that he gets frightened, and to the degree that he gets more frightened, he gets more defensive, and eventually land up with being catatonic, which is a person who simply doesn't move. And so then what we do is we whiffle him off to an institution, where he is captured by the inquisitors. This is a very special priesthood. And they have all the special marks that priesthoods have always had. They have a special vestment. Like the Catholic priest at mass wears a *, the mental doctor, like every physician, wears a long white coat, and may carry something that corresponds, shall we say, so a stole, which is a stethescope around his neck. He will then, under his authority, which is often in total defience of every conceivable civil liberty, will incarcerate this incomprehensible person, and as Lang has pointed out, he undergoes a ritual of dehumanization. And he's put away. And because the hospitals are so crowded with people of this kind, he's going to get very little attention. And it's very difficult to know, when you get attention, how to work with it.
You get into this Kafka-esque situation which you get, say, in the state of California, if you are sent to such an institute as Vacaville prison, which is as you drive on the highway from San Francisco to Sacramento, you will encounter Vacaville about halfway between. You will see a great sign which will say 'California State Medical Facility.' The state of California is famous for circumlocution. When you go underneath a low bridge, instead of saying 'Low Bridge,' it says 'Impaired Vertical Clearance.' Or when you're going to cross a toll bridge, instead of saying, plainly, 'Toll Bridge,' it says 'Entering Vehicular Crossing.' And when it should be saying, plainly, 'Prison,' it says either 'California State Medical Facility,' or 'California State Correctional Facility,' as it does as Soledad. Now Vacaville is a place where people get sent on what they call a one- to ten-year sentence. And there is a supervising psychiatric medical sort of social service staff there, who examine the inmates once in a while because they have such a large number. It's a maximum security prison, much more ringed around with defences than even San Quentin. I went there to lecture to the inmates some time ago. They wanted someone to talk to them about meditation and yoga, and one of the inmates took me aside--a very clean-cut all-American boy. And he had been put in there probably for smoking pot; I'm not absolutely sure in my memory what the offense was. He said 'You know, I am very puzzled about this place. I really want to go straight and get out and get a job and live like an ordinary person.' He said 'I think they don't know how to go about it. I've just been refused release; I went up before the committee; I talked to them. But I don't know what the rules of the game are. And incidentally, the members of the committee don't either.'
So we have these situation, you see, of confusion. So that when a person goes into a mental hospital and feels first of all perhaps that he should try to sort himself out and talk reasonably with the physician. There is introduced into the communications system between them a fundamental element of fear and mistrust. Because I could talk to any individual if I were malicious and interpret every sane remark you make as something deeply sinister; that would simply exhibit my own paranoia. And the psychiatrist can very easily get paranoid, because the system he is asked to represent, officially is paranoid. I talked with a psychiatrist in England just a few weeks ago. One of the most charming women I've come across, an older woman, very intelligent, quite beautiful, very reasonable. And she was discussing with me the problem of the LSD psychosis. I asked her what sort of treatments they were using, and all sorts of questions about that, and she appeared at first to be a little on the defensive about it. We got onto the subject of the experience of what is officially called 'depersonalization,' where you feel that you and your experience--your sensory experience--that is to say all that you do experience: the people, the things, the animals, the buildings around you--that it's all one. I said 'do you call this a hallucination? After all,' I said, 'it fits the facts of science, of biophysics, of ecology, of biology, and much better than our ordinary normal experience fits it.' She said 'that's not my problem.' She said 'that may be true, but I am employed by a society which feels that it ought to maintain a certain average kind of normal experience, and my job is to restore people to what society considers normal consciousness. I have no alternative but to leave it at that.'
So, then. When someone is introduced into this situation, and it's very difficult to get attention, you feel terrified. The mental hospital, often in its very architecture, suggests some of the great visions of madness, of-- You know that feeling of-- The corridors of the mind. If you got lost in a maze and you couldn't get back. You're not quite sure who you are, or whether your father and mother are your real father and mother, or whether in the next ten minutes you're still going to remember how to speak English. You feel very lost. And the mental hospital in its architecture and everything represents that situation. Endless corridors, all the same. Which one are you in? Where are you? Will you ever get out? And it goes on monotonously, day after day after day after day after day. And someone who talks to you occasionally doesn't have a straight look in his eye. He doesn't see you as quite human. He looks at you as if you're weird. What are you to do? The best thing to do is get violent, if you really want to get out. Well then they say that's proof that you're crazy. And then as you get more violent, they put you off by yourself, and the only alternative you have, the only way of expressing yourself is to throw shit at the walls. Then they say, 'well, that's conclusive. The person isn't human.'
Well, the question has been raised a great deal in the last few days on the television, as to whether this is a sick society. And I have listened to a perfectly beautiful pschoanalyst with a thick German accent. Oh, marvelous things! 'Eet ees quite obvious dat society is quite hopeless, you zee.' And I have listened to four red-blooded Americans saying 'most people in this society are good people, and it's a GOOD society, but we have a very sick minority.'
Now, what I want to do in--certainly this first part of the seminar--is to call in question, very fundamentally, all of our basic ideas about what is sickness, what is health, what is sanity, what is insanity. Because I think we have to begin from this position of humility; that we really don't know. It's reported that shortly before he died, Robert Oppenheimer, looking at the picture of technology, especially nuclear technology, said 'I'm afraid it's perfectly obvious that the world is going to hell.' It's going to destroy itself, it's on collision course. The only way in which it might not go to hell is that we do not try to prevent it from doing so. Think that one over. Because it can well be argued that the major troublemakers in the world today are those people with good intentions. Like the professor of theology, University of Seville, professor of psychiatry at wherever you will. The idea that we know who is sick, who is wrong. Now, we are living in a political situation right now where a most fantastic thing is occuring. Everybody knows what they're against; nobody knows what they're for. Because nobody is thinking in terms anymore of what would be a great style of life. The reason we have poverty is that we have no imagination. There's no earthly reason; there's no physical, technical reason for there being any poverty at all anywhere. But you see, there are a great many people accumulating what they think is vast wealth, but it's only money. They don't know how to use it, they don't know how to enjoy it, because they have no imagination.
I'm announcing not the date, but the intention of conducting a seminar for extremely rich people entitled 'Are You Rich and Miserable?' because you very probably are. Some aren't, but most are. Now the thing is that we are living in this situation where everybody knows what they're against, even if they say 'I'm against the war in Vietnam. I am against discrimination against colored people, or against any different race than the discolored race,' and so on. Yeah, so what? But it's not enough to feel like that; that's nothing. You must have some completely concrete vision of what you would like, and therefore I'm making a serious proposition that everybody who goes into college should as an entrance examination have the task of writing an essay on his idea of heaven, in which he is asked to be absolutely specific. He is not allowed, for example, to say 'I would like to have a very beautiful girl to live with.' What do you mean by a beautiful girl? Exactly how, and in what way? Specifically. You know, down to the last wiggle of the hips, and down to every kind of expression of character and socialbility and her interests and all. Be specific! And about everything like that. 'I would like a beautiful house to live in.' Just what exactly do you mean by a beautiful house? Well you've suddenly got to study architecture. You see, and finally, this preliminary essay on 'My Idea of Heaven' turns into his doctoral dissertation. So in a situation where we all know what we're against, and we don't know what we're for, then we know WHO we're against. We're defining all sorts of people as nonhuman. We say they're totally irrational. They're totally stupid. People will say, 'oh, those niggers, they're completely uneducated, they'll never learn a thing, there's nothing you can do about it, they're hopeless, get rid of them.' The Birchers are saying the same sort of thing. Other people, the liberals are saying the same thing about the Birchers. 'They're stupid, get rid of them.' The only result, then, the only thing anybody can think of in this sort of situation is 'get your gun.' And this sets up a vicious circle, because everybody else gets his gun. And the point from which we have to begin, then, is that we don't know who is healthy and who is sick. Who is right and who is wrong. And furthermore, we have to start, I think, from the assumption that because we don't know, there isn't anything we can do about it.
There's a Turkish proverb that I like to quote: 'He who sleeps on the floor cannot fall out of bed.' Therefore, we should make it a beginning--a basic assumption about life that even supposing you could improve society, and you could improve yourself, you were never sure that the direction you moved it in would be an improvement.
A Chinese story, kind of a Taoistic story about a farmer. One day, his horse ran away, and all the neighbors gathered in the evening and said 'that's too bad.' He said 'maybe.' Next day, the horse came back and brought with it seven wild horses. 'Wow!' they said, 'Aren't you lucky!' He said 'maybe.' He next day, his son grappled with one of these wild horses and tried to break it in, and he got thrown and broke his leg. And all the neighbors said 'oh, that's too bad that your son broke his leg.' He said, 'maybe.' The next day, the conscription officers came around, gathering young men for the army, and they rejected his son because he had a broken leg. And the visitors all came around and said 'Isn't that great! Your son got out.' He said, 'maybe.'
You see, you never really know in which direction progress lies. And this is today a fantastic problem for geneticists. They genetecists, you know, because they think they are within some degree of controlling the DNA and RNA code, believe that it is really possible perhaps to breed the kind of human beings that we ought to have. And they say 'hooray!' But they think one moment and they think 'ah-ah-ah-ah-ah, but what kind of human being?' So they're very worried. And just a little while ago, a national committee of graduate students and geneticists had a meeting at the University of California and the asked a group of psychologists, theologans and philosophers to come and reason with them about this and give them some insight. And I was included. That means that they are REALLY desperate. So I said 'I'll tell you what, the only thing you can do is to be quite sure that you keep a vast variety of different kinds of human beings, because you never know what's going to happen next. And therefore we need an enormous, shall I say, varied battery of different kinds of human intelligence and resources and abilities. So that there will always be some kind of person available for any emergency that might turn up. So you see, there's a total fallacy in the idea of preaching to people. This is why I abandoned the ministries, I've often said, not because the church didn't practice what it preached, but because it preached. Because you cannot tell people what sort of pattern of life they ought to have, because if they followed your advice, you might have a breed of monsters. Look at it from the point of view that the human race is a breed of monsters.
I was thinking about it this afternoon, driving down from Monterey to here, and looking at the freeways, and all these little cars going along them, and I was wondering if I considered that the planet was a physical body like my own, whether I might not feel that this was some sort of an invasion of weird bacteria that were eating me up. Whether it may be that the birds and the bees and the flowers--animals in general--were a kind of healthy bacteria. You know, bees and birds sort of wander about, generally mix in with the forest and the fields and carry on a rather disorganized but very interesting pattern of life, whereas human beings cut straight lines across everything. Railways. They cover themselves with junk. A bird may have a little nest, but it doesn't have to surround itself with automobiles and books and buildings and phonograph records and universities and clutter up the whole landscape with a lot of bric- a-brac. Human beings pride themselves on this. 'You see, this is culture!' This is a great achievement. Build a building, you know? It's all you can get money for. You can't get money for professors, but you can get them for new buildings. So we cover the Earth with clutter. And so the Earth might feel as if we might feel if suddenly we got a disease which instead of leaving us soft-skinned, covered us with crystalline scabs, and this would be proliferating all over the place--a pox! Are we a pox on the planet? Don't be too sure that we're not. Consider simply this:
There is a good argument--keep in mind I'm saying these things to provoke you, to make you a little insane by being in doubt of all the assumptions which you think are firmly true. It is quite possible, you see, that the whole enterprise of man to control events on the Earth by his conscious intelligence, by his language, by his mathematics, and by his science is a disaster. We say look at his successes, look how much disease we have cured. Look how much hunger has been abolished. Look how we have raised the standard of living. Yeah. But in how long a time?
Well, even if we say this started with the dawn of known history, it's a tiny little fragment of time, as compared with the time in which the human species has existed. And if it's the Industrial Revolution, it narrows down to the teenieest, weeniest little bit of time. How do we know this is progress? How do we know that this is a success? It may be a disaster of unimaginable proportions. It may be. But the truth is, we don't know. Of course, it could be possible, that every star in the heavens was once a planet, and that planet developed intelligent life, which in due course discovered the secrets of atomic energy, blew itself up into a chain reaction, and as it exploded throughout various masses which began in due course to spin around it, became planets, and after a while developed intelligent life. After millions of years, as the central star started to cool off, they blew themselves up in turn, and that's the way the thing goes on. That's of course the theory of the Hindus. Not literally, but they do have the theory, you see, that life, every manifestation of the universe, begins in a glorious way, and then it deteriorates. But then everything does. Isn't everything always falling apart and getting older and fading out? Why shouldn't various species, why shouldn't various planets, why shouldn't various universes be going through the same course?
You see, that's a totally upside-down view in respect to our common sense. We think everything ought to be growing and improving and getting better and better and better and better and better and better. Look at it the other way around, it might be quite different. Then there's another thought. We know that the truth, the way theing are is an interaction, or better, transaction between the physical world and our sense organs, and that therefore, what we know as existence is a relationship. It is the way certain what we will call for the moment electrical vibrations make impression upon sense organs of a certain structure. Now that's a limited way of talking about it, but it will do for the moment. Therefore, according to the structure of the sense organs, the vibrations will appear of be manifested in different ways. In other words, I can move my finger like this, and if it happens to pluck the string of a violin, it will go 'plunk!' In which case my finger and its motion will be manifested as 'plunk!' But if it should so happen that I should strike the string of a bass fiddle, it will go, 'bunggggg' and so the finger will be 'bunggggg' But if the same motion should strike the skin of a drum, 'thunk,' so the finger will be 'thunk,' now what is that motion truly? It's whatever it interacts with. If it goes across somebody elses skin, it'll be something I can't make a noise about. It'd be a feeling. If it does it in front of an eye, it will be a motion.
So depending on the structure of shall we say for the moment the receptor organs, so will the reality be. Now behind the receptor organs--the senses are not at all simple--behind the senses they are inseperable from an extraordinarily complex neurological structure. And not only that, but a system of cultural standards as to what events are to be noticed and what events are to be ignored. What is important for a certain reason such as survival, and what is unimportant, and therefore we further modify the selectivity of the sense organs and of the nervous system as a whole with a selective system of what is culturally accepted as real or unreal, important or unimportant.
So we end up you see, with the possibility that so complex a selective system may have a great many variations, and that people that we call crazy have a different system of evaluation. They may have a difference of neural structure, as would obviously be the case if there were lesions caused by syphillis, or by brain tumors. But what about something not quite at that level, but at the level of the selectivities they imply which would correspond to what I call social conditioning. Now we know the proverb that genius is to madness 'cross the line. And how do we know whether a certain modification in the structure of the whole sensory system is a sickness or whether it is a growning edge--some kind of improvement in the human being. Well we have certain very, very rough standards which we apply to this, but we can never be quite sure because what we call sanity is mob rule. Sanity is simply the vote or organisms that recognize themselves to be humans and they get together and say 'Well, the way we see it is the way it is.' And you will remember in Kipling's story in the 'Jungle Book' called 'Cause Hunting' how the monkeys, the bandiloot are laughed at because every once in a while they get together in a meeting and shout 'We all say so, so it must be true!'
But herein you see lie the deepest political problems. How is the majority to tolerate, to absorb, to evaluate a minority? It's an academic problem. We have standards as to who are sound scholars, reliable scientists--we give them a PhD. And they all get together and uphold the standards. But then they suddenly realize that they're getting a little narrow and that things aren't going on, and suddenly somebody says one day 'Old so-and-so, who we always thought was quite mad and very, very unorthodox has suddenly come up with an idea that we've all got to think about.' So one would say that every university faculty has to include in its membership at least five percent screwballs. Every culture has to tolerate within its domain a lot of weird people. Now there's no possibility that everybody in the United States is going to be a hippie. But the fact that a large number of young people are hippies should be a matter of congratulations, even if you don't want to live that way yourself. Not to mention the various racial variations that we have among us: negroes, Mexicans, Chinese, Japanese, and so forth. All this is exceedingly important, because as I said to the geneticists, this preserves variety. And a culture which is insecure in itself--I'm getting back to a sort of starting point--cannot tolerate this.
Now in England as I remember it, they were much more secure. When I was a boy, 15 years old, in a very orthodox Church of England school, I announced that I was a Buddhist. Nobody turned a hair. Here, if somebody announces that he's something strange, they have to go before the principal, and there's a big problem, and the FBI is brought in, and this, that, and the other. But they said 'Jolly wot, the man's a buhddist!' And positively encouraged me in my deviant interest, and gave me the first prize in the divinity class. Now exactly the same kind of relaxed attitude is necessary here.
Let's ask a few questions that don't need answers. Is the American family such a drag that a few kids living in free-love communes are a fundamental threat to it and will pervert all our nice boys and girls to live that way? Are American universities so boring that a few students who drop out and form their own univerisities are a threat to the total system and will pervert all the other nice children in there? Are a few kids going around in elegant beards and long hair going to turn all our boys into weirdos?
Say, I had a funny experience. When I was in England I attended services at Westminster Abbey. I took my wife there because I really wanted to her to see this thing, because it's the heart and soul of British establishment. The dean of Westminster is like the Dali Lama almost. They had this very elegant victorian service--beautiful vestments, choir and everything--and as they were coming out in procession, the choir came first, which were little boys with proper haircuts and surplices.?A and red caps on, there were a number of older boys wearing surplices--the special kind of surplice that is worn by its color of a British public school. Y'know, the public schools are not public schools, they're very private schools, very exclusive schools, and the school of Westminster is one of the top, like Eaton or Harrow. Suddenly, these boys in surplices turn up, with these enormous Beatles haircuts whishing all over the place. I couldn't believe my eyes, because I used to be a King's Scholar, and in our day, we were very proper and all wore mortarboards over short hair. And then behind these surpliced boys, there were the commoners of the school, who were not King's Scholars and therefore didn't wear surplices, but wore striped black pants, black coats, wing collars and black ties. And we always used to walk in procession as we came out, like this, but here were these boys with a similar hairdo coming out. .apparent visual joke here that I guess you'd have to be there to get, but very funny, it would seemA My god, what's going on? This is Westminster Abbey! But the dean of Westminster doesn't turn a hair, he takes it all in stride. He's perfectly secure. He knows he is who he is. He knows it's ordained by Jesus Christ and everything else and it's all right, and if you want to come in and do something different, it's all right.
And that is the attitude we have to have in regard to everything deviant, psychotic, and weird. Because we are not sure what's right, who's sane, which end is up. In a relativistic universe, you don't cling to anything, you learn to swim. And you know what swimming is. It's a kind of relaxed attitude to the water, in which you don't keep yourself afloat by holding the water, but by a certain giving to it, and it's just the same with relationships to people all around.
ALAN WATTS: THE VALUE OF PSYCHOTIC EXPERIENCE, PART 2
Originally broadcast on KSAN radio, San Francisco
Zen has attracted attention over the years, since 1927, when Dr. Daisetz Suzuki first published his essays in Zen Buddhism, and he had a very odd fascination with Westerners. To begin with, very many intelligent Western people were becoming--had already become, dissatisfied with the standard brands of their own religions, and this dissatisfaction had of course begun to take place quite seriously towards the close of the 19th century, and at that time, we began to be exposed to Oriental philosophy or religion, whatever you want to call it, because the great scholars like Maxmilla, Riese DavidsÙ and so on were translating the texts of Buddhism and Hinduism. And already in 1848, the Jesuit had translated the Tao Te Ching, the Taoist texts from China into French, and translations into English then became available.
What happened was rather curious, because we were receiving Oriental tradition on a far higher level of sophistication than we were receiving the Christian or the Jewish traditions. The average person was exposed to an extremely low level of Christianity, and therefore immediately compared this to the highest level of Hinduism and Buddhism, much to the detriment of the former, because you could no go into your parish church, even if you lived in a very good neighborhood, even in a university neighborhood and find Meister Eckhart for sale on the entrance table. Nor even would you find some Thomas Aquinas. You found wretched little tracts. And so the comparison was overwheming. It wasn't really fair for the Christian tradition, but that's what happened. Then something else happened, which was that in the year 1875, a strange Russian woman by the name of H.P. Blavatsky founded the Theosophical Society, whose doctrines and literature were a fantastic hodgepodge of the Western occult tradition, a great deal of Hindu and Buddhist lore, a smattering of Tibetan Buddhism and Chinese Buddhism, but it all was very romantic, and presuppose that the adepts of Hinduism, Buddhism, Taoism and so forth were very high order initiates. Supermen. The masters. And they had their secret lodges in the vastness of the Himalayas, and even such places as the Andes, and they were rather inaccessable, because they were in possession of the most dangerous secrets of occult power. But they every now and then felt safe to send an emissary out into the world to teach the ancient doctrine of liberation to mankind.
And so the West, through this, got an extremely glamorous impression of what Oriental wisdom might be. And I remember the media in which I found myself involved in England when Dr. Suzuki first came around was essentially theosophical in its oreintation. They expected Dr Suzuki to be a master in that sense, in that theosophical sense, or if not quite that, then at least in touch with those who were. And the whole idea of the Zen master, the way the whole word 'master' got attached to a teacher of Zen carried with it this theosophical flavor, and also a certain flavor which the Theosophical Society picked up from India where the great guru is somebody enormously revered. People would travel for hundreds of miles just to look at him, to have what is called Tao-Shan, or 'view' of someone like Shri Arabindo or Shri Ramana Maharshi or the current Maharshi, or it would be Shri Rama Krishna or Amandani, who's a lady guru, and there's always the feeling that these people have tremendous powers. And so this is what was expected by many people from Zen masters. But the interesting thing about Zen masters is they're not like that. They're very human. And they wouldn't deign to perform a miracle. I got to know about Zen masters through my first wife, because when whe was an adolescent about 14 years old, she went to Japan, and they lived close to the great monastary of Nonzengi where the master in charge was a very brilliant master by the name of Nonshinkan. He was an old man, and he was-- The man who is appointed to be the roshi or the teacher of Nonzengi of Kyoto was always considered to be just about tops of the whole bunch. We've had the present master, Shibayama Roshi visiting the United States recently. And he used to sit around with her and he'd get a catalog of all the famous sumo wrestlers, who were enormously fat. They have to eat, eat, eat, eat, eat, eat rice, because the whole art depends on their weight. But they're very handsome. And he used to thumb them through sitting next to this little girl and pick out husbands for her. And then he would have nose-picking contests with her. Y'know, they weren't exactly real, but they'd make sort of like picking their noses and flicking the snots at each other.
So you mustn't expect the Zen master to be like the Pope. They can come on very dignified when necessary, but there's always something about them which is fundamentally lacking in seriousness. Even though they may be well-endowed with sincerety. They're two quite different qualities. They are extraordinarily interesting people, as are their students, in the context of Japanese culture. Japanese culture is terribly uptight, because the Japanese are very emotional people, underneath. Tremendously passionate. But they have to hold that in, because they live in a crowded country, and space is the most valuable thing in Japan, especially living space, because 80% of the territory is uninhabitable. It's forested mountains, and you can't grow anything there, you can't make much of a city. So they're all crowded into 20% of the country. And so this feeling of being pressed in by other people is-- They try to handle it by exquisite politeness, and by orderly behavior by vary strong convention. But this makes the average Japanese man and woman kind of nervous. When a Japanese giggles, it's a sign not of being amused, but of being embarrassed. And you'll find all sorts of funny attitudes, such as people putting their hands over their mouths when they're eating, or to conceal a giggle.
And they're tremendously hung up on social indebtedness, whether it's a debt to the emperor, or whether it's a debt to your fathers and mothers, or whether it's a debt to someone in the family, or whether it's a debt to friends whom you visited and they entertained you. Well, you always take gifts with you when you go, but then that still embarrasses your friends to whom you take the gifts, because they have to consider the next time they go to visit you, they've got to take gifts of the same value. And you wouldn't believe what goes on.
So actually, what Zen is in Japan is a release from Japanese culture. It is gettign rid of the hang-ups, but doing it in such a way as not to embarrass the rest of society. So the Zen monks come on as if they're pretty stiff; when they walk out in the street, they almost look like soldiers. When they walk, they stride, they don't shuffle, like other Japanese do. They don't giggle, ever. They have no need to. Because the process of their discipline has liberated them from the social conventions. Only they are very tactful and don't rush out like, you know, a bunch of hippies or something and say 'Look, we're liberated!' They pretend they're the very pillars of society.
So they follow a tradition which is very ancient, which is that in every society, there is an inner group who doesn't believe in the fairy stories they've been told. He sees through. To whom everything becomes completely transparent. You see what games people are playing. And you don't despise them for that. You see, they're involved in that because of their whole conditioning. But you see through all those games. The game--the me game--that everybody is playing is of course the survival game. And we think-- We've got our minds rigged about this in such a way that we live in constant dread of sickness or of death or of loss of property or status. Well, so what? Supposing you do. Everybody's going to die someday. It's a little harder to take when you're 20 than when you're 50, but if you are entirely hung up on the idea that YOU are this particular expression of the universe and that only, you haven't been properly educated. If you were awake, you would understand that you were the whole universe, pretending, projecting itself at a point called here and now, in the form of the human organism. And you would understand that very clearly, not just as an idea, but as an actual vivid sensation, just the same way you know you're sitting in this room. And so the object of Zen, as of other ways of liberation--Taoism, Hinduism; you'll find it even in Christianity in the Eastern Orthodox Church; Islam--the object of these ways of liberation is to bring you to a vivid, perfectly clear, I would say even sensuous realization of your true identity as a temporary coming on and going off, coming on and going off, or vibration as waves, of what there is, and always is, of the famous E which equals MC squared. And you are that. You will be that, and always will be that--accept that. This whatever it is-- which, then no which, then which--it doesn't operate in time. Time is a more or less human illusion. We will discover this to be so in our experiments. You will discover that there is only now, and there never was anything but now and never will be anything but now, and now is eternity.
Now Zen is a little bit unlike the rest of Hinduism and Buddhism in that it's summed up in these four principles: It's a special transmission of the Buddhist enlightenment outside the scriptures. It does not depend on words or letters. It points directly to your own mind-heart and attains therefore Buddhahood directly. Buddhahood means the state of being awakened to the real nature of things. But you see, what IS the real nature of things? It obviously cannot be described. Just as if I were to ask what is the true position of the stars in the big dipper. Well, it depends from where you're looking. From one point in space, they would be completely different in position from another. So there is no true position of those stars. So in the same way, you cannot therefore describe their true position or their true nature. And yet on the other hand, when you look at them, and really don't try to figure it out, you see them as they are, and they are as they are from every point of view, wherever you look at them.
So there is no way of describing or putting you finger on what the Buddhists call reality or in Sanscrit, tathata, which means 'suchness' or 'thatness,' or sunyata, which means 'voidness,' in the sense that all conceptions of the world when absolutised are void. It doesn't mean that the world is, in our Western sense, nothing. It means that it's no thing. And a thing--as I think I explained last night--is a unit of thought. A think. So reality isn't a think. We cannot say what it is, but we can experience it. And that is of course the project of Zen.
Now, it does it by direct pointing. And this is what exciting people about Dr Suzuki's work when he first let people know about Zen in the Western world. It seemed to consist of an enormous assemblage of weird anecdotes. That these people instead of explaining had kind of a joke system, or kind of a riddle system. the basic secret of the Buddha system is simply this, and it's explained by a great Chinese Zen master, whose name was Hui-neng, who died in the year 713 AD. And he explained it in his sutra. He said, 'If anybody asks you about secular matters, answer them in terms of metaphysical matters. But if they ask you about things phusical, answer them in terms of things worldly.' So if you ask a Zen master what is the fundamental teaching of the Buddha, he answers immediately, 'Have you had breakfast?' 'Yes.' 'If so, go and wash your bowl.' Or such a thing as 'Since I came to you master, you have never given me any instruction.' 'How can you say that I've never given you any instruction? When you brought me tea, didn't I drink it? When you brought me rice, didn't I eat it? When you saluted me, didn't I return the salutation? How can you say that I haven't instructed you?' And the student said, 'Master, I don't understand.' And he said, 'If you want to understand, see into it directly, but when you begin to think about it, it is altogether missed.'
They have also in Zen monastaries a funny thing. It's a chin rest. If you spend a long time meditating, it's sometimes convenient to have something to rest your chin on, and it's called a Zen- bon. And so once a student asked the teacher, 'Why did Bodidharma--' who is supposed to have brought Zen, you know from India to China '--why did Bodidharma come to China?' And the master said 'Give me that Zen-bon.' And the student passed it to him and the master hit him with it.
A contrary kind of story. The master and one of his students were working, I think pruning trees. And suddenly the student said to the master, 'Will you let me have the knife?' And he handed it to him blade-first. He said 'Please let me have the other end.' And the master said 'What would you do with the other end?'
There was a group walking through the forest, and suddenly the master picked up a branch and handed it to one of his disciples and said 'Tell me, what is it?' Y'know, the master was still holding it. He said 'Tell me, what is it?' The disciple hesitated, and the master hit him with it. He passed it to another desciple. 'What is it?' The disciple said 'Let me have it so I can tell you.' So the master threw the branch at this other disciple, and he caught it and hit the master.
I was once talking with a Zen master, and in an idle sort of way we were discussing these stories, and he said, 'You know, I've often wondered, when water goes down a drain, does it go clockwise or anticlockwise?' 'Well, I said, it might do either.' He said 'NO! It goes this way!' -apparently something visual here,. So then he said 'Which came first, egg or hen?' So I said, -clucks like hen,. He said 'Yes, that's right.'
Now all these Zen jokes are much simpler in their meaning than you would ever imagine. They are so devestatingly simple that you don't see them. Everybody looks for something complicated. When I was once visited by a Chinese Zen man, I had my little daughter with me, and he said to her, 'You know, once upon a time, there was a man who kept a very small goose in a bottle. A gosling. And it began to grow larger and larger until he couldn't get it out of the bottle. Now, he didn't want to break the bottle, and he didn't want to hurt the goose, so what should he do?' And she said immediately, 'Just break the bottle.' He turned to me and he said 'You see, they always get it when they're under seven.'
So there's that side of Zen, and that side of Zen we would call, essentially, in technical language, sanzen. That means, really, to study Zen in the form of an interchange with the teacher. Sanzen in the monastaries these days is very formal. But these are all stories from Tan and Sung dynasty China, where the relationship of student and teacher was more informal than it has now become. The other side of Zen is za-zen, or the practice of meditation. And that involves-- You can actually practice za-zen in four ways, corresponding to what the Buddhists call the four dignitaries of man: walking, standing, sitting, and lying. Only sitting is the one most used. But you should not imagine that Zen mediation requires absolutely that it be done sitting. People get rather hung up on that, and I get annoyed with people who come back from Japan having studied Zen and brag about how long they sat and how much their legs hurt.
But za-zen is very fundamental to Zen, in one form or another. And it is the art of letting your mind become still. That doesn't mean that it becomes blank. That doesn't mean that you have no what we would call sensory input. It mean simply that you learn how to breath properly. That's very important. And that you stop talking to yourself. The interminable chatter inside your skull comes to rest. So what happens is this-- I should add that there are various schools of Zen, with different methods and different approaches, and my approach to it is again somewhat different from other peoples, but buddhas have always have this kind of elasticity. But what normally happens is this:
You have some difficulty in being accepeted by a teacher, because Buddhism is not on a missionary basis. They don't send out ads and invitations saying 'Come to our jolly church,' you know. They wouldn't dream of doing that. Because it's up to you to seek it out. They're never going to shove it down your throat. So it is difficult to get into a Zen school. It isn't really a monastary as we have monastaries, where the monks take life vows of poverty, chastity and obedience. It's more like a theological seminary, and the monk, or seminarist, as he might more accurately be called, stays there for a number of years, until he feels he's got the thing that he went for. The teacher, the master, is usually unmarried, but that doesn't prevent him from having girlfriends. They are not uptight about sex in Zen, as they are in other forms of Buddhism. They're very-- The whole atmosphere of the monastary is very fascinating. Everybody is sort of alive. They don't dither around. They're all working. But they're very open. In some kinds of Buddhism, they have conniptions if you try to photograph something. 'This is too sacred to be photographed,' sort of attitude. In Zen, they say 'Help yourself! Photograph! Anything! Go on, take picture!' So, completely open.
So then, they have these sesshins. You must distinguish between 'session,' English, and 'sesshin,' Japanese. 'Sesshin' means a long, long period of meditation practice, over say, a whole week. But especially early in the morning, and at certain times of day, they all meet and they sit cross-legged on their mats in meditation. In one set, they meditate on what is called a koan, and that means a 'case,' in the sense of a case in law establishing a precedent. And it's one of these stories. When the great master Joshu, who lived in the Tung dynasty, was asked, 'Does a dog have buddha nature?' he replied 'mu,' which means no. Everybody knows that dogs have buddha nature. So why did the great master say 'mu'? That's a koan. Or Hakuin invented a koan as a proverb in Chinese: One hand cannot make a clap. So the koan is 'What is the sound of one hand?' Of course, it's differently said in Japanese than it is in English. But, you see, it sounds like a very, very complicated problem, and so these students take this problem back for meditation, and they-- First of all, the average person would start trying to arrive at an intellectual answer. And if he takes that back to the teacher, the teacher simply rejects it out of hand, time after time after time.
I had a friend who had this koan, and he was an American. And one day he was going to the teacher for sanzen, and he saw a bullfrog. They have many bullfrogs in Japan, about so big, sitting in the garden, and they're very tame. So he swooped up this bullfrog and dropped it in the sleeve of his kimono. And when he got to the master, he produced the bullfrog as the answer to the koan. The master shook his head and said 'Uh-uh, too intellectual.' So people get desperate about these things, and they go to all sorts of lengths to try and answer them, because they don't realize how simple the answer is. That's what's always overlooked. If you were to answer that koan in English, it gives it to you as it's stated. It says 'WHAT is the sound of one hand?' .Watts finds this very funny, but nobody else does, It's very difficult for people to become that simple. And you can become that simple only through meditation where you stop all the words and you see all the things perfectly directly. And so accomplished Zen people are very, very direct. Their life is completely simplified, because they know perfectly well--and if you look, and see youself--that there is only this present moment. No past. No future.
So what's your problem? You know, you could ask this of anyone. Well, you could say 'I've got all sorts of problems and responsibilites' and so on. All right. Don't other people have some share in this? You see, we are always being spiritually conceited in thinking we have to take care of everybody else, and that can sometimes do people a peculiar disservice, because they get into the idea that everybody should take care of them. And so we go around ingratiating ourselves by making all sorts of promises about which we feel enthusiastic at the time, but the enthusiasm wears off and then we don't keep them and then people get annoyed. And we go about telling people how much we like them when we don't. And all sorts of things of that kind by not being direct, you see. This is the whole idea of Zen, is directness. By not being direct, we create a great deal of trouble. However, the primary concern of Zen is not so much with interpersonal relations, as it is with man's relation with nature. In view of life and death, where are you? They have an incscription that hangs up in Zen monastaries, which says 'Birth and death is a serious event. Time waits for no one.' Which is sort of equivalent to the Christian 'Work out your salvation with diligence.' Or with fear and trembling.
So it begins in a clarification of our relationship with existence. With being. And therefore it lies in a more, I would say, primary or kindergarden level than the encounter group, which is concerned with personal relationships. But I don't think you can set up harmonious personal relationships until you've got with yourself. Until you've got with the sky, the trees, and the rocks, and the water, and the fire. Then you're fundamental. You're really alive. From that position, you can relate much better to other people, because you don't come on as a kind of 'poor little me, who's in this universe on probation and doesn't really belong' attitude. And most of us do that, terribly apologetic for our existence. Just because we're aplogetic, some people are insufferably proud, because they feel they have to compensate for this inferior status in the universe by overdoing it with boastfulness and with agression towards others. But if you know that-- Well, when Dogen came back from China--he lived around 1200 AD, and studied Zen there and founded a great monastary--they asked him 'What did you learn in China?' He said, 'I learned that the eyes are horizontal, and the nose is perpendicular.'
Now in all these things, don't search for a deep symbolism. Some decrepit modern Chinese Zen will look for--will give you a symbolic understanding of all these sayings. But they're NOT symbolic; they're absolutely direct. So when somebody says, you see, that the fundamental principle of Buddhism is a cyprus tree in the garden, you are not to understand this this is some pantheistic doctrine in which the cyprus tree is a manifestation of the godhead. Let me illustrate the point further, because I can't illustrate it intellectually. It's a little bit of a complicated story, but I think you can follow it.
There is a sect of Buddhism in Japan called Jodo-shinshu .Sukhavati?,, which means the true teaching about the pure land. And they have a method of meditation in which they call upon the name of a transcendental buddha called Amida. So they say this formula, 'Namu Amida Butsu.' Namu means like 'hail,' only it means, in other cultures and other languages than ours, instead of saying 'hail,' they say 'name,' 'nama.' So 'Namu Amida Bustu' means 'Hail Amitabha buddha,' or 'Amida' is the Japanese. That formula is called 'Nambutsu,' or 'Having the buddha in mind.'
There was a priest of this sect that went to study with a Zen master, and had made good progress, and the master told him to write a poem expressing his understanding. So he wrote the following poem:
When nambutsu is said, There is neither oneself nor Buddha; Na-mu- a-mi-da-bu-tsu-- Only the sound is heard.
And the Zen master scratched his head awhile, because he wasn't quite satisfied with it, so the student submitted another poem which did satisfy the master, and it went like this:
When the nambutsu is said, There is neither oneself nor Buddha; Na-ma-a-mi-da-bu-tsu, Na-ma-a-mi-da-bu-tsu.
The master was satisfied, but in my opinion it had one line too many.
So you see that the Zen practice involves using words to get beyond words, where we might use words simply for their sound. Let's suppose you say the word 'yes.' Yes. Yes. Yes. Yes. Yes. Yes. Yes. You come to think after a while 'Isn't that a funny kind of noise to make?' And we are delivered from the hypnotic effect of words by this particular use of words. We learn they're only words after all, but we hypnotize people by using words. And children, for instance, have no antibodies against words, so they get absolutely frantic, you know. 'Jeannie called me a sissy!' So what? But children get absolutely desperate about it because we put this power of words upon them, these incantations. These are spells, you see. All magicians embroil people in spells and incantations, because they use words to beguil. And so then, we are from infancy told who we are, what is our identity, what our expectations should be, what we ought to get out of life, what class we belong to. And we believe the whole thing. And having believed it, we come to sense it, as we sense the hard wood of the corner of the table, and we think it's real, and it's a bunch of hogwash. It's an amusing game, if you know that that's all it is, and can be played with eloquence. But the more you know it's ONLY an illusion, the better you can play it.
So then. In this practice, it is very important, as I said last night, to bear it in mind that Zen study or Zen meditation--and this includes yoga and other forms of meditation--is not like any other form of exercise, in that it is NOT done for a purpose. You may ask me 'How can I possibly do something that is not being done for a purpose?' because you have a fixed idea, which is part of the hypnosis, that everything you do is done for a purpose. For what purpose do you have belly rumbles?
I remember Soki Antsuzaki, who was a great Zen master, sitting in his gorgeous golden robes, with incense burning in front of him, and his scriptures open on the stand, and holding a sort of sceptor that Zen masters occasionally hold, and reading a passage from the sutra, then by commment saying, 'Fundamental principle of Buddhism is purposelessness. Most important to attain state of no purpose. When you drop fart, you don't say 'At 9:00, I drop fart.' It just happen.' And all this kind crypto-Christain audience, very embarrassed, stuffing handherchiefs into their mouths.
In Chinese, their word for nature is 'tzu-jan,' in Japanese, 'shi-jen,' at that means, 'what is so of itself. We would say 'spontaneity.' A tree has no intention to grow. Water has no intention to flow. The clouds have no intention to blow. And as the poem says,
When the wild geese fly over the lake, The water does not intend to reflect them, And the geese have no mind to cast their image.
Now, that worries us. First of all, we think that spontaneity is mere capricious action. There's nothing very capricious about the way a tree grows. It's a highly intelligent design. So is the bird. So are you. But a lot of people who don't quite understand Zen think that spontaneity is just doing anything, and the more it looks like anything, the more spontaneous it is. In other words, they have a preconception of spontaneity, that a person behaving spontaneously. Or would probably be vulgar, impolite, rude. It doesn't follow; that's merely a preconception of the nature of spontaneity. Spontaneity is the way you grow your hair, it's not the way you think you ought to grow your hair. It's the way it happens. So that's a really high order of intelligence.
What is happening, then, in the discipline of Zen is that we are trying to move into the place where we use that intelligence in everyday life--but you see, you can't get it on purpose. The purpose, the motivation always spoils it. So you would ask then, 'How do I get rid of purpose?' On purpose? That you ask that question simply shows how tied up you are in the thinking process. You cannot force that process to stop. You have to see it as nonsense. Babble. Interminable babble in your head. So one learns to listen to one's thoughts and let the mind think anything it wants to think, but don't take it seriously. And the idea of you doing this is also a babble in the head. And eventually--but without bothering about any eventually, because in this state, there is no future; you're not concerned about the future. Purpose is always concerned with the future.
Now what bugs Western people about this is they would say 'Are you trying to tell us that life has no meaning, no purpose?' Yes. What's so bad about that? What sort of meaning would you like it to have? Propose me a meaning for life. Anything you want. Well, when people try to think of what the meaning of life is, they say 'Well, I think that we're all part of a plan, and that working as if we were characters in a novel or a play, and we are all working towards a great fulfillment. One day, perhaps after we're dead, perhaps in the future life, there'll be a great gazoozie. There'll be a galuptious, glorious goodie at the end of the line, see? And that's what we're all for, see? To get in with that. And it will all be very, very important, because it won't be something trivial. It will be something extremely holy.' Well I say 'What's your idea of something very holy?' Well, nobody really knows. You know, they think about church, and medieval artists who used to represent heaven in the form of everybody sitting in choir stalls. And I must say hell looked much more fun. It was a kind of sado-masochistic orgy. But heaven looked insufferably dull. And when those little children sang hymns about those eternal sabbaths, it was a a very, depressing future, I can assure you.
But you see, when you follow through these ideas, what do you want? What is the goodie? What is progress all about? You realize that you just don't know. So the question is immediately posed for the meditator, but aren't you there already? I mean, isn't THIS what it's about?
The New Alchemy
by Alan Watts
an essay from
This is It and Other Essays on Zen and Spiritual Experience,
by Alan Watts, Vintage Books, 1973,
This essay was written in 1960.
Besides the philosopher's stone that would turn base metal into gold, one of the great quests of alchemy in both Europe and Asia was the elixir of immortality. In gullible enthusiasm for this quest, more than one Chinese emperor died of the fabulous concoctions of powdered jade, tea, ginseng, and precious metals prepared by Taoist priests. But just as the work of transforming lead into gold was in many cases a chemical symbolism for a spiritual transformation of man himself, so the immortality to be conferred by the elixir was not always the literally everlasting life but rather the transportation of consciousness into a state beyond time. Modern physicists have solved the problem of changing lead into gold, though the process is somewhat more expensive than digging gold from the earth. But in the last few years modem chemists have prepared one or two substances for which it may be claimed that in some cases they induce states of mind remarkably similar to cosmic consciousness.
To many people such claims are deeply disturbing. For one thing, mystical experience seems altogether too easy when it simply comes out of a bottle, and is thus available to people who have done nothing to deserve it, who have neither fasted nor prayed nor practiced yoga. For another, the claim seems to imply that - spiritual insight is after all only a matter of body chemistry involving a total reduction of the spiritual to the material. These are serious considerations, even though one may be convinced that in the long run the difficulty is found to rest upon semantic confusion as to the definitions of "spiritual" and "material."
However, it should be pointed out that there is nothing new or disreputable in the idea that spiritual insight Is an undeserved gift of divine grace, often conveyed through such material or sacramental means as the water of baptism and the bread and wine of the mass. The priest who by virtue of his office transforms bread and wine into the body and blood of Christ, ex opere operato, by the simple repetition of the formula of the Last Supper, is in a situation not radically different from that of the scientist who, by repeating the right formula of an experiment, may effect a transformation in the brain. The comparative worth of the two operations must be judged by their effects. There were always those upon whom the sacraments of baptism and communion did not seem to "take," whose lives remained effectively unregenerate. Likewise, none of these consciousness-changing chemicals are literally mystical experience in a bottle. Many who receive them experience only ecstasies without insight, or just an unpleasant confusion of sensation and imagination. States akin to mystical experience arise only in certain individuals and then often depend upon considerable concentration and effort to use the change of consciousness in certain ways. It is important here, too, to stress the point that ecstasy is only Incidental to the authentic mystical experience, the essence of which might best be described as insight, as the word is now used in psychiatry.
A chemical of this kind might perhaps be said to be an aid to perception in the same way as the telescope, microscope, or spectroscope, save in this case that the instrument is not an external object but an internal state of the nervous system. All such instruments are relatively useless without proper training and preparation not only in their handling, but also in the particular field of investigation,
These considerations alone are already almost enough to show that the use of such chemicals does not reduce spiritual insight to a mere matter of body chemistry. But it should be added that even when we can describe certain events in terms of chemistry this does not mean that such events are merely chemical. A chemical description of spiritual experience has somewhat the same use and the same limits as the chemical description of a great painting. It is simple enough to make a chemical analysis of the paint, and for artists and connoisseurs alike there is some point in doing so. It might also be possible to work out a chemical description of all the processes that go on in the artist while he is painting. But it would be incredibly complicated, and in the meantime the same processes could be described and communicated far more effectively in some other language than the chemical. We should probably say that a process is chemical only when chemical language is the most effective means of describing it. Analogously, some of the chemicals known as psychedelics provide opportunities for mystical insight in much the same way that well-prepared paints and brushes provide opportunities for fine painting, or a beautifully constructed piano for great music. They make it easier, but they do not accomplish the work all by themselves.
The two chemicals which are of most use in creating a change of consciousness conducive to spiritual experience are mescaline and lysergic acid diethylamide (known, for short, as LSD). The former is a synthetic formulation of the active ingredients of the peyote cactus, and the latter a purely synthetic chemical of the indole group which produces its effects even in such minute amounts as twenty-five micrograms. The specific effects of these chemicals are hard to identify with any clarity, and so far as is known at present they seem to operate upon the nervous system by reducing some of the inhibitory mechanisms which ordinarily have a screening effect upon our consciousness. Certain psychiatrists who seem overly anxious to hang on to the socially approved sensation of reality---more or less the world as perceived on a bleak Monday morning---classify these chemicals as hallucinogens producing toxic effects of a schizoid or psychotic character. I am afraid this is psychiatric gobbledygook: a sort of authoritative rumble of disapproval. Neither substance is an addictive drug, like heroin or opium, and it has never been demonstrated that they have harmful effects upon people who were not otherwise seriously disturbed. It is begging the question to call the changes of consciousness which they educe hallucinations, for some of the unusual things felt and seen may be no more unreal than the unfamiliar forms perceived through a microscope. We do not know. It is also begging the question to call their effects toxic, which might mean poisonous, unless this word can also be used for the effects of vitamins or proteins. Such language is evaluative, not descriptive in any scientific sense.
Somewhat more than two years ago (1958) I was asked by a psychiatric research group to take 100 micrograms of lysergic acid, to see whether it would reproduce anything resembling a mystical experience. It did not do so, and so far as I know the reason was that I had not then learned how to direct my inquiries when under its influence. It seemed instead that my senses had been given a kaleidoscopic character (and this is no more than a metaphor) which made the whole world entrancingly complicated, as if I were involved in a multidimensional arabesque. Colors became so vivid that flowers, leaves, and fabrics seemed to be illumined from inside. The random patterns of blades of grass in a lawn appeared to be exquisitely organized without, however, any actual distortion of vision. Black ink or sumi paintings by Chinese and Japanese artists appeared almost to be three dimensional photographs, and what are ordinarily dismissed as irrelevant details of speech, behavior, appearance, and form seemed in some indefinable way to be highly significant. Listening to music with closed eyes, I beheld the most fascinating patterns of dancing jewelry, mosaic, tracery, and abstract images. At one point everything appeared to be uproariously funny, especially the gestures and actions of people going about their everyday business. Ordinary remarks seemed to reverberate with double and quadruple meanings, and the role-playing behavior of those around me not only became unusually evident but also implied concealed attitudes contrary or complementary to its overt intention. In short, the screening or selective apparatus of our normal interpretative evaluation of experience had been partially suspended, with the result that I was presumably projecting the sensation of meaning or significance upon just about everything. The whole experience was vastly entertaining and interesting, but as yet nothing like any mystical experience that I had had before.
It was not until a year later that I tried LSD again, this time at the request of another research team. Since then I have repeated the experiment five times, with dosages varying from 75 to 100 micrograms. My impression has been that such experiments are profound and rewarding to the extent that I do my utmost to observe perceptual and evaluative changes and to describe them as clearly and completely as possible, usually with the help of a tape recorder. To give a play-by- play description of each experiment might be clinically interesting, but what I am concerned with here is a philosophical discussion of some of the high points and recurrent themes of my experiences. Psychiatrists have not yet made up their minds as to whether LSD is useful in therapy, but at present I am strongly inclined to feel that its major use may turn out to be only secondarily as a therapeutic and primarily as an instrumental aid to the creative artist, thinker, or scientist. I should observe, in passing, that the human and natural environment in which these experiments are conducted is of great importance, and that its use in hospital wards with groups of doctors firing off clinical questions at the subject is most undesirable. The supervising physician should take a human attitude, and drop all defensive dramatizations of scientific objectivity and medical authority, conducting the experiment in surroundings of some natural or artistic beauty.
I have said that my general impression of the first experiment was that the "mechanism" by which we screen our sense-data and select only some of them as significant had been partially suspended. Consequently, I felt that the particular feeling which we associate with "the meaningful" was projected indiscriminately upon everything, and then rationalized in ways that might strike an independent observer as ridiculous---unless, perhaps, the subject were unusually clever at rationalizing. However, the philosopher cannot pass up the point that our selection of some sense-data as significant and others as insignificant is always with relation to particular purposes---survival, the quest for certain pleasures, finding one's way to some destination, or whatever it may be. But in every experiment with LSD one of the first effects I have noticed is a profound relaxation combined with an abandonment of purposes and goals, reminding me of the Taoist saying that "when purpose has been used to achieve purposelessness, the thing has been grasped." I have felt, in other words, endowed with all the time in the world, free to look about me as if I were living in eternity without a single problem to be solved. It is just for this reason that the busy and purposeful actions of other people seem at this time to be so comic, for it becomes obvious that by setting themselves goals which are always in the future, in the "tomorrow which never comes," they are missing entirely the point of being alive.
When, therefore, our selection of sense-impressions is not organized with respect to any particular purpose, all the surrounding details of the world must appear to be equally meaningful or equally meaningless. Logically, these are two ways of saying the same thing, but the overwhelming feeling of my own LSD experiences is that all aspects of the world become meaningful rather than meaningless. This is not to say that they acquire meaning in the sense of signs, by virtue of pointing to something else, but that all things appear to be their own point. Their simple existence, or better, their present formation, seems to be perfect, to be an end or fulfillment without any need for justification. Flowers do not bloom in order to produce seeds, nor are seeds germinated in order to bring forth flowers. Each stage of the process---seed, sprout, bud, flower, and fruit--- may be regarded as the goal. A chicken is one eggs way of producing others. In our normal experience something of the same kind takes place in music and the dance, where the point of the action is each moment of its unfolding and not just the temporal end of the performance.
Such a translation of everyday experience into something of the same nature as music has been the beginning and the prevailing undertone of all my experiments. But LSD does not simply suspend the selective process by cutting it out. It would be more exact to say that it shows the relativity of our ordinary evaluation of sense-data by suggesting others. It permits the mind to organize its sensory impressions in new patterns. In my second experiment I noticed, for example, that all repeated forms---leaves on a stem, books on shelves, mullions in windows---gave me the sensation of seeing double or even multiple, as if the second, third, and fourth leaves on the stem were reflections of the first, seen, as it were, in several thicknesses of window glass. When I mentioned this, the attending physician held up his finger to see if it would give me a double image. For a moment it seemed to do so, but all at once I saw that the second image had its basis in a wisp of cigar smoke passing close to his finger and upon which my consciousness had projected the highlights and outline of a second finger. As I then concentrated upon this sensation of doubling or repeating images, it seemed suddenly as if the whole field of sight were a transparent liquid rippled in concentric circles as in dropping a stone into a pool. The normal images of things around me were not distorted by this pattern. They remained just as usual, but my attention directed itself to highlights, lines, and shadows upon them that fitted the pattern, letting those that did not fall into relative insignificance. As soon, however, as I noticed this projection and became aware of details that did not fit the pattern, it seemed as if whole handfuls of pebbles had been thrown into-the optical space, rippling it with concentric circles that overlapped in all directions, so that every visible point became an intersection of circles. The optical field seemed, in fact, to have a structured grain like a photograph screened for reproduction, save that the organization of the grains was not rectilinear but circular. In this way every detail fitted the pattern and the field of vision became pointillist, like a painting by Seurat.
This sensation raised a number of questions. Was my mind imperiously projecting its own geometrical designs upon the world, thus "hallucinating" a structure in things which is not actually there? Or is what we call the "real" structure of things simply a learned projection or hallucination which we hold in common? Or was I somehow becoming aware of the actual grain of the rods and cones in my retina, for even a hallucination must have some actual basis in the nervous system? On another occasion I was looking closely at a handful of sand, and in becoming aware that I could not get it into clear focus I became conscious of every detail and articulation of the way in which my eyes were fuzzing the image---and this was certainly perception of a grain or distortion in the eyes themselves.
The general impression of these optical sensations is that the eyes, without losing the normal area of vision, have become microscopes, and that the texture of the visual field is infinitely rich and complex. I do not know whether this is actual awareness of the multiplicity of nerve-endings in the retina, or, for that matter, in the fingers, for the same grainy feeling arose in the sense of touch. But the effect of feeling that this is or may be so is, as it were, to turn the senses back upon themselves, and so to realize that seeing the external world is also seeing the eyes. In other words, I became vividly aware of the fact that what I call shapes, colors, and textures in the outside world are also states of my nervous system, that is, of me. In knowing them I also know my self. But the strange part of this apparent sensation of my own senses was that I did not appear to be inspecting them from outside or from a distance, as if they were objects. I can say only that the awareness of grain or structure in the senses seemed to be awareness of awareness, of myself from inside myself. Because of this, it followed that the distance or separation between myself and my senses, on the one hand, and the external world, on the other, seemed to disappear I was no longer a detached observer, a little man inside my own head, having sensations. I was the sensations, so much so that there was nothing left of me, the observing ego, except the series of sensations which happened---not to me, but just happened---moment by moment, one after another.
To become the sensations, as distinct from having them, engenders the most astonishing sense of freedom and release. For it implies that experience is not something in which one is trapped or by which one is pushed around, or against which one must fight. The conventional duality of subject and object, knower and known, feeler and feeling, is changed into a polarity: the knower and the known become the poles, terms, or phases of a single event which happens, not to me or from me, but of itself. The experiencer and the experience become a single, ever-changing self-forming process, complete and fulfilled at every moment of its unfolding, and of infinite complexity and subtlety. It is like, not watching, but being, a coiling arabesque of smoke patterns in the air, or of ink dropped in water, or of a dancing snake which seems to move from every part of its body at once. This may be a "drug-induced hallucination," but it corresponds exactly to what Dewey and Bentley have called the transactional relationship of the organism to its environment. This is to say that all our actions and experiences arise mutually from the organism and from the environment at the same time. The eyes can see light because of the sun, but the sun is light because of the eyes. Ordinarily, under the hypnosis of social conditioning, we feel quite distinct from our physical surroundings, facing them rather than belonging in them. Yet in this way we ignore and screen out the physical fact of our total interdependence with the natural world. We are as embodied in it as our own cells and molecules are embodied in us. Our neglect and repression of this interrelationship gives special urgency to all the new sciences of ecology, studying the interplay of organisms with their environments, and warning us against ignorant interference with the balances of nature.
The sensation that events are happening of themselves, and that nothing is making them happen and that they are not happening to anything, has always been a major feature of my experiences with LSD. It is possible that the chemical is simply giving me a vivid realization of my own philosophy, though there have been times when the experience has suggested modifications of my previousthinking. (1) But just as the sensation of subject-object polarity is confirmed by the transactional psychology of Dewey and Bentley, so the sensation of events happening "of themselves" is just how one would expect to perceive a world consisting entirely of process. Now the language of science is increasingly a language of process---a description of events, relations, operations, and forms rather than of things and substances. The world so described is a world of actions rather than agents, verbs rather than nouns, going against the common-sense idea that an action is the behavior of some thing, some solid entity of "stuff." But the commonsense idea that action is always the function of an agent is so deeply rooted, so bound up with our sense of order and security, that seeing the world to be otherwise can be seriously disturbing. Without agents, actions do not seem to come from anywhere, to have any dependable origin, and at first sight this spontaneity can be alarming. In one experiment it seemed that whenever I tried to put my (metaphorical) foot upon some solid ground, the ground collapsed into empty space. I could find no substantial basis from which to act: my will was a whim, and my past, as a causal conditioning force, had simply vanished. There was only the present conformation of events, happening. For a while I felt lost in a void, frightened, baseless, insecure through and through Yet soon I became accustomed to the feeling, strange as it was. There was simply a pattern of action, of process, and this was at one and the same time the universe and myself with nothing outside it either to trust or mistrust. And there seemed to be no meaning in the idea of its trusting or mistrusting itself, just as there is no possibility of a finger's touching its own tip.
Upon reflection, there seems to be nothing unreasonable in seeing the world in this way. The agent behind every action is itself action. If a mat can be called matting, a cat can be called catting. We do not actually need to ask who or what "cats," just as we do not need to ask what is the basic stuff or substance out of which the world is formed---for there is no way of describing this substance except in terms of form, of structure, order, and operation. The world is not formed as if it were inert clay responding to the touch of a potter's hand; the world is form, or better, formation, for upon examination every substance turns out to be closely knit pattern. The fixed notion that every pattern or form must be made of some basic material which is in itself formless is based on a superficial analogy between natural formation and manufacture, as if the stars and rocks had been made out of something as a carpenter makes tables out of wood. Thus what we call the agent behind the action is simply the prior or relatively more constant state of the same action: when a man runs we have a "manning-running" over and above a simple "manning." Furthermore, it is only a somewhat clumsy convenience to say that present events are moved or caused by past events, for we are actually talking about earlier and later stages of the same event. We can establish regularities of rhythm and pattern in the course of an event, and so predict its future configurations, but its past states do not "push" its present and future states as if they were a row of dominoes stood on end so that knocking over the first collapses all the others in series. The fallen dominoes lie where they fall, but past events vanish into the present, which is just another way of saying that the world is a self-moving pattern which, when its successive states are remembered, can be shown to have a certain order. Its motion, its energy, issues from itself now, not from the past, which simply falls behind it in memory like the wake from a ship.
When we ask the "why" of this moving pattern, we usually try to answer the question in terms of its original, past impulse or of its future goal. I had realized for a long time that if there is in any sense a reason for the world's existence it must be sought in the present, as the reason for the wake must be sought in the engine of the moving ship. I have already mentioned that LSD makes me peculiarly aware of the musical or dance-like character of the world, bringing my attention to rest upon its present flowing and seeing this as its ultimate point. Yet I have also been able to see that this point has depths, that the present wells up from within itself with an energy which is something much richer than simple exuberance.
One of these experiments was conducted late at night. Some five or six hours from its start the doctor had to go home, and I was left alone in the garden. For me, this stage of the experiment is always the most rewarding in terms of insight, after some of its more unusual and bizarre sensory effects have worn off. The garden was a lawn surrounded by shrubs and high trees---Pine and eucalyptus---and floodlit from the house which enclosed it on one side. As I stood on the lawn I noticed that the rough patches where the grass was thin or mottled with weeds no longer seemed to be blemishes. Scattered at random as they were, they appeared to constitute an ordered design, giving the whole area the texture of velvet damask, the rough patches being the parts where the pile of the velvet is cut. In sheer delight I began to dance on this enchanted carpet, and through the thin soles of my moccasins I could feel the ground becoming alive under my feet, connecting me with the earth and the trees and the sky in such a way that I seemed to become one body with my whole surroundings.
Looking up, I saw that the stars were colored with the same reds, greens, and blues that one sees in iridescent glass, and passing across them was the single light of a jet plane taking forever to streak over the sky. At the same time, the trees, shrubs, and flowers seemed to be living jewelry, inwardly luminous like intricate structures of jade, alabaster, or coral, and yet breathing and flowing with the same life that was in me. Every plant became a kind of musical utterance, a play of variations on a theme repeated from the main branches, through the stalks and twigs, to the leaves, the veins in the leaves, and to the fine capillary network between the veins. Each new bursting of growth from a center repeated or amplified the basic design with increasing complexity and delight, finally exulting in a flower.
From my description it will seem that the garden acquired an atmosphere that was distinctly exotic, like the gardens of precious stones in the Arabian Nights, or like scenes in a Persian miniature. This struck me at the time, and I began to wonder just why it is that the glowingly articulated landscapes of those miniatures seem exotic, as do also many Chinese and Japanese paintings. Were the artists recording what they, too, had seen under the influence of drugs? I knew enough of the lives and techniques of Far Eastern painters to doubt this. I asked, too, whether what I was seeing was "drugged." In other words, was the effect of the LSD in my nervous system the addition to my senses of some chemical screen which distorted all that I saw to preternatural loveliness? Or was its effect rather to remove certain habitual and normal inhibitions of the mind and senses, enabling us to see things as they would appear to us if we were not so chronically repressed? Little is known of the exact neurological effects of LSD, but what is known suggests the latter possibility. If this be so, it is possible that the art forms of other cultures appear exotic---that is, unfamiliarly enchanting---because we are seeing the world through the eyes of artists whose repressions are not the same as ours. The blocks in their view of the world may not coincide with ours, so that in their representations of life we see areas that we normally ignore. I am inclined to some such solution because there have been times when I have seen the world in this magical aspect without benefit of LSD, and they were times when I was profoundly relaxed within, my senses unguardedly open to their surroundings.
Feeling, then, not that I was drugged but that I was in an unusual degree open to reality, I tried to discern the meaning, the inner character of the dancing pattern which constituted both myself and the garden, and the whole dome of the night with its colored stars. All at once it became obvious that the whole thing was love-play, where love means everything that the word can mean, a spectrum ranging from the red of erotic delight, through the green of human endearment, to the violet of divine charity, from Freud's libido to Dante's "love that moves the sun and other stars." All were so many colors issuing from a single white light, and, what was more, this single source was not just love as we ordinarily understand it: it was also intelligence, not only Eros and Agape but also Logos. I could see that the intricate organization both of the plants and of my own nervous system, like symphonies of branching complexity, were not just manifestations of intelligence---as if things like intelligence and love were in themselves substances or formless forces. It was rather that the pattern itself is intelligence and is love, and this somehow in spite of all its outwardly stupid and cruel distortions.
There is probably no way of finding objective verification for insights such as this. The world is love to him who treats it as such, even when it torments and destroys him, and in states of consciousness where there is no basic separation between the ego and the world suffering cannot be felt as malice inflicted upon oneself by another. By the same logic it might seem that with out the separation of self and other there can be no love. This might be true if individuality and universality were formal opposites, mutually exclusive of one another, if, that is, the inseparability of self and other meant that all individual differentiations were simply unreal. But in the unitary, or nondualistic, view of the world I have been describing this is not so. Individual differences express the unity, as branches, leaves, and flowers from the same plant, and the love between the members is the realization of their basic interdependence.
I have not yet been able to use LSD in circumstances of great physical or moral pain, and therefore my explorations of the problem of evil under its influence may appear to be shallow. Only once in these experiments have I felt acute fear, but I know of several cases in which LSD has touched off psychic states of the most alarming and unpleasant kind. More than once I have invited such states under LSD by looking at images ordinarily suggestive of "the creeps"---the mandibles of spiders, and the barbs and spines of dangerous fish and insects. Yet they evoked only a sense of beauty and exuberance, for our normal projection of malice into these creatures was entirely withdrawn, so that their organs of destruction became no more evil than the teeth of a beautiful woman. On another occasion I looked for a long time at a colored reproduction of Van Eyck's Last Judgment, which is surely one of the most horrendous products of human imagination. The scene of hell is dominated by the figure of Death, a skeleton beneath whose batlike wings lies a writhing mass of screaming bodies gnawed by snakes which penetrate them like maggots in fruit. One of the curious effects of LSD is to impart an illusion of movement in still images, so that here the picture came to life and the whole entanglement of limbs and serpents began to squirm before my eyes. (2)
Ordinarily such a sight should have been hideous, but now I watched it with intense and puzzled interest until the thought came to me, "Demon est deus inversus---the Devil is God inverted---so let's turn the picture upside down." I did so, and thereupon burst into laughter for it became apparent at once that the scene was an empty drama, a sort of spiritual scarecrow, designed to guard some mystery from profanation by the ignorant. The agonized expressions of the damned seemed quite evidently "put on," and as for the death's-head, the great skull in the center of the painting, it became just what a skull is---an empty shell---and why the horror when there is nothing in it?
I was, of course, seeing ecclesiastical hells for what they are. On the one hand, they are the pretension that social authority is ultimately inescapable since there are post-mortem police who will catch every criminal. On the other hand, they are "no trespassing" signs to discourage the insincere and the immature from attaining insights which they might abuse. A baby is put in a play pen to keep it from getting at the matches or falling downstairs, and though the intention of the pen is to keep the baby closed in, parents are naturally proud when the child grows strong enough to climb out. Likewise, a man can perform actions which are truly moral only when he is no longer motivated by the fear of hell, that is, when he grows into union with the Good that is beyond good and evil, which, in other words, does not act from the love of rewards or the fear of punishments. This is precisely the nature of the world when it is considered as self-moving action, giving out a past instead of being motivated by a past.
Beyond this, the perception of the empty threat of the death's-head was certainly a recognition of the fact that the fear of death, as distinct from the fear of dying, is one of the most baseless mirages that trouble us. Because it is completely impossible to imagine one's own personal absence, we fill the void in our minds with images of being buried alive in perpetual darkness. If death is the simple termination of a stream of consciousness, it is certainly nothing to fear. At the same time, I realize that there is some apparent evidence for survival of death in a few extraordinarily unexplainable mediumistic communications and remembrances of past lives. These I attribute, vaguely enough, to subtler networks of communication and interrelationship in the pattern of life than we ordinarily perceive. For if forms repeat themselves, if the structure of branching trees is reverberated in the design of watercourses in the desert, it would not be so strange if a pattern so intricate as the human nervous system were to repeat configurations that arise in consciousness as veritable memories of the most distant times. My own feeling, and of course it is nothing more than an opinion, is that we transcend death, not as individual memory-systems, but only in so far as our true identity is the total process of the world as distinct from the apparently separate organism.
As I have said, this sense of being the whole process is frequently experienced with LSD, and, for me, it has often arisen out of a strong feeling of the mutuality of opposites. Line and plane, concept and percept, solid and space, figure and ground, subject and object appear to be so completely correlative as to be convertible into each other. At one moment it seems that there are, for example, no lines in nature: there are only the boundaries of planes, boundaries which are, after all, the planes themselves. But at the next moment, looking carefully into the texture of these planes, one discovers them to be nothing but a dense network of patterned lines. Looking at the form of a tree against the sky, I have felt at one moment that its outline "belongs" to the tree, exploding into space. But the next moment I feel that the same form is the "inline" of the sky, of space imploding the tree. Every pull is felt as a push, and every push as a pull, as in rotating the rim of a wheel with one's hand. Is one pushing or pulling?
The sense that forms are also properties of the space in which they expand is not in the least fantastic when one considers the nature of magnetic fields, or, say, the dynamics of swirling ink dropped into water. The concepts of verbal thought are so clumsy that we tend to think only of one aspect of a relationship at a time. We alternate between seeing a given form as a property of the figure and as a property of the ground, as in the Gestalt image of two profiles in black silhouette, about to kiss. The white space between them appears as a chalice, but it is intensely difficult to see the kissing faces and the chalice simultaneously. Yet with LSD one appears to be able to feel this simultaneity quite vividly, and thus to become aware of the mutuality of one's own form and action and that of the surrounding world. The two seem to shape and determine each other at the same moment, explosion and implosion concurring in perfect harmony, so giving rise to the feeling that one is actual self is both. This inner identity is felt with every level of the environment---the physical world of stars and space, rocks and plants, the social world of human beings, and the ideational world of art and literature, music and conversation. All are grounds or fields operating in the most intimate mutuality with one's own existence and behavior so that the "origin" of action lies in both at once, fusing them into a single act. It is certainly for this reason that LSD taken in common with a small group can be a profoundly eucharistic experience, drawing the members together into an extremely warm and intimate bond of friendship.
All in all, I have felt that my experiments with this astonishing chemical have been most worth while, creative, stimulating, and, above all, an intimation that "there is more in heaven and earth than is dreamed of in your philosophy." Only once have I felt terror, the sense of being close to madness, and even here the insight gained was well worth the pain. Yet this was enough to convince me that indiscriminate use of this alchemy might be exceedingly dangerous, and to make me ask who, in our society, is competent to control its use. Obviously, this applies even more to such other powers of science as atomic energy, but once something is known there is really no way of locking it up. At the present time, 1960, LSD is in the control of pharmacologists and a few research groups of psychiatrists, and though there are unscrupulous and frankly psychotic psychiatrists, this seems to me a far more reliable form of control than that exercised by the police and the Bureau of Narcotics---which is not control at all, but ineffective repression, handing over actual control to the forces of organized crime.
On the whole, we feel justified in using dangerous powers when we can establish that there is a relatively low probability of disaster. Life organized so as to be completely foolproof and secure is simply not worth living, since it requires the final abolition of freedom. It is on this perfectly rational principle of gambling that we justify the use of travel by air and automobile, electric appliances in the home, and all the other dangerous instruments of civilization. Thus far, the record of catastrophes from the use of LSD is extremely low, and there is no evidence at all that it is either habit-forming or physically deleterious. It is, of course, possible to become psychically dependent on stimuli which do not establish any craving that can be identified in physiological terms. Personally, I am no example of phenomenal will power, but I find that I have no inclination to use LSD in the same way as tobacco or wines and liquors. On the contrary, the experience is always so fruitful that I feel I must digest it for some months before entering into it again. Furthermore, I find that I am quite instinctively disinclined to use it without the same sense of readiness and dedication with which one approaches a sacrament, and also that the experience is worth while to the precise degree that I keep my critical and intellectual faculties alert.
It is generally felt that there is a radical incompatibility between intuition and intellect, poetry and logic, spirituality and rationality, To me, the most impressive thing about LSD experiences is that these formally opposed realms seem instead to complement and fructify one another, suggesting, therefore, a mode of life in which man is no longer an embodied paradox of angel and animal, of reason fighting instinct, but a marvelous coincidence in whom Eros and Logos are one.
(1) I have often made the point, as in The Way of Zen, that the "real" world is concrete rather than abstract, and thus that the conceptual patterns of order, categorization, and logic which the human mind projects upon nature are in some way less real. But upon several occasions LSD has suggested a fundamental identity of percept and concept, concrete and abstract. After all, our brains and the patterns in them are themselves members of the concrete, physical universe, and thus our abstractions are as much forms of nature as the structure of crystals or the organization of ferns.
(2) Later, with the aid of a sea urchin's shell I was able to find out something of the reasons for this effect. All the small purple protuberances on the shell seemed to be wiggling, not only to sight but also to touch Watching this phenomenon closely, I realized that as my eyes moved across the shell they seemed to change the intensity of coloring, amounting to an increase or decrease in the depth of shadow. This did not happen when the eyes were held still. Now motion, or apparent motion, of the shadow will often seem to be motion of the object casting it, in this case the protrusions on the shell. In the Van Eyck painting there was likewise an alteration, a lightening or darkening, of actual shadows which the artist had painted, and thus the same illusion of movement.
A Psychedelic Experience - Fact or Fantasy?
by Alan Watts
This essay appeared in LSD, The Consciousness-Expanding Drug
David Solomon, Editor, G.P. Putnam's Sons, New York ©David Solomon 1964
Since at least 1500 B.C. men have, from time to time, held the view that our normal vision of the world is a hallucination—a dream, a figment of the mind, or, to use the Hindu word which means both art and illusion, a maya. The implication is that, if this is so, life need never be taken seriously. It is a fantasy, a play, a drama to be enjoyed. It does not really matter, for one day (perhaps in the moment of death) the illusion will dissolve, and each one of us will awaken to discover that he himself is what there is and all that there is—the very root and ground of the universe, or the ultimate and eternal space in which things and events come and go.
This is not simply an idea which someone "thought up," like science fiction or a philosophical theory. It is the attempt to express an experience in which consciousness itself, the basic sensation of being "I," undergoes a remarkable change. We do not know much about these experiences. They are relatively common, and arise in every part of the world. They occur to both children and adults. They may last for a few seconds and come once in a lifetime, or they may happen repeatedly and constitute a permanent change of consciousness. With baffling impartiality they may descend upon those who never heard of them, as upon those who have spent years trying to cultivate them by some type of discipline. They have been regarded, equally, as a disease of consciousness with symptoms everywhere the same, like measles, and as a vision of higher reality such as comes in moments of scientific or psychological insight. They may turn people into monsters and megalomaniacs, or transform them into saints and sages. While there is no sure way of inducing these experiences, a favorable atmosphere may be created by intense concentration, by fasting, by sensory deprivation, by hyper-oxygenation, by prolonged emotional stress, by profound relaxation, or by the use of certain drugs.
Experiences of this kind underlie some of the great world religions—Hinduism, Buddhism and Taoism in particular, and, to a much lesser extent, Judaism, Christianity, and Islam. As expressed in the doctrines of these religions, they purport to be an account of "the way things are" and therefore invite comparison with descriptions of the universe and of man given by physicists and biologists. They contradict common sense so violently and are accompanied with such a powerful sense of authenticity and reality (more real than reality is a common description) that men have always wondered whether they are divine revelations or insidious delusions.
This problem becomes all the more urgent now that the general public has become aware that experiences of this type are available, with relative ease, through the use of such chemicals as the so-called psychedelic drugs—LSD-25, mescaline, psilocybin, hashish, and marijuana, to name only the better known. The reality status of the modes of consciousness induced by these chemicals becomes, then, a matter of most serious concern for the guardians of our mental health, for psychiatrists and psychologists, philosophers and ministers, for every scientific investigator of the nature of consciousness, and, above all, for a large section of the general public curious and eager to get "the experience" for reasons of all kinds.
A proper study of the question runs, at the very beginning, into two obstacles. The first is that we know very little indeed about the structure and chemistry of the brain. We do not know enough of the ways in which it gleans information about the outside world and about itself to know whether these chemicals help it (as lenses help the eyes) or confuse it. The second is that the nature and use of these chemicals is surrounded with an immense semantic fog, whose density is increased by people who ought to know better. I mean psychiatrists.
What we know, positively and scientifically, about psychedelic chemicals is that they bring about certain alterations of sense perception, of emotional level and tone, of identity feeling, of the interpretation of sense data, and of the sensations of time and space. The nature of these alterations depends on three variables: the chemical itself (type and dosage), the psycho-physiological state of the subject, and the social and aesthetic context of the experiment. Their physiological side effects are minimal, though there are conditions (e.g., disease of the liver) in which some of them may be harmful. They are not physiologically habit-forming in the same way as alcohol and tobacco, though some individuals may come to depend upon them for other (i.e., "neurotic") reasons. Their results are not easily predictable since they depend so largely upon such imponderables as the setting, and the attitudes and expectations of both the supervisor and the subject. The (enormous) scientific literature on the subject indicates that a majority of people have pleasant reactions, a largish minority have unpleasant but instructive and helpful reactions, while a very small minority have psychotic reactions lasting from hours to months. It has never been definitely established that they have led directly to a suicide. (I am referring specifically here to LSD-25, mescaline, the mushroom derivative psilocybin, and the various forms of cannabis, such as hashish and marijuana.)
Thus what we know for certain implies that these chemicals cannot be used without caution. But this applies equally to antibiotics, whiskey, household ammonia, the automobile, the kitchen knife, electricity, and matches. No worthwhile life can be lived without risks, despite current American superstitions to the contrary—as that passing laws can prevent people from being immoral and that technological power can be made foolproof. The question is therefore whether the risks involved in using these chemicals are worthwhile, and it seems to me that what is worthwhile should be judged not only in terms of useful known edge or therapeutic effect, but also in terms of simple pleasure. (I have heard addiction to music described in just the same vocabulary as addiction to drugs.) If it turns out that psychedelics offer valid ways of exploring man's "inner world," the hidden ways of the mind and brain, we should surely admit that new knowledge of this inmost frontier may be worth quite serious risks. Psychoses and compulsive delusions are, after all, no more dangerous than the Indians and the mountain ranges that stood in the way of the first settlers of the American West.
Psychiatrists often wonder why colleagues in other branches of medicine and specialists in other fields of science do not take them quite seriously. A typical reason may be found in their haste to define the nature and effects of these chemicals in terms which are simply prejudicial, and which boil down to nothing more than gobbledygook with an authoritative rumble. For example, the chemicals in question are commonly classified as "hallucinogenics" or "psychotomimetics." The first word means that they generate hallucinations, and the second that their effects resemble, or mimic, certain forms of psychosis or insanity. Only rarely do they give the impression of events in the external world which are not actually happening (i.e., hallucinations) and the ten-year-old notion that they induce "model psychoses" such as temporary schizophrenia has long been abandoned by those who are still in active research. But even if these findings were to be contested, the words "hallucination" and "psychosis" are loaded: they designate bad states of mind, whereas a clean scientific language should say only that these chemicals induce different and unusual states of mind.
It is almost a standard joke that psychiatry has pejorative or "put-down" words for every human emotion, as "euphoric" for happy, "fixated" for interested, and "compulsive" for determined. The discussion of psychedelic chemicals, both in the scientific literature and the public press, is thoroughly swamped with question-begging language of this kind in articles that purport to be impartial and authoritative. Right from the start the very word "drug," when used in this connection, evokes the socially reprehensible image of people who are "drugged" or "doped"—glassy-eyed, staggering, or recumbent wrecks of humanity, withdrawn from reality into a diabolical paradise of bizarre or lascivious dreams. The image of the Fu Manchu opium den, with screaming meemies at the end of the line.
Thus it is most common to find the action of psychedelics called "toxic" (i.e., poisonous), and the sensory and emotional changes induced referred to as "distortions," "delusive mechanisms," "dissociations," and "regressions," or as "loss of ego structure" and "abnormal perception of body image." This is the language of pathology. Used without explicit qualification, it implies that a consciousness so changed is sick. Likewise, when—in the context of a scientific article—the writer reports, "Subjects experienced religious exaltation, and some described sensations of being one with God," and leaves it at that, the implication is plainly that they went crazy. For in our own culture, to feel that you are God is insanity almost by definition. But, in Hindu culture, when someone says, "I have just found out that I am God," they say, "Congratulations! You at last got the point." Obviously, the word "God" does not mean the same thing in both cultures. Yet psychiatrists toss off such utterly damning remarks without scruple, and feel free to use their diagnostic jargon of mental pathology for states of consciousness which many of them have never even bothered to experience. For they expect to get accurate information about these states from subjects untrained in scientific description, fearing that if they themselves entered into any new mode of consciousness it would impair their scientific objectivity. This is pure scholasticism, as when the theologians said to Galileo, "We will not look through your telescope because we already know how the universe is ordered. If your telescope were to show us anything different, it would be an instrument of the devil."
Similarly, so many practitioners of the inexact sciences (e.g., psychology, anthropology, sociology) let it be known most clearly that they already know what reality is, and therefore what sanity is. For these poor drudges reality is the world of non-party: it is the reduction of the physical universe to the most banal and desiccated terms conceivable, in accordance with the great Western myth that all nature outside the human skin is a stupid and unfeeling mechanism. There is a sort of "official psychiatry" of the army, state mental hospital, and of what, in California, they call "correctional facility" (i.e., prison), which defends this impoverished reality with a strange passion.
To come, then, to any effective evaluation of these chemicals and the changed states of consciousness and perception which they induce, we must begin with a highly detailed and accurate description of what they do, both from the standpoint of the subject and of the neutral observer, despite the fact that in experiments of this kind it becomes startlingly obvious that the observer cannot be neutral, and that the posture of "objectivity" is itself one of the determinants of the outcome. As the physicist well knows, to observe a process is to change it. But the importance of careful description is that it may help us to understand the kind or level of reality upon which these changes in consciousness are taking place.
For undoubtedly they are happening. The dancing, kaleidoscopic arabesques which appear before closed eyes are surely an observation of some reality, though not, perhaps, in the physical world outside the skin. But are they rearranged memories? Structures in the nervous system? Archetypes of the collective unconscious? Electronic patterns such as often dance on the TV screen? What, too, are the fern-like structures which are so often seen—the infinitude of branches upon branches upon branches, or analogous shapes? Are these a glimpse of some kind of analytical process in the brain, similar to the wiring patterns in a computer? We really have no idea, but the more carefully observers can record verbal descriptions and visual pictures of these phenomena, the more likely that neurologists or physicists or even mathematicians will turn up the physical processes to which they correspond. The point is that these visions are not mere imagination, as if there had ever been anything mere about imagination The human mind does not just perversely invent utterly useless images out of nowhere at all. Every image tells us something about the mind or the brain or the organism in which it is found.
The effects of the psychedelics vary so much from person to person and from situation to situation that it is well nigh impossible to say with any exactitude that they create certain particular and invariable changes of consciousness. I would not go so far as to say that the chemical effects are simply featureless, providing no more than a vivid mirror to reflect the fantasies and unconscious dispositions of the individuals involved. For there are certain types of change which are usual enough to be considered characteristic of psychedelics: the sense of slowed or arrested time, and the alteration of "ego boundary"—that is, of the sensation of one's own identity.
The feeling that time has relaxed its pace may, to some extent, be the result of having set aside the better part of a day just to observe one's own consciousness, and to watch for interesting changes in one's perception of such ordinary things as reflected sunlight on the floor, the grain in wood, the texture of linen, or the sound of voices across the street. My own experience has never been of a distortion of these perceptions, as in looking at oneself in a concave mirror. It is rather that every perception becomes—to use a metaphor—more resonant. The chemical seems to provide consciousness with a sounding box, or its equivalent, for all the senses, so that sight, touch, taste, smell, and imagination are intensified like the voice of someone singing in the bathtub.
The change of ego boundary sometimes begins from this very resonance of the senses. The intensification and "deepening" of color, sound and texture lends them a peculiar transparency. One seems to be aware of them more than ever as vibration, electronic and luminous. As this feeling develops it appears that these vibrations are continuous with one's own consciousness and that the external world is in some odd way inside the mindbrain. It appears, too, with overwhelming obviousness, that the inside and the outside do not exclude one another and are not actually separate. They go together; they imply one another, like front and back, in such a way that they become polarized. As, therefore, the poles of a magnet are the extremities of a single body, it appears that the inside and the outside, the subject and the object, the self and the world, the voluntary and the involuntary, are the poles of a single process which is my real and hitherto unknown self. This new self has no location. It is not something like a traditional soul, using the body as a temporary house. To ask where it is, is like asking where the universe is. Things in space have a where, but the thing that space is in doesn't need to be anywhere. It is simply what there is, just plain basic isness!
How easily, then, an unsophisticated person might exclaim, "I have just discovered that I am God!" Yet if, during such an experience, one retains any critical faculties at all, it will be clear that anyone else in the same state of consciousness will also be God. It will be clear, too, that the "God" in question is not the God of popular theology, the Master Technician who controls, creates, and understands everything in the universe. Were it so, a person in this state should be able to give correct answers to all questions of fact. He would know the exact height of Mount Whitney in millimeters. On the other hand, this awareness of a deeper and universal self would correspond exactly with that other type of God which mystics have called the "divine ground" of the universe, a sort of intelligent and superconscious space containing the whole cosmos as a mirror contains images... though the analogy fails in so far as it suggests something immense: we cannot picture sizelessness.
Anyone moving into completely unfamiliar territory may at first misunderstand and misinterpret what he sees, as is so evident from the first impressions of visitors to foreign lands where patterns of culture differ radically from their own. When Europeans depicted their first impressions of China, they made the roofs of houses exaggeratedly curly and people's eyes slanted at least 45 degrees from the horizontal. Contrariwise, the Japanese saw all Europeans as red-haired, sunken-eyed goblins with immensely long noses. But the unfamiliarities of foreign cultures are nothing to those of one's own inner workings. What is there in the experience of clear blue sky to suggest the structure of the optical nerves? Comparably, what is there in the sound of a human voice on the radio to suggest the formations of tubes and transistors? I raise this question because it is obvious that any chemically induced alteration of the nervous system must draw the attention of that system to itself. I am not normally aware that the sensation of blue sky is a state of the eyes and brain, but if I see wandering spots that are neither birds nor flying saucers, I know that these are an abnormality within the optical system itself. In other words, I am enabled, by virtue of this abnormality, to become conscious of one of the instruments of consciousness. But this is most unfamiliar territory.
Ordinarily, we remain quite unaware of the fact that the whole field of vision with its vast multiplicity of colors and shapes is a state of affairs inside our heads. Only eyes within a nervous system within a whole biological organism can translate the particles and/or waves of the physical world into light, color, and form, just as only the skin of a drum can make a moving hand go "Boom!" Psychedelics induce subtle alterations of perception which make the nervous system aware of itself, and the individual suddenly and unaccustomedly becomes conscious of the external world as a state of his own body. He may even go so far as to feel a confusion between what other people and things are doing, on the one hand, and his own volition, on the other. The particular feeling, or "cue," attached to thoughts and actions normally understood to be voluntary may then be attached to what is ordinarily classified as involuntary. (Similarly, in deja vu or "hasn't-this-happened-before?" experiences, perceptions of the immediate here and now come through with the cue or signal usually attached to memories.)
Under such circumstances the naive observer might well take these impressions so literally as to feel that the universe and his own body are in fact one and the same, that he is willing everything that happens, and that he is indeed the God of populartheology. If that were all, the psychedelics might certainly be dismissed as hallucinogens. We might conclude that they merely confuse the "wiring" of the nervous system in such a way that volition or "I-am-doing- this" signals get mixed up with messages about the external world.
Yet the problem cannot be set aside so simply. Let us suppose that a biologist wants to make a very detailed and accurate description of the behavior of some particular organism, perhaps of a sea bird feeding on the beach. He will be unable to describe the behavior of the bird without also describing the behavior of the water, of the sandworms or shellfish which the bird is eating, of seasonal changes of tide, temperature, and weather, all of which go together with the behavior of the bird. He cannot describe the behavior of the organism without also describing the behavior of its environment. We used to attribute this to the fact that organisms are always reacting to things that happen in their environments, and are even determined by their environments in all that they do. But this is to speak as if things were a collection of perfectly separate billiard balls banging against one another. Today, however, the scientist tends more and more to speak of the behavior of the organism and the behavior of the environment as the behavior of a single "field," somewhat awkwardly named the "organism/environment." Instead of talking about actions and reactions between different things and events, he prefers to speak of transactions. In the transaction of buying and selling, there is no selling unless there is simultaneously buying, and vice versa. The relation of organism to environment is also considered a transaction, because it has been found that living creatures exist only in a balanced relationship to one another. The present natural state of this planet "goes with" the existence of human beings, just as buying goes with selling. In any radically different environment, man could survive only by becoming a different type of being.
The implications of this organism/environment relationship are somewhat startling, for what is really being said is this: The entity we are describing is not an organism in an environment; it is a unified field or process, because it is more simple and more convenient to think of what the organism does and what the environment does as a single "behavior." Now substitute for "entity we are describing" the idea of the self. I myself am not just what is bounded by my skin. I myself (the organism) am what my whole environmental field (the universe) is doing. It is, then, simply a convention, a fashion, an arbitrary social institution, to confine the self to some center of decision and energy located within this bag of skin. This is no more than the rule of a particular social game of cops and robbers, that is, of who shall we praise and reward, and who shall we blame and punish? To play this game, we pretend that the origin of actions is something inside each human skin. But only force of long ingrained habit makes it hard to realize that we could define and actually feel ourselves to be the total pattern of the cosmos as focussed or expressed here. This would be a sense of our identity consistent with the scientific description of man and other organisms. It would involve, too, the sensation that the external world is continuous with and one with our own bodies—a sensation very seriously needed in a civilization where men are destroying their environment by misapplied technology. This is the technology of man's conquest of nature, as if the external world were his enemy and not the very matrix in which he is brought forth and sustained. This is the technology of the dust bowls, of polluted air, poisoned streams, chemical chickens, pseudo-vegetables, foam-rubber bread, and the total Los Angelization of man.
Yet how is this long-ingrained sense of insular identity to be overcome? How is twentieth-century man to gain a feeling of his existence consistent with twentieth-century knowledge? We need very urgently to know that we are not strangers and aliens in the physical universe. We were not dropped here by divine whim or mechanical fluke out of some other universe altogether. We did not arrive, like birds on barren branches; we grew out of this world, like leaves and fruit. Our universe "humans" just as a rosebush "flowers." We are living in a world where men all over the planet are linked by an immense network of communications, and where science has made us theoretically aware of our interdependence with the entire domain of organic and inorganic nature. But our ego-feeling, our style of personal identity, is more appropriate to men living in fortified castles.
There seems to me a strong possibility that the psychedelics (as a medicine rather than a diet) may help us to "trigger" a new sense of identity, providing the initial boost to get us out of the habit of restricting "I" to a vague center within the skin. That they make us aware that our whole knowledge of the external world is a state of our own bodies is not a merely technical and trivial discovery. It is the obverse of the fact that our own bodies are functions, or behaviors, of the whole external world. This—at first—weird and mystical sensation of "unity with the cosmos" has been objectively verified. The mystic's subjective experience of his identity with "the All" is the scientist's objective description of ecological relationship, of the organism/environment as a unified field.
Our general failure (over the past three thousand years of human history) to notice the inseparability of things, and to be aware of our own basic unity with the external world, is the result of specializing in a particular kind of consciousness. For we have very largely based culture and civilization on concentrated attention, on using the mind as a spotlight rather than a floodlight, and by this means analyzing the world into separate bits. Concentrated attention is drummed into us in schools; it is essential to the three R's; it is the foundation of all careful thought and detailed description, all high artistic technique and intellectual discipline. But the price we pay for this vision of the world in vivid detail, bit by bit, is that we lose sight of the relationships and unities between the bits. Furthermore, a form of attention which looks at the world bit by bit doesn't have time to examine all possible bits; it has to be programmed (or prejudiced) to look only at significant bits, at things and events which are relevant to certain preselected ends—survival, social or financial advancement, and other fixed goals which exclude the possibility of being open to surprises, and to those delights which are extra special because they come without being sought.
In my own experience, which is shared by very many others, the psychedelics expand attention. They make the spotlight of consciousness a floodlight which not only exposes ignored relationships and unities but also brings to light unsuspected details—details normally ignored because of their lack of significance, or their irrelevance to some prejudice of what ought to be. (For example, the tiniest hairs on people's faces and blotchy variations of skin color, not really supposed to be there, become marvelously visible.) There is thus good reason to believe that the psychedelics are the opposite of hallucinogens insofar as they decrease the selectivity of the senses and expose consciousness to events beyond those that are supposed to deserve notice.
Time after time, this unprogrammed mode of attention, looking at things without looking for things, reveals the unbelievable beauty of the everyday world. Under the influence of programmed attention, our vision of the world tends to be somewhat dusty and drab. This is for the same reason that staring at things makes them blurred, and that trying to get the utmost out of a particular pleasure makes it something of a disappointment. Intense beauty and intense pleasure are always gratuitous, and are revealed only to senses that are not seeking and straining. For our nerves are not muscles; to push them is to reduce their efficiency.
What, finally, of the strong impression delivered both by the psychedelics and by many forms of mystical experience that the world is in some way an illusion? A difficulty here is that the word "illusion" is currently used pejoratively, as the negative of everything real, serious, important, valuable, and worthwhile. Is this because moralists and metaphysicians are apt to be personality types lacking the light touch? Illusion is related etymologically to the Latin ludere, to play, and thus is distinguished from reality as the drama is distinguished from "real life." In Hindu philosophy, the world is seen as a drama in which all the parts—each person, animal, flower, stone, and star—are roles or masks of the one supreme Self, which plays the lila or game of hide and seek with itself for ever and ever, dismembering itself as the Many and remembering itself as the One through endless cycles of time, in the spirit of a child tossing stones into a pond through a long afternoon in summer. The sudden awakening of the mystical experience is therefore the one Self remembering itself as the real foundation of the seemingly individual and separate organism.
Thus the Hindu maya, or world illusion, is not necessarily something bad. Maya is a complex word signifying the art, skill, dexterity, and cunning of the supreme Self in the exercise of its playful, magical, and creative power. The power of an actor so superb that he is taken in by his own performance. The Godhead amazing itself, getting lost in a maze.
Classical illustrations of maya include the apparently continuous circle of fire made by a whirling torch, and of the continuity of time and moving events by the whirring succession of Asana, or atomic instants. Physicists use similar metaphors in trying to explain how vibrating wavicles produce the illusion of solid material. The impenetrability of granite, they say, is something like the apparently solid disk made by the blades of an electric fan: it is an intensely rapid motion of the same minute orbits of light that constitute our fingers. Physics and optics have also much to say about the fact that all reality, all existence is a matter of relationship and transaction. Consider the formula
a                b = Rainbow 

         c 
where a is the sun, b is moisture in the atmosphere, and c is an observer, all three being at the same time in a certain angular relationship. Deduct any one term, a, b or c, or arrange them in positions outside the correct angular relationship, and the phenomenon "rainbow" will not exist. In other words, the actual existence of rainbows depends as much upon creatures with eyes as it depends upon the sun and moisture in the atmosphere. Common sense accepts this in respect to diaphanous things like rainbows which back off into the distance when we try to reach them. But it has great difficulty in accepting the fact that chunky things like apartment buildings and basic things like time and space exist in just the same way—only in relation to certain structures known as organisms with nervous systems.
Our difficulty in accepting for ourselves so important a part in the actual creation or manifestation of the world comes, of course, from this thorough habituation to the feeling that we are strangers in the universe—that human consciousness is a fluke of nature, that the world is an external object which we confront, that its immense size reduces us to pitiful unimportance, or that geological and astronomical structures are somehow more real (hard and solid?) than organisms. But these are actually mythological images of the nineteenth and early twentieth centuries—ideas which, for a while, seemed extremely plausible, mostly for the reason that they appeared to be hard-boiled, down to earth and tough-minded, a currently fashionable posture for the scientist. Despite the lag between advanced scientific ideas and the common sense of even the educated public, the mythology of man as a hapless fluke trapped in a mindless mechanism is breaking down. The end of this century may find us, at last, thoroughly at home in our own world, swimming in the ocean of relativity as joyously as dolphins in the water.