ZEN IRODALOM ZEN LITERATURE
« Zen index
« Home
Five Oxherding Verses 《了菴清欲禪師語錄》卷7
by了菴清欲 Liaoan Qingyu [Ryōan Seiyoku], 1288-1363
Translated by 赤松 Chi Song (Red Pine/Bill Porter, 1943-)

Ox Drawings by Han Meilin (韩美林 / 韓美林; born in 1936, Jinan, Shandong)
selected by Gabor Terebess
"The Whitening/Blackening of the Ox"
1.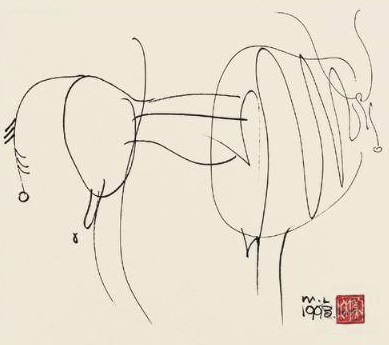 我有水牯牛。生來惟自牧。鞭繩既在手。且免東西觸。
I've been herding a buffalo
ever since it was born
in my hands a switch and rope
keeping it from running left or right
2.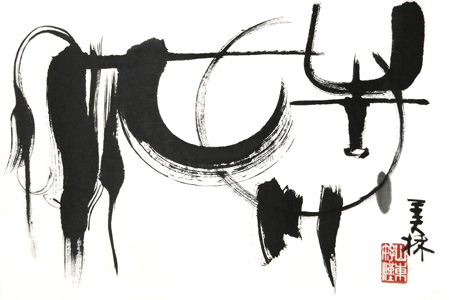 原上春草青。原下春水綠。隨宜不多求。得飽意自足。
in spring the hills are green
the stream below is blue
the ox gets by with few desires
a good feed keeps it happy
3.

如是三十載。養之頗純熟。豈無他人稼。示之非所欲。
like this for thirty years
the ox has been well trained
seeing someone else's grain
doesn't make it hungry
4.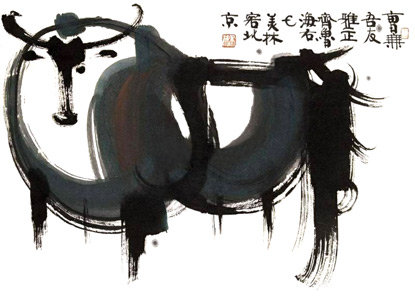 毛色日已化。頭角空自全。既不逆人意。又不蹊人田。
its coat has slowly faded
through useless horns remain
it doesn't snort at others
or run through others' fields
5.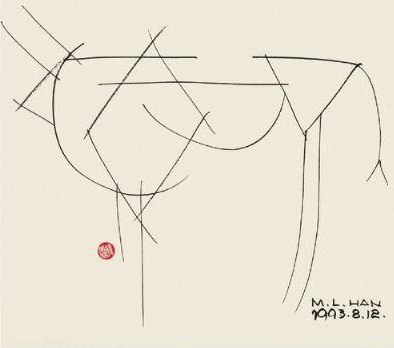 三春農事罷。一堤楊柳煙。人牛兩何有。庶以終天年。
farm work is done by summer
the dike is willow haze
where is the ox and man
their time it seems is done
Version en cinq tableau d'un auteur anonyme
Le chemin de l'éveil, illustré par le dressage du buffle dans le bouddhisme Chan, le dressage du cheval dans le taoïsme, et le dressage de l'éléphant dans le bouddhisme tibétain,
par Catherine Despeux
Paris, éd. l'Asiathèque, 1981 (réimpr. 1992; 2015), pp. 61-62.
Cette version est mentionnée dans le Peiwen yunfu (à la rime you) qui cite le Chuandeng
lu. Nous n'avons cependant pas trouvé dans ce dernier ouvrage de mention d'une telle
version. D'après le Peiwen yunfu, les cinq étapes auraient été les suivantes:

1. Le corps du buffle est entièrement blanc, symbolisant la nature profonde et non
souillée de l'homme.

2. La tête noircit progressivement, car le Réel a été égaré et des pensées erronées
naissent.

3. Le corps du buffle est entièrement noir, symbolisant l'enfant pris dans les réincar-
nations.

4. La tête blanchit progressivement car, tournant le dos à l'irréel, l'homme retourne
au Réel.

5. L'animal est de nouveau entièrement blanc, il y a retour à la source, à l'origine.

Le Chuandeng lu ayant été écrit au tout début du XIe siècle, cette version serait la
plus ancienne.
Han Meilin (韩美林 / 韓美林)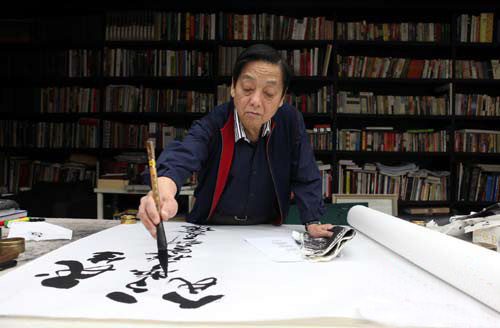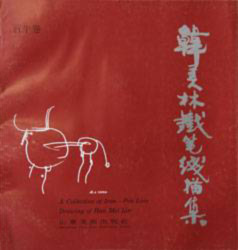 韩美林铁笔线描图——百牛卷
山东美术出版社, 1993
A Collection of Iron-Pen Line Drawing of Han Mei Lin —— one hundred bulls
Shandong Fine Arts Publishing House, 1993
<![if !supportLineBreakNewLine]>
<![endif]>
 韩美林自序
  近几年来不务正业,放弃了画画做起了雕塑来了,其实我无心干雕塑这一行,可能过几年再回头去画画,什么时候?我说不上来,听其自然吧!
  这几本铁笔线描是在构思雕塑时,顺手画的一些手稿,虽然不成熟,但是它很自然,也可能年龄到了"下蛋"季节,一动手就放不下来,信不信由你,这三本书是我不到一个星期画出来的,坐下就没动窝,等画完了,也换了一屁股褥疮。我不后悔,我觉得很值。
  这些牛呀,马呀,鸡呀,人呀…都是我的"儿子",看不出毛病来,自己的孩子再丑也是他娘的宝贝蛋,所以尚请各位行家指点,做雕塑是第一次,拿着钢笔画画也是第一次。