Terebess Asia Online (TAO)
Index
Home
正岡子規 Masaoka Shiki (1867-1902)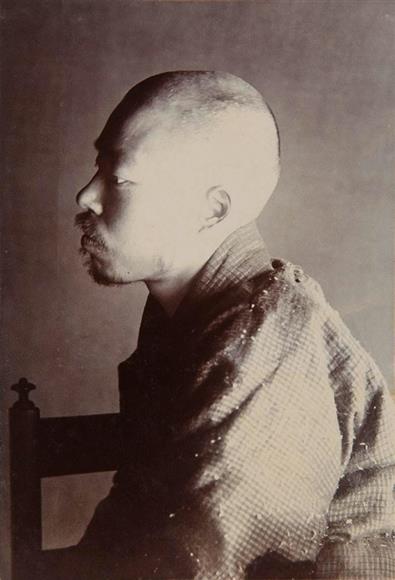 Shiki's last portrait, December 24, 1900. Photo: 正岡明 Masaoka Akira

子規の俳句
http://www.aozora.gr.jp/index_pages/person305.html#sakuhin_list_1
http://www5c.biglobe.ne.jp/n32e131/haiku/siki.html
http://etext.lib.virginia.edu/japanese/shiki/beichman/BeiShik.utf8.html
https://www.city.matsuyama.ehime.jp/shisetsu/bunka/sikihaku/sikihakuriyou/shikihaiku_kensaku.html
子規は、その長くはない生涯で約24,000もの俳句を作りました。(抹消句等を含みます)
その子規の俳句を、春、夏、秋、冬、新年、雑 に分類して掲載しました。
季語での検索もできますので、ぜひ覗いてみてください。

出典:『季語別子規俳句集』   編集・発行 松山市立子規記念博物館

年代 Date 季節 Season 分類 Classification (plants, animals, human, astronomy etc.) 季語 Kigo (seasonal word)
子規の俳句検索
http://sikihaku.lesp.co.jp/community/search/index.php
指定管理者株式会社(レスパスコーポレーション)のホームページで、句中曖昧語、年代、季節、分類、季語の5つの検索方法で絞り込んで検索できるようになりましたので、こちらもご利用ください。

SHIKI: The Discovery of Haiku
Source: http://shiki.toward.co.jp/~kim/masaoka1.html
In 1868 Japan launched into a civilized society from the feudal age. Western culture had a great effect on it and civilization rapidly developed modern culture.
In the previous year 1867, Masaoka Shiki was born in Matsuyama. His father served the Matsuyama domain in the lower rank of samurai. Shiki lived to be 35 years old and died of tuberculosis of spine in 1902. In his last seven years, he had to be confined to his bed; however, during that time he accomplished three of his great works on modern literature: Haiku Reform, Tanka reform, Advocating Sketch-from-Life-Prose.
1. Shiki's Discovery of Literature
When Shiki was in the fifth grade he composed a Chinese poem.
聞子規
一声弧月下 啼血不堪聞
半夜空欹枕 故郷万里雲

Under the moonlight, cuckoo cried as if it coughed up blood.
The sad voice kept me waking up,
the cry reminded me of my old home town far away.
(It is said that a Japanese cuckoo, hototogisu, 子規 (Shiki) will sing until it coughs out blood because of its sad voice.)
In those days Chinese poetry and prose were considered as important learning and culture, so even young children used to compose them. The interesting thing about this young Shiki's Chinese poem is that he composed on a sad voice of cuckoo which would cough up blood. Later he was to cough out blood and he picked out his pen name, 子規 (Shiki) a hototogisu. Shiki wrote about 900 Chinese poems in his life.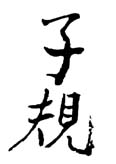 Shiki's name in his own handwriting
At the age of 15, Shiki began to composed tanka with 31 Japanese letters of 5-7-5-7-7 syllables. He composed about 2300 tanka in his life.
2. Interest in Haiku
When he was a college student in Tokyo he sometimes enjoyed word games with his friends. He also like baseball very much. He is said to have introduced baseball to Matsuyama. One of his pen names was '野球', baseball. In this pen name he used a complex bilingual pun. The kanji 野球 literally means field ball and 'field ball' can be translated into 'no boru' in Japanese. Shiki was called Noboru in his infancy. Noboru was the name by which Shiki's friends and family loved him. In his youth Shiki believed word play was the wit of literature. He once composed a haiku on 草餅,a green herb rice cake.

野のみどり搗き込みにけり草の餅

green in the field
was pounded into
rice cake
草餅 a green herb rice cake is made of rice pounded in a mortar with steamed leaves of mugworts. The expression ' green in the field is pound into rice cake' was interesting, but overuses the images.
When he was 22, he coughed out blood. He changed his name to Shiki,which is an another name for the bird a Japanese cuckoo 'hototogisu'. Since those days, he was inspired by his uncle, haiku teacher Ohara Kiju. He began to devote himself into haiku. Shiki composed over 25,500 haiku in his short life. After Ohara Kiju passed away, he began to classify old haiku according to season words. At that time there were several ways of using season words and they were different according to writers. For instance, there were many kinds of 'tofu' : cold tofu, yu-dofu (a simmered hot water tofu), etc. So he began to consider what season each word should express.
3. Haiku as a Sketch of Life
When he was 24, he had 3 day walk around Musashino ( fields around present Warabi-shi and Kumagawa-shi in Saitama Prefecture where there used to be lots of rice paddy fields and forests.) at the end of the year 1891, when he realized that word play would not enough to express the truth and that we should write things as they are. He had an open-eye to haiku for the first time. He composed:
凩や荒緒くひこむ菅の笠

cold winter blast
a cord of a sedge hat
cut into my neck

夕日負ふ六部背高き枯野かな

the sun set behind
a traveling monk
tall in the withered field
Next year in 1892 he went to a hill ,Takao-san in the western suburbs of Tokyo and composed the following haiku:
麦蒔や束ねあげたる桑の枝

wheat sowing
the mulberry trees
lift bunched branches

松杉や枯野の中の不動堂

pine and cypress
in a desolate filed
a Fudodo shrine
He wrote a simple haiku from a simple common sight. This was a new experiment and discovery of new material and vision. Then he composed another sketch haiku in 1894.
低く飛ぶ畦の螽や日の弱り

locusts fly low
over rice paddies
in the dim sun ray

赤蜻蛉筑波に雲もなかりけり

red dragon fly
in the sky of Tsukuba
no cloud
The former haiku has a very close eye to the insects and the latter one expresses a very spacy field with a dragon fly focused.
4. Shiki in Matsuyama
At the age of 28 he returned to Matsuyama and spent over 50 days recuperating from tuberculosis with Soseki Natsume, one of his best friends and a very famous author. Soseki was in Matsuyama as a teacher of English at Matsuyama Middle School. Soseki was living at Gudabutsuan, where many Shiki's friends visited. Soseki and town people were quite inspired with Shiki's new type haiku. They gathered around him every night to hold haiku meetings. They also enjoyed writing haiku while taking a walk. Shiki composed this haiku when they paid a visit to Ishite Temple, the 51st pilgrimage temple.
見上ぐれば塔の高さよ秋の空  composed on September 20 in 1895.

looking up
what a high pagoda
in the autumn sky
This haiku just has a right direct expression of the great three storied pagoda, soaring to the clear autumn sky.
At Hojoji Temple,where Buddhism Ji-sect founder Saint Ippen was born, he composed:
色里や十歩はなれて秋の空

a gay quarter
just ten steps away
autumn breeze
Just near the temple there used to be a gay quarter.
Also he composed another haiku at Dogo Hot Spring from the building of Dogo hot spring spa, which is very near the temple.
柿の木にとりかこまれたる温泉哉

by persimmon trees
surrounded
hot spring
From the 3rd floor of the main building of Dogo hot spring spa, we see the castle to the west, rice paddies beyond and hot spring quarters, where each house had persimmon trees in the yard. They were astringent persimmons. We remove the astringency of persimmons with low-class distilled spirits, 'shochu'. We spray 'shochu' over them until they become sweet, Shiki loved this sweetened persimmons very much. As for his haiku appreciation, that haiku describes only visible scene, and to tell the truth, we may say it is not so good a haiku. Shiki could have eaten up 15 or 16 of the sweetened persimmons at one time. So persimmon trees might have attracted Shiki.
5. Haiku Reform
Through his haiku exercise, he studied how to improve haiku and wrote a theoretical text on haiku literature, 'Haiku Taiyo', The Element of Haiku.
At this time haiku was considered to be a low rank literature. It used to be composed in the hangout of the barbers or rikisha-men. But Shiki's 'Haiku Taiyo' inspired people and they began to think better of haiku.
Shiki composed more haiku:
水草の花まだ白し秋の風

water plant blossoms
still white
autumn wind

ひょっと葉は牛が喰ふたか曼珠沙華

I wonder
a cow has eaten up the leaves
a spider lily

松山の城をのせたり稲むしろ

Matsuyama Castle
lifted over the mats
of rice fields
In the traditional Japanese literature, people used to attach much importance to 'yugen' and 'wabi'. 'Yugen' is the subtle and profound quiet beauty and 'wabi' is quiet refinement. These concepts are based on imagination. But Shiki made much use of realism as a methodology and also hit upon an idea of sketch, a technique of drawing and then proposed the philosopher Hegel's theory of "Aufheben", Sublimation as a true literature. He thought of how to use the selection of combination with realism. He advocated 'the 3rd literature; Non imaginary and non realistic literature'.
On his way to Tokyo, he dropped in at Nara, and composed the best known haiku.
柿食へば鐘が鳴るなり法隆寺

I bite a persimmon
the bell tolls
Horyu-ji Temple
Shortly after, he suffered much agonized pain and had to be confined to his sick bed for seven years. Although he was a newspaper correspondent at Nihon Shinbun newspaper company, he could not get to work. During that painful period in bed, he initiated his haiku and tanka reform.
6. Some Interesting Haiku
Let's appreciate some of his interesting haiku:
猫恋 (in 1896)
内のチョマが隣のタマを待つ夜かな

Title: Cat's Love
My cat Choma
waiting for neighbor's cat Tama
at night.
This haiku is humorous and it contains the real cats' names 'Choma' and 'Tama'.
いくたびも雪の深さを尋ねけり

many a time
asking the height of
the snow
Since there was not so much snow in Matsuyama, Shiki might have been interested in the snow and he was curious about snow like a child. He kept such innocent spirit of a child.
幼子や青きを踏みし足の裏 (in 1898)

an infant
steps on the green grass
barefoot
This green grass haiku evokes us of the touch of the child's barefoot on the green grass.
この頃の蕣藍に定まりぬ

at this time
morning glories fix the color
deep blue
The summer is advancing and the color of the morning glories has become most blue.
林檎くふて牡丹の前に死なん哉

I eat green apples
facing to peonies
I will die
In this peony haiku, both 'green apples' and 'peony' are summer season words. It is usually said we should not use two season words because the haiku will be out of focus with two images. But this haiku is beautiful and it describes Shiki's character very well. Shiki liked fruit very much. When he wrote the haiku, he had eaten apples to his heart content, thinking of the famous traditional haiku master Buson, who composed famous beautiful haiku on peonies. Also Shiki believed Buson was the greatest haiku poet that people should follow his way.
Shiki's characteristic realism is not such realism as observing things merely objectively but a value of realism appreciating the objects profoundly and reaching a mental state of accepting just as they are, a state of simplicity.
7. Shiki's Curiosity and Humor
At the age of 34, his friend bought a new record player and they listened to Western Laughing Songs. In no time Shiki composed a humorous poem.
crows come flying
scatter their dropping
on a man Gonbe, on the head,
a-ha-ha! a-ha-ha! a-ha-ha! . . . . . . . (in 1901)
In spite of his pain, he still seems to have had such sense of humor. Everyday he had high fever. He was thirsty. Then he composed:
春深く腐りし蜜柑好みけり (in 1901)

full of spring
rotten oranges
how sweet!
He still devoted himself to eating fruit. Writing and eating were only his pleasure in his sick bed. He submitted his article to the newspaper every day.
He was tortured by pain, but when morphine could mask the main, he enjoyed painting.
While the death is closing to Shiki, he composed a haiku on a cicada.
ツクツクボーシツクツクボーシバカリナリ

a late summer cicada
at the top of his voice
chirping, and chirping . . . . . . .
The image of the life of the cicada overlaps his fate close to death.
8. Deathbed Haiku
On the morning of September, with the assistance of Hekigoto, one of his successor who was nursing him and his sister Ritsu, he wrote down three final haiku.
糸瓜咲いて痰のつまりし仏かな

sponge gourd has bloomed
choked by phlegm
a departed soul
Sponge gourd vine juice was used to relieve coughing, but it could no longer help Shiki. Death came at one o'clock the following morning. Even sponge gourd, which is not so elegant, became the theme of his haiku. He found the poetic taste in it and took himself for a hotoke buddha (a departed soul).
----------- based on a talk given by Prof. Shigeki Wada, former curator of the Shiki Memorial Museum, for the EPIC 'Hand's On' project.
----------------------------------------------------------
Shiki's Last Writing
http://www.cc.matsuyama-u.ac.jp/~shiki/kim/newlast3haiku.html

Because of a debilitating disease Masaoka Shiki had to be confined to his bed for almost 7 years until he passed away. Despite the pain, he continued writing poems while lying on his back. When Shiki came near to death, one of his disciples, Hekigoto was at Shiki's bedside. Hekigoto wrote about how Shiki wrote his final three haiku as follows.
It was around 10 o'clock on the morning of September 18.
I dipped his old writing brush, whose stem and brush were both thin, full of ink and had him hold it in his right hand.
Then quite abruptly in the center of the paper Shiki began to write readily "sponge gourd has bloomed ", and a little below that phrase, he again moved his brush in a breath "choked by phlegm"
I was a little curious what he was going to write next and was watching the paper closely, then at last he wrote "a departed soul", which bit into my heart.
Hekigoto was very touched when Shiki began to write the poem. Shiki was so weak, and desperately coughing, but he still had a determination to write these haiku.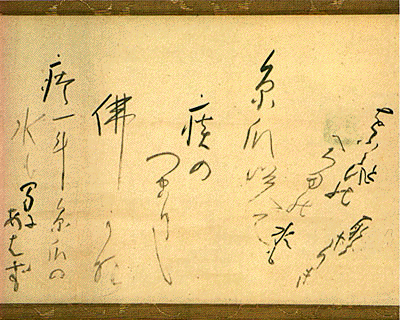 The three death haiku poems by Shiki written by his own hand about 13 to 14 hours before his death which occurred around 1 a.m. 19 September 1902.

The one in the centre in the largest letters and in four lines is the first poem he wrote:

糸瓜咲て痰のつまりし仏かな
hechima saite tan no tsumarishi hotoke kana

sponge gourd has bloomed
choked by phlegm
a departed soul

snake gourd has gone to flower
a Buddha have I turned
choked with phlegm

Der Schwammkürbis blüht.
Vom Schleim wird langsam erstickt
ein neuer Buddha.

The second verse was written within the small space to the left of the first:

痰一斗糸瓜の水も間にあはず
tan itto hechima no mizu mo mani awazu

gallons of phlegm
even the gourd water
couldn't clear it up

a barrel of phlegm
snake gourd water is
just not enough

Ein Klumpen Auswurf.
Der Saft des Schwammkürbises
konnte nicht helfen.

The third and last poem is on the right hand space and written diagonally:

をととひのへちまの水も取らざりき
ototoi no hechima no mizu mo torazariki

the gourd water
of the night before yesterday
they didn't get it either

since the day before yesterday
not even snake gourd water
has been collected

Sie ernteten nicht
den Saft des Schwammkürbises,
obwohl Vollmond war.

It is said that fluid taken from a sponge gourd stem is effective in relieving coughing. The night before there was a full-moon The fluid collected on a full moon night was believed to be the best to clear phlegm up. Since Shiki was really dying, Shiki's family may have been too discouraged to collect fluid on the full-moon night. One of his friends described that Shiki looked like a living mummy. On the next day of his 35th birthday he fell into a coma and then on the 19th his life came to end, while sponge gourd blossoms were in bloom in his garden. We call the anniversary of Shiki's death "anniversary of sponge gourd.
Kimiyo Tanaka

-------------------------------------------

The Japanese haiku poet Masaoka Shiki (1867-1902) died of tuberculosis at thirty-five. In his final days he suffered unbearable pain caused by spinal decay. He couldn't even shift in his bed. About three months before his death, he wrote in an essay for a newspaper: "Until now, I have misunderstood satori in Zen. I mistakenly thought that satori was to die with peace of mind in any condition. Satori is to live with peace of mind in any condition."

In A Sixfoot Sickbed for June 2, 1902, he wrote, Until now I had mistaken the "Enlightenment" of Zen: I was wrong to think it meant being able to die serenely under any conditions. It means beign able to live serenely under any conditions. (XI, 261)
[Masaoka Shiki: His Life and Works by Janine Beichman, p. 129.]

In spite of ill health, Shiki maintained a prominent position in the literary world, and his views on poetry and aesthetics, as well as his own poems, appeared regularly in print. Masaoka frequently mentioned his illness in his poems and in such essays as "Byōshō rokushaku" (1902; "The Six-foot Sickbed"), but maintained an emotional detachment from his physical suffering. During the last years of his life, Masaoka was a bed-ridden invalid, but his home became a meeting place for his friends and followers, who gathered there to discuss literature. Masaoka Shiki died in Tokyo on September 9, 1902, a few weeks before his thirty-fifth birthday.
"Until now, I had misunderstood the Satori, enlightenment of Zen Buddhism. I had thought that satori is to die without fear anytime. But it is a wrong guess. The satori is to live unconcernedly anytime."

One of his infrequent references to Zen is found in the June 2, 1902, entry in Byōshō rokushaku:
"Up to now I have always misunderstood the satori of Zen. I mistakenly supposed that satori was a way to dying tranquilly, regardless of the circumstances, but satori is actually how to live tranquilly, regardless of the circumstances." In Shiki zenshū 11:261.
[The Winter Sun Shines in: A Life of Masaoka Shiki by Donald Keene]

-------------------------------------------



The Poetry of Shiki

On how to sing
the frog school and the skylark school
are arguing.
A spring day
A long line of footprints
On the sandy beach.
Double cherry blossoms
Flutter in the wind
One petal after another.
At the gate
Under the oak the shoots
So luxuriant.
Oppressive heat --
My whirling mind
Listens to the peals of thunder.
The wild geese take flight
Low along the railroad tracks
In the moonlight night

The snake gourd blossoms.
My throat blocked with phlegm,
I am already a Buddha.
-------------------------------------------
I can see the stones
On the bottom fluctuate
Through the clear water.
Frozen in the ice
A maple leaf.
Shitting in the winter turnip field
The distant lights of the city.
-------------------------------------------
the pear blossoming...
after the battle this
ruined house
------------------------------------------
rowing through
out of the mist
the wide sea
------------------------------------------
Smoke whirls
After the passage of a train.
Young foliage.
------------------------------------------
Source: http://etext.lib.virginia.edu/japanese/shiki/beichman/BeiShik.utf8.html
In the coolness
of the empty sixth-month sky...
the cuckoo's cry.
the tree cut,
dawn breaks early
at my little window
scatter layer
by layer, eight-layered
cherry blossoms!
at the full moon's
rising, the silver-plumed
reeds tremble
entangled with
the scattering cherry blossoms-
the wings of birds!
wheat sowing-
the mulberry trees
lift bunched branches
pine and cypress:
in a withered field,
a shrine to Fudo
in the coolness
gods and Buddhas
dwell as neighbors
I turn my back
on Buddha and face
the cool moon
looking down I see,
cool in the moonlight,
4000 houses
the moon is cool-
frogs' croaking
wells up
coolness-
a mountain stream splashes out
between houses
fanning out its tail
in the spring breeze,
see-a peacock!
Horyuji
I bite into a persimmon
and a bell resounds-
Horyuji
rice flowers-
fair weather on
Dokanyama
rice reaping-
no smoke rising from
the cremation ground today
old garden-she empties
a hot-water bottle
under the moon
"Before the Garden"
cockscombs...
must be 14,
or 15
again and again
I ask how high
the snow is
snow's falling!
I see it through a hole
in the shutter...
all I can think of
is being sick in bed
and snowbound...
open the shutter!
I'll just have a look
at Ueno's snow!
spring rain:
browsing under an umbrella
at the picture-book store
the nettle nuts are falling...
the little girls next door
don't visit me these days
it's drizzling...
devil's tongue, cold on
my belly button
getting a shave!
on a day when Ueno's bell
is blurred by haze...
"Sick in Bed Ten Years"
lifting my head,
I look now and then-
the garden clover
how much longer
is my life?
a brief night...
the peony seems
to think itself Yokihi
as she awakes
wisteria plumes
sweep the earth, and soon
the rains will fall
purple unto
blackness:
grapes!
I thought I felt
a dewdrop on me
as I lay in bed
crimson plum blossoms
scattered over the loneliness
of the bed...
fallen petals of
the crimson plum I pluck
from the tatami
the gourd flowers bloom,
but look-here lies
a phlegm-stuffed Buddha!
a quart of phlegm-
even gourd water
couldn't mop it up
they didn't gather
gourd water
day before yesterday either
a jumble of
flowers planted-
see, the little garden!
hey!-even snake gourds
become Buddhas-
don't get caught behind!
Buddha-death:
the moonflower's face,
the snake gourd's fart
the wallet
by the bed is my
autumn brocade
chestnut rice-
though a sick man,
still a glutton
I sink my teeth
into a ripe persimmon-
it dribbles down my beard
surprise!
a moonflower fell-
midnight sound
-------------------------------------------
http://members.aol.com/markabird/shiki.html

The desolation of winter;
passing through a small hamlet,
a dog barks.
Evening snow falling,
a pair of mandarin ducks
on an ancient lake.
Now and again
it turns to hail;
the wind is strong.
With a bull on board,
the ferry boat,
through the winter rain.
A stray cat
excreting
in the winter garden.
Only the gate
of the abbey is left,
on the winter moor.
------------------------------------------
aiming at
deutzia blossoms
little cuckoo
spring breeze
show off the castle
above the pine tree
-------------------------------------------
By the ruined mansion,
Fowls roaming
Among the hibiscus
The dead body
Of a trodden-on crab,
This autumn morning
Fallen leaves
Come flying from elsewhere:
Autumn is ending.
Having felled
A pasania tree,-
the sky of autumn.
-------------------------------------------
I want to sleep
Swat the flies
Softly, please.
After killing
a spider, how lonely I feel
in the cold of night!
For love and for hate
I swat a fly and offer it
to an ant.
A mountain village
under the pilled-up snow
the sound of water.
Night; and once again,
the while I wait for you, cold wind
turns into rain.
The summer river:
although there is a bridge, my horse
goes through the water.
A lightning flash:
between the forest trees
I have seen water.
-------------------------------------------
Shiki Masaoka appeared in the haiku world as the critic to Basho Matsuo. Shiki criticized Basho's famous haikus in his criticism "Basho Zatsudan" (Miscellanies about Basho). He didn't deny Basho's all works, but he reproached his hokkus for lack of poetic purity and for having explanatory prosaic elements.
On the other hand, he extolled Buson Yosa who had been unrecognized yet. He thought that Buson's haikus are technically refined and they transmit efficiently clear impressions to readers.
After the discovery of the Western philosophy, Shiki convinced that laconic descriptions of things were effective for literary and pictorial expression. He insisted on the importance of "shasei" (sketching). This idea led his haikus to the visual description and to the concise style.
The haiku innovation by Shiki created a great sensation in the whole of Japan and revived the languishing haiku world.
The tepid rain falls
On the bare thorn.

Thawed out pond.
A shrimp moves
Among old algae.

The cannon rolls its rumble.
Leaf buds of a tree.

How cool it is!
A small crab, in the rain,
Climbs on a pine.

Lotus leaves in the pond
Ride on water.
Rain in June.

Smoke whirls
After the passage of a train.
Young foliage.

The storm
During half-day
Has broken the stem of mallow.

We cannot see even the moon.
And rise big waves.

Above a hollow of rock
An ivy hangs.
One small temple.

The luffa flowered.
I am a soul
Choked with phlegm.

Shiki denied the value of haikai-renga and always used the word "haiku" instead of " haikai" or " hokku ". Today, haikai-renga is called "renku", but few specialists are interested in this poetic form.
-------------------------------------------
Shiki's haiku
Tr. by Tanaka Kimiyo
http://www.cc.matsuyama-u.ac.jp/~shiki/sm/sm.html
http://web.archive.org/web/20161229235830/http://www.cc.matsuyama-u.ac.jp/~shiki/sm/sm.html
Spring
Spring frost
dancing in the air
a shimmer of heat
a cock crows
at the foot of the small Mt. Fuji
peach blossoms

my hometown
many cousins-
peach blossoms
at the root
of a pine tree
light lavender violet
moon at twilight,
a cluster of petals falling
from the cherry tree
an iris
whiter at twilight
My hometown
My hometown
wherever I look
mountains laugh with vendure
a fancy-free cat
is about to catch
a quail
perching on a mud wall
in the spring rain
a crow
spring breeze
show off the castle
above the pine tree
Mountains in spring
overlapping each other
all round
cherry blossom petals
blown by the spring breeze
against the undried wall
blooming azaleas
in a hollow on a cliff
a Buddha stands
Summer
aiming at
deutzia blossoms
little cuckoo
Mountains are
yellow green, pale yellow-
a cuckoo cries
castle hill
high above
breezy green
at the front gate
dropping their heads
lilies blooming
through a growth of weeds
runs an open path
baseball diamond
It's a boy
after five daughters
carp streamers
two rainbows
have risen over
the green paddy field
stillness - -
fireflies are glowing over
deep water
summer storm
white paper on the desk
all flies away
In Japan summer storm can be described as a green wind, because all trees in summer are full of green leaves. In this haiku, the color contrast of green and white paper gives a very sharp and clear and refreshing feeling.
leaving me
something on my chest
tears on my mosquito net
my remaining days
are numbered
a brief night
pruning a rose
sound of the scissors
on a bright May day
a yellow green spider
crawling on
a red rose
a snail
luring rain clouds
with feeler tips
my hometown
parents are well
taste of sushi
relieved of a burden
in the everyday life
an afternoon nap
a hollyhock
shot up to meet
the summer solstice
summer mountain
all creatures are green
a red bridge
The singing stopped
a flying cicada
I saw it!
loneliness
after the fireworks
stars' shooting
an evening breeze
white rose petals are
all ruggled
one spoonful
of ice cream brings me
back to life
biting into a bitter weed
alone I bear
my feelings
Ten year's sweat
washed away
back at Dogo Onsen
at nightfall
a sunner moon, white --
on the white sail
hydrangeas
pale blue in the rain
blue in the moonlight
hydrangeas ---
rain splashing upon
the crumbling walls
an old pond-
floating upside down
a cicada's shell
Autumn
Locusts fly low
over the levee
in the fading sunshine
Autumn wind -
met, returning alive
you and me
Matsuyama castle
the keep is higher than
the autumn sky
clouds're running past
running after clouds
the Storm Day
autumn is leaving
tugging each others' branches
two pine trees
on a stormy night
while reading a letter
wavering mind
almost black
deepening purple
ripe grapes
with advancing autumn
I am without gods
without Buddha
I am going
you're staying
two autumns for us
my fate,
a fortune tells
- autumn wind
peeling a pear
sweet drops dripping
along the knife edge
hometown -
festivals are over
flavorful persimmons
lights
far way, through
leaves of dense autumnal tints
the buight moon
something in my breast
I am alone
the bright moon
I wonder where the clouds
are flying off to
following
clouds torn apart
autumn wind
morning coolness
purple clouds are
vanishing
the setting sun
remains on the mountain
castle flowering rice
crimson sunset
even through clouds
vernal equinox
looking through
three thousand haiku eating
two persimmons
sounds of a temple bell
reverberate in a circle
a long night
a dog howling
sound of footsteps
longer nights
Winter
two or three rocks
strewn about
dried up field
winter camellia
I wish I could offer it
to the sooty Buddha
coldness
looking down from above
Matsuyama Castle
splitting wood
my sister alone -
wintering
behind the stand
of winter trees
a red sunset
just outside the gate
the road slopes downward
winter trees
It is cold, but
we have sake
and the hot spring
* * *
New Year's greetings
with a plum branch
in hand
the sky draws near
such a bright sunrise
New Year's Day
New Year's Day
has come -
quiet streets
The year begins
on New Year's day
our life is Now
the stars vanished
and then --
five-colored New Year's mist
-------------------------------------------
Facing away from me
Darning old tabi –
My wife.
When the loofah bloomed
He choked on phlegm
And died.
-------------------------------------------
Devotion to the Great Saint,
the temple of Ishite...
rice plants abloom.
(Alas my) fortune;
drawing divine lots,
the aurumn wind.
-------------------------------------------
2001 Shiki Haiku Calendar
New Year's decoration –
the table with my inkstone
becomes narrow
(1898)
Moon and plum blossoms:
night after night
thea come closer
(1893)
Weary of reading
I go out into a field
a hazy field
(1897)
The Great Buddha
sinking in its whiteness:
cherry blossom cloud
(1897)
Full sail, reefed sail
how far do you go?
fresh summer gale
(1891)
May rain
falls as if falling
into a sleep
(1896)
One by one
letting the cool breeze through:
finger holes of the flute
(1893)
Asleep in a boat
I lie side by side with it:
the River of Heaven
(1894)
Pain from coughing
the long night's lamp flame
small as a pea
(1897)
Oh, autumn
in the boundless world!
its traces
(1893)
A light
newly lit –
first winter srizzle
(1892)
My heart
withering in winter
only the hokku...
(1896)
-------------------------------------------
One fell,-
two fell,-
camellias.
Spring rain;
holding an umbrella, and looking
at the picture books in the shop.
On the sandy beach,
footprints:
long is the spring day.
A hundred labourers
digging earth:
the long day.
One canary escaped:
the spring day
is at its end.
A willow;
and two or three cows
waiting for the boat.
------------------------------------------
SHIKI (1867-1902)
Translated by Lucien Stryk
- Extracts from CAGE OF FIREFLIES, published by Swallow Press, 1993 -
White butterfly
darting among pinks -
whose spirit?
Indian summer:
dragonfly shadows seldom
brush the window.
Aged nightingale -
how sweet
the cuckoo's cry.
Wicker chair
in pinetree's shade,
forsaken.
Stone
on summer plain -
world's seat.
Summer sky
clear after rain -
ants on parade
Imagine -
the monk took off
before the moon shone.
Thing long forgotten -
pot where a flower blooms,
this spring day
------------------------------------------
Haiku Monuments of Masaoka Shiki
--------------------------------------------------------
References
Addiss, Stephen, Old Taoist - the life, art, and poetry of Kodojin,
Beichman, Janine, Masaoka Shiki, previously published by Twayne Publishers in 1982, first paperback edition, Kodansha International, Tokyo, 1986
Beichman-Yamamoto, Janine, Masaoka Shiki's A Drop of Ink, Monumenta Nipponica XXX, 3, 1965
Blyth, R. H. Haiku, 4 vol., Hokuseido Press, Tokyo 1963-64
Brower, Robert H. , and Miner, Earl, Japanese Court Poetry, Stanford University Press, 1961
Brower, Robert H., Masaoka Shiki and tanka Reform, in Tradition and Modernization in Japanese Culture, ed. Donald H. Shively, Princeton University Press, 1971
Henderson, Harold, An Introduction to Haiku, Garden City, N.Y., Doubleday, 1958
Higginson, William J., with Penny Harter, The Haiku Handbook - How to Write, Share, and Teach Haiku, Kodansha International, 1985
Isaacson, Harold J. trans. & ed., Peonies Kana - Haiku by the Upasaka Shiki, George Allen & Unwin Ltd., London, First ed., 1973 (It was published by Theatre Arts Books, New York, 1972)
Keene, Donald, Shiki and Takuboku, in Landscapes and Portraits: Appreciations of Japanese Culture, Tokyo and Palo Alto, Kodansha International Ltd 1971
Keene, Donald, Dawn to the West - A History of Japanese Literature, vol. 4, Columbia University Press, New York, First published 1984
Kimata, Osamu, Shiki Masaoka: His Haiku and Tanka, Philosophical Studies of Japan, VIII, 1967, (compiled by Japanese National Commission for UNESCO and published by Nippon Gakujutsu Shinkokai)
Miner, Earl, The verse record of My Peonies, in Japanese Poetic Diaries, Berkeley and Los Angeles, University of California Press, 1969
Nippon Gakujutsu Shinkokai, Special Haiku Committee of Japanese Classics Translation Committee consisting of Aso Isoji et al., Haikai and Haiku, Tokyo,
Nippon Gakujutsu Shinkokai, 1958
Rexroth, Kenneth, 100 More Poems from the Japanese
Ueda, Makoto, Modern Japanese Haiku: An Anthology, University of Tokyo Press, 1976
Watson, Burton, Masaoka Shiki - Selected Poems, Columbia University Press, 1997
Yasuda, Kenneth, The Japanese Haiku: Its Essential Nature, History and Possibilities in English
Rimer, J. Thomas and Morrell, Robert E., Guide to Japanese Poetry., Boston , G.K. Hall and co., 1975
--------------------------------------------------------