ZEN MESTEREK ZEN MASTERS
« Zen főoldal
« vissza a Terebess Online nyitólapjára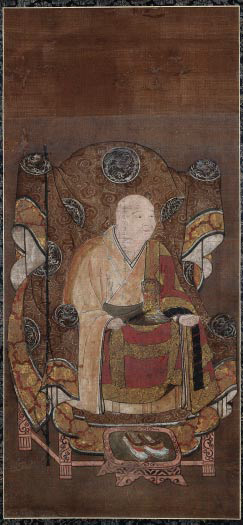 明峰素哲 Meihō Sotetsu (1277-1350)

Meihō Sotetsu: Zazen
Translated by Lucien Stryk & Takashi Ikemoto,
In: ZEN: Poems, Prayers, Sermons, Anecdotes, Interviews,
Anchor Books, Doubleday & Co., Inc., Garden City, New York, 1963, pp. 56-58.
Meiho, fifth patriarch of the Japanese Soto sect,
spent eight years disciplining himself under Keizan.
He gained satori while grappling with the koan,
"What is it that makes all things wax and wane?" He
then deepened his Zen under other masters, finally
retuming to Keizan and succeeding him. He scorned
all gain and fame, and urged his disciples to devote
themselves to Zen-sitting alone. The folIowing sermon
is one of the best-known writings on zazen ever done
by a Japanese.

Zazen
Zen-sitting is the way of perfect tranquillity: inwardly
not a shadow of perception, outwardly not a
shade of difference between phenomena. Identified
with yourself, you no longer think, nor do you seek enlightenment
of the mind or disburdenment of illusions.
You are a flying bird with no mind to twitter, a mountain
unconscious of the others rising araund it.
Zen-sitting has nothing to do with the doctrine of
"teaching, practice, and elucidation" or with the exercise
of "commandrnents, contemplation, and wisdom."
You are like a fish with no particular design of remaining
in the sea. Nor do you bother with sutras or ideas.
To control and pacify the mind is the concern of lesser
men: Sravakas, Pratyeka-Buddhas, and Hinayanists.
Still less can you hold an idea of Buddha and Dharma.
If you attempt to do so, if you train improperly, you
are like one who, intending to voyage west, moves east.
You must not stray.
Also you must guard yourself against the easy conceptions
of good and evil: your sole concern should be
to examine yourself continually, asking who is above
either. You must remember too that the unsullied essence
of life has nothing to do with whether one is
priest or layman, man or woman. Your Buddha-nature,
consummate as the full moon, is represented by your
position as you sit in Zen. The exquisite Way of Buddhas
is not the One or Two, being or non-being. What
diversífies it is the limitations of its students, who can
be divided into three cIasses -- superior, average, inferior.
The superior student is unaware of the coming into
the world of Buddhas or of the transmission of the non-
transmittable by them: he eats when hungry, sleeps
when sleepy. Nor does he regard the world as himself.
Neither is he attached to enlightenment or illusion.
Taking things as they come, he sits in the proper manner,
making no idle distinctions.
The average student discards all business and ignores
the external, giving himself over to self-examination
with every breath. He may probe into a koan, which he
puts mentally on the tip of his nose, finding in this way
that his "original face" (fundamental being) is beyond
life and death, and that the Buddha-nature of all is not
dependent on the discriminating intellect but is the un-
conscious consciousness, the incomprehensible understanding:
in short, that it is clear and distinct for alI
ages and is alone apparent in its entirety throughout
the universe.
The inferior student must disconnect himself from
all that is external, thus liberating himself from the duality
of good and evil. The mind, just as it is, is the
origin of all Buddhas. In zazen his legs are crossed so
that his Buddha-nature will not be led off by evil
thoughts, his hands are linked so that they will not take
up sutras or implements, his mouth is shut so that he
refrains from preaching a word of dharma or uttering
blasphemies, his eyes are half shut so that he does not
distinguish between objects, his ears are closed to the
world so that he will not hear talk of vice and virtue,
his nose is as if dead so that he will not smell good or
bad. Since his body has nothing on which to lean, he is
indifferent to likes and dislikes. He negates neither being
nor non-being. He sits like Buddha on the pedestal,
and though distorted ideas may arise from him, they do
so idly and are ephemeral, constituting no sin, like reflections
in a mirror, leaving no trace.
The five, the eight, the two hundred and fifty commandments,
the three thousand monastic regulations,
the eight hundred duties of the Bodhisattva, the Buddha-
nature and the Bodhisattvahood, and the Wheel of
Dharma -- all are comprised in Zen-sitting and emerge
from it. Of all good works, zazen comes first, for the
merit of only one step into it surpasses that of erecting
a thousand temples. Even a moment of sitting will enable
you to free yourself from life and death, and your
Buddha-nature will appear of itself. Then all you do,
perceive, think becomes part of the miraculous Tathata-
suchness (true nature, thusness).
Let it be thus remembered that tyros and advanced
students, learned and ignorant, all without exception
should practice zazen.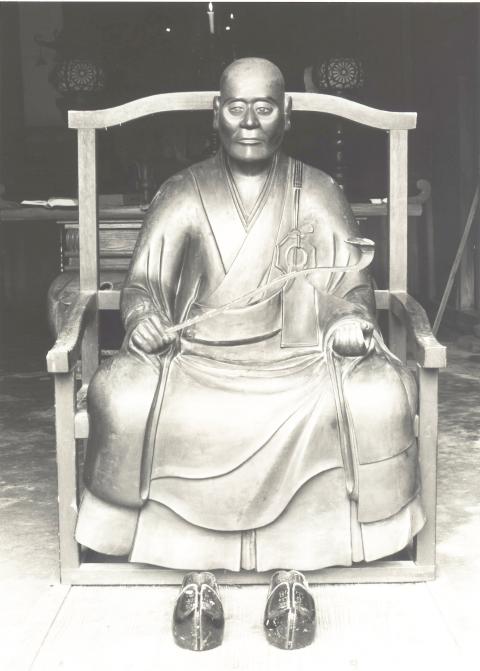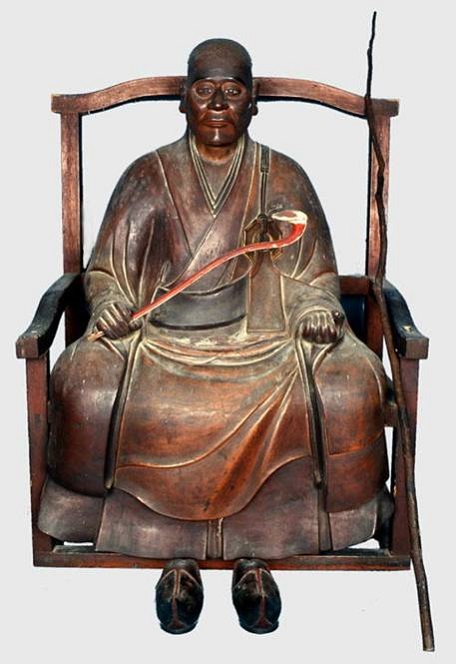 木造明峰素哲坐像 (石川県永光寺所蔵)
木像 mokuzō; wooden effigy of Meihō
Meihō-ha 明峰派
Tokuō's lineage
明峰素哲 Meihō Sotetsu (1277-1350)
珠巌道珍 Shugan Dōchin (?-1387)
徹山旨廓 Tessan Shikaku (?-1376)
桂巌英昌 Keigan Eishō (1321-1412)
籌山了運 Chuzan Ryōun (1350-1432)
義山等仁 Gisan Tōnin (1386-1462)
紹嶽堅隆 Shōgaku Kenryū (?-1485)
幾年豊隆 Kinen Hōryū (?-1506)
提室智闡 Daishitsu Chisen (1461-1536)
虎渓正淳 Kokei Shōjun (?-1555)
雪窓祐輔 Sessō Yūho (?-1576)
海天玄聚 Kaiten Genju
州山春昌 Shūzan Shunshō (1590-1647)
超山誾越 Chōzan Gin'etsu (1581-1672)
福州光智 Fukushū Kōchi
明堂雄暾 Meidō Yūton
白峰玄滴 Hakuhō Genteki (1594-1670)
月舟宗胡 Gesshū Sōko (1618-1696)
↓
Ryōkan's lineage

徳翁良高 Tokuō Ryōkō (1649-1709)
高外全國 Kōgai Zenkoku (1671-1743)
大忍国仙 Dainin Kokusen (1723–1791)
良寛大愚 Ryōkan Taigu (1758–1831)
→ [born 山本栄蔵 Yamamoto Eizō]

Teizan's lineage

徳翁良高 Tokuō Ryōkō (1649-1709)
大光寂照 Daikō Jakushō (1660-1726)
雷洲惟黙 Raishū Imoku (1691-1757)
俯貫雄道 Fukan Yūdō (1724-1787)
大疑覺道 Daigi Kakudō (?-?)
黄泉無著 Kōsen Mujaku (1775-1839)
大潛退承 Daisen Taishō (?-?)
鼎三即ー Teizan Sokuichi (1805-1892)
→ [水野 Mizuno, then 白鳥 Shiratori]

Harada-Yasutani's lineage

徳翁良高 Tokuō Ryōkō (1649-1709)
芳巖祖聯 Hōgen Soren
石叟哲周 Sekisō Tesshū
隆孝楞洲 Ryukō Ryōshū
聯山祖芳 Renzan Sohō
物外志道 Motsugai Shidō
愚溪容雲 Gukei Yōun
嚇照祖道 Kakushō Sodō (1844-1931)
→ [原田 Harada]
大雲祖岳 Daiun Sogaku (1871-1961)
→ [原田 Harada]
白雲量衡 Hakuun Ryōkō (1885-1973)
→ [安谷 Yasutani

Sawaki-Uchiyama's lineage

徳翁良高 Tokuō Ryōkō (1649-1709)
黙子素淵 Mokushi Soen (1673-1746)
頑極官慶 Gangoku Kankei (1683-1767)
興国素隆 Kōkoku Soryū (?-?)
爐雪隆光 Rosetsu Ryūkō (?-?)
雲外居山 Ungai Kozan (?-?)
紹隆興法 Shōryū Kōhō (1827-1912)
紹国禅興 Shōkoku Zenkō (1864-?)
祖門興道 Somon Kōdō (1880-1965)
→ [沢木 Sawaki]
道融興正 Dōyū Kōshō (1912-1998)
→ [内山 Uchiyama]

Katagiri's lineage

徳翁良高 Tokuō Ryōkō (1649-1709)
黙子素淵 Mokushi Soen (1673-1746)
頑極官慶 Gangoku Kankei (1683-1767)
玄透即中 Gentō Sokuchū (1729-1807)
恭山梅禪 Kyōzan Baizen
~~~~ Sozan Chimon
~~~~ Yōzan Genki
→ [林 Hayashi]
~~~~ Kaigai Daichō
→ [林 Hayashi]
慈海大忍 Jikai Dainin (1928-1990)
→ [片桐 Katagiri]
Meihō-ha 明峰派
Manzan's lineage
明峰素哲 Meihō Sotetsu (1277-1350)
珠巌道珍 Shugan Dōchin (?-1387)
徹山旨廓 Tessan Shikaku (?-1376)
桂巌英昌 Keigan Eishō (1321-1412)
籌山了運 Chuzan Ryōun (1350-1432)
義山等仁 Gisan Tōnin (1386-1462)
紹嶽堅隆 Shōgaku Kenryū (?-1485)
幾年豊隆 Kinen Hōryū (?-1506)
提室智闡 Daishitsu Chisen (1461-1536)
虎渓正淳 Kokei Shōjun (?-1555)
雪窓祐輔 Sessō Yūho (?-1576)
海天玄聚 Kaiten Genju
州山春昌 Shūzan Shunshō (1590-1647)
超山誾越 Chōzan Gin'etsu (1581-1672)
福州光智 Fukushū Kōchi
明堂雄暾 Meidō Yūton
白峰玄滴 Hakuhō Genteki (1594-1670)
月舟宗胡 Gesshū Sōko (1618-1696)
↓
Morita's lineage

卍山道白 Manzan Dōhaku (1635-1715)
月澗義光 Gekkan Gikō (1653-1702)
大用慧照 Daiyū Esshō (?-1665)
華嚴曹海 Kegon Sōkai (1685-1761)
雪鳳金翎 Seppō Kinrei (1724-1794)
慈海泰洲 Jikai Taishū
龍山泰門 Ryūsan Taimon
天瑞白龍 Tenzui Hakuryū
大休悟由 Daikyū Goyū (1834-1915)
→ [悟由 禅師 Morita zenji]

Kohō's lineage

卍山道白 Manzan Dōhaku (1635-1715)
月澗義光 Gekkan Gikō (1653-1702)
大用慧照 Daiyū Esshō (?-1665)
華嚴曹海 Kegon Sōkai (1685-1761)
祥雲太瑞 Shōun Taizui
日輪當午 Nichirin Tōgō
尊應教堂 Sonnō Kyōdō
祖嶽靈道 Sogaku Reidō
大俊鞭牛 Daishun Bengyū
孤峰白岩 Kohō Hakugan
莹堂智璨 Keidō Chisan (1879-1967)
→ [孤峰 禅師 Kohō zenji]
法雲慈友 Hōun Jiyu (1924-1996)
→ [born Peggy Teresa Nancy Kennett]

Kishizawa's lineage

卍山道白 Manzan Dōhaku (1635-1715)
明州珠心 Minshū Shushin
密山道顕 Mitsuzan Dōken (1652-1736)
白堂香全 Hakudō Kōzen
公海慧然 Kōkai Keizen
泰麟道海 Tairin Dōkai
泰俊貫道 Taishun Kandō
泰巖曹隆 Taigen Sōryū
安窓泰褝 Ansō Taizen
穆山瑾英 Bokuzan Kinei (1821-1910)
→ [西有 Nishiari]
眠芳惟安 Minpō Ian (1865-1955)
→ [岸澤 Kishizawa]

Aoyama's lineage

卍山道白 Manzan Dōhaku (1635-1715)
明州珠心 Minshū Shushin
牧巖心牛 Bokugan Shingyū
香外石蘭 Kyōgai Sekiran
天外獨龍 Tengai Dokuryū
活翁達禪 Katsuō Tatsuzen
達元智翁 Tatsugen Chiō
玉翁達淳 Gyokuō Tatsujun
大俊元機 Daishun Genki
潮海良音 Chōkai Ryōon
大英俊機 Daiei Shunki
鶴仙俊董 Kakusen Shundō (1933-)
→ [青山 Aoyama]

Itabashi's lineage

卍山道白 Manzan Dōhaku (1635-1715)
智灯照玄 Chitō Shōgen
一入覚門 Ichinyū Kamumon
曇瑞禅苗 Donzui Zenbyō
仏海天龍 Bukkai Tenryū
天巌曇龍 Tengan Donryū
興山畫隆 Kōzan Kakuryū (?-1869)
月潭俊龍 Gettan Shunryū (?-1897)
→ [渡邊 Watanabe]
本行玄宗 Hongyō Genshū (1869-1963)
→ [渡邊 Watanabe]
祖月龍潭 Sogetsu Ryūtan
→ [松本 Matsumoto]
雲海興宗 Unkai Kōshū (1927-)
→ [板橋 Itabashi]