ZEN MESTEREK ZEN MASTERS
« Zen főoldal
« vissza a Terebess Online nyitólapjára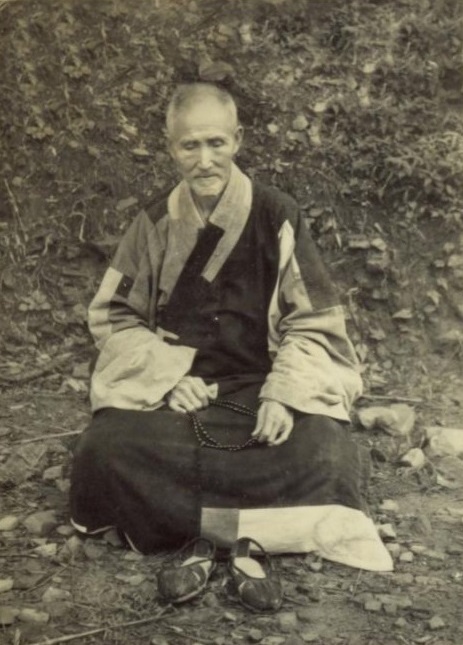 虚云 Xuyun (1840-1959)
[虛雲性徹 Xuyun Xingche]
Hszü-jün verse 杯子扑落地, 响声明沥沥。 虚空粉碎也, 狂心当下息。
[His awakening experience came at the drop of a teacup at the age of fifty-six.]
The cup falls to the ground,
The sound sharp and distinct.
The universe is shattered;
The crazed mind calms.
(Tr. by John Balcom)
[56 évesen világosodott meg, egy leejtett teáscsésze csörömpölésétől.]
földre hullt csésze
tisztán csengő hang
összetört világ
elcsituló szív
(Terebess Gábor fordítása)
Hszü-jün hat verse
Hadházi Zsolt fordítása (2006)
http://zen.gportal.hu/gindex.php?pg=4792614&nid=2166989
Zord eső
Zord eső áztatja gyújtósok halmát.
Az éj oly hideg, de a láng alig mozog.
Felhők sűrűsödnek és kunyhónk kőfalát áztatják.
Törött káka torlaszolja a nádkapu útját.
A patak csobog, medréből kiárad.
Ennyit hallunk. Emberi hang ritkán jön...
De mily felbecsülhetetlen a tudat békéje, megtelünk vele
Míg sarkunkon ülünk újabb Csan köntöst véve fel!
---
Az ugató kutya
Felmentünk a hegyre szórakozásból.
Nem kellett bort eltenni.
Virágok nyíltak mosolyogva a szakadéknál.
Fűzfák ragyogtak a folyónál.
Szitáló esőben a falut sűrű füstje takarta.
A szél enyhe és a fű hideg volt.
Akkor az erdőben meglepődtünk,
Hirtelen kutyát hallottunk ugatni.
Tudatni akarta velünk, a Mester figyel.
---
A Buddha szíve
Nem kell keresni oda-vissza mint a hullám.
Ugyanaz a víz apad mely víz árad.
Nincs értelme visszafordulni vízért,
Mikor körötted áramlik minden irányban.
A Buddha szíve és a világ emberei...
Hol van bármi különbség?
---
Túlmenni a vágyon
Ha el akarod hagyni a vadont
Magad is a vadnak részévé leszel.
A ragaszkodás megszüntetésének akarása
Önmagában ragaszkodás.
Hogyan nyersz uralmat és mész túl a vágyon?
Nyisd ki szemeid... melyek a koponyádban születtek.
---
Egy kitűnő igazság
Ez egy kitűnő igazság:
Szentek és közemberek azonosak a kezdettől.
Különbséget kutatni
Olyan, mint madzagot kérni kölcsön,
mikor erős köteled van.
A szívben minden Dharma ismert.
Eső után a hegy színei erősebbek.
Ha már jóban vagy a sors káprázataival
Tintatartód magában hordja élet és halál egészét.
---
A Dharma keresése
Tízezer lépést tettél a Dharmát keresve.
Oly sok nap a könyvtárban, másolni, másolni.
A Tang súlya és a Szung mélysége nehéz csomag.
Tessék! Szedtem neked egy csokor vadvirágot.
A jelentésük ugyanaz
de sokkal könnyebb cipelni.
Hsu Yun's Poems
Translated by Paul Hansen
in: A Drifting Boat: An Anthology of Chinese Zen Poetry edited by Jerome P. Seaton & Dennis Maloney, White Pine Press, Fredonia, New York, 1994, pp. 190-194.
Sound of the Wind in the Pines
an Afternoon and Night on Mount Lu

1.
Courtyard-covering white dew
Moistens hidden orchids.
Leaves fade; a few flowers
Half retain their scent.
The cold Moon hangs alone;
Nothing happening with people.
Pine wind blows right through:
Night waves cold.

II.
Swell after swell of pinewind
Comb like waves at sea:
Beat after beat of heavenly music
Strummed on cloudy strings.
Midnight, Tao folk
Purify their hearing
And rise alone to burn incense:
Moon full
Just overhead.

III.
Zen heart peaceful and still
Inside white clouds.
Autumn floods and spring mountains
Aren't the same yet.
It's just the pine wind
Whistles another tune.
Deep night white moon,
Drizzling already.

IV.
The mountain is empty; flute still.
Thought uninvolved.
A pine wind circling the cabin
Calls right through the ear.
Here's a monk with a talking habit;
Midnight, the eternal teaching
Preaching 'No Birth.'

Written for the Zen Man Te-jun
at the Great Assembly at Fo-yen

Days long ago do you remember
Making circuits of the Buddha halls?
How could we know the age of Earth,
The Boundless steppes of Heaven?
Chariots of wind I have ridden
And caught tigers on cloud-sprung feet.
Undersea I snared a dragon,
Moonlight streaming through the window.

Outside of time, flowers of wonder bloom,
Stamens touching space.
At sky's edge moon trees
Breathe laurel perfume.
Again I walk the pure, cool, earth;
Form-taking life thrives in the web,
Upholding the Dharma-king.

At a Thatched Hut on the Flower Peak of Mount T'ien-t'ai
Sitting with Dharma Master Jung Ching During a Long Rain

Hard rain, our gathered firewood scant;
Lamp frozen, glimmers not at night.
In the cave, wind blows stones and mud.
Moss engravings weatherstrip rickety door.

Brooks in torrent untiring;
People's words more and more rare.
Where schemes calm heart?
Sitting in the lotus,
Wrapped in robes of Zen.

Feelings on Remembering the Day
I First Produced the Mind

Drawn some sixty years ago by karma
I turned life upside down
And climbed straight on to lofty summits.
Between my eyes a hanging sword,
The Triple World is pure.
Empty-handed, I hold a hoe, clearing a galaxy.

As the 'Ocean of Knowing-mind' dries up,
Pearls shine forth by themselves;
Space smashed to dust, a moon hangs independent.
I threw my net through Heaven,
Caught the dragon and the phoenix;
Alone I walk through the cosmos,
Connecting the past and its people.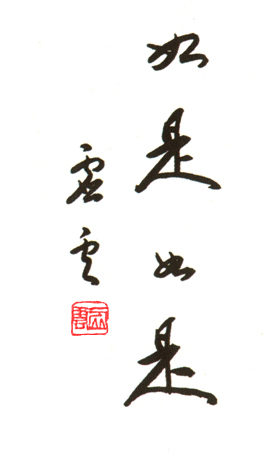 虛雲 '如是如是'
Xuyun's calligraphic message: "So it is, so it is."
Hsu-yun's Chan Lineage Chart
| | | | | | |
| --- | --- | --- | --- | --- | --- |
| SAKYA | DAMO | LINJI | PATRIARCH | CHINESE NAME | DATES |
| | | | Buddha Sakyamuni | 本師釋迦牟尼佛 | |
| 1 | | | Mahakasyapa | 摩訶迦葉尊者 | |
| 2 | | | Ananda | 阿難陀尊者 | |
| 3 | | | Sanavasa | 商那和修尊者 | |
| 4 | | | Upagupta | 優波鞠多尊者 | |
| 5 | | | Dhritaka | 提多迦尊者 | |
| 6 | | | Michaka | 彌遮迦尊者 | |
| 7 | | | Vasumitra | 婆須蜜尊者 | |
| 8 | | | Buddhanandi | 佛陀難提尊者 | |
| 9 | | | Buddhamitra | 伏馱蜜多尊者 | |
| 10 | | | Parsva | 脅尊者 | |
| 11 | | | Punyayasas | 富那夜奢尊者 | |
| 12 | | | Asvaghosa | 馬鳴大士尊者 | |
| 13 | | | Kapimala | 迦毗摩羅尊者 | |
| 14 | | | Nagarjuna | 龍樹尊者 | |
| 15 | | | Kanadeva | 迦那提婆尊者 | |
| 16 | | | Rahulata | 羅睺羅多尊者 | |
| 17 | | | Sanghanandi | 僧伽難提尊者 | |
| 18 | | | Sanghayasas | 伽耶舍多尊者 | |
| 19 | | | Kumarata | 鳩摩羅多尊者 | |
| 20 | | | Jayata | 闍夜多尊者 | |
| 21 | | | Vasubandhu | 婆修盤頭尊者 | |
| 22 | | | Manura (Manorhita) | 摩拏羅尊者 | |
| 23 | | | Haklenayasas | 鶴勒那尊者 | |
| 24 | | | Sinha | 師子比丘尊者 | |
| 25 | | | Vasiastia (Vasi-Asita) | 婆舍斯多尊者 | |
| 26 | | | Punyamitra | 不如蜜多尊者 | |
| 27 | | | Prajnatara | 般若多羅尊者 | |
| 28 | 1 | | Bodhidharma | 菩提達摩尊者 | ?-535 |
| 29 | 2 | | Second Patriarch Hui-ke | 二祖慧可大師 | 487-593 |
| 30 | 3 | | Third Patriarch Seng-can | 三祖僧璨大師 | 495-606 |
| 31 | 4 | | Fourth Patriarch Dao-xin | 四祖道信大師 | 580-651 |
| 32 | 5 | | Fifth Patriarch Hong-ren | 五祖弘忍大師 | 602-675 |
| 33 | 6 | | Sixth Patriarch Hui-neng | 六祖慧能大師 | 638-713 |
| 34 | 7 | | Nan-yue Huai-rang | 南嶽懷讓禪師 | 677-744 |
| 35 | 8 | | Ma-zu Dao-yi | 馬祖道一禪師 | 709-788 |
| 36 | 9 | | Bai-zhang Huai-hai | 百丈懷海禪師 | 749-814 |
| 37 | 10 | | Huang-bo Xi-yun | 黃檗希運禪師 | ?-850 |
| 38 | 11 | 1 | Lin-ji Yi-xuan | 臨濟義玄禪師 | 787-867 |
| 39 | 12 | 2 | Xing-hua Cun-jiang | 興化存獎禪師 | 830-925 |
| 40 | 13 | 3 | Nan-yuan Hui-yong | 南院慧顒禪師 | ?-952 |
| 41 | 14 | 4 | Feng-xue Yan-zhao | 風穴延昭禪師 | 896-973 |
| 42 | 15 | 5 | Shou-shan Sheng-nian | 首山省念禪師 | 926-993 |
| 43 | 16 | 6 | Fen-yang Shan-zhao | 汾陽善昭禪師 | 947-1024 |
| 44 | 17 | 7 | Shi-shuang Chu-yuan | 石霜楚圓禪師 | 986-1039 |
| 45 | 18 | 8 | Yang-qi Fang-Hui | 楊岐方會禪師 | 992-1049 |
| 46 | 19 | 9 | Bai-yun Shou-duan | 白雲守端禪師 | 1025-1072 |
| 47 | 20 | 10 | Wu-zu Fa-yan | 五祖法演禪師 | 1024-1104 |
| 48 | 21 | 11 | Huan-wu Ke-qin | 圓悟克勤禪師 | 1063-1135 |
| 49 | 22 | 12 | Hu-qiu Shao-long | 虎丘紹隆禪師 | 1077-1136 |
| 50 | 23 | 13 | Ying-an Tan-hua | 應庵曇華禪師 | 1103-1163 |
| 51 | 24 | 14 | Mi-an Xian-jie | 密庵咸傑禪師 | 1118-1186 |
| 52 | 25 | 15 | Po-an Zu-xian | 破庵祖先禪師 | 1136-1211 |
| 53 | 26 | 16 | Wu-zhun Shi-fan | 無準師範禪師 | 1174-1249 |
| 54 | 27 | 17 | Xue-yan Zu-qin | 雪巖祖欽禪師 | ?-1287 |
| 55 | 28 | 18 | Gao-feng Yuan-miao | 高峰元妙禪師 | 1238-1295 |
| 56 | 29 | 19 | Zhong-feng Ming-ben | 中峰明本禪師 | 1263-1323 |
| 57 | 30 | 20 | Qian-yan Yuan-chang | 千巖元長禪師 | |
| 58 | 31 | 21 | Wan-feng Shi-wei | 萬峰時蔚禪師 | |
| 59 | 32 | 22 | Bao-zang Pu-chi | 寶藏普持禪師 | |
| 60 | 33 | 23 | Dong-ming Hui-chan | 東明慧旵禪師 | |
| 61 | 34 | 24 | Hai-zhou Pu-ci | 海舟普慈禪師 | |
| 62 | 35 | 25 | Bao-feng Ming-xuan | 寶峰明暄禪師 | |
| 63 | 36 | 26 | Tian-qi Ben-rui | 天奇本瑞禪師 | |
| 64 | 37 | 27 | Wu-wen Ming-cong | 無聞明聰禪師 | |
| 65 | 38 | 28 | Xiao-yan De-bao | 笑巖德寶禪師 | |
| 66 | 39 | 29 | Huan-you Zheng-chuan | 幻有正傳禪師 | 1549-1614 |
| 67 | 40 | 30 | Tian-yin Yuan-xiu | 天隱圓修禪師 | 1575-1635 |
| 68 | 41 | 31 | Yu-lin Tong-xiu | 玉林通琇禪師 | 1614-1675 |
| 69 | 42 | 32 | Mao-xi Xing-sen | 茆溪行森禪師 | |
| 70 | 43 | 33 | Xing-shan Chao-bao | 形山超寶禪師 | |
| 71 | 44 | 34 | Chu-yun Ming-hui | 楚雲明慧禪師 | |
| 72 | 45 | 35 | Huan-zhu Shi-jing | 幻住實靖禪師 | |
| 73 | 46 | 36 | Hui-tian Ji-jue | 慧天際覺禪師 | |
| 74 | 47 | 37 | Zhi-shan Liao-yuan | 智山了願禪師 | |
| 75 | 48 | 38 | Yin-zhao Da-ting | 印照達聽禪師 | |
| 76 | 49 | 39 | Zhao-qian Wu-liang | 照千悟亮禪師 | |
| 77 | 50 | 40 | Fo-hai Zhen-jue | 佛海真覺禪師 | |
| 78 | 51 | 41 | Fu-jing Kong-yin | 福經空印禪師 | |
| 79 | 52 | 42 | Miao-lian Jue-hua | 妙蓮覺華禪師 | |
| 80 | 53 | 43 | Xu-yun Xing-che | 虛雲性徹禪師 | 1840-1959 |