ZEN MESTEREK ZEN MASTERS
« Zen főoldal
« vissza a Terebess Online nyitólapjára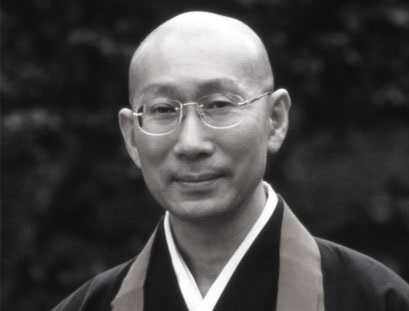 枡野俊明 Masuno Shunmyō (1953-)

Tartalom


Contents

Terebess Gábor: A japán kertművészet
Művészet, XX. évfolyam, 9.szám, 1979. szeptember, 8-11. oldal

Masuno, Shunmyo: Az egyszerű élet művészete - 100 zen gyakorlat a szebb és nyugalmasabb hétköznapokért
Fordította: Laik Eszter
21. Század Kiadó, 2019, 220 oldal
E-könyv kiadásban is! Belelapozás!


PDF: Zen gardens: the complete works of Shunmyo Masuno
Mira Locher

The Art of Simple Living
100 Daily Practices from a Japanese Zen Monk for a Lifetime of Calm and Joy
by Shunmyo Masuno
translated by Allison Markin Powell
Penguin Books, 2019, 224 p.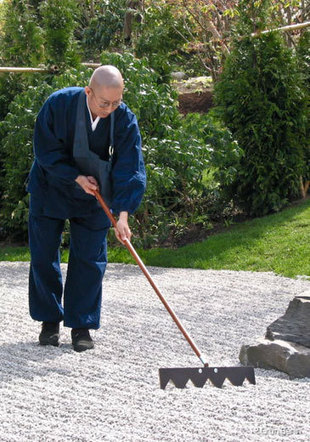 禅の庭: 枡野俊明の世界 Zen no tei: Masuno Shunmyō no sekai = Zen gardens: the world of landscapes by Shunmyo Masuno
每日新聞社, Tokyo: Mainichi Shinbun, 2003.
http://www2.tamabi.ac.jp/kankyou/faculty/Shunmyo_Masuno/
http://www.kenkohji.jp/s/japanese/index_j.html
略歴
https://ja.wikipedia.org/wiki/%E6%9E%A1%E9%87%8E%E4%BF%8A%E6%98%8E

昭和 28 年( 1953 年) 2 月 28 日、神奈川県横浜市生まれ。

昭和 50 年( 1975 年) 3 月、玉川大学農学部農学科卒業。在学中より斉藤勝雄に師事。 Saito Katsuo (1893-1987)

昭和 54 年( 1979 年) 3 月、大本山總持寺僧堂へ掛搭。

昭和 57 年( 1982 年)、日本造園設計設立。

平成 6 年( 1994 年)、ブリティッシュコロンビア大学特別教授に就任。

平成 10 年( 1998 年)、多摩美術大学美術学部環境デザイン学科教授に就任。

平成 13 年( 2001 年)、建功寺第 18 世住職に就任。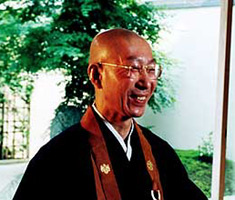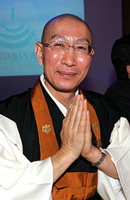 http://www.kenkohji.jp/s/english/index_e.html
http://www.ilona-grundmann-filmproduction.de/en/filme/the-zen-gardens-of-shunmyo-masuno/
http://www.vantage-magazine.com/living-room/the-work-of-shunmyo-masuno.html
http://www.scmp.com/magazines/post-magazine/article/1585012/rock-star
http://www.smh.com.au/news/world/seeking-imperfections-is-the-zen-approach-to-a-perfect-garden/2006/05/19/1147545523970.html
http://www.japantimes.co.jp/culture/2005/08/31/arts/the-nature-of-the-mind/#.VmVmT7jhA2w
http://www.zen-garden.org/wp/2010/12/a-new-type-of-modern-karesansui-garden/
https://home.czu.cz/storage/59004_SHUNMYO%20MASUNO%20-%20Lucie%20Havrankova.pdf [Czech]
"So many designers and consultants take me to a quarry. [But] I don't want to use broken stones, I want a stone with a natural surface exposed to the rain and the wind for a long time. But they think, 'Stones? Oh, there are so many stones in the quarry.' But no, I want it to be natural. [They say,] 'Oh, but this is natural, not artificial stone.' " The Japan Times: Aug. 31, 2005



Laza magyar fordításban:
"Sokan mutogatnak nekem kőbányákat. De én nem használok széttört köveket, a természetes felületű sziklát szeretem, melyet szél és eső koptatott ilyenre időtlen idők óta."