ZEN MESTEREK ZEN MASTERS
« Zen főoldal
« vissza a Terebess Online nyitólapjára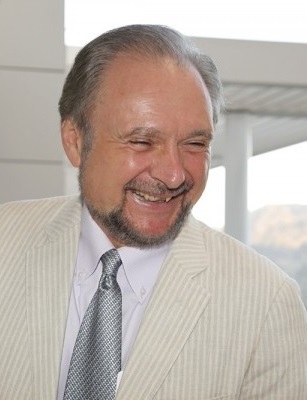 Robert E. Buswell, Jr.

Robert E. Buswell Jr., Distinguished Professor of Buddhist Studies in the UCLA Department of Asian Languages and Cultures, is the Irving and Jean Stone Endowed Chair in Humanities at UCLA and founding director of the university's Center for Buddhist Studies and Center for Korean Studies.
Buswell is widely recognized as one of the premier Western specialists on Korean Buddhism and the broader East Asian Zen tradition. He has published sixteen books and some forty articles on various aspects of the Korean, Chinese, and Indian traditions of Buddhism, as well as on Korean religions more broadly. His books include The Zen Monastic Experience (Princeton, 1992), Tracing Back the Radiance: Chinul's Korean Way of Zen (Honolulu, 1991), The Formation of Chan Ideology in China and Korea (Princeton, 1989), Cultivating Original Enlightenment (Honolulu, 2007), and Religions of Korea in Practice (Princeton, 2007). Most recently, he is coauthor (with Donald S. Lopez, Jr.) of the 1.2-million-word Princeton Dictionary of Buddhism (Princeton, 2014).
Buswell completed his B.A. in Chinese, his M.A. in Sanskrit, and his Ph.D. in Buddhist Studies, all from the University of California, Berkeley; before returning to academe, he spent seven years as an ordained Buddhist monk in Thailand, Hong Kong, and Korea. Buswell was elected president of the Association for Asian Studies (AAS) in 2008, the first specialist in either Korean or Buddhist studies to hold that position. In 2009, he was awarded the prestigious Manhae Grand Prize in Korea in recognition of his pioneering contributions to establishing Korean Buddhist Studies in the West.
http://international.ucla.edu/media/files/Buswell-CV.pdf?AspxAutoDetectCookieSupport=1
http://en.wikipedia.org/wiki/Robert_Buswell_Jr .
PDF: The 'Short-cut' Approach of K'an-hua Meditation: The Evolution of a Practical Subitism in Chinese Ch'an Buddhism
by Buswell, Robert E. Jr.,
in: Sudden and Gradual: Approaches to Enlightenment in Chinese Thought, ed. Peter N. Gregory (Honolulu: University of Hawaii Press, 1987), 321-377
PDF: THE KOREAN APPROACH TO ZEN
THE COLLECTED WORKS OF CHINUL
Translated with an Introduction by Robert E. Buswell Jr.
PDF: The Transformation of Doubt (Ŭijŏng 疑情) in Kanhwa Sŏn 看話禪: The Testimony of Gaofeng Yuanmiao 高峰原妙 (1238-1295).
by Prof. Robert E. Buswell, Jr.
PDF: Chinul's Ambivalent Critique of Radical Subitism in Korean Son Buddhism
by Robert E. Buswell Jr.
Journal of the International Association of Buddhist Studies 12 (2):20-44 (1989)
PDF: Encyclopedia of Buddhism edited by Robert E. Buswell, Jr. (2003)
PDF: The Princeton Dictionary of Buddhism edited by Robert E. Buswell Jr. and Donald S. Lopez Jr. (2014)
Buswell, Robert E. Jr., 'Chinul's Systematization of Chinese Meditative Techniques in Korean Son Buddhism,' in: Traditions of Meditation in Chinese Buddhism, ed. Peter N. Gregory (Honolulu: University of Hawaii Press, 1986), 199-242
Buswell, Robert E. Jr., 'Ch'an Hermeneutics : A Korean View,' in: Buddhist Hermeneutics, ed. Donald S. Lopez (Honolulu: University of Hawaii Press, 1988), 231-256
Buswell, Robert E. Jr., The Formation of Ch'an Ideology in China and Korea: The Vajrasamādhi-Sūtra, a Buddhist Apocryphon (Princeton: Princeton University Press, 1989)
Buswell, Robert E. Jr., 'The Transformation of Doubt (Yǐqíng) into a Positive Emotion in Chinese Buddhist Meditation,' in: Love and Emotions in Ancient Chinese Literature, ed. Halvor Eifring (Leiden: Brill, 2004), 225-236
Buswell, Robert E. Jr., The Zen Monastic Experience: Buddhist Practice in Contemporary Korea (Princeton: Princeton University Press, 1992)
Robert Buswell, a Buddhist scholar who spent five years as a Zen monk in Korea, draws on personal experience in this insightful account of day-to-day Zen monastic practice. In discussing the activities of the postulants, the meditation monks, the teachers and administrators, and the support monks of the monastery of Songgwang-sa, Buswell reveals a religious tradition that differs radically from the stereotype prevalent in the West. The author's treatment lucidly relates contemporary Zen practice to the historical development of the tradition and to Korean history more generally, and his portrayal of the life of modern Zen monks in Korea provides an innovative and provocative look at Zen from the inside.

TABLE OF CONTENTS:

| | | |
| --- | --- | --- |
| | List of Plates | |
| | Preface | |
| | Conventions Used | |
| | Introduction: Zen Monasticism and the Context of Belief | 3 |
| Ch. 1 | Buddhism in Contemporary Korea | 21 |
| Ch. 2 | Daily and Annual Schedules | 37 |
| Ch. 3 | Songgwang-Sa and Master Kusan | 49 |
| Ch. 4 | A Monk's Early Career | 69 |
| Ch. 5 | The Support Division of the Monastery | 107 |
| Ch. 6 | Relations with the Laity | 135 |
| | Chronology of the Puril Hoe | 147 |
| Ch. 7 | The Practice of Zen Meditation in Korea | 149 |
| Ch. 8 | Training in the Meditation Hall | 161 |
| Ch. 9 | The Officers of the Meditation Compound | 203 |
| | Conclusion: Toward a Reappraisal of Zen Religious Experience | 217 |
| | Epilogue: Songgwang-sa after Kusan | 224 |
| | Appendix: Principal Chants Used in Korean Monasteries | 229 |
| | Glossary of Sinitic Logographs | 243 |
| | Works Cited | 253 |
| | Index | 265 |

Buswell, Robert E. Jr., Numinous Awareness Is Never Dark: The Korean Buddhist Master Chinul's Excerpts on Zen Practice
352pp. October 2016
Numinous Awareness Is Never Dark examines the issue of whether enlightenment in Zen Buddhism is sudden or gradual—that is, something intrinsic to the mind that is achieved in a sudden flash of insight or something extrinsic to it that must be developed through a sequential series of practices. This "sudden/gradual issue" was one of the crucial debates that helped forge the Zen school in East Asia, and the Korean Zen master Chinul's (1158–1210) magnum opus, Excerpts, offers one of the most thorough treatments of it in all of premodern Buddhist literature. According to Chinul's analysis, enlightenment is both sudden and gradual. Zen practice must begin with a sudden awakening to the "numinous awareness"—the "sentience," or buddha-nature—that is inherent in all "sentient" beings. Such an awareness does not need to be developed but must simply be recognized (or better "re-cognized"), through the unmediated experience of insight. Even after this initial awakening, however, deeply engrained proclivities of thought and conduct may continue to disturb the practitioner; these can only be removed gradually as his or her practice matures. Chinul's "sudden awakening/gradual cultivation" soteriology became emblematic of the Buddhist tradition in Korea.

Excerpts , translated here in its entirety by the preeminent Western specialist in the Korean Buddhist tradition, goes on to examine Chinul's treatments of many of the quintessential practices of Zen Buddhism, including nonconceptualization, or no-thought, and the concurrent development of meditation and wisdom, as well as, for the first time in Korean Zen, "examining meditative topics" (kanhwa Sŏn)— what we in the West know better as kōans, after its later Japanese analogues. Fitting this new technique into his preferred soteriological schema of sudden awakening/gradual cultivation was no simple task for Chinul.

Numinous Awareness Is Never Dark offers an extensive study of the contours of the sudden/gradual debate in Buddhist thought and practice and traces the influence of Chinul's analysis of this issue throughout the history of the Korean tradition. Copiously annotated, the work contains extensive selections from the two traditional Korean commentaries to the text. In Buswell's treatment, Chinul's Excerpts emerges as the single most influential work written by a Korean Buddhist author.
Korean Buddhist Journeys to Lands Worldly and Otherworldly
https://web.archive.org/web/20151019191639/http://sydney.edu.au/arts/korean/downloads/KSAA2009/Global_Korea_Proceedings_001-009_Buswell.pdf
Cultivating Original Enlightenment: Wonhyo's Exposition of the Vajrasamadhi-sutra, by Robert E. Buswell, Jr.
Review by A. Charles Muller: http://www.acmuller.net/reviews/cultivating_original_enlightenment.html