ZEN MESTEREK ZEN MASTERS
« Zen főoldal
« vissza a Terebess Online nyitólapjára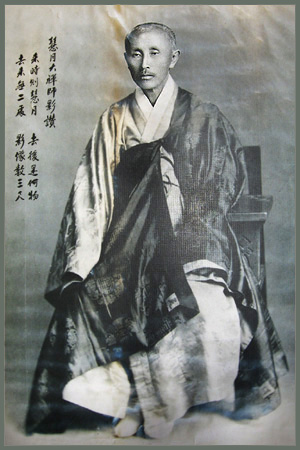 혜월혜명 / 慧月慧明 Hyewol Hyemyeong (1862-1937)
(Magyar átírás:) Hjevol Hjemjong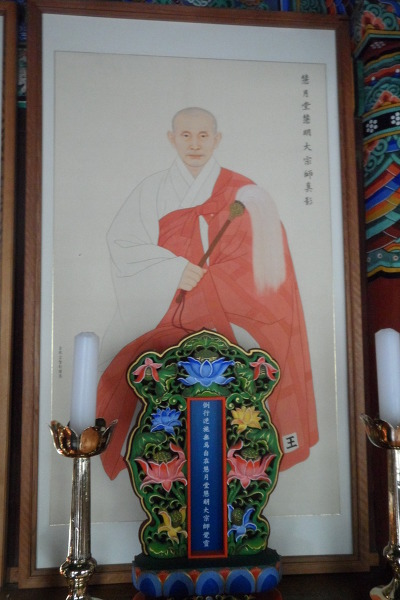 Zen Master Hyewŏl
http://www.seon.or.kr/english/210.htm
Hyewŏl Hyemyŏng (慧月 慧明; 1862-1937) went into the mountains to become a monk at the age of 12, and he was illiterate when he met Zen Master Kyŏnghŏ. Kyŏnghŏ once said, "Four major organs of the human body, head, eyes, nose and ears, have originally been falsely formed; they cannot preach dharmas nor hear about it, and the air cannot preach dharma nor hear about it. But one clear thing before your eyes can lecture and hear about dharma. What is this solitary bright thing?" He continued, "Do you understand? What kind of thing hears and lectures dharma? Tell me what that thing is which is formless but bright."
After a strenuous three-year search for the answer, while making a straw-knotted shoe, Hyewŏl suddenly attained enlightenment at the sound of the hammer striking the bottom of the shoe. When he went to his mentor, Zen Master Kyŏnghŏ, Kyŏnghŏ questioned him, saying, "What is the bright thing before your eyes?"
"I do not know. Nor do the one thousand preceeding saints know it."
"What is Hyemyŏng?"
Hyewŏl stepped to the west and from there he stepped to the east and stayed there.
Kyŏnghŏ said, "Right. Right." He approved his enlightenment, ordained him as Hyewŏl, and transmitted the dharma lineage to him, singing:
付慧月慧明

了知一切法
自性無所有
如是解法性
卽見盧舍那
依世諦倒提唱
無文印靑山刻
一關以相塗糊

水虎中春下澣日
萬化門人鏡虛說

To Hyewŏl Hyemyong

Once you've known the nature of things
There is nothing in self-nature.
Once you've known the nature of dharma
Soon you'll see Virocana Buddha.
If you see things in the worldly way
You'll see things upside down.

If you carve a blue mountain
On a letterless seal
You trap it within the physical aspect.
http://jinje.kr/eng/03_dharmalecture/01.php?mode=view&uid=208
http://jinje.kr/eng/03_dharmalecture/01.php?mode=view&uid=209