ZEN MESTEREK ZEN MASTERS
« Zen főoldal
« vissza a Terebess Online nyitólapjára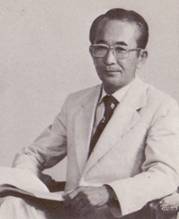 平井富雄 Hirai Tomio (1927-1993)

Tomio Hirai, who was born in Tokyo in 1927,
graduated from the Medical School of the Univer-
sity of Tokyo in 1950. He is an outstanding au-
thority in psychiatry and the leading Japanese
research specialist in psychophysiology. His reports
on the subject of seated Zen meditation in connec-
tion with brain waves have attracted the attention
of specialists in many countries. Several of these
men have come to Japan to study with him, and a
large number of them have applied Zen methods to
the treatment of neuroses. At present, Dr. Hirai is
an assistant professor on the Faculty of Medicine,
Department of Psychiatry, of the Tokyo University
Hospital; president of the Japanese Society of
Psychiatry and Neurology; and a director of the
Japan Mental Health Association. His written
works include Jiko Saiminjutsu (Self-hypnotism)
and Seishin-ka Chiryo Gaku (Psychiatric Treat-
ment) in Japanese and the following books in
English:
Tomio Hirai, Psychophysiology of Zen. Igaku Shoin, Tokyo, 1974. 147 p.

Tomio Hirai, Zen Meditation Therapy. Japan Publications, Tokyo, 1975. 103 p.

Tomio Hirai, Zen and the Mind: Scientific Approach to Zen Practice. Japan Publications, Elmsford, NY, 1978, 144 p.

Contents

Preface

INTRODUCTION

MEDITATION FOR MODERN MAN

1. The Nature of Neuroses 19

2. Meditation Sickness and the Stress Complaint 20

3. The True Meaning of Meditation 21

4. The Silent-enlightenment Experience 23

5. Zen and Meditation 24

6. Significance of Zen Meditation for Today 26

SEATED MEDITATION

1. Briefly about Brain Waves 35
2. Posture Regulation 36

(1) Zen meditation in sitting posture 36
(2) Meditation in reclining posture 46
(3) Standing posture 48

3. Breath Regulation 51

(1) Reducing breath frequency 51
(2) Rhythmical breathing 57
(3) Abdominal breathing 59
(4) Counting breaths 62

4. Mental Regulation 63

(1) Concentration 63
(2) Attention transferal 75
(3) Associated method 79
(4) Meditative contemplation 81

5. Some Notes on Zen Training in Temples 87

PSYCHOPHYSIOLOGY OF ZEN

1. Scientific Basis of Zen Meditation 95
2. Zen Meditation, Altered States of Consciousness, and Brain VVaves 96
3. Seated Zen Meditation and Brain Waves 98
4. Zen Meditation and Changes in Breathing 111

PHYSIOLOGICAL SIGNIFICANCE OF ZEN MEDITATION

1. Electromyograms 117
2. Respiratory Functions 119
3. Galvanic Skin Responses 121
4. Other Physiological Changes 121
5. Voluntary Control 124
6. Feedback Training and Voluntary Control 125

YOGA AND HYPNOSIS IN RELATION TO ZEN MEDITATION

1. Yoga 129
2. Hypnosis 134

ZEN AND PSYCHOTHERAPY

1. Morita Therapy 137
2. Autogenic Training 138
3. Zen Meditation as Therapy 140

Tomio Hirai, Zen meditation and psychotherapy. Tokyo; New York: Japan Publications, 1989, 164 p.

"Revised and enlarged edition of Zen and the mind"
Co-author with 笠松明 Kasamatsu Akira
Kasamatsu, A., Hirai, T., 1963. The Science of Zazen, 16 mm-es hangosfilm, Tokyo University, April 1963. (English subtitles published in: Psychologia, Vol. 6. (1-2), pp. 86-91.)
Kasamatsu, A., Hirai, T., 1966. An electroencephalographic study on the Zen meditation (Zazen), Folia Psychiatrica Neurologica Japonica, Vol 20. pp. 315-336.
Kasamatsu, A., Hirai, T. 1969. An electroencephalographic study of the Zen meditation (Zazen). Psychologia, Vol. 12. (3-4), pp. 205-225.