ZEN MESTEREK ZEN MASTERS
« Zen főoldal
« vissza a Terebess Online nyitólapjára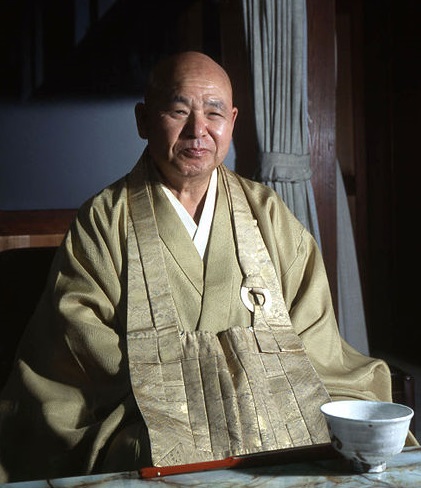 福島慶道 Fukushima Keidō (1933-2011)
慶道元照 Keidō Genshō

Keido Fukushima Roshi (☸March 1, 1933—March 1, 2011) was a Rinzai Zen master who made significant contributions in terms of bringing Rinzai practice to the West. Fukushima-roshi, a Dharma heir of Zenkei Shibayama-roshi and 岡田熙道 Okada Kidō-roshi, first came to the United States in 1969 as Shibayama's attendant. He also taught at an American university for one year, and beginning in 1989 he had been making annual visits to the United States to give lectures at various places and hold sesshins in Little Rock, Arkansas. In Japan he served (after 安田天山 Yasuda Tenzan 1909-1994) as head abbot of Tofuku-ji, where a number of Western Zen teachers have traveled to study under him. These include Jeff Shore, Kuzan Peter Schireson and Myoan Grace Schireson, among others.
Near the end of his life, Keido-roshi was in poor health, stricken with Parkinson's Disease. On October 22, 2009 Keido-roshi retired as Abbot of Tofuku-ji and his student and Dharma heir, Harada Ji'en Roshi (原田融道 Harada Yūdō 1959-), has taken over as Abbot of Tofuku-ji. Harada Jien Roshi does not understand English, so Westerners will not be receiving instruction from him unless they are fluent in Japanese. Keido Fukushima retired to Okayama for care and passed away on March 1, 2011 on his 78th birthday.

http://www.jnto.go.jp/eng/indepth/cultural/kie/zen/kie_zen_01.html
http://en.wikipedia.org/wiki/Keido_Fukushima
http://sweetcakeenso.blogspot.hu/2011/04/artful-teachings-of-fukushima-keido.html
http://news.sfzc.org/content/view/953/46/
http://kuzanzen.org/2011/03/remembering-fukushima-keido-roshi/
http://kyotojournal.org/the-journal/spirit/be-a-fool/
http://karlstraub.com/my-teachers/keido-fukushima/
http://de.cyclopaedia.net/wiki/Fukushima-Keido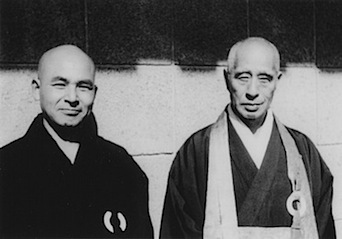 Fukushima Keidō & Shibayama Zenkei
Fukushima Keidō
in: The Art of Twentieth-Century Zen, Paintings and Calligraphy by Japanese Masters
Eds. Audrey Yoshiko Seo with Stephen Addiss. Boston and London, 1988, pp. 178-190.
Zen No Sho: The Calligraphy of Fukushima Keidō Rōshi
by Jason Martin Wirth (1963-)
with additional contributions by Audrey Seo, Stephen Addiss, Stephen Goldberg, and Ronald Carlisle
Santa Fe, New Mexico: Clear Light Press, 2003.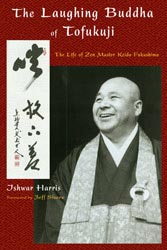 Excerpts from
The Laughing Buddha of Tofukuji: The Life of Zen Master Keido Fukushima
by Ishwar Harris
World Wisdom, 2004

For years I have noticed that whenever Roshi Fukushima writes me a letter, he always signs it with the statement, "With my Zen mind." Every time I read that signature statement, it forces me to examine my own state of mind. I cannot help but focus on my "contaminated mind," overloaded with ego, attachments, and distractions. Once during a family discussion, one of my daughters remarked, "I like you more when you return from Tofukuji." When I probed further, she explained that then I was more agreeable, less prone to losing my temper, and pleasant to be with. Her statement is a constant reminder for me to continue to examine the state of my mind. No wonder the first line of the Dhammapada reads, "You are the result of what you have thought."

So what is the state of mind of Roshi Keido Fukushima? When I posed this question to the Zen master, I knew that we had a long discussion at hand. He began by suggesting that perhaps we could focus our conversation on the condition of his mind "before satori " and "after satori ." That seemed to be a good place to start the discussion which was to take us on a long journey of exploration into his Zen life. "I have always tried to follow the Buddhist dharma. But before my satori experience, now I can say, my life was a life lived with ego. After the satori experience, I have no ego. This has brought a new freedom in my life." As we probed further, he explained that before satori he was attached to dharma . The monastic rules seemed difficult, though he believed in them and tried to follow them. However, there was "no joy" in keeping them. They were part of a daily routine. Intellectually he understood their function and the necessity to follow them, but emotionally they brought no satisfaction. After satori experience however, everything changed. In his Zen mind, he now feels that he has risen above the dualism of the dharma . In order to explain this further, he began to make a distinction between "freedom from" and "freedom to." Before satori , there is a tendency to think that one should be "free from" various attachments (including the attachment to the dharma ). After the satori experience, one is "free to" act without attachment and non-attachment. For Roshi Fukushima, this is a new freedom that Zen experience brings. In Japanese Zen, it is explained with the notion of ji yu, meaning "to depend on myself." However, this self-dependence is without ego.

The Zen mind is also "spontaneous mind." Before satori experience, as the Zen master explains, "The mind is attached to so many things that it loses its ability to act freely in the present . That means that the mind is not in its natural state. It is in the defiled state." As it turns out, the master holds that without the Zen experience, people are preoccupied with so many things that they cannot live fully. If we analyze this condition we will discover that most of us either live in the past or in the future. As a consequence, we negate the present. Being in the past means that we worry about the mistakes we have committed that produced our current miserable condition. Living in the future means that we plan ahead for things that will give us joy. Zen wants us to see that the "present" is the real moment. The present is the past of tomorrow and the future of yesterday. So, why not live in the present? I once asked a psychologist what was the secret of joy? "To look for the joy you already have," he responded, "rather than to try to find it in the future." I thought that was a Zen-like answer. It all boils down to the problem of suffering. Living in the past or future is a symptom of anxiety. For Zen, spontaneous mind is an anxiety-free mind.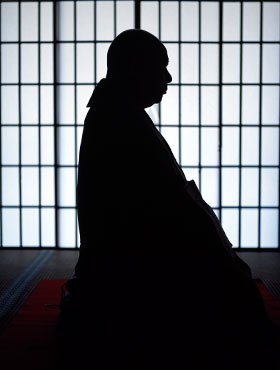 With My Zen Mind
http://www.worldwisdom.com/public/viewpdf/default.aspx?article-title=With%20my%20Zen%20Mind-from%20Laughing%20Buddha.pdf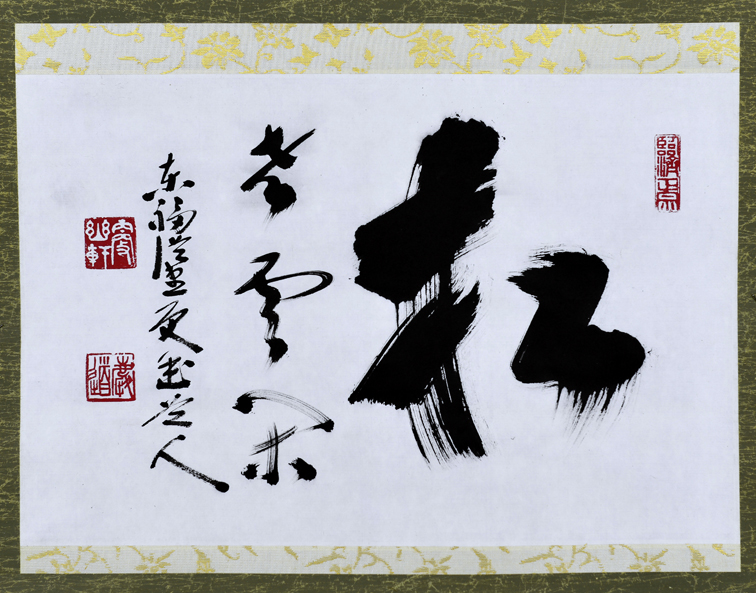 "As the pines grew old and the clouds idled." 
Tofuku monastery Koyu donin.
33.8 × 51 cm


"Every Day is a Fine Day"
http://www.worldwisdom.com/public/viewpdf/default.aspx?article-title=Every_Day_is_a_Fine_Day_to_Keido_Fukushima_by_Ishwar_Harris.pdf