ZEN MESTEREK ZEN MASTERS
« Zen főoldal
« vissza a Terebess Online nyitólapjára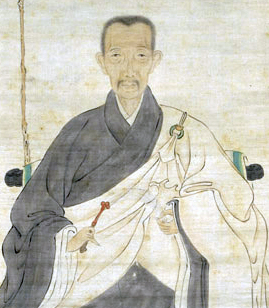 東皋心越 Donggao Xinyue (1639-1696), aka 興儔 Xingchou
(Jpn.:) 東皐心越 Tōkō Shin'etsu; 興儔 Kōchū

In 1677, the Chinese immigrant Caodong priest Xinyue Xingchou (心越興儔, Jpn. Shinetsu Kōchū, 1639-1696) also known by his surname Donggao 東皐 (Jpn. Tōkō), arrived in Nagasaki.
The fate of the Shouchang (Jpn. Jushō) branch 詩昌派 of the Caodong school brought to Japan by Xinyue, including the protection it received from its powerful patron, Tokugawa Mitsukuni 徳川光園 (1628-1700), forms an interesting episode.
http://www.artnet.com/artists/donggao-xinyue/past-auction-results

布袋和尚 Budai heshang (Hotei oshō) 87 x 41 cm.


达摩 Bodhidharma (Daruma) 107 x 42 cm.


騎驢圖 Chan Master Riding a Mule, 24.3 x 34.6 cm.


Peony, 115 x 47 cm.


观音像 Guanyin bodhisattva, 91 x 32 cm.


Bamboo & Guanyin (Kannon) & Flowering Plum Tree, 97,3 × 44,8 cm (3×)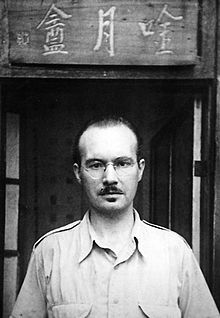 Robert Hans van Gulik (1910-1967), aka 高罗佩
The holocaust of the Second World War brought an abrupt end to van Gulik's first Tokyo sojourn. Evacuated in 1942 with other Allied diplomats, he was sent to Chungking as secretary of the Netherlands mission to China. At this remote post he published in 1944 an edition of a rare Chinese work about the Ch'an master Tung-kao, a Buddhist monk who was loyal to the Ming cause in the days of its defeat.
明末義僧東臯禪師集刊 / Ming mo yi seng Donggao chan shi ji kan
商務印書館 : 民國 33 [1944] Chongqing : Shang wu yin shu guan, Minguo 33 [1944], [19], 152 p.
Chan master Donggao. Chinese. With added preface in English.


The Ch'an master Tung-Kao : a loyal monk of the end of the Ming period
by R. H. van Gulik.
Chungking, China : Commercial Press, 1944. 1 v. (unpaged) : ill.

One hundred copies specially printed for the author on lien-shih paper and bound in Chinese style. Each copy has four pages with illustrations added after the title page, and one seal-impression with explanation added in the top margin of page 3 of the biography.