ZEN MESTEREK ZEN MASTERS
« Zen főoldal
« vissza a Terebess Online nyitólapjára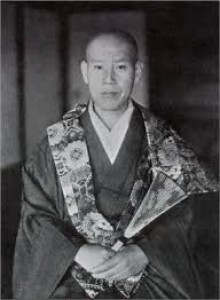 泥龍 窟/屈 Deiryū Kutsu (1895-1954), aka 寛州宗潤 Kanshū Sōjun

PDF: The Zen Art of Deiryu
by Audrey Yoshiko Seo
Orientations, December 1998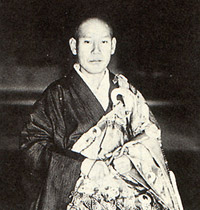 Biography Deiryū 泥龍 (1895-1954)
http://www.sarugallery.com/japanese_paintings/artists/deiryu.html
Deiryū Kutsu (Kanjū Sōjun) was born in Wakayama Prefecture as the son of a naval engineer of the Izawa family of Kobe. He received a strict upbringing characteristic for a military family. He excelled in physical education, particularly in kendō, but when he was diagnosed with pulmonary tuberculosis he decided to become an acolyte at a Zen temple. In 1911, still named Jun, he became an attendant of Nakahara Nantembō (1839-1925), then seventy-two years old. In 1913 he formally entered Kaisei-ji to train as a monk. He was already a skilled calligrapher when he was in high school, but his style was strongly influenced by Nantembō. He painted several portraits of his master Nantembō, which closely resemble Nantembō's self-portraits. At a certain point their styles resembled each other so closely, that it was rumoured that Deiryū was selling some of his own pieces under the name of his master. Neither denied the rumours.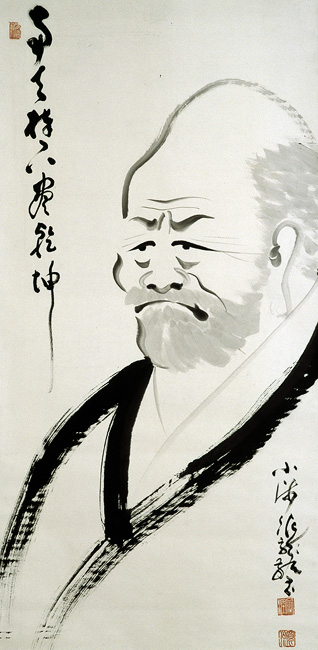 Portrait of Nantenbo by 泥龍屈 Deiryū Kutsu
125 x 61.8 cm
The Manyoan Collection
In 1924 Deiryū left Kaisei-ji and moved to Empuku-ji in Kyoto, to continue his training under Kōzuki Tessō. When Nantembō fell ill the next year, Deiryū returned to Kaisei-ji to be with him till he died.
In 1927 Deiryū was sent to Taiwan, and in 1929 he became head of Kenshō-ji in Kumamoto Prefecture, Kyūshū. He stayed for only three years, because in 1932 he returned to Kaisei-ji as its new abbot. He established a school for students of Zen from Southeast Asia at the temple. In 1937, in the middle of a lecture tour, he was asked to take over the position of Zen master of the Empuku-ji in Kyoto, one of the most important temples of the Rinzai sect. Before he took up the post he visited all twenty-five sōdō and their masters. In 1938 Deiryū's tenure as Zen master of Empuku-ji began It lasted till his death in 1954. In 1942 he became the 626th abbot of the 妙心寺 Myōshin-ji.

Unlike his master Nantembō, he was not a prolific writer of letters or books. He mainly wrote poetry. Well-known subjects of his paintings (apart from calligraphy) are: portraits of Nantembō, lines of begging monks, animals. He continued the Zenga tradition of Nantembō. His work was long overlooked because it resembles that of Nantembō so much. This does not do justice to the quality and charm of his work.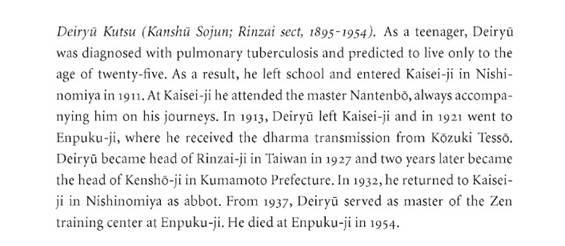 (Izawa) Kanju Sojun (1895-1954) Pen name: Deiryu-kutsu. Dharma transmission from Tesshu Chisei. He was ordained as a Rinzai Zen monk by Toshu Zenchu Nantenbo in 1911 in Kaisei-ji. He moved to Enpuku-ji in 1924 and practiced Zen under Tesshu Chisei. He became the abbot of Kaisei-ji in 1932. He was invited to be the Zen master of Enpuku-ji monastery in 1937. Zen master with a talent for calligraphy, painting and Chinese poetry.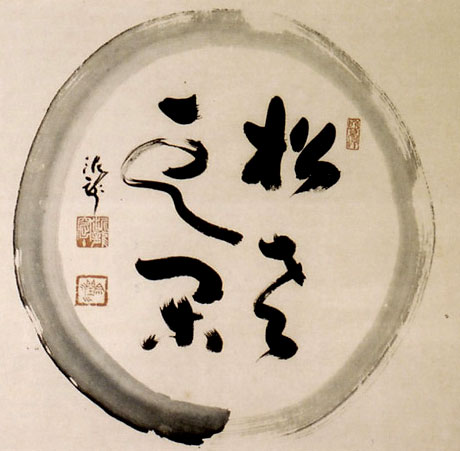 Enso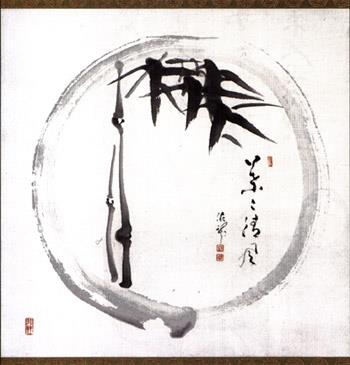 Bamboo Enso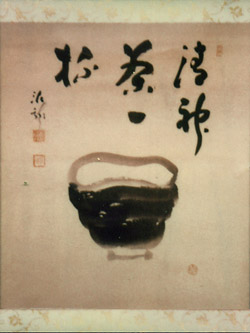 Tea Bowl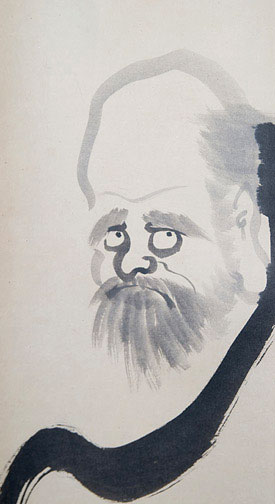 Daruma

Daruma
128.5 x 34.0 cm
The Manyoan Collection

Portrait of Nantembo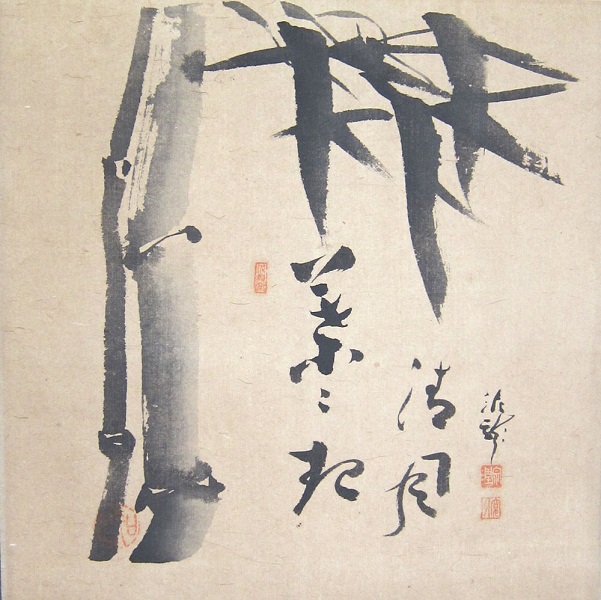 "Each leaf a pure breeze stirs"

Wakei Seijaku - 和敬清寂 is a phrase referring to the 4 important elements of the tea ceremony
(wa -harmony, kei -respect, sei -purity, jaku -tranquillity)


Procession of Monks
162 x 22.4 each cm
The Manyoan Collection

禅板 zenpan (chin rest)
Inscription by 泥龍 Deiryū (1895-1954): "The mosquito bites the iron bull"
Ink on wood, 54 cm × 6 cm
Hōsei-an Collection