ZEN IRODALOM ZEN LITERATURE
« Zen főoldal
« vissza a Terebess Online nyitólapjára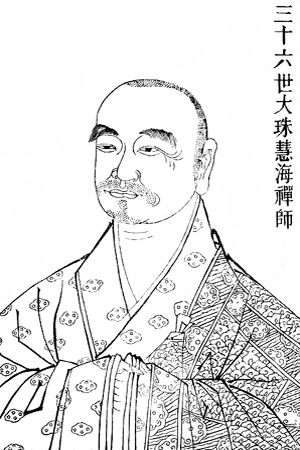 大珠慧海 Dazhu Huihai (?-788; d. b/t 800-831)
頓悟入道要門論 Dunwu rudao yaomen lun
(Rōmaji:) Daiju Ekai: Tongo nyūdō yōmon ron
(English:) The Path to Sudden Attainment
(Magyar átírás:) Ta-csu Huj-haj: Tun-vu zsu-tao jao-men lun
# 卍 Xuzangjing Vol. 63, No. 1223 頓悟入道要門論
# CBETA Chinese Electronic Tripitaka V1.7 (Big5)
http://www.cbeta.org/result/normal/X63/1223_001.htm

Zen Teaching of Instantaneous Awakening: being the teaching of the Zen Master Hui Hai, known as the Great Pearl
Translated by John Blofeld (1913-1987)
Buddhist Publishing Group, PO Box 173, Totnes TQ9 9AE, UK, ISBN 0-946672-03-2 year 1987
has been removed at the request of copyright owner
Cf.

The Path to Sudden Attainment, a treatise of the Ch'an (Zen) school of Chinese Buddhism by Hui Hai of the T'ang Dynasty, translated by John Blofeld (London: Sidgwick & Jackson, Ltd., for the Buddhist Society, London, 1948), 51 pages.
"A literal and concise translation that follows the text closely."

The Zen teaching of Hui Hai on sudden illumination; being the teaching of the Zen Master Hui Hai, known as the Great Pearl; rendered into English [from the Chinese] by John Blofeld (Chu Ch'an); foreword by Charles Luk.
London, Rider & Co., 1962, 160 p.
New York, Weiser, 1962, 1972, 160 p.
"A complete translation of the Tun Wu Ju Tao Yao Mên Lun and the Tsung Ching Record."


The birth of this translation
Thereupon, my thoughts flew back to a temple secluded in a long, low valley in West China where, during the Second World War, I had gone from my post at our embassy in Chungking to recuperate from illness. Today I do not even remember the temple's name, but I shall not easily forget what befell me there. It is strange (and no doubt a symptom of our need for books such as the Great Pearl's) how quickly the most delicious pleasures pall. Living in that peaceful temple, with nothing to do all day long be­yond reading, sipping tea with friendly monks and gazing out at the beautiful pine-crowned ridges to either side of the fertile valley, I presently found myself bored! Beauty and idleness, to which years of hard work and a month of illness had made me look forward with all my heart, had all too quickly lost their charm. The aged monk-librarian, noticing with his shrewd old eyes my need for distraction, took me to spend a morning with him in the library-- a large pavilion almost as big as the main shrine hall of the temple. Inside, I found most of it occupied not by books, but by thousands of delicately incised boards of the kind formerly used for printing Chinese texts. Many of them were centuries old and bore vertical rows of characters so exquisitely formed that I was able to pass several happy hours handling and admiring them; but my state of health had left me weak and presently I felt the need to seek my bedroom, which opened off the shrine hall on the other side of the courtyard. Just as I turned to go, the old monk smilingly placed in my hands a copy of one of the ancient texts block-printed from the boards I had been examining.
Back in my room, which even at midday was rather dark, I lighted a red votive candle and began idly glancing through the pages of the old gentleman's gift. It proved to be a reprint of an eighth-century (T'ang dynasty) text com­posed by the Ch'an Master Hui Hai, together with a selection of his dialogues with his disciples. Almost at once I came upon an arresting quotation to the effect that sages seek from mind and not from the Buddha, whereas those who seek from the Buddha and not from mind are fools! This sharply awakened my curiosity, for it seemed extra­ordinary that a pious Buddhist writer should thus castigate those who seek something from the `teacher of gods and men'. Anyone might be forgiven for finding such words blasphemous -- as I did until I had read the whole book and begun to experience the first glimmer of under­standing. There and then, I decided to try my hand at translating this intriguing work.
John Blofeld