白隠慧鶴 Hakuin Ekaku (1686-1769)
« back

息耕 Sokkō* [= 虚堂智愚 Kidō Chigu, 1185-1269]
虚堂智愚 Xutang Zhiyu, aka 息耕 Xigeng
*Hakuin's nickname for Xutang appears to be unprecedented. As many point out,
the name Sokkō seems to have been borrowed from the title of a verse composed by Xutang.
愚堂東寔 Gudō Tōshoku (1577–1661)
Portrait painted by 白隠慧鶴 Hakuin Ekaku (1686-1769)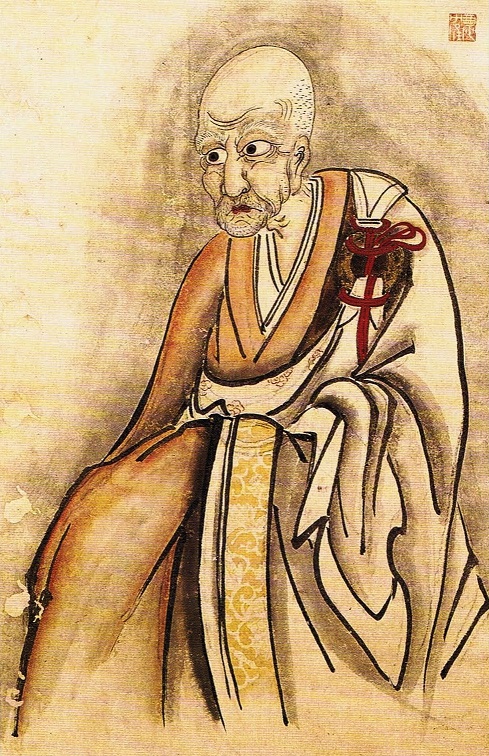 愚堂東寔 Gudō Tōshoku (1577–1661) was a Japanese Rinzai school zen monk from the early Tokugawa period. He was a leading figure in the Ōtōkan lineage of the Myōshin-ji, where he led a reform movement to revitalize the practice of Rinzai. He served three times as abbot of Myōshin-ji. Among his leading disciples was Shidō Bunan (1603–1676), from whose line came the great reformer Hakuin Ekaku (1685–1768). The illustrious Zen preacher Bankei Yōtaku earlier in life wanted to meet Gudō and receive confirmation of enlightenment, but narrowly missed seeing him at his Daisen-ji temple in Mino province (today's Gifu prefecture) because the master was visiting up in Edo (Tokyo). Gudō received the posthumous title Daien Hôkan Kokushi. He left no written words.