Terebess Asia Online (TAO)
Index
Home
Philip Whalen (1923-2002)
Haiku and Haiku-esque Poems
Haiku for Mike
Bouquet of HUGE
nasturtium leaves
'HOW can I support myself?'
Early Spring
The dog writes on the window
with his nose
25:1:68
Sadly unroll sleepingbag:
The missing lid for teapot!
[Awake a moment]
Awake a moment
Mind dreams again
Red roses black-edged petals
Where Was I??
New desk, old chair
I look at them, hopelessly
Where's the man who writes
there?
IS
Here's a dragonfly
(TOTALLY)
Where it was,
that place no longer exists.
Haiku for Gary Snyder, 1960
False Senryu
A cough
waits for the bus.
Ginkakuji Michi
Morning haunted by black dragonfly
landlady pestering the garden moss
cf.
http://www.modernhaiku.org/essays/Sagan-PhilipWhalenHaiku.html
Interview with Michael McClure: All Moments Are One
Kerouac's friend, the Zen priest and poet Philip Whalen, disliked haikus, saying "Reading them is like being pecked to death."

MARK OTHER PLACE, Poems by Philip Whalen
http://www.bigbridge.org/Site/Text/Mark_O_P.html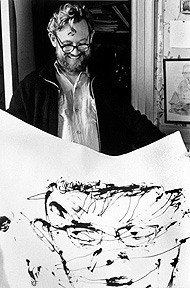 PHILIP WHALEN WITH DRIP PORTRAIT OF HIMSELF
San Francisco 1965
Poet and Zen Master, Philip Whalen emerged from his closet with a drip painted portrait of him by Michael McClure. It looks just like him. While I spent the day with him at his apartment, I was struck by the depth of his inner peace.
(Text and photograph by Larry Keenan. All Rights Reserved.)