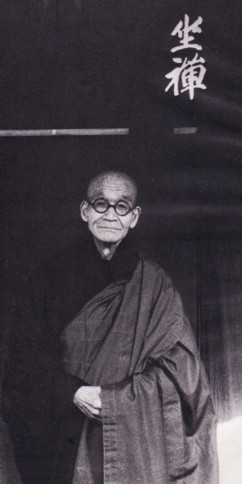 Contents

What is happiness?
Human mass production
Good old opinions
With a depressed expression
Religion is life
What makes you so attractive?
Grades in ethics

---------------------------------------------------------
What is happiness?
Sawaki Roshi:
Once a horse and a cat had a discussion about what happiness is.
I hear that they could not reach a conclusion.

Uchiyama Roshi:
There are new religious cults that ask people on the street: "Are you really happy?!"
This is one of the weaknesses of human beings - we are always pursuing happiness, but we never get a firm grip on that happiness that lovers experience when they have just fallen in love. We can not make that trance of happiness last our whole life time. At least the "normal citizens" among us.
Therefore some, who find no response to this "Are you really happy?!" are persuaded by the: "If you join our religion, you will finally be really happy!"
Why are people not clever enough to ask back: "What kind of happiness are you talking about in the first place?"
If the answer is: "Happiness means to have money, have a position and be in good health" - than you would be at the bottom of unhappiness the instant you die. Because death will take your money, your position and your health from you. If you think about happiness in terms of feeling happy or unhappy, being lucky or unlucky, than not only a discussion between horse and cat, but even a discussion of yourself with yourself will finally reach no conclusion about what happiness really is.

Sawaki Roshi:
Beauty is no garanty for happiness. One beauty is so popular with the guys that she has already three kids who do not know their fathers.
You love each other? Maybe not for life!
Some love each other so much that they try to commit suicide together to be one forever. And if one of the two survives, he or she falls in love with someone else soon after...
Human beings are tragic.
----------------------------------------------------------
Human mass production
Sawaki Roshi:
The problem starts with the education in school: People pass exams, collect points, get grades and have numbers. How stupid! What is a good person? What is a bad person? Are you good if your are good in school? Are you bad if you are bad in school? And what about all those idiots that are good in school?
The one who comes in last place is frustrated. He says, "life sucks", and spents the rests of his days in hate and anger. Thus his life really sucks!

Uchiyama Roshi:
In night clubs the hostess who is most popular is the number one, and proud of it. But still, would she be save from falling into loneliness sooner or later? She is just that one human product on the shelf of that club that happens to sell for the highest price. But even though your price is high, once you discover that you are no more than a product, naturally you will feel lonely.
Today, the schools seem to function as factories that produce humans. And the purpose of schools lies in raising the prices of these "human products". The purpose of going to elementary school is to go to a good junior high school. The purpose of junior high being to enter a good high school. Which serves the purpose to qualify for university. And you go to university to get a good job. Thus you are riding on a belt conveyor on your way to be sold as a product to be consumed. What we see on the streets these days seems to me to be the protest of the teens against this "human mass production".
This protest of the teens represents another problem, but saying that "life sucks" and therefore leading a life that really sucks is an even greater problem.

Sawaki Roshi:
To study originally meant to find out about one's own life.
Today study just gets you a licence that gets you a job.
----------------------------------------------------------------
Good old opinions
Sawaki Roshi:
Some opinions are also past their prime. What parents teach their children are usually these outdated opinions. "What is good is good, what is bad is bad..."
When greens are going to seed, you can not eat them any more. The same is true for our ideas: We have to see things with fresh eyes!
Often people tell us: "This is important!"
But what is really important? Nothing is really important. When you die, you have to let go of everything. Even those national treasures in Kyoto or Nara will not last forever. We might as well burn them down.

Uchiyama Roshi:
Often people tell me about the latest book written by some famous professor: "That is a good book. Did you read it?"
When I ask them though if they had understood what is written in that book, they tell me: "No, not really..."
The Japanese seem to have a very humble idea of themselves: If they read a book by a famous professor, they suppose that it must be a good book, and if they can not understand it, it must be their own fault.
Also the people who lined up all night before the book stores after the war, just to buy a copy of those really poor written philosophical works of Nishida Kitaro, must have thought that it was their own fault that they could not understand them.
Some of you might be shocked about Sawaki Roshi's saying that we might as well burn down the national treasures. He thinks about them as follows:

Sawaki Roshi:
For what purpose were Kinkakuji and Horyuji and all of the other old temples all build? Certainly not for monks to practice Buddhism there. Just to raise coward monks there like cattle or sheep. Therefore, it is no surprise that there are monks who set fire to Kinkakuji or Enryakuji, and the same can be said about Ginkakuji.
----------------------------------------------------------------
With a depressed expression
Sawaki Roshi:
What is the meaning of complaining with a depressed face: "I have no money, nothing to eat, only debts..."? It is because you are stingy that you think that you should have more fun and a happier life, and that is why you always complain about your misery.
You are not even hungry, still you complain that you have nothing to eat! Thus you will become really hungry. Everyone gets fooled by words. Names and words are the cause of our confusion.
Also beggars laugh, and millionairs cry. So what is all the excitement about?

Uchiyama Roshi:
Seven or eight years ago a man about 30 years old visited Antaiji one evening with a depressed expression on his face: "I have nothing to eat"
We were just having some rice soup for dinner, therefore I invited him to eat with us first and then talk afterwards. His reply struck me as strange: "I have nothing to eat, but I am not really hungry."
When I talked with him after dinner, I learned that he was living with his wife and his mother, and had a job, although the company he was working for was not too big. Still, he had an income and was certainly not starving. Therefore I told him: "Do not say that you have nothing to eat when you are not even hungry! You should rather say that your income is not enough to gratify your vanity."
He wound up staying with us for one week, but finally he returned back home, saying happily: "At home, my life is still better than your life here."
The life here in the temple must have struck him as really poor. But that is alright. Unless you really have nothing to eat, you will be happier if you life your life without a depressed expression on your face.
------------------------------------------------------
Religion is life
Sawaki Roshi:
The most important question of religion has to be how we live our own lifes.

Uchiyama Roshi:
One of the mysteries of 20th century Japan is that although murder and crime and erotic scenes are allowed on television and kids run into posters showing nude girls on the street - and nobody is worried about that - but at the same time it is forbidden by law to teach religion in schools.
Maybe the reason is that people think that religion means the established sects, or superstition, or fanaticism. It is certainly true that if you confront an innocent child with one-sided doctrines, superstition or fanaticism, it will lead to great problems. Therefore one might say that it is a matter of course that the state prohibits that.
But, on the other hand, when we realize that religion means to teach that which is most important in our lifes, we have to be worried about the next generation that grows up in a society without any religious education, but is confronted with nudity and violence all day long. If things continue like this, we will face kids becoming ever more violent and destructive.
I hope that the time for religion being taught at schools as "the most important thing in life" will soon come.

Sawaki Roshi:
Religion means to be not fooled by anything, to live one's life completely anew.
Religion must not be a word. Religion is life, religion must be living activity. Worshiping the sutras alone is not enough. Religion has to manifest freely in all activities of life, in all directions, every time, everywhere.
------------------------------------------------------------------
What makes you so attractive?
Sawaki Roshi:
What are we so worried about all the time? If we don't take care, we will be wasting our time trying to catch human delusions.
Humans are childish: The just want money, don't want to become sick, want too be beautiful - and that is enough for them.
What have you ever thought about except eating and fucking?
We are always fooled by our bodies and minds, that is why we do not see clearly.

Uchiyama Roshi:
Recently I overheard a conversation between two ladies saying that "a man without money is only half as attractive". If women say that, the reason might be that men today actually are men that lose half of their attractiveness if they have no money. I even felt sorry for these women who do not know any other men like that. Men have to make an effort and stop just being raised like cattle or sheep.
But this concerns not only the relation between men and women: The question is more fundamental. If we ask what the other half of a man's attractiveness was, the answer would probably be: His penis. Thus people's lifes today consist of nothing but money and sex.
But shouldn't both men and women posses more attractiveness than just sex appeal and the attractiveness of money? I think they should be attractive as human beings, attractive enough to cause a real "attraction" between their ways of life.

Sawaki Roshi:
You do not have to save every penny to live good in this world.
--------------------------------------------------------------------
Grades in ethics
Sawaki Roshi:
Someone asked a mathematician if the number "1" really exists in mathematics. The answer was that mathematicians suppose that the number "1" exists, and than continue further basing their work on that initial supposition. In Buddhism it is different: There is no "1". In the sutras it says: "The 2 exists only because of the 1, and the 1 does not exist independently either." Or: "1 is all, all is 1."

Uchiyama Roshi:
Calculators help us to calculate accurately, but when I got the bill for my health insurance last year, the numbers were surprisingly high. When I asked the people in the office to check once more, they found out that they had input one or two zeros too much at the end of the numbers. Thus the caluculator calculated pretty accurately - just how absent minded these office workers can be.
The other day a junior high school teacher paid me a visit and told me: "We have to give our students grades for their ethic views and sense of responsibilty. I do not feel so good about this, what do you think?" Knowing nothing about the schools of today, I was very surprised to hear this. I understand that the natural sciences can be expressed in numbers, but can you express the worth of a human being's life in that way? We should rather give grades to those in the ministery of education for THEIR ethic vies and sense of responsibility. I think their grades could not be worse.
Anyway, I told the teacher, who had no choice but follow the instructions of the ministery: "I would give all of my students 90 points (out of 100, because in Zen it is said that 80 or 90 percent should be preferred to 100). And apart from that, I would try to teach my students what responsibility really means, encouraging them as well as myself to develop as much sense of responsibility as we can".

Sawaki Roshi:
It has to be this way, but it can be anyway. It does not have to be any special way, but it has to be the best way possible.
-------------------------------------------------------------------
Kusen de Maître Kodo Sawaki
http://www.zen-deshimaru.com/FR/sangha/kodo/kusen.htm
Le corps que revet la riziere du bonheur
Le corps que revet la riziere du bonheur
« Bruine et rosée, brume et nuages vetent notre corps. »
Ce vetement est le kesa. Précédemment, nous avons vu que la nature du bouddha était la perle des défenses et nous découvrons maintenant duc c'est aussi le kesa.
Un jour, un unsui, « nuage et eau », m'a demandé ce que signifie le kesa. Je lui ai répondu : « Le kesa, c'est quelque chose qui n'est pas clair. » Il m'a regardé avec (les yeux ronds, l'air (le penser que je disais n'importe quoi. En vérité, le kesa est bien vague, tant par sa couleur cassee, couleur de ruine ou de haillon, indéfinissable, que par ses dimensions qui ne répondent a aucune regle précise. Couleur et dimensions sont sans aspect extérieur. C'est pour cette raison qu'il a été appelé « le vetement (le la riziere (lu bonheur sans limites ». On a dit que celui de Shakyamuni mesurait dix pieds, un pouce et celui de Maitreya mille pieds. Ni grand ni petit, il est sans aspect. Vraiment tres étrange.
Le kesa est le symbole de la substance de la Loi du Bouddha, vetement de « bruine et rosé, brume et nuages ». Le ciel et la terre, l'univers entier ne sont qu'un seul cl meme kesa. En dehors du kesa, aucun monde n'existe. On ne tombe pas en enfer, on ne monte pas au paradis, on ne va nulle part, on n'arrive
de nulle part. II n'y a qu'un seul kesa. Le plan des rues de Kyoto et de Nara ressemble a un kesa. « Bruine et rosée, brume et nuages vetent notre corps. » : c'est le vetement que l'homme se doit de porter.
Le prince Shotoku qui a introduit le bouddhisme au Japon portait le kesa pour administrer les affaires de l'état et pour commenter les trois sutras du Mahayana. L'empereur Shomu le revetait aussi pour gouverner et plusieurs générations d'empereurs ont eu foi d:ms le kesa. II en l'ut de meme dans le monde des guerriers, Kikuchi Taketoki, Takeda Shingen et Uesugi Kenshin ont bénéficié des vertus infinies du kesa. Porter le kesa et transmettre le kesa est le bonheur supreme de l'homme. Celui qui pense que ce n'est qu'un sac de formalisme étriqué est le jouet de son mauvais kanna. Par contre, on
peut dire duc celui qui se réjouit de le porter a sa bonne part de bonheur. C'est Daichi Zenji qui a le mieux exprimé le grand bonheur que procure le kesa de l'univers entier « Je suis heureux dans mon kesa, Homme tranquille je possede l'univers. Je demeure ou je m'en vais, a mon gré, La brise pure reconduit les nuages blancs. » Et dans un autre poeme « Ou qu'il soit, l'escargot est chez soi quand il meurt. >, Aucun monde n'existe en dehors du kesa. Lorsque « bruine et rosée, brume et nuages vetent notre corps », nous, sommes, tranquilles- Porter le kesa. c'est trouver la paix de l'esprit et du corps.
---------------------------------
Extrait des commentaires sur le Shodoka par Kodo Sawaki
Traduction du japonais de Mme Janine Coussin
Sans forme n'est ni vide ni non-vide. Mais la véritable réalité du Bouddha, Le clair miroir de l'esprit réfléchit tout, sans distinction. Infiniment vaste, limpide etbrillant, il pénetre l'univers.
Sans forme n'est ni vide ni non-vide
Sans forme inclut forme et forme inclut sans forme : l'une et l'autre cohabitent sans gene. Il en va de meme pour aimer et ne pas aimer, macrocosme et microcosme, le bien et le mal ; c'est pourquoi, quand on se demande ou est le bien, ou est le mal, on peut se dire qu'ils ne sont pas loin l'un de l'autre : ils appartiennent a notre condition humaine. Quand on ne les considere plus comme des opposés, on saisit le corps du Bouddha, son essence, l'ultime réalité
La véritable réalité du Bouddha
C'est le satori du Bouddha.
Dogen Zenji a écrit ce poeme : « Fleurs, feuilles pourpres d'automne, nuages blancs d'hiver, leurs couleurs illusoires m'enchantent. » Dans le paysage du satori, il admire a la fois les couleurs des illusions et du satori. Il les admire d'autant plus qu'elles sont fondamentalement vides et sans forme. Il est bon de voir les beautés de la nature et toutes choses sous leur double aspect, ils sont si différents.
Le clair miroir de l'esprit réfléchit tout sans distinction
Le miroir de notre espritne discrimine pas, il n'aime ni ne déteste ceci ou cela et pour lui, tout est lumineux jusqu' au tréfonds des profondeurs abyssales, sans qu'il rencontre jamais d'obstacle.
Autrefois en Chine, il y avait un moine dénommé Gensha no Shibi. Un jour qu'il partait en pelerinage, il se déchira le pied en butant contre une pierre. Il ressentit une vive douleur et pensa : « D'ou vient cette douleur puisque mon corps n'existe pas ? » A cet instant, il eut le satori
« J'ai compris ! Les deux sont vides et sans forme ! » Il fit demi-tour sur-le-champ et rentra au monastere. Son maître Hôgen, le voyant revenir, s'étonna : « Pourquoi ne fais-tu pas tes visites ? » A cette époque, le pelerinage de monastere en monastere pour visiter les maîtres faisait partie de la pratique. La réponse de Gensha fut tres surprenante : « Bodhidharma n'est pas venu en Chine, le deuxieme patriarche Eka n'est pas allé aux Indes. »
< Explique-toi, parle > , dit Hôgen. Gensha répondit « L'univers entier est une perle brillante. > Il voulait dire que la myriade des choses était comme une unique perle, la perle étant le symbole de l'Un. La perle étant lumineuse et transparente comme du cristal, il est inutile d'aller chercher ailleurs quelque chose puisqu'il n'y a rien.
Il est écrit dans le Kegon-kyo : « L'ultime réalité inclut tout > et aussi : « Un est le multiple, le multiple est Un > , et dans l'Hokyo Zan Mai : « Quand tu vois dans le miroir, l'image est exactement comme toi : elle n'est pas toi et pourtant, elle est bien toi. » Cette phrase d'une grande subtilité signifie que bonheur est malheur et richesse est pauvreté : l'un est inclus dans l'autre. Tu es moi et je suis toi : nous ne faisons qu'un. L'un et l'autre cohabitent sans gene dans l'unité. Tu es moi sans etre moi, comme mon image dans le miroir.
A propos de miroir, je me souviens de ce poeme de l'époque ancienne : « L'image que me renvoie le miroir en silence boude quand je boude et se fâche quand je me fâche. » Il n'y a pas que le miroir qui réfléchit notre image, les hommes le font aussi. Lorsque je me mets en colere, mon interlocuteur change de visage et son oeil devient mauvais ; quand je souris, je reçois un sourire en retour, comme si un courant électrique passait entre nous. Ceux qui ne comprennent pas ce principe ont une vie constipée. Par contre, ceux qui l'ont saisi acquierent le mystérieux pouvoir de deviner tout ce que pense l'interlocuteur. Le monde devient transparent comme une boîte de cristal
Ce que j'appelle « moi » contient l'univers entier.
Infiniment vaste, limpide et brillant, il pénetre l'univers
Comment un guerrier cerné par des ennemis a-t-il pu a lui seul tailler en pieces trente personnes, et meme cinquante aux dires de certains ? Quelle force lui a permis de réaliser un tel exploit ? La raison est qu'il n'a mis aucune cloison entre lui et les autres, il s'est ouvert a l'univers entier, il est devenu infiniment vaste, limpide et brillant, il a pénétré l'univers.
----------------------------------------------
Zazen nous révele la nature vraie de la réalité
Zazen nous révele la nature vraie de la réalité. On éprouve aussitôt un besoin supérieur de la saisir. Or, la nature vraie de la réalité est de ne pas avoir de réalité.
D'un point de vue humain, cette réalité n'en est pas une. A notre époque, les hommes, disons les intellectuels habitués i1 passer des examens, capables de remplir une copie sur n'importe quel sujet, essaient bien de faire courir leur plume
pour en parler. Mais plus ils sollicitent la réalité plus elle se
dérobe.
Les hommes ne regardent que des choses d'hommes. Un poisson, lui, ne voit que son monde de poisson, un voleur voit des voleurs partout. On m'a raconté qu'un magistrat disait volontiers : « Pour moi n'importe qui ressemble a un
criminel. " Il disait sans doute vrai. B est normal que pour lui tout homme soit un coupable. Meme si on vénere un bouddha et que l'on est antiquaire, on estime sa valeur. " Combien ? Quel prix pourrai-je le vendre ? "
Un homme qui vient de voler quelque chose a peur et s'enfuit. Les policiers qui sel ancent a sa poursuite dévisagent les passants se demandant si le type qui est devant eux n'est pas le voleur. Ainsi, le poursuivant et le poursuivi marchent chacun dans des mondes différents. Voila pourquoi la réalité est si difficile a appréhender.
Découvrir la nature vraie de la réalité c'est embrasser d'un seul regard le panorama de l'univers. Il suffit pour cela de regarder par dessus les lunettes ou, encore mieux, de les ôter. Saisir l'univers d'un seul coup d'oeil n'est pas un probleme de quantité mais de qualité. Quand bien meme on évaluerait la distance du monde en mille milliards d'années lumiere, au-dela resterait encore l'inconnu. Dans le Sutra du Lotus, la durée de l'univers est estimée i; cinq cents cycles cosmiques. Infiniment grand, infiniment petit, le monde est illimité. Le vrai probleme n'est ni le temps ni l'espace, c'est l'essence de l'univers.
Voir la réalité de l'univers d'un seul regard, tout est la et seulement la, chacun pendant zazen peut réaliser cela.
Les etres humains ne sont rien d'autre, dans une vaste perspective biologique, que des champignons. Avec acharnement chacun fait des catégories du genre : un haut fonctionnaire, un riche, etc., mais nous ne sommes rien d'autre que des champignons nés d'un souffle. Nous sommes des champignons d'une nuit. En outre, ces champignons existent dans le monde du reve, rien n'est vrai. Les concepts que nous faisons ne sont rien que ce royaume du reve.
Dans les temps anciens, il n'y avait ni lunettes pour regarder le ciel ni rayon X. Rien de tout cela n'existait. Il fallait donc, par soi-meme, s'équiper d'yeux capables de bien voir sans l'aide de télescopes ou microscopes. Alors, un jour, pour la premiere fois, un oeil perçut la réralité dans sa totalité. Cet oeil extraordinairement perçant se vit lui-meme aussi bien que les autres. Il pénétrait le bonheur et aussi le malheur, et regardant toute chose en ce monde avec son oeil prodigieux, pour la premiere fois lui apparut un monde ou il n'existait rien.
------------------------------------------
Un homme comme Ryokan
Un homme comme Ryokan était un vrai moine, un moine d'un rang inférieur et Shakyamuni était pareil. Ils n'avaient pas besoin de devenir chefs de temple, et c'est parce qu'ils n'avaient besoin de rien qu'ils furent grands. Pourquoi ?
Parce qu'ils possédaient la chose unique qui ne peut etre ni brulée par le feu ni submergée par l'eau. Leur esprit était différent de ceux qui clament sans cesse : « Poussez pas, poussez pas », et qui se battent comme des enfants pour promouvoir leur carriere. Ceux-la, meme promus, restent pauvres. Un de rues amis qui travaille au quartier général du Zen m'a dit :
"D'étranges individus viennent me voir. De prime abord, ils paraissent nobles, mais ils ne font que se prosterner pour mendier des positions. C'est tout a fait répugnant. »
Le bouddhisme est devenu une chose bizarre, il dit
« La vie totale est la pensée de la non-pensée », mais cette non-pensée elle-meme est devenue un argument pour réussir ses affaires. En fait, on peut devenir n'importe quoi ! Aujourd'hui, ils disent
« Pratique, pratique », mais il y a toutes sortes de pratiques. II y a la pratique pour faire de l'argent et il y a la Voie du Bouddha. Parmi les voies, il y a celle des etres infernaux et celle des fantômes affamés. C'est dans la Voie du Bouddha que nous devons exceller et, c'est au Zen authentique que nous devons nous éveiller; pour s'éveiller au Zen du Tathagata, nous devons voir les zen inférieurs.
Tout ce que nous avons a faire, c'est affirmer la réalité, niais cela n'est pas facile lorsque l'homme et les phénomenes se font obstacle. Tout ce qui apparaît dans ce monde n'est alors qu'illusion, karma et habitude. Un voleur s'enfuit furtivement et le policier lancé a sa poursuite suspecte chacun d'etre le malfaiteur. Le chasseur et sa cible évoluent dans des mondes totalement différents. La réalité authentique est difficile a connaître. Affirmer cette réalité, c'est survoler l'univers entier et d'un seul regard embrasser toutes ses perspectives. C'est cela s'éveiller dans le bouddhisme.
Moi, la grande chance de ma vie fut de faire zazen avec ce corps qui aurait pu devenir celui d'une fripouille. Ce fut une chance aussi pour tout mon entourage et tous ceux que -j'aurais pu tromper et abuser. Tons f-urcnt sauvés lorsque heureusement je devins moine. Ma dévotion vivante a Bouddha est pour moi la posture de zazen et le contenu de cette posture de zazen est l'etre humain Sawaki. L'esprit fou et compliqué de Sawaki communique alors avec tous les etres sensibles, et c'est ainsi que zazen sauve l'humanité. Lorsqu'on affirme ainsi la réalité de la dévotion vivante a Bouddha, lorsque zazen et Sawaki sont en unité, c'est une vie entiere qui est achevée.
C'est cela la transmission authentique des Bouddhas et des patriarches : s'asseoir seulement. Plus que tonte technique humaine comme la haute illumination ou la prof-onde introspection, mieux vaut pratiquer, ce qui -pour l'homme - est inacceptable et non comptabilisable : ce zazen le plus profond, le plus pur et le plus authentique,
En bref, ici, je m'assois droit, ce zazen immense et illimité emplit l'espace et le temps.
-----------------------------------------
C'est en mourant que vous pourrez vivre
Muju zenji a dit : « C'est en mourant que vous pourrez vivre. » Sans mourir ce monde ne peut pas mitre. Tant que l'etre humain vit, son monde n'est que celui de l'illusion. II pleure et il rit, il aime et il hait, il décide arbitrairement en ignorant tout de ce qu'est le bonheur et le malheur.
Le dharma authentique signifie retrouver notre esprit originel et chercher le royaume éternel et immortel. Une vie avec une naissance n'est qu'une vie de reve. II nous faut découvrir le monde qui pénetre le ciel et la terre, et pas le monde de nos illusions. Une vie d'éveil total, sans mort vers le futur, sans naissance vers le passé ; oublier tout et etre en continuité avec les bouddhas des trois temps et les générations des patriarches.
Zazen est la méthode qui affirme inébranlablement ce soi, c'est l'art superbe pour le soi de devenir luimeme. Tant qu'il ne le devient pas, nous ne faisons que jouer avec nos vieilles rengaines. La l'orme ou ces enfantillages cessent est zazou.
Ce soi ne peut pas etre remué. 11 est l'immobilité originelle. La louange et la critique ne peuvent pas le bouger. Un ne devient pas grand parce qu'on est admiré, ni méprisable parce qu'on est critiqué. Saisir cela, c'est devenir Bouddha, et zazen est l'état extremement froid de nos cerveaux enfiévrés.
II n'y a aucune raison pour qu'un riche soit une noble personne, et qu'un pauvre ne le soit pas. C'est pourquoi je dis clac chaque personne est absolue et je m'affirme en disant : je suis. Bien que les autres pensent : « Quelle espece de moine mendiant est-ce la ? », je respire avec mon nez et je n'emprunte les narines de personne. Bouddha ne souille pas le soi et le laisse aller en complete liberté.
II y a souvent des gens qui doutent de posséder eux aussi la nature de bouddha. Je leur dis toujour espece d'idiots, que me souillez-vous la ! Nous sommes tous au coeur meme de cette nature de bouddha, au centre meme de zazou. Quand vous faites zazen, le corps entier est en zazen, rien n'est plus évident. Si vous buvez de l'alcool, tout votre corps est ivre, jusque dans vos articulations, vos os, vus muscles et chaque recoin de vos cellules. C'est cela la doctrine définitive.
Demandez-vous plutôt : " Pourquoi suis-je né dans ce monde humain ? " Celui qui n'a pas d'aspiration a l'éveil répondra : " Pour faire des crottes. » Nous devons découvrir la tâche ultime de l'etre humain.
Par tous les moyens, laissez-moi ramener ce Sol charmé et chéri par le démon au soi qui est unité avec Bouddha. Cela ne peut etre une affaire privée. En pratiquant honnetement apparais l'esprit d'éveil et la priere d'are certifié par les trois trésors. Chacun revient ainsi a ce soi dans sa propre vie, tourne le bouton qui l'illumine et le protege résolument. Lorsque le soi est clairement affirmé, une main qui danse, un pied qui marche, un corps debout ou allongé sont l'existence entiere de la vie de Bouddha.
Un corps humain est mortel et par conséquent il est inutile de s'appuyer dessus. Mais pour ne pas mourir, que pouvons-nous faire ?
Jetez le corps, abandonnez l'attachement a l'ego et les pensées individuelles. Vous trouverez une pensée qui enveloppe le ciel et la terre, qui ne fait jamais d'erreur, quoi qu 'on puisse en penser, dans les trois mondes du passé, du présent et du futur.
En bref, il n'y a ni perte ni gain pour les bouddhas et les patriarches. Lorsque nous leur dédions notre corps et notre etre tout entier, que nous ne détournons pas notre regard de leur visage, due nous sommes sur la meme longueur d'onde, nous pouvons expérimenter la compassion Infinie et illimitée des bouddhas et des patriarches.
---------------------------------------
Ni crime, ni bonheur, ni perte, ni bénéfice
Aux yeux des bouddhas il n'existe ni crime, ni bonheur, ni perte, ni bénéfice. Tuer un homme est un crime certain, mais a la guerre c'est parfois de l'héroisme louable... S'éveiller a l'esprit de Bouddha, c'est devenir une personne que rien ne sépare de l'univers. Au début du sucra de Bodhidhama on trouve ces mots : "Notre nature est mystérieusement subtile. " Cela signifie que vous tes sans limite et que je me trouve en vous. Alors, il ne peut rien exister qui tue. Ce que je veux dire c'est que si je ne tue pas, ce n'est pas parce qu'on me l'interdit mais parce que je ne peux tuer. Et ce n'est pas parce que je n'en ai pas le droit que je ne vole pas, mais parce que je ne peux pas voler.
S'il y a un sujet et un objet, il n'y a pas le dharma du Bouddha. Moi et vous sommes unis; moi et l'ennemi sommes unis. Et cette meme voie, ce meme dharma, cette meme certification et cette meme pratique ne sont jamais troublés ou détruits. C'est vraiment bien, il n'y a rien de mieux.
La bombe atomique peut éventuellement sauver le camp de ceux qui l'utilisent mais pas le camp des ennemis. Seul zazen sauve les deux : amis et ennemis. Devenir bouddha c'est s'asseoir simplement en zazen. Comprendre la Voie c'est la suivre. Pratique et satori ne font qu'un, mais pratique ou non, le satori est la. C'est tres difficile a comprendre.
Lorsqu'on pratique au milieu des illusions, le satori vient pour la premiere fois avant qu'on en soit conscient. N'est-ce pas une pratique merveilleuse ?
Seulement s'asseoir, sans rien désirer. On parle d'éternité mais l'éternité c'est pratiquer ici et maintenant. Si j'arrive a vous faire comprendre cela profondément, vous ne vivrez pas jusqu'a 50 ans dans le noir! Sinon, vous ne pouvez suivre la voie du Bouddha. Zazen, c'est pratiquer ici et maintenant. Maintenant ! Maintenant ! Maintenant ! Car rien n'est éternel. Donc, meme la santé n'est rien ; meme l'intelligence n'est rien. Alors il faut attraper celle chose tres importante qui résout le regret qu'on pourrait avoir de se faire couper la tete maintenant.
Le dojo est le lieu ou on tue les hommes. Tant que l'homme vit en nous, ce monde demeure un monde d'illusions et de chimeres. II est important de mourir pour voir le monde. Vu du cercueil, c'est un spectacle intéressant. La réalité du vrai monde est magnifique pour peu qu'on enleve ses verres teintés pour la contempler. Mais de cela vous ne pouvez en discuter avec les hommes. Alors il faut tuer l'homme. Et lorsque l'homme est mort, c'est bien.

La religion, ce n'est pas transformer le monde extérieur mais bien transformer cet oeil cette oreille, et cette tau La religion ce n'est pas penser, mais pratiquer. L pratique religieuse est la chose unique. Rien a voir avec les vérités vantées sur l'emballage d'un médicament Par la pratique quotidienne on sera né au paradis, e perdant sa pratique quotidienne, on sera né en enfer. L paradis dont je parle, c'est le calme, la force tranquille d'un homme pour qui il n'y a ni bien ni mal, ni Bouddha ni satori, rien a rechercher, rien a fuir.
-----------------------------------------
Les hommes ont toujours quelque chose a faire
Les hommes ont toujours quelque chose a faire. Ils se comportent comme si des feux d'artifice éclataient partout, devant, derriere, a droite, a gauche ! Ils ne savent plus ou donner de la tete.
« Je n'ai pas le temps. Je suis pressé, je suis débordé... »Ils ont la tete pleine de contradictions et ils ne prennent jamais le temps d'y mettre de
l'ordre. Or, plus le monde devient compliqué, plus il est nécessaire de le simplifier, de l'unifier et de retrouver l'unité fondamentale.
Demande-toi pourquoi tu manges, pourquoi tu as besoin de boire de l'alcool. Tu me répondras « Parce que j'ai envie de manger, parce que j'ai envie de boire, alors je bois et je mange, c'est tout. » La plupart des gens ne savent meme pas pourquoi ils agissent, c'est pourquoi leur vie est incohérente. « Je mange parce que j'ai envie de manger, ,je bois parce que j'ai envie de boire. » C'est exactement comme le fouqui rit et qui pleure sans savoir pourquoi. « J'ai lait cela parce que j'avais envie de le faire... Je dois aller la-bas parce que j'en avais envie... » C'est un comportement d'enfant.
« Paisible et heureux, dans le silence, le calme et la sérénité » ,voila pourquoi je vis, voila pourquoi je mange. C'est net et clair. Sawaki fait zazen et pour donner plus de force a zazen, il s'est fait raser le crâne et porte le kesa. C'est tout. Il fait zazen et le fait faire aux autres. Il ne possede que l'indispensable. Tout le reste n'est que bavardage, meme si l'on parle de Loi a longueur d'années, pendant un siecle. Certains tombent dans la dépression nerveuse, a force d'étudier les textes. Ils disent alors des choses admirables auxquelles je rie comprends rien, ni personne d'ailleurs. Ils travail lent tellement qu'ils ne font plus zazen. Ils ne mangent plus, ils se remplissent l'estomac de leurs études. Tout cela est inutile. Notre unique et supreme mission est toute simple demeurer dans le silence, le calme et la sérénité, tranquillement, loin de tout bruit et de toute agitation.
Apres avoir vengé son seigneur d'un affront, Oishi Yosliio se retira au temple Sengaku-ji et déclara : « Quoi qu'il en soit, jamais l'ombre d'un doute n'a assombri ma pureté d'intention. » La situation rie comportait qu'une seule issue, hara kiri. En sachant qu'il devait mourir, il a fait ce qu'il
devait faire en toute conscience, et d'une seule pensée, sans se demander quel bénéfice il allait en tirer ou ce qu'il allait devenir. Ceux dont l'esprit est plein de contradictions vivent dans l'angoisse. A l'inverse, lorsque la pensée est unifiée tout devient simple.
L'important, c'est l'unité. Lorsque la vie disparaît, c'est Ia seule chose qu' il reste. C'est pourquoi il faut etre tres vigilant Ceux qui ne trouvent pas cette unité sont a plaindre. Nous ignorons pourquoi nous sommes nés etres humains, et personne ne le sait. Les parents nous ont mis au monde, on n'y peut rien, nous sommes la. Comme chez les oiseaux, le mâle apporte la nourriture et la femelle couve l'oeuf. Lorsque la chaleur a produit son effet, cui ! cui ! elle donne la béquée cui ! cui ! les petits s'envolent. Les aniniaux ne sont absolument pas différents de nous, nous sommes seulement un peu plus élaborés. L'homme est un animal qui fume, rien de plus. Il ne vivrait plus dans l'angoisse s'il avait seulement ce lieu unique ou demeurer dans le « silence et la sérénité » Disons que c'est le karma supreme.
----------------------------------
The Notebooks of Kodo Sawaki
http://www.gnofn.org/~aza/teachings/ksnotebooks.html


Eternal satori is included, and rests only in the practice of the moment.
Zazen means to practice that which cannot be explained.
***
During zazen bonnos, monen, appear.
Most people think that zazen is to put an end to illusions, to thoughts. This is a mistake. During zazen, sometimes thoughts, bonnos arise, and sometimes they do not arise.
When you sleep, thoughts do not arise. When you sleep in zazen, you don't think at all.
***
You must be beyond good and evil, good luck and bad luck, happiness and unhappiness, true and false. As formless, they are ungraspable.
***
Everyone wants to obtain the merits of religion and tries to run after satori, even during zazen. They only want to have satori.
So satori without zazen appeared, satori without Zen, lectures without zazen, writings without zazen.
Many books are made like this, without the experience of zazen.
***
When a drop of water falls in the ocean,
When a speck of dust falls on the ground,
At that moment the drop of water is no longer a drop of water,
It becomes the ocean,
And the speck of dust is no longer a speck of dust,
It becomes the entire earth.
***
The Zen of Master Dogen is not the wish to become more than human, a special being, Buddha or God.
No more is it the hope to have a vision of emptiness, nor to perform miracles.
It is to return to the normal condition of the human mind.
***
There are many seekers who analyze but never practice zazen.
They just keep the books, like bankers who count money without themselves being rich.
----------------------------------
Zazen Poem
by Kodo Sawaki Roshi
http://www.gnofn.org/~aza/teachings/kspoem.html
Doing zazen calmly in the dojo,
Putting aside all negative thoughts,
Obtaining nothing but a mind without desire,
- This joy is beyond paradise.
The world runs after fame, honor,
Beautiful clothes and comfort.
But these pleasures are not true peace.
You run and stay unsatisfied until death!
Wear the kesa and black robe and practice zazen.
Concentrate with a single mind, whether still or in motion.
See with your own eyes deep inner wisdom.
Observe and know intimately the true aspect of all action and all existence.
Be able to observe balance.
Understand and know with a mind that is perfectly still.
If you are like this,
Your spiritual dimension,
The highest in this world,
Will be beyond compare.
----------------------------------
The Kesa
Teisho by Kodo Sawaki Roshi
http://www.gnofn.org/~aza/teachings/kskesa.html
When "Drizzle and dew, mist and clouds cover our bodies" we are calm and unworried. By wearing the kesa, we find peace of both mind and body.
Source: Bulletin Zen No. 65. AZI Paris. Assembled by Raphaël Triet.
------------------------------------
Discrimination
Teisho by Kodo Sawaki Roshi
http://www.gnofn.org/~aza/teachings/ksdiscr.html

Nowadays, all zazen groups or masters who transmit the law have signs indicating their presence.
A long time ago in India, large banners were put up. And even now, in certain regions, flags of all colors hang and fly in the breeze, a souvenir of ancient times.
In our language nowadays, hanging flags indicating Dharma, and establishing true doctrine, means expressing one's own experience relating to satori. Those who speak of Dharma without ever having experienced it are like parrots. They quote words and expressions of others, just like a dictionary. Teaching the Dharma means relating your personal experience.
All day long, we use expressions which mean absolutely nothing, like saying, "I'm fine, thank you," even when we are really not feeling well. These are words which reflect nothing at all.
Progress? Regression? Who knows what goes in the right or wrong direction? What's good and what's bad? A cure can be a poison and a poison can be a cure.
In the Gion section of Kyoto, lkkyu Ocho had a disciple named Chigoku Taiy who was a high class prostitute. When she realized that hell didn't exist and that she was Buddha, all her customers left her feeling totally illuminated and became, shortly thereafter, fervent followers of the Way.
I often hear people say that they prefer a certain yoken [sweet bean paste] as compared to another. They are imported from Kyoto to Osaka and vice versa. Why always seek elsewhere? As far as I'm concerned, rice balls and radishes with saumur satisfy me just fine.
A long time ago, I was travelling by train in the Kansai region. I remember reading an article in the local newspaper about the vast quantities of sardines caught in the sea of Isu, and what was done with them. There was a photo of a beach covered with these sardines.
Sardines are considered to be very ordinary fish because there are great quantities of them in our seas. If they were fished only once a year, I'm sure they would be considered as a great delicacy. Trout, on the other hand, is considered to be a luxury as it is very rare.
I once joined some fishermen in the Tamagawa river, but I didn't see one single trout hanging from a line. Sardines swim in schools and with one swipe of the net, you can catch mountains of them. They are transported by truck, salted, dried, and canned. The surplus sardines are sold to be used as fertilizer. We don't have a very high regard for these fish, but they are really rather tasty. In fact, they would certainly be considered even better than trout if they were more rare.
Good and bad are relative concepts which don't really exist. It's the same for truth and illusions. The good could not exist without the bad. It's simply man's karma which produces dualism and determines what's good and bad. What makes men happy in their tiny little world? They like to have fun and receive gifts. They consider a birth to be a happy event -whereas it could be something very unfortunate if the baby is ill or becomes a hooligan. Marriage is also considered to be a reason for congratulating-even if the bride might be marrying a long time drunkard.
Joy and suffering are relative notions which can change and be deceiving. Nothing allows anyone to say that they are 100% sure that an event is a happy one and another an unhappy one. There is bad within the good and goodness within the bad. Good and bad within themselves don't really exist. For the time being, the following comment by Shinran is evident :
One must not find virtue in glory, nor feel fear of evil.
Each and every man is neither good nor bad.
Source: Bulletin Zen No. 65. AZI Paris. Assembled by Raphaël Triet.
-----------------------------------------
No Difference
Teisho by Kodo Sawaki Roshi
http://www.gnofn.org/~aza/teachings/ksnodifference.html

Zazen is practicing, with a human body, that which is no different from Buddha.
As cellular organisms, we are like all other animals, but only humans can practice what is identical to Buddha. This means becoming one with the universe, one with heaven and earth.
The task of our life is: not to waste what we have in common with Buddha; to manifest this Way when lifting the hand, when advancing the foot; and to absorb our total being into each place at each instant. To be immobile and unshakable in our life, this is to fill our present.
This here and now cannot be imitated. So create the present from your true self, the one which pours out unceasingly, free and unhindered, without thoughts, without mind- hishiryo.
However, through illusion and discrimination, some people imitate last year and the years before and run their life with old calendars.
Understand what religion is: the place where there is no high or low, left or right, back or front. It is transparent from the sky to the earth. It is achieving the Way. Fear, anxiety and deceit are absent. When deceit disappears, the universe becomes pure as crystal.
Having this mind makes all difficulties disappear and clears the way for absolute happiness. Whatever you do, wherever you go, you will always be happy. The mind of the Way is a very pleasant thing.
Friends and enemies, flatterers and critics, bury them in this universal medicine chest and use them to follow the Way.
This is the power of looking within, the only power which creates the self, penetrates the total emptiness of the five personal aggregates and overcomes all suffering.
This Way makes everyone happy-without exception. Everything becomes better. Everything becomes the Way.
An old song says, "My face in the mirror frowns when I frown." This goes for humans too. When one smiles, the other smiles. It is like they are connected with an electric wire.
Whoever doesn't understand this truth lives a constipated life. Understanding this principle is to see the world transparent like a glass building.
The sutras call this, "To penetrate and fill an exact and pure world."
I myself fill the entire universe.

Source: Bulletin Zen No. 57. AZI Paris. Assembled by Raphaël Triet.
-------------------------------------
Good and Bad
Teisho by Kodo Sawaki Roshi
http://www.gnofn.org/~aza/teachings/ksgoodandbad.html

The human race is set apart by their intelligence and their manual dexterity. With these, they can build all sorts of machines. They also like to fight one another and they use language with skill. Put simply, humans have been given many talents. Unfortunately, it seems not many use these faculties well.
The saying goes, "Don't use your gifts poorly." I would even say that it is essential to do everything possible to use our talents to the best. A fraud makes bad use of his talents, so does a loan-shark, and so does the man with three sets of holiday homes and mistresses! Each one of us in our own way is an example of badly used talent. Starting with myself, when I look closely I see I am mediocre too. Those whose paths are without error are extremely rare.
Making the best of your abilities-this is to identify yourself with Buddha or God.
I would say that before anything else, you must know yourself to the core. Then make manifest the best in yourself and cut the passions which make us tend to use ourselves poorly. Like this, holding the sharpened sword of wisdom, we climb our own summit, to the peak of light that contains the entire universe. "Seizing the sword of wisdom" means taking human capacities to their highest potential.
One day, a long time ago, someone saw Sariputra urinating in a field. The man who saw him had such a powerful experience that he put his hands together and did sampai. The story says that at that instant he saw the true nature of Buddha.
It seems that just seeing Sariputra in the posture of urinating naturally inspired deep respect. Whether we are doing zazen or reading sutras, we should summon respect. The same goes for all our daily gestures, like eating or urinating, which we don't generally pay much attention to. This way infinite benefits flow from each instant of our daily life-like dragons and elephants who stomp and play without ever needing to hear the Dharma.
When I look back on my life, I see I could have been anything. When I was young, I thought of doing many different things. Is it just chance that I became a monk and dedicated all my energies to that? I could have worked on the railroads. All day long I'd throw my pick to dig the earth; and when I'd leave at night, I'd drink lots of sake. I would have liked this life, since it would have been my life. I could have been a singer (I don't know if I'd be any good), or a storyteller. I could have become anything, a good guy, or a crook. A life is like a vise, it can hold this or that, it has many uses. The same goes for illusions or satori.
Mount Fuji is considered a big mountain, but seen from the top of the Himalayas, it seems pretty small. They say the Pacific is huge, but it's only a part of the globe. Seen from the universe, it looks like a footbath. (It's not even unfathomable; we know how deep it is). It is difficult to imagine man as a miniscule little animal. Seen with a microscope, an amoeba looks like a diver swimming at the bottom of the sea. She can't even see the edges of the slide she moves on, to her it's as big as the Pacific Ocean. To say that something is big or small is to look with a defective vision. It's up to us to look at our world differently.
What really makes them happy, these little humans in their miniscule little world? They like to have a good time and get presents. They consider a birth a happy event (though it could be a disaster if the baby is deformed or becomes a good for nothing), and that a marriage is cause for congratulations (though they don't know if the groom won't end up to be an incurable drunk). Joy and suffering are relative ideas, indefinite and deceiving. Nothing allows anyone to say with any certainty that this event is happy and that one unhappy. The good carries in it the bad, and vice-versa. So: